NASA Space Station On-Orbit Status 24 July 2004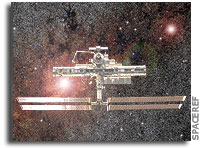 SpaceRef note: This NASA Headquarters internal status report, as presented here, contains additional, original material produced by SpaceRef.com (copyright © 2004) to enhance access to related status reports and NASA activities.
All ISS systems continue to function nominally except those noted previously or below.   Saturday — light duty for the crew.
After breakfast, the Komandir and his Flight Engineer performed the regular weekly 3-hr. station cleaning.  ["Uborka", done every Saturday, includes removal of food waste products, cleaning of compartments with vacuum cleaner, wet cleaning of the Service Module (SM) dining table and other surfaces with "Fungistat" disinfectant and cleaning fan screens to avoid temperature rises.]
For the Russian "Ekon" earth photography program, Padalka tagged up with ground specialists via VHF to discuss the upcoming experiment activities.
Gennady also performed a brief checkout of the TORU teleoperator control system between the SM and the docked Progress 14P, first on the prime VHF2 channel, later on VHF1 (backup), prepoaratory toi next week's inter-vehicleTORU test.   Progress thrusters (DPO) were inhibited and not involved.  The test, intended to determine the VHF2 transmitter's frequency deviation when in TORU mode, was performed over RGS (Russian ground sites) on Daily Orbit 3.   [TORU is the manual mode through which Padalka can perform necessary guidance functions from the SM in the event of a failure of the "Kurs" automated rendezvous and docking (AR&D) of the Progress.  He would control the cargo ship's motions from a control panel, viewing the approach to the ISS via the Klest-M television camera mounted on the Progress.  Remote TORU control from the ground is not available.]
The CDR completed the daily routine inspection of the SM's SOZh life support system.
For his "Saturday Science" program, the SO was provided with suggestions and tips for conducting the ISSI (In-Space Soldering Investigation) demo he had selected.   [The AVI files downlinked from his earlier ISSI session were found to be "tremendous", having caused much "eye opening" on the ground.  One unexpected phenomenon that is stimulating a lot of discussion and questions is an observed rotating (spinning) motion of the solder flux.  Today's demo was to use, first, a set of six samples of straight-forward coupons in parallel wrapped with solder, then a second six-sample set with small loops wrapped with solder, and a somewhat more challenging set of ISSI contact pairs wrapped with solder.]
At 9:15am EDT, Padalka and Fincke held their weekly planning conference (WPC) with the ground, during which they discussed next week's "Look-Ahead Plan" (regularly prepared jointly by MCC-H and MCC-M planners), via S-band/audio.
The crewmembers performed their regular daily physical exercise on TVIS treadmill, RED resistive exerciser, CEVIS cycle ergometer and VELO stationary bike with load trainer.
On his discretionary task list, Padalka had two new items for today, viz., digital photography of installation conditions at SM windows 6, 7, 8, 12, 13, and 14, with subsequent photo file processing and downlink via OCA comm, and a personalized software upgrade on Laptop 2 of the Russian biomedical "Pilot" experiment (MBI-15) which uses a work table, ankle restraint system and control handles for testing piloting skill.
Major upcoming events:
EVA tool configuring and video review — 7/26;
MO-5, Orlan-M suit prep, water sep in PkhO and DC1 — 7/27;
Orlan-M leak checks and telemetry checks — 7/28:
EVA procedures review, 14P undock prep — 7/29;
Orlan training run, battery charging, camera prep — 7/30;
Progress 14P undocking — 7/30 (2:06am EDT);
EVA timeline review — 8/1;
OpsLan reconfig, etc. — 8/2;
Orlan EVA-10 from DC-1 — 8/3 (hatch open: 2:50am EDT);
EVA debrief, etc. — 8/4;
Progress 15P launch — 8/11 (1:01am EDT);
Progress 15P docking — 8/14 (2:05am EDT).
Weekly Science Update (Expedition Nine — 13th):
GASMAP:  Next activity will be a Routine Health Check on 8/6.
Human Research Facility/Workstation (HRF WS): Continuing.
Advanced Ultrasound (ADUM): More next month.
Hand Posture Analyzer (HPA: Nothing new.
In-Space Soldering Investigation (ISSE): The Science Officer was thanked for his time and effort in completing the first set of experiments supporting the ISSI last Saturday (7/10).  The teleconference prior to the experiments and communications with the SO during ISSI operations kept the ground "well informed on what you were doing and what was occurring".  Communications were excellent and helped with the slight procedural changes made in real time.  Review of the experiment videotapes revealed melting kinetics, wetting characteristics, and equilibrium shape attainment of the solder charge.  The accumulated liquid flux was observed to rapidly and circumferentially translate over the surface of the molten solder ball demonstrating, perhaps for the first time in a microgravity environment, the "Leidenfrost" effect.  Evaluation of the experimental results is expected to promote our knowledge of fabrication and repair techniques that might be employed during extended space exploration missions.
Pore Formation and Mobility Investigation (PFMI): Nothing new.
 
Space Acceleration Measurement System (SAMS):  A software modification is being prepared that will allow the SAMS ICU (interface control unit) laptop to operate with a missing, defective, or discharged battery.  The ground will use an Express FTP process to load the new software.  Initial software testing successfully completed at MSFC.
 
Microgravity Acceleration Measurement System (MAMS): The MAMS Orbital Acceleration Research Experiment Sensor Subsystem (OSS) continues collection of quasi-steady acceleration measurements from the station.  The High Resolution Accelerometer Package (HiRAP) is also enabled to capture vibratory data below 100 Hz in EXPRESS Rack 1.
Protein Crystal Growth-Single Locker Thermal Enclosure System (PCG-STES):  Nominal.
Protein Crystal Growth Monitoring by Digital Holographic Microscope (PromISS):   Nothing new.
Investigating the Structure of Paramagnetic Aggregates from Colloidal Emulsions (InSPACE):   Planned.
Binary Colloidal Alloy Test-3 (BCAT-3): Nothing new.
Renal Stone (RS): Nothing new.
Synchronized Position Hold, Engage, Reorient, Experimental Satellites (SHERES): Nothing new.
Foot/Ground Reaction Forces during Space Flight (FOOT): Nothing new.
Materials ISS Experiment (MISSE):  In progress. Deployed outside on the U.S. Airlock.  Nominal and collecting data.
Cellular Biotechnology Support Systems-Fluid Dynamics Investigation (CBOSS-FDI): Nothing new.
Biotechnology Specimen Temperature Controller (BSTC): Planned.
Yeast Group Activation Packs (Yeast GAP): Nothing new.
Earth Knowledge Acquired by Middle School Students (EarthKAM): Inc-9 EarthKAM Summary:  2- operations, 214 operational hours, 87 schools participated (some repeated) with 1856 images downlinked, plus some really good video and one fantastic PI conference!.
Earth Science Toward Exploration Research (ESTER):  Nothing new.
Serial Network Flow Monitor (SNFM):  The SNFM team is looking forward to the next ADUM data opportunity.
Fluid Merging Viscosity Measurement (FMVM): The digital pictures that were downlinked provide valuable information about the camera geometry and help interpret the video science data of the merging drops.  A procedure used by MFMG to decrystallize Russian honey using the US food warmer is presently being modified for decrystallizing the FMVM honey syringes, D1 and D2.  In support of developing this procedure, experiments with crystallized honey in flight-like syringes have been undertaken.  It is now clear that use of the CGBA (Commercial Generic Bioprocessing Apparatus) is not feasible for this purpose.  Instead, the use of the food warmer is likely the only way to dissolve the crystals. Extended testing is being done to ensure expansion, leakage or distortion of the syringe will not occur.  Based on parallel tests, the Ziplock stowage bag may not be suitable to protect the syringe in the food warmer.
Viscous Liquid Foam–Bulk Metallic Glass (Foam):  Investigators are very pleased with the results of the recent run and thanked Mike for precise timing.  The video on the third run "was fantastic.  We can extract the ampoule temperature during the run by watching the oxidation.  Using that temperature, we can set the viscosity in our foam model".
BIOPSY (Effects of Prolonged Space Flight on Human Skeletal Muscle):  Nothing new.
Coarsening in Solid-Liquid Mixtures-2 (CSLM-2): Planned.
Commercial Generic Bioprocessing Apparatus (CGBA):  Nothing new.
Miscible Fluids in Microgravity (MFMG):  Nothing new.
Educational Payload Operations (EPO): Thanks went up to Mike Fincke for an excellent pollution demonstration last Saturday.  The live video and B-roll footage will allow the ground team to develop a great education resource.  "The EPO-9 photographs are wonderful."
Crew Earth Observations (CEO): A handsome, sun glint image, taken last month of the Ebro River delta on the east coast of Spain, will be posted on NASA's Earth Observatory site this weekend.  This view beautifully illustrates the discussion of land use and wetland conservation as well as the density boundary between the fresh water discharged by the river and the salt water of the Mediterranean Sea.  A preliminary review of the crew's most recent practice sessions using the 400mm lens with the doubler is most encouraging.  Their technique with camera settings and motion compensation are giving excellent focus results on many of their images and investigators are looking forward to acquiring such images of their targets.
Today's CEO (crew earth observation) photo targets, limited in the current XPOP attitude by flight rule constraints on the use of the science window, which is available for only ~1/4 of each orbit when not facing forward (in "ram"), were Cairo, Egypt (near nadir view),Pilcomayo River dynamics, N Argentina(this is the largest known megafan on the planet, so that views taken off track left as near nadir as feasible will yield good documentation.  Study of megafans is picking up, with a major paper on the topic of small alluvial fans versus megafans in oil exploration about to be published by Shell geologists),and High Central Andean Glaciers(this pass was over the largest of the existing Andean ice caps [Quelccaya ice cap] in the Vilcanota Range of the Peruvian Andes.  The ice cap lies near the dramatic topographic dropoff to the wet Amazon basin and is among the few large ice plateaus in the tropics [54 km2, summit elevation ~5,650 m].  Its rim is mostly formed by steep ice cliffs.  A multiyear field project resulted in a remarkably detailed picture of climates in the region over the last 1500 years.  This long record, which included major volcanic eruptions, as well as the Little Ice Age, is based on visible annual layers of ice [clean ice layers separated by darker dusty ice from winter-laid snow].  If a nadir view is not possible, other ice caps lie left and right of track).
CEO images can be viewed at these websites:
See also the website "Space Station Challenge" at:
To view the latest photos taken by the expedition 9 crew visit:
Expedition 9 Flight Crew Plans can be found at http://spaceflight.nasa.gov/station/timelines/

ISS Orbit  (as of this morning, 6:46am EDT [= epoch]):
Mean altitude — 358.7
Apogee height — 362.8 km
Perigee height — 354.5 km
Period — 91.7 min.
Inclination (to Equator) —  51.63 deg
Eccentricity — 0.000625
Solar Beta Angle — 21.7 deg
Orbits per 24-hr. day — 15.70
Mean altitude loss in last 24 hours — 100 m
Revolutions since FGB/Zarya launch (Nov. '98)  — 32417
ISS Altitude History
Apogee height — Mean Altitude — Perigee height
For more on ISS orbit and worldwide ISS naked-eye visibility dates/times, see http://www.hq.nasa.gov/osf/station/viewing/issvis.html. In addition, information on International Space Station sighting opportunities can be found at http://spaceflight.nasa.gov/realdata/sightings/ on NASA's Human Spaceflight website. The current location of the International Space Station can be found at http://science.nasa.gov/temp/StationLoc.html at NASA's Marshall Space Flight Center. Additional satellite tracking resources can be found at http://www.spaceref.com/iss/tracking.html.