NASA Space Station On-Orbit Status 24 February 2006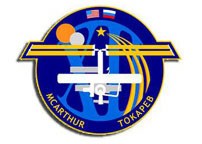 SpaceRef note: This NASA Headquarters internal status report, as presented here, contains additional, original material produced by SpaceRef.com (copyright © 2006) to enhance access to related status reports and NASA activities.
All ISS systems continue to function nominally, except those noted previously or below.
CDR/SO William McArthur continued rack reconfiguration activities in the Lab module in preparation for Mission ULF-1.1/STS-121 arrival (currently expected NET 5/5). [Having made excellent progress yesterday, McArthur finished up on the first three tasks of configuring the ZSR (Zero-G Stowage Rack) at the Lab Port 1 position for receiving pre-pack bags for ULF-1.1 and later return to Earth, plus preparing the ER1 (EXPRESS rack 1) at its overhead position for a new payload to be delivered by ULF-1.1. Tasks done today involved drawers containing foam and relocating some PromISS (Protein Crystal Growth Monitoring by Digital Holographic Microscope) and Neurocog experiment hardware. Another overhead ZSR will also be configured to receive pre-packed bags and return on STS-121. The ZSR cleanout essentially consisted of relocating items currently stowed there per uplinked instructions table and keeping track, by the ground, of the moves in the IMS (Inventory Management System).]
FE Tokarev transferred new outfitting parts of the NS-1 force loader of the Russian VELO cycle ergometer (VB-3) to the Service Module (SM) for later installation. [The components are a large supporting adapter plate, brought up by Progress 20, and a foot plate delivered previously by Progress 19 and stowed in the SM.]
In preparation for ALTCRISS (Alteino Long Term monitoring of Cosmic Rays on the ISS) shielding tile installation scheduled for next Sunday (2/26), Tokarev conducted a search of stowage locations for packages of SLG wet wipes required for the activity. [The ESA/RSC-Energia experiment ALTCRISS, currently in the SM, uses the ACT spectrometer employed by VC8 guest cosmonaut Roberto Vittori earlier this year in the DC1 for the Italian experiment LAZIO (Low Altitude Zone /Ionization Observatory). Progress 20 delivered a new Nomex shielding belt containing the polyethylene shielding tiles ("bricks") and two new dosimeters in a dedicated pocket.]
Continuing troubleshooting the Soyuz-217/11S Descent Module (BO)'s center seat, which he had found difficult to move upward due to a tight ring collar on the right side impeding full reclining, the FE first set up a communications link from the BO to the ground, then worked on reclining and lifting the center and right seats repeatedly to check on clearances.
William McArthur completed two activities in the Lab aimed at preparing for the major TCCS (Trace Contaminant Control Subsystem) repair scheduled for 2/27 (Monday). [For the planned removal & replacement (R&R) of the TCCS' sorbent bed assembly, the CDR first removed the Cupola RWS (Robotics Workstation) from its Lab position to retrieve the replacement unit, delivered on 20P, from stowage and then reviewed onboard training material detailing the R&R procedure. During TCCS troubleshooting last year (10/31 & 11/1) Bill and Valery had removed each major component of the TCCS and recorded flow measurements taken at the PAR (Process Air Return) duct inside the AR (Air Revitalization) rack, which proved to be much lower than original PAR readings. Data also indicated increased flow resistance in the catalytic oxidizer and sorbent bed, with debris found between the two assemblies. The new sorbent bed is expected to decrease the flow resistance to a more acceptable level.]
Tokarev continued the new round of monthly preventive maintenance on Russian segment (RS) air ventilation systems, first working an hour in the FGB (Funktsionalnyi-Grusovoi Blok) for the regular cleanup of the detachable fan screens of the three SOTR (thermal control system) gas-liquid heat exchangers (GZhT4), as well as the fixed grill of GZhT #4.
Then, Valery had ~40 min. in the DC1 docking module for cleaning the VD1 & VD2 fans and screens.
Afterwards, the FE moved to the SM for an hour's worth of performing preventive maintenance (inspection & cleaning) of "Group A" ventilator fans and grilles.
Meanwhile, the CDR conducted his daily atmospheric status check for ppO2 (Partial Pressure Oxygen) and ppCO2 (pp Carbon Dioxide), using the CSA-O2 (Compound Specific Analyzer-Oxygen Sensor).
In the SM toilet compartment (ASU) Tokarev replaced the wring collector, a gas separator used only for contingency, with a new unit.
Subsequently, Bill performed the daily routine maintenance of the SM's environment control & life support system (SOZh), including its toilet system (ASU).
Both crewmembers completed their regular 2.5-hr. physical exercise program on the TVIS treadmill, RED resistive exerciser and VELO bike with bungee cord load trainer. [Valery's daily protocol prescribes a strict four-day microcycle exercise with 1.5 hr on the treadmill in unmotorized mode and one hour on VELO plus load trainer (today: Day 2 of the first set).]
Afterwards, the CDR transferred the exercise data files to the MEC (Medical Equipment Computer) for downlink, as well as the daily wristband HRM (heart rate monitor) data of the workouts on RED, followed by their erasure on the HRM storage medium (done six times a week).
Working off his discretionary "time available" task list, Tokarev did his regular checkup on the Japanese experiment GCF-JAXA (Granada Crystallization Facility) in the Russian TBU incubator, maintained at 20 degC, including a temperature check on its ART (automatic temperature recorder). [This daily monitoring/temp checking, carried on the Russian voluntary "time available" task list, will continue until 4/30.]
Also listed on Valery's voluntary task schedule for today was the daily status check of the BIO-5 Rasteniya-2 ("Plants-2") greenhouse experiment.
At ~1:50m EST, the crew held their eleventh regular (nominally weekly) tagup with the Lead Flight Director at MCC-H and TsUP/Moscow via S-band/audio, with a phone patch between Houston and Moscow.
Also, at ~2:35pm EST, Bill and Valery conducted their standard weekly teleconference with the JSC Astronaut Office (Kent Rominger), via S-band S/G (space-to-ground).
Correction: Yesterday's planned activity to disconnect ER1 from the ITCS LTL (Internal Thermal Control System/Low Temperature Loop), reported here, was cancelled, to allow ground engineers additional time to implement their ITCS "leak" troubleshooting (t/s) plan. ER1 will remain mated and powered for payloads. [First t/s step is to power off the subsystem valve simulating the rack in a "deactivated" state and observe the trend of accumulator quantity decay rate for 7 days. Subsequent steps then depend on the rate of decay observed.]
Today's CEO (Crew Earth Observation) photo targets, limited in the current XPOP attitude by flight rule constraints on the use of the Lab nadir/science window, which is available for only ~1/4 of each orbit when not facing forward (in ram), were Internal waves, Southern Patagonian Shelf (cloudiness was expected to persist further northward, but the crew was advised to look left of track toward the Bahia Grande and near the Santa Cruz River estuary for some sun glint enhancement of sea surface features), and Pilcomayo River dynamics, Northern Argentina (this should have been a good pass for oblique context views of the length of the Pilcomayo River Drainage. Looking left of track, northwestward toward the Andes Mountains. Sun glint enhancement was possible at this time).
To date, more than 186,000 of CEO images have been taken in the first five years of the ISS, almost one third of the total number of images taken from orbit by astronauts.
CEO photography can be viewed and studied at the websites:
See also the website "Space Station Challenge" at:
To view the latest photos taken by the expedition 12 crew visit:
Expedition 12 Flight Crew Plans can be found at http://spaceflight.nasa.gov/station/timelines/
Previous NASA ISS On-orbit Status Reports can be found here. Previous NASA Space Station Status Reports can be found here. Previous NASA Space Shuttle Processing Status Reports can be found here. A collection of all of these reports and other materials relating to Return to Flight for the Space Shuttle fleet can be found here.
ISS Orbit (a of this morning, 7:04am EST [= epoch]):
Mean altitude — 348.0 km
Apogee height — 353.7 km
Perigee height — 342.4 km
Period — 91.50 min.
Inclination (to Equator) — 51.64 deg
Eccentricity — 0.0008386
Solar Beta Angle — 39.0 deg (magnitude decreasing)
Orbits per 24-hr. day — 15.74
Revolutions since FGB/Zarya launch (Nov. 98) — 41540
Events Ahead (all dates Eastern & tentative):
03/03/06 — Progress M-54/19P undocking & reentry (mnvr. to LVLH XVV after undock)
03/06/06 — Repair of MCA in US segment
03/10/06 — ISS reboost (by SM thrusters; mnvr. back to XPOP after burn)
03/16/06 — Airlock Campout SDTO (overnight)
03/20/06 — Soyuz TMA-7/11S relocation (FGB nadir port to DC1)
03/30/06 — Soyuz TMA-8/12S launch (Pavel Vinogradov/Russia, Jeffrey Williams/US, Marcos Pontes/Brazil)
04/01/06 — Soyuz TMA-8/12S docking (SM aft end port; mnvr. to LVLH XVV after dock)
04/09/06 — Soyuz TMA-7/11S undocking (4:15pm EDT) & land (7:40pm); (mnvr. to XPOP after undock)
04/18/06 — Soyuz TMA-8/12S relocation (SM aft end port to DC1)
04/24/06 — Progress M-56/21P launch
04/26/06 — Progress M-56/21P docking (SM aft end port)
05/03/06 — ULF1.1 launch (NET, not earlier than)
06/15/06 — U.S. EVA (under review)
06/19/06 — Progress M-55/20P undocking & reentry
06/28/06 — Progress M-57/22P launch
06/30/06 — Progress M-57/22P docking
07/01/06 — 12A launch (under review)
08/01/06 — Russian EVA-16 (under review)
09/12/06 — Progress M-56/21P undocking & reentry
09/14/06 — Soyuz TMA-9/13S launch
09/16/06 — Soyuz TMA-9/13S docking (FGB nadir port)
09/24/06 — Soyuz TMA-8/12S undocking & reentry
09/28/06 — Soyuz TMA-9/13S relocation (FGB nadir port to DC1)
10/18/06 — Progress M-58/23P launch
10/20/06 — Progress M-58/23P docking
12/19/06 — Progress M-57/22P undocking & reentry
12/20/06 — Progress M-59/24P launch
12/22/06 — Progress M-59/24P docking.

ISS Altitude History
Apogee height — Mean Altitude — Perigee height
For more on ISS orbit and worldwide ISS naked-eye visibility dates/times, see http://www.hq.nasa.gov/osf/station/viewing/issvis.html. In addition, information on International Space Station sighting opportunities can be found at http://spaceflight.nasa.gov/realdata/sightings/ on NASA's Human Spaceflight website. The current location of the International Space Station can be found at http://science.nasa.gov/temp/StationLoc.html at NASA's Marshall Space Flight Center. Additional satellite tracking resources can be found at http://www.spaceref.com/iss/tracking.html.