NASA Space Station On-Orbit Status 24 February 2005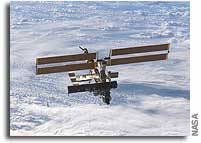 SpaceRef note: This NASA Headquarters internal status report, as presented here, contains additional, original material produced by SpaceRef.com (copyright © 2005) to enhance access to related status reports and NASA activities.
All ISS systems continue to function nominally, except those noted previously or below.
The first of two parts of commissioning remote control capability for the Canadian SSRMS (Space Station Remote Manipulator System) by the ground was successfully concluded today, achieving an important milestone with great significance for the Exploration Program ahead. This was preceded by yesterday's final pre-motion survey by the ground plus unpowered checkout of the DCP (display & control panel) needed for monitoring & safing by the crew. [Using the new MSS 3.1 software uplinked last month, ground controllers executed the first-ever auto-sequence maneuvers, which include LEE (latching end effector) operations. Today, the SSRMS was maneuvered to an intermediate position on its trajectory toward the Lab PDGF 3 (Power & Data Grapple Fixture #3) using Joint OCAS (operator commanded auto sequence) maneuvers, commanding one joint at a time. Tomorrow, the arm will be moved to the PDGF 3 pre-grapple position. For safety, the CDR monitors the ground-controlled operations at the Lab RWS (Robotics Work Station) to ensure that ground control maintains the required situational awareness.]
The crew completed final preparations for Sunday's undocking of Progress-351 (16P), first by stowing remaining trash & disposable gear in the cargo ship-turned-garbage can, then installing the SSVP docking mechanism in the hatchway between 16P and the Service Module (SM) aft end. [The SSVP is the "classic" probe-and-cone type, consisting of an active docking assembly (ASA) with a probe (SSh), which fits into the cone (SK) on the passive docking assembly (PSA). The ASA is mounted on the Progress' cargo module (GrO), while the PSA sits on the docking ports of the SM, FGB and DC-1. 16P will separate from the ISS at 11:08am EST and remain in orbit for ~10 days of autonomous operations before its destructive reentry over the Pacific Ocean.]
Afterwards, assisted by CDR Chiao, FE Sharipov removed electronic equipment from the Progress, which will be recycled. TsUP/Moscow, via RGS (Russian ground site), was then ready to initiate charging of the Progress' primary and reserve batteries, as required. [After Central Computer control was transferred from 16P thrusters to SM yaw, pitch and roll thrusters, the US-21 matching unit and SKV-1 dehumidifier were deactivated, followed by disconnecting the cables of the BITS 2-12 onboard telemetry measurement system and turning off its VD-SU monitoring mode. The crew then unbolted and removed the Progress' US-21 in its container box. BITS and SKV-1 were later reactivated. The US-21, with its associated commutator gear, provides the electronic interface between the SM and the Progress for SM computer control of Progress propulsion. When a Progress is undocked and jettisoned, the valuable electronics are retained in storage, to be recycled on a future vehicle.]
Before hatch closure tomorrow, the crew will also dismantle and remove the Progress' LKT local temperature sensor commutator (TA251M1B) of the BITS2-12 onboard telemetry system and its TA765B ROM (read-only memory) unit.
In the Lab module, Dr. Chiao powered up the HRF GASMAP (Human Research Facility/Gas Analyzer System for Metabolic Analysis Physiology) and its laptop for the regular routine 30-day health check. Later in the day, the equipment was turned off again. [After unstowing, cabling and powering up the gear, Chiao let it run for several hours in standby mode to warm up, then performed a health check and reconfigured the system for a ~6 hr low power rundown prior to shutdown. Afterwards, GASMAP was deactivated with its HRF PC and the collected files added to the downlink package.]
Preparatory to Progress 17P docking next Wednesday (3/2, at ~3:15pm EST), both crewmembers conducted the standard test of the TORU teleoperator control system between the SM and the docked Progress 16P. Progress thrusters (DPO) were inhibited. The test was performed over RGS on Daily Orbit 14, closely watched by TsUP. [TORU is the manual mode through which Sharipov can perform necessary guidance functions from the SM in the event of a failure of the "Kurs" automated rendezvous and docking (AR&D) of the Progress. He would control the cargo ship's motions from a control panel, viewing the approach to the ISS via the Klest-M television camera mounted on the Progress. Remote TORU control from the ground is not available.]
Salizhan performed the routine daily inspection of the SOZh environment control & life support system in the SM, including the regular maintenance of the ASU toilet facilities. [The ASU's flush counter (SP), which allows tracking of toilet water usage, has stopped functioning. There is a spare unit on board, and TsUP will schedule an R&R.]
The FE also completed the regular daily inspection of the Rasteniya/Lada-5 greenhouse equipment. [Rasteniya ("plants")-2 studies growth and development of plants (peas) under spaceflight conditions in the Lada-5 greenhouse.]
Leroy prepared the regular IMS (inventory management system) delta file for export/import to the IMS databases.
The crew performed their regular daily 2.5-hr. physical exercise program on TVIS, RED exerciser, CEVIS cycle and VELO cycle with bungee cord load trainer. [Salizhan's daily protocol currently prescribes a four-day microcycle exercise with 1.5 hr on the TVIS set on the treadmill and one hour on VELO (today: Day 3 of a new set).]
Leroy then transferred the daily TVIS and RED exercise data files to the MEC (medical equipment computer) for downlink, as well as the daily wristband HRM (heart rate monitor) data, followed by their erasure on the HRM storage medium.
At ~12:25pm, another repress of the cabin air with O2 (oxygen) from Progress tankage (SrPK) was to be executed by Sharipov on TsUP Go, terminating at ~1:15pm.
MCC-H is continuing to troubleshoot the Fileserver laptop in the Lab, which has not worked properly for a while. Two procedures were uplinked this morning for the crew to be implemented as soon as possible or tomorrow at the latest, to enable more effective troubleshooting.
Today's CEO (crew earth observations) photo targets, limited in the current XPOP attitude by flight rule constraints on the use of the science window, which is available for only ~1/4 of each orbit when not facing forward (in ram), were Fires, Lake Victoria, Kenya (Dynamic Event. Numerous brushfires are currently burning to the NE of Lake Victoria. Looking to the left of track for the lake; it may have been illuminated by sunglint. Images of smoke plumes to the NE of the lake shoreline are useful for determining wind patterns associated with these areally extensive brushfires), Internal Waves, Bahamas (weather is predicted to clear for internal wave photography. Looking to the left of track and to the north of Cuba for the sunglint point), and Torres del Paine, Chile (Dynamic Event. A large fire is sweeping through the Parque Nacional Torres del Paine. Photography of burned areas will help assess damage to the Park and formulation of emergency response plans for future fires. Weather was predicted to be variably cloudy over the region).
CEO photography can be viewed and studied at the websites:
See also the website "Space Station Challenge" at:
To view the latest photos taken by the expedition 10 crew visit:
Expedition 10 Flight Crew Plans can be found at http://spaceflight.nasa.gov/station/timelines/
Previous NASA ISS On-orbit Status Reports can be found here. Previous NASA Space Station Status Reports can be found here. Previous NASA Space Shuttle Processing Status Reports can be found here. A collection of all of these reports and other materials relating to Return to Flight for the Space Shuttle fleet can be found here.
Upcoming Key Events:
Progress M-51 (16P) undocking — 2/27 (11:08am EST);
Progress M-52 (17P) launch — 2/28 (2:09pm EST);
Progress M-52 (17P) docking — 3/2 (3:15pm EST);
EVA-13 — 3/25;
Soyuz TMA-6 (10S) launch — 4/15 with Expedition 11 (CDR Sergei Krikalev, FE/SO John Phillips);
Soyuz TMA-5 (9S) undocking — 4/25 with Exp. 10 crew (after 193 days on orbit, 191 days on board ISS);
LF1 (STS-114) — NET 5/12;
Progress M-53 (18P) launch — 6/10;
ULF1.1 (STS-121) — NET 7/10;
Progress M-54 (19P) launch — 8/24;
Soyuz TMA-7 (11S) launch — 9/27.
ISS Orbit (as of this morning, 6:59 EST [= epoch]):
Mean altitude — 358.2 km
Apogee height — 361.1 km
Perigee height — 355.3 km
Period — 91.71 min.
Inclination (to Equator) — 51.65 deg
Eccentricity — 0.0004289
Solar Beta Angle — 23.0 deg (magnitude increasing)
Orbits per 24-hr. day — 15.70
Mean altitude loss in last 24 hours — 85 m
Revolutions since FGB/Zarya launch (Nov. 98) — 35796
ISS Altitude History
Apogee height — Mean Altitude — Perigee height
For more on ISS orbit and worldwide ISS naked-eye visibility dates/times, see http://www.hq.nasa.gov/osf/station/viewing/issvis.html. In addition, information on International Space Station sighting opportunities can be found at http://spaceflight.nasa.gov/realdata/sightings/ on NASA's Human Spaceflight website. The current location of the International Space Station can be found at http://science.nasa.gov/temp/StationLoc.html at NASA's Marshall Space Flight Center. Additional satellite tracking resources can be found at http://www.spaceref.com/iss/tracking.html.