NASA Space Station On-Orbit Status 24 August 2006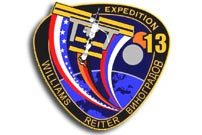 SpaceRef note: This NASA Headquarters internal status report, as presented here, contains additional, original material produced by SpaceRef.com (copyright © 2006) to enhance access to related status reports and NASA activities.
All ISS systems continue to function nominally, except those noted previously or below.
FE-2 Reiter started his workday with a major two-hour IFM (in-flight maintenance) in the FGB: removing one of the module's six 800A storage batteries (#6) and replacing it with a spare Blok 800A. The removed unit was prepared for disposal on Progress M-56/21P. [The ZRU charge/discharge unit #6 was deactivated by TsUP/Moscow beforehand and later reactivated. The new battery #6 is currently being conditioned in Cycle mode. This restores the full set of six FGB batteries to operation.]
Between the two of them, Pavel Vinogradov and Thomas Reiter had 7h 50m reserved on the timeline for getting 21P ready for disposal by transferring waste and discarded hardware to it and packing the cargo ship-turned-trash can, docked at the Service Module (SM) aft end. The transfer activities were tracked by IMS (Inventory Management System) database logging.
In preparation for 12A, FE-1 Williams had two hours for unstowing and relocating equipment stowed in the "dome" volume of the Z1 truss, accessing it by removing the RED (Resistive Exercise Device) hardmount plate from the Node "ceiling", then opening the Z1 hatch to the normally sealed volume. Later, the hatch was closed again and the RED hardmount plate reinstalled. Closeout ops included the standard inspection of the Z1 hatch seal. [USOS hatch seals are lubricated with Braycote-601, which is also deposited on the sealing surfaces. Dust and particles (FOD, foreign object debris) can stick to the lubricant and to both seals and sealing surfaces. These are regularly inspected with a magnifying glass for FOD, nicks, burrs, cuts or gouges that would impair a proper seal, and are cleaned, as required, with brushes, dry wipes and Kapton tape.]
In the Soyuz TMA-8 (12S) crew return vehicle, docked at the FGB nadir port, CDR Vinogradov deactivated the Descent Module (SA)'s gas analyzer.
Afterwards, having located the spare GL5187 oxygen channel primary data converter (transducer) for the IK0501 gas analyzer in the SM, CDR Vinogradov worked on the IK0501, exchanging the old converter with the new spare. [IK0501 is an automated system for measuring CO2, O2, and H2O in the air as well as the flow rate of the gas being analyzed.]
After reviewing detailed uplinked IFM procedures, Jeff Williams changed out the VOA (Volatile Organics Analyzer)'s on-orbit maintenance items (OMIs) in the CHeCS (Crew Health Care Systems) Rack: Nitrogen Dryer, Oxygen Scrubber, Recirculation Sieve Pack, and Air-In Sieve Pack. The maintenance activities were recorded with the PD100 camcorder for ground review. Following the IFM, the VOA was activated and operated nominally. Tomorrow, the ground will perform a data downlink and calibration run.
FE-2 Reiter conducted a VHF-1 (Russian: UKV-1) voice communications test with the Columbus Control Center (COL-CC) at Oberpfaffenhofen near Munich via external telephone.
Pavel Vinogradov performed a functional checkout on the blood pressure (BP) panel of the Russian Gamma-1M medical complex by connecting (but not wearing) a biomed harness to the panel. The checkout was supported by ground specialist tagup via S-band.
As the Elektron continues to operate nominally, the CDR completed the periodic (about twice a month) replenishing of the Elektron's water supply for electrolysis, filling the KOV thermal loops' EDV container with water from an EDV containing water from the BKO multifiltration/purification column unit. [The 40-minute procedure is specially designed to prevent air bubbles larger than ~10 mm from getting into the BZh-8 Liquid Unit where they could cause Elektron shutdown. In the procedure, the BKO water is carefully transferred with a pump (BP), located behind SM panel 420, from the EDV-1 through the air/liquid separator unit (GZhS) into the empty EDV-2 while the crewmember checks for any air bubbles accumulating in the GZhS (and, if visible, estimates their number, with no more than two 1 cm diameter bubbles permitted in EDV-2). Elektron water is also supplied from U.S. technical water in a CWC (contingency water container) that is checked for its contents of air bubbles and is rejected if the estimated total air bubble volume is more than 30 cubic centimeters (1 cm air bubble is about 0.5 ccm). CWCs can hold condensate, technical or potable water. Raw condensate is either processed through the SRV-K condensate water processor system into potable water or is used directly for flush water in the ASU toilet system.]
The FE-1 completed the regular weekly audit/inventory of the available CWCs (Contingency Water Containers) and their contents, to keep track of onboard water supplies.
Continuing the operational use of the new MELFI (Minus Eighty Degree Celsius Laboratory Freezer for ISS), Thomas today inserted the second sample canister of the POEMS (Passive Observatories for Experimental Microbial Systems in Micro-G) payload into the MELFI dewar. [First POEMS sample insertion was on 8/2.]
Pavel conducted the routine daily maintenance of the SOZh (Environment Control & Life Support System, ECLSS) system in the SM, including the ASU toilet facilities systems/replaceables.
Working off his discretionary "time permitting" task list, Vinogradov also updated/edited the standard IMS "delta file", including locations, for the regular weekly automated export/import to its three databases on the ground (Houston, Moscow, Baikonur).
A second job added today to Pavel's task list was troubleshooting and recovering the functionality of the "Sigma" application on the EGE2 laptop. [The onboard "Sigma" software is a ballistic navigation program to compute the station's ground track on the Earth for the purpose of determining RGS (Russian ground site) overflight/comm windows for automated downlinking of files via the Russian BSR-TM Regul interface unit (part of the Russian radio control & communications system). According to RSC-Energia, BSR-TM packets received on the ground lately have contained no data.]
All crewmembers worked out in their regular 2.5-hr. physical exercise program (about half of which is used for setup & post-exercise personal hygiene) on the CEVIS cycle ergometer (FE-1, FE-2), TVIS treadmill (CDR), RED resistive exerciser (FE-1), and VELO bike with bungee cord load trainer (CDR, FE-2). [Pavel Vinogradov's daily protocol prescribes a strict four-day microcycle exercise with 1.5 hr on the treadmill in unmotorized mode and one hour on VELO plus load trainer (today: Day 3 of the first set).]
Afterwards, Williams transferred his, Pavel's and Thomas' TVIS and RED exercise data files to the MEC (Medical Equipment Computer) for downlink, as well as the daily wristband HRM data of the RED workouts, followed by their erasure on the HRM storage medium (done six times a week).
Update on 21P reboost: Final results of yesterday's Russian-performed station reboost indicate nominal performance by the Progress MCS (Motion Control System): delta-V 2.27 m/s (2.26 projected), mean altitude gain 3.97 km (3.95 projected). Propellant consumption was about 169 kg for the perigee burn and 17.5 kg for the maneuver to the burn attitude. The reboost set up proper angular phasing conditions for the upcoming STS-115/12A launch window, Soyuz 13S launch and 12S landing.
With the reboost done, Russian flight controllers are now working on transferring remaining props from 21P to FGB propellant tankage, preparatory to the standard prop line purging to vacuum next week, preceding Progress undocking on 9/15.
Update on CDRA: With Vozdukh in the SM still off, CDRA (CO2 Removal Assembly) performance testing continues in the Lab. Vozdukh will be turned back on tonight at ~6:00pm EDT. [Preliminary data this morning indicated a ppCO2 of 4.3 mmHg, with sporadic overnight spikes in excess of ~6 mmHg, i.e., CDRA is not performing as well as expected. Troubleshooting/repair steps are being considered but no final decision has been made yet. Adequate CDRA performance is critical for the CSCS (Contingency Shuttle Crew Support, "Safe Haven") scenario.]
Update on SSC7: The 8/22 checkout of the A31p laptop #1061 shell by Jeff Williams, set up as SSC7 (Station Support Computer 7) in place of #1021, diagnosed the machine as healthy. Instead of being returned on 12A as originally manifested, #1021 is now serving as SSC7, and #1021 has been stowed as a "good spare".
Good-bye XPOP: On Saturday (8/26), ISS attitude, currently still in sun-oriented XPOP (x-axis perpendicular to orbit plane), will be changed to earth-fixed LVLH XVV (local vertical local horizontal/x-axis in velocity vector). With solar Beta angle decreasing below 40 degrees and P3/P4 with new solar arrays arriving on 12A, XPOP attitude will no longer be required for the ISS in the future.
Today's CEO (crew earth observations) photo targets, limited in the current XPOP attitude by flight rule constraints on the use of the Lab nadir/science window, which is available for only ~1/4 of each orbit when not facing forward (in ram), were Internal waves, South China Sea-S (weather conditions were predicted to be excellent for internal wave photography. Looking to the left of track and west of Borneo for the sunglint point), Glacial features, North Libya (looking to the left of track for sinuous linear features on the Libyan desert landscape. The features are deposits left by ancient rivers flowing beneath glaciers that were present in the regional approximately 450 million years ago), Tropical Storm Debby, Atlantic Ocean (Dynamic Event. ISS approached this strengthening storm directly and passed over the predicted center position. Panoramic views [looking forward along track] of the developing cloud structure were requested as the crew approached from the SW. The crew could also acquire panoramic images of the opposite side of the storm looking backwards along track [following passage over the storm center]), and Internal waves, Azores, Atlantic (weather was clear over the Azores island chain for internal wave photography. Looking to the left of track; the sunglint point was in the midst of the islands).
To date, over 250,000 of CEO images have been taken in the first six years of the ISS, about one third of the total number of images taken from orbit by astronauts.
CEO photography can be viewed and studied at the websites:
See also the website "Space Station Challenge" at:
To view the latest photos taken by the expedition 13 crew visit:
Expedition 13 Flight Crew Plans can be found at http://spaceflight.nasa.gov/station/timelines/
Previous NASA ISS On-orbit Status Reports can be found here. Previous NASA Space Station Status Reports can be found here. Previous NASA Space Shuttle Processing Status Reports can be found here. A collection of all of these reports and other materials relating to Return to Flight for the Space Shuttle fleet can be found here.
ISS Orbit (as of this morning, 7:09am EDT [= epoch]):
Mean altitude — 343.6 km
Apogee height– 351.0 km
Perigee height — 336.1 km
Period — 91.41min.
Inclination (to Equator) — 51.63 deg
Eccentricity — 0.0011134
Solar Beta Angle — 40.8 deg (magnitude decreasing)
Orbits per 24-hr. day — 15.75
Mean altitude gain in last 24 hours — 3720 m
Revolutions since FGB/Zarya launch (Nov. 98) — 44393
Significant Events Ahead (all dates Eastern and subject to change):
08/27/06 — STS-115/12A launch (4:29:55pm EDT)
08/29-09/04 — STS-115/12A docked mission w/ISS (earliest) – P3/P4 trusses, 3 EVAs
08/31/06 — Pavel Vinogradov's birthday
09/07/06 – STS-115/12A landing at KSC (~12:02pm EDT)
09/14/06 — Soyuz TMA-9/13S launch (Expedition 14 + VC11)
09/15/06 — Progress M-56/21P undocking (SM aft port) & reentry
09/16/06 — Soyuz TMA-9/13S docking (SM aft port)
09/25/06 — Soyuz TMA-8/12S undocking (FGB nadir port) & land
10/08/06 — Soyuz TMA-9/13S relocation (SM aft port to FGB nadir port)
10/18/06 — Progress M-58/23P launch
10/20/06 — Progress M-58/23P docking (SM aft port)
11/22/06 — Russian EVA-17
12/14/06 — STS-116/12A.1 launch
12/16-23/06 — STS-116/12A.1 docked mission w/ISS – P5 truss
12/19/06 — Progress M-57/22P undocking (DC1) & reentry
12/20/06 — Progress M-59/24P launch
12/22/06 — Progress M-59/24P docking (DC1)
01/22/07 — US EVA-6
01/26/07 — US EVA-7
01/31/07 — US EVA-8
02/06/07 — Progress M-59/24P undocking (DC1) & reentry
02/07/07 — Progress M-60/25P launch
02/09/07 — Progress M-60/25P docking (DC1)
02/22/07 — STS-117/13A launch – S3/S4 trusses
02/24-03/03/07 — STS-117/13A docked mission w/ISS (earliest)
03/08/07 — Progress M-58/23P undocking (SM aft port) & reentry
03/09/07 — Soyuz TMA-10/14S launch (Expedition 15 + VC12)
03/11/07 — Soyuz TMA-10/14S docking (SM aft port)
03/19/07 — Soyuz TMA-9/13S undocking (FGB nadir port)
??/??/07 — Soyuz TMA-10/14S relocation (SM aft port to FGB nadir port)
06/11/07 — STS-118/13A.1

ISS Altitude History
Apogee height — Mean Altitude — Perigee height
For more on ISS orbit and worldwide ISS naked-eye visibility dates/times, see http://spaceflight.nasa.gov/realdata/sightings/ on NASA's Human Spaceflight website. Additional satellite tracking resources can be found at http://www.spaceref.com/iss/tracking.html.