NASA Space Station On-Orbit Status 23 February 2006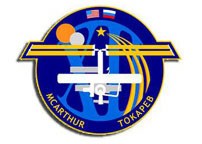 SpaceRef note: This NASA Headquarters internal status report, as presented here, contains additional, original material produced by SpaceRef.com (copyright © 2006) to enhance access to related status reports and NASA activities.
All ISS systems continue to function nominally, except those noted previously or below.   A relatively light duty day for the ISS crew because of today's Russian holiday observance:  "Defender of Motherland Day", formerly known as "Soviet Army Day", is popularly viewed as holiday for all men, closely followed by its female counter-part, Women's Day, March 8.
FE Valery Tokarev prepared his 20th NOA (Nitric Oxide Analyzer) regular (non-EVA) weekly session in the DC1 Docking Compartment and then conducted the procedure, afterwards dumping the measurements from the RSE laptop to the ground via the BSR-TM telemetry channel.   [Purpose of the ESA VC9 payload ESANO1, consisting of the "Platon" analyzer and its power supply, is to monitor expired nitric oxide (NO) in the subject's exhaled air to detect signs of airway inflammation and indications of venous gas emboli (bubbles) that may be caused by inhalation of pollutants on the ISS and increased risk of decompression sickness.  The test sessions are being conducted once a week, with two NO measurements in the exhaled air (after rinsing out with Rodnik water) taken in each session through a bacterial filter.  Today's measurement ops were recorded in the Platon log and supported by ground specialist tagup via S-band.  To prevent skewing the measurements, Valery had to prepare for the session by excluding food items containing nitrites and nitrates (such as in processed meat, assorted vegetables, stewed cabbage, etc.) from his diet for 24 hours before the weekly experiment.]
CDR/SO William McArthur performed troubleshooting on the wireless BCR (Bar Code Reader) system, which has experienced problems, by swapping out its OpsLAN (Operations Local Area Network) RF (radio frequency) access point unit with a spare.  The troubleshooting was entirely successful.   [The BCR is used for updating the IMS databases.  The task involved the actual swap-out, followed by configuring the new AP (access point) to the OpsLAN settings using an SSC (Station Support Computer) A31p laptop, and verifying network connectivity through the new AP. Bill reported that BCR transactions now are "an order of magnitude quicker" and that the BCR "is working like it should".]
The CDR disconnected ER1 (EXPRESS Rack 1) from its Lab ITCS (internal thermal control system) and started payload rack reconfiguration activities in the Lab in preparation for Mission ULF-1.1/STS-121 arrival (currently expected NET 5/5).   [Extending over several hours today and tomorrow, McArthur's job is to configure the ZSR (Zero-G Stowage Rack) at the Lab Port 1 position, after rotating it away from the wall, to receive pre-pack bags for ULF-1.1 (then be returned to Earth along with them) and to prepare the ER1 (EXPRESS rack 1) at its overhead position for a new payload to be delivered by ULF-1.1.  Another overhead ZSR will be configured at a later date to receive pre-packed bags and also return on STS-121.  The ZSR cleanout essentially consists of relocating items currently stowed there, per uplinked instructions table and keeping track of the moves in the IMS (Inventory Management System).]
The FE again had several hours for collecting discarded hardware and trash from the Russian & U.S. segments and stowing it in Progress-354/19P for disposal, going by an uplinked equipment list and updating the IMS in the process.   [19P is slated for undocking next week on Friday (3/3).]
Tokarev also performed the daily routine maintenance of the SM's environment control & life support system (SOZh), including its toilet system (ASU), and later updated/edited the standard IMS "delta file" for the regular weekly automated export/import to its three databases on the ground (Houston, Moscow, Baikonur).
McArthur conducted the visual T+2d analysis of the Week 20 water samples, collected on 2/21 from the SRV-K hot tap and the EDV container of the water supply system (SVO-ZV), with the WMK (water monitoring kit).  Bill also did another microbial analysis for inflight coliform bacteria (Escherichia coli) detection.  He then entered the microbiological data in the MEC (Medical Equipment Computer.  [The analyses use incubated MCDs (microbial capture devices) and coliform detection bags.  The used incubation bags and any Ziplocs used for the coliform detection bags were discarded.]
Working off his discretionary "time available" task list, Tokarev did his regular checkup on the Japanese experiment GCF-JAXA (Granada Crystallization Facility) in the Russian TBU incubator, maintained at 20 degC, including a temperature check on its ART (automatic temperature recorder).   [This daily monitoring/temp checking, carried on the Russian voluntary "time available" task list, will continue until 4/30.]
McArthur conducted his weekly audit/inventory of the available CWCs (collapsible water containers) and their contents, to keep track of onboard water supplies.   [Updated "cue cards" based on Bill's water calldowns are sent up every other week.  The current cue card lists two dozen water containers (~412.5 liters total) for the four types of water identified on board: technical water (for Elektron, flushing, hygiene; some CWCs found leaking), potable water (~180 liters), condensate water (for processing) and other (TCS fluid, EMU waste water).  As of 12/05/05, average water usage rate for Increment 12 is 1.8 liters daily for each crewmember.  Water is re-supplied from processed condensate.]
Bill also ran his daily atmospheric status check for ppO2 (Partial Pressure Oxygen) and ppCO2 (pp Carbon Dioxide), using the CSA-O2 (Compound Specific Analyzer-Oxygen Sensor).
Both crewmembers completed their regular 2.5-hr. physical exercise program on the TVIS treadmill, RED resistive exerciser and VELO bike with bungee cord load trainer.   [Valery's daily protocol prescribes a strict four-day microcycle exercise with 1.5 hr on the treadmill in unmotorized mode and one hour on VELO plus load trainer (today: Day 1 of the first set).]
Afterwards, the CDR transferred the exercise data files to the MEC for downlink, as well as the daily wristband HRM (heart rate monitor) data of the workouts on RED, followed by their erasure on the HRM storage medium (done six times a week).
Post-burn results of yesterday's ISS reboost show that the translation maneuver by four Progress 19 thrusters was very successful.   [The 806.61-sec burn generated ~1.62 m/s delta-V and boosted mean altitude by 2798 m.  The MAMS (Microgravity Acceleration Measurement System)-derived delta-V value agrees closely with SSTRATCOM tracking.  Total amount of propellant used was 126 kg (maneuvering plus actual reboost).] 
The Science Officer was thanked for his performance of the third FOOT (Foot/Ground Reaction Forces during Space Flight) session yesterday and for taking extra time to verify the quality of EMG (electromyography) signals plus while maintaining the 8.5-hr duration requirement.
Yesterday's photography of the Soyuz-217/11S Descent Module's center seat was motivated by some difficulties reported by Tokarev in moving the seat upward due to a tight ring collar on the right side. TsUP-Moscow plans to allot ~1.5 hours for Valery to complete additional troubleshooting work in the near future.    
Today's CEO (Crew Earth Observation) photo targets, limited in the current XPOP attitude by flight rule constraints on the use of the Lab nadir/science window, which is available for only ~1/4 of each orbit when not facing forward (in ram), were Patagonian Glaciers (two ISS passes today, of which the first was the best for the north end of the Southern Patagonian Ice Field and the second, later, for its south end. In both passes, the crew was to use the long lens settings in near-nadir views for details of the smaller glaciers here), and Internal waves, Southern Patagonian Shelf (best views for sea surface glint features were left of track along the northern coast of Bahia Grande to the vicinity of Cape Blanco).
To date, more than 186,000 of CEO images have been taken in the first five years of the ISS, almost one third of the total number of images taken from orbit by astronauts.
CEO photography can be viewed and studied at the websites:
See also the website "Space Station Challenge" at:
To view the latest photos taken by the expedition 12 crew visit:
Expedition 12 Flight Crew Plans can be found at http://spaceflight.nasa.gov/station/timelines/
Previous NASA ISS On-orbit Status Reports can be found here. Previous NASA Space Station Status Reports can be found here. Previous NASA Space Shuttle Processing Status Reports can be found here. A collection of all of these reports and other materials relating to Return to Flight for the Space Shuttle fleet can be found here.
ISS Orbit  (a of this morning, 6:53am EST [= epoch]):
Mean altitude — 348.0 km
Apogee height — 353.7 km
Perigee height — 342.2 km
Period — 91.50 min.
Inclination (to Equator) — 51.64 deg
Eccentricity — 0.0008524
Solar Beta Angle — 40.2 deg (magnitude decreasing)
Orbits per 24-hr. day — 15.74
Mean altitude gain in last 24 hours — 2798 m
Revolutions since FGB/Zarya launch (Nov. 98) — 41524
Events Ahead (all dates Eastern & tentative):
03/03/06 — Progress M-54/19P undocking & reentry (mnvr. to LVLH XVV after undock)
03/06/06 — Repair of MCA in US segment
03/10/06 — ISS reboost (by SM thrusters; mnvr. back to XPOP after burn)
03/16/06 — Airlock Campout SDTO (overnight)
03/20/06 — Soyuz TMA-7/11S relocation (FGB nadir port to DC1)
03/30/06 — Soyuz TMA-8/12S launch (Pavel Vinogradov/Russia, Jeffrey Williams/US, Marcos Pontes/Brazil)
04/01/06 — Soyuz TMA-8/12S docking (SM aft end port; mnvr. to LVLH XVV after dock)
04/09/06 — Soyuz TMA-7/11S undocking (4:15pm EDT) & land (7:40pm); (mnvr. to XPOP after undock)
04/18/06 — Soyuz TMA-8/12S relocation (SM aft end port to DC1)
04/24/06 — Progress M-56/21P launch
04/26/06 — Progress M-56/21P docking (SM aft end port)
05/03/06 — ULF1.1 launch (NET, not earlier than)
06/15/06 — U.S. EVA (under review)
06/19/06 — Progress M-55/20P undocking & reentry
06/28/06 — Progress M-57/22P launch
06/30/06 — Progress M-57/22P docking
07/01/06 — 12A launch (under review)
08/01/06 — Russian EVA-16 (under review)
09/12/06 — Progress M-56/21P undocking & reentry
09/14/06 — Soyuz TMA-9/13S launch
09/16/06 — Soyuz TMA-9/13S docking (FGB nadir port)
09/24/06 — Soyuz TMA-8/12S undocking & reentry
09/28/06 — Soyuz TMA-9/13S relocation (FGB nadir port to DC1)
10/18/06 — Progress M-58/23P launch
10/20/06 — Progress M-58/23P docking
12/19/06 — Progress M-57/22P undocking & reentry
12/20/06 — Progress M-59/24P launch
12/22/06 — Progress M-59/24P docking.

ISS Altitude History
Apogee height — Mean Altitude — Perigee height
For more on ISS orbit and worldwide ISS naked-eye visibility dates/times, see http://www.hq.nasa.gov/osf/station/viewing/issvis.html. In addition, information on International Space Station sighting opportunities can be found at http://spaceflight.nasa.gov/realdata/sightings/ on NASA's Human Spaceflight website. The current location of the International Space Station can be found at http://science.nasa.gov/temp/StationLoc.html at NASA's Marshall Space Flight Center. Additional satellite tracking resources can be found at http://www.spaceref.com/iss/tracking.html.