NASA Space Station On-Orbit Status 22 October 2005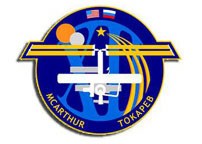 SpaceRef note: This NASA Headquarters internal status report, as presented here, contains additional, original material produced by SpaceRef.com (copyright © 2005) to enhance access to related status reports and NASA activities.
All ISS systems continue to function nominally, except those noted previously or below.   Saturday — off-duty day for Bill McArthur & Valery Tokarev, except for housekeeping and voluntary work.   
The crew completed the regular weekly 3-hour task of thorough station cleaning, wearing protective garment.   ["Uborka", done every Saturday, includes removal of food waste products, cleaning of compartments with vacuum cleaner, damp cleaning of the Service Module (SM) dining table, other surfaces and the CDR's sleep station with "Fungistat" disinfectant and cleaning fan screens to avoid temperature rises.]
Troubleshooting continued this morning on the Elektron oxygen generator.  No word yet on the outcome.   [ppO2 (oxygen partial pressure) in the ISS is being maintained within safe Flight Rule limits with O2 stored in Progress 19.]
CDR McArthur conducted the weekly audit/inventory of the available CWCs (collapsible water containers) and their contents, to keep track of onboard water supplies.   [Updated "cue cards" based on Bill's water calldowns, are sent up every other week.]
In preparation for EVA-4 on 11/7, McArthur initiated the first of two recharges on the EMU batteries in the BSA (battery stowage assembly) in the U.S. Airlock "Quest".
Extensive briefing material on the upcoming two-man spacewalk and its preceding dryrun on 10/27 was uplinked yesterday, to be reviewed by Bill and Valery over the weekend at their leisure, with special emphasis on the lack of an intravehicular (IV) crewmember (considered an unlikely option in original planning for Expedition 12/EVA-4 planning).   [Training preparations and dryrun will place particular attention on such features as doffing an EMU (extravehicular mobility unit) without IV assistance, including such tasks as solo doffing of the HUT (hard upper torso) for aiding an incapacitated crewmate and removing a BTA (bends treatment adapter) test port plug (a "blind" reach).]
Both crewmembers completed their regular 2.5-hr. physical exercise program on the TVIS treadmill, RED resistive machine and VELO bike with bungee cord load trainer.   [Valery's daily protocol prescribes a strict four-day microcycle exercise with 1.5 hr on the treadmill and one hour on VELO plus load trainer (today: Day 4of the first set).]
Later, Bill transferred TVIS and RED exercise data files to the MEC (Medical Equipment Computer) for downlink, as well as the daily wristband HRM (Heart Rate Monitor) data of his RED workout, followed by their erasure on the HRM storage medium (done six times a week).
Tokarev performed the daily routine maintenance of the Service Module (SM)'s environment control & life support system (SOZh), including its toilet system (ASU).
Working from his voluntary "job jar" task list, the FE first downloaded system data/log files from the RokvISS experiment from the BSPN payload server to the ISS Wiener laptop, to be dumped to the ground for analysis.   [RokvISS is a German remote-controlled robotics experiment installed externally on the SM Working Compartment (RO) on the URM-D (Universal Work Platform) with baseplate (FP-20).]
Weekly Science Update (Expedition Twelve — 2nd)
Human Research Facility/Gas Analyzer System for Metabolic Analysis Physiology (HRF GASMAP):  Planned.
Human Research Facility/Workstation (HRF WS):  Continuing.
Pulmonary Function System (PFS):  On 10/18 (Tuesday) the crew performed the PFS checkout.  Despite some complications, the checkout was successful and the data looks good.  The ground team looks forward to working with the crew next month during the GASMAP Routine Health Check.
Advanced Ultrasound (ADUM):  Continuing.
Renal Stone (RS):   This week the E12 crew successfully completed the first Renal Stone in-flight session.  The Principal Investigator has confirmed receipt of the barcode reader data for the first diet-logging day and expects the rest of the data within the next few days.  As always, the Renal team appreciates the crew's support of this experiment and looks forward to the next session.
Foot/Ground Reaction Forces during Space Flight (FOOT):   Complete for this Increment.
Space Acceleration Measurement System (SAMS):   SAMS is currently powered down.
Microgravity Acceleration Measurement System (MAMS):   MAMS is nominal.
Protein Crystal Growth-Single Locker Thermal Enclosure System (PCG-STES):   Complete and returned to the PI.
Binary Colloidal Alloy Test-3 (BCAT-3):    BCAT-3 Slow Growth Sample Module was left undisturbed in its current location by the E11 crew.  In order for the samples to potentially grow crystals that can be photographed during Increment 12 operations, the Sample Module must be left undisturbed.
Materials ISS Experiment (MISSE):  In progress.  New MISSE-5 "suitcase" deployed and unfolded during EVA outside on the U.S. Airlock.
Dust and Aerosol Measurement Feasibility Test (DAFT):   Nothing new.
Earth Knowledge Acquired by Middle School Students (EarthKAM):   Planned for February.
Serial Network Flow Monitor (SNFM):  Complete.
Fluid Merging Viscosity Measurement (FMVM):  Nothing new.
Space Experiment Module (SEM):  Nothing new.  Experimenters and kids are working to get the next two satchels on ULF1.1.
Miscible Fluids in Microgravity (MFMG):   MFMG payload operations are finished.
Educational Payload Operations (EPO):   Complete.
Crew Earth Observations (CEO):   Through 10/19, the ground has received 282 CEO images from ISS.  Investigators are "very pleased with the quality and content of what we have reviewed so far."  Excellent views of Patagonian Glaciers were received, and special thanks were extended for prompt downlinks of the Dynamic Event images of Hurricane Wilma.  "This storm developed more rapidly than expected and your 10/19 views of the eye caught the storm at its maximum, record-setting intensity!"  Five of them were posted by NASA HQ on their Hurricane Resource Page last night.  All have now been cataloged and released to the public on the CEO website.
Today's CEO (crew earth observations) photo targets, limited in the current XPOP attitude by flight rule constraints on the use of the Lab nadir/science window, which is available for only ~1/4 of each orbit when not facing forward (in ram), were Pilcomayo River dynamics, Northern Argentina (ISS had an excellent opportunity for oblique photography of the Pilcomayo River Channel.  While the silt-laden headwaters of the river are easily spotted extending from the eastern front of the Andes, the river channel becomes more obscure to the east.  Sunglint may illuminate smaller channels to the left of track), and Patagonian Glaciers,South America (this orbit took the crew over the southernmost Patagonian ranges and glaciers.  Lighting conditions were most favorable on the eastern side of the mountains.  Looking to the left of track for small glaciers on the flanks and peaks of the mountains).
To date, over 177,000 of CEO images have been taken in the first five years of the ISS.
CEO photography can be viewed and studied at the websites:
See also the website "Space Station Challenge" at:
To view the latest photos taken by the expedition 12 crew visit:
Expedition 12 Flight Crew Plans can be found at http://spaceflight.nasa.gov/station/timelines/
Previous NASA ISS On-orbit Status Reports can be found here. Previous NASA Space Station Status Reports can be found here. Previous NASA Space Shuttle Processing Status Reports can be found here. A collection of all of these reports and other materials relating to Return to Flight for the Space Shuttle fleet can be found here.
ISS Orbit  (as of this noon, 12:01pm EDT [= epoch]):
Mean altitude — 346.8 km
Apogee height — 347.7 km
Perigee height — 346.0 km
Period — 91.47 min.
Inclination (to Equator) — 51.64 deg
Eccentricity — 0.0001276
Solar Beta Angle — 31.2 deg (magnitude increasing)
Orbits per 24-hr. day — 15.74
Mean altitude loss in last 24 hours — 95 m
Revolutions since FGB/Zarya launch (Nov. 98) — 39574
Upcoming Events (all times EDT):
10/26/05 — Test Reboost (four Progress 19 thrusters, for 0.25 m/s delta-V)
10/27/05 – EVA-04 Dry Run
11/07/05 — EVA-4 (U.S.)
11/18/05 — Soyuz TMA-7/11S relocation (from DC-1 to FGB nadir port)
12/20/05 – Progress M-54/19P undocking & reentry
12/21/05 – Progress M-55/20P launch
12/23/05 — Progress M-55/20P docking
01/09/06 — 100 days for Expedition 12.

ISS Altitude History
Apogee height — Mean Altitude — Perigee height
For more on ISS orbit and worldwide ISS naked-eye visibility dates/times, see http://www.hq.nasa.gov/osf/station/viewing/issvis.html. In addition, information on International Space Station sighting opportunities can be found at http://spaceflight.nasa.gov/realdata/sightings/ on NASA's Human Spaceflight website. The current location of the International Space Station can be found at http://science.nasa.gov/temp/StationLoc.html at NASA's Marshall Space Flight Center. Additional satellite tracking resources can be found at http://www.spaceref.com/iss/tracking.html.