NASA Space Station On-Orbit Status 22 Oct 2003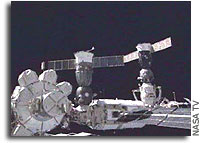 All ISS systems continue to function nominally, except as noted previously or below.  Underway: Week 25 for Expedition 7.
For the current joint ops period the crew day begins at 1:00am EDT (i.e., an hour earlier than usual), ending with sleep time at 4:30pm.
Handover activities between Exp. 7 and Exp. 8 are going well, and no major issues are being worked.  There were 4 hrs 15 min. allotted on today's schedule for these activities, being performed by Lu, Malenchenko, Foale and Kaleri.  [The handover (h/o) book includes sections on h/o video recording, checking emergency response activity readiness, details of TV and other comm subsystems, radiogram management protocol, maintenance requirements of crew life support and power systems, Kaleri's personal effects kit, care of hatches and windows, medical equipment, etc.]
CDR Yuri Malenchenko collected water samples from the SVO-ZV water supply system in the Service Module (SM) for analysis on the ground.  [The samples were taken from the EDV-ZV container filled earlier from the Progress 12P Rodnik water tank BV1; they will be returned on Soyuz 7S in an EDP container.]
Malenchenko collected air samples to test for ammonia (NH3), using the Russian IPD Draeger tube air sampler.
Sampling of the cabin atmosphere was also performed by VC/FE Pedro Duque with the SSAS (solid sorbent air sampler).
Ed Lu familiarized Mike Foale with the opening and closing of the MCA's manual oxygen valve (HV O2), required by the crew in support of ground-commanded full MCA calibrations.  [The activity first opens the MCA's VGA (verification gas assembly) valve and later in the day closes it again after MCC-H go-ahead.]
Pedro Duque, assisted by Sasha Kaleri as required, again worked a packed day's program of Cervantes experiments.  [After activating the EGE2 laptop early in the morning, he set up hardware for NEUROCOG, then did rotations in fixed and free-float position in "virtual corridors" and turns in zero-G, assisted and video-taped by Kaleri.  Later, Pedro changed out the PromISS-2 videotape at the MSG (Microgravity Science Glovebox) for the second time (scientists reported seeing "really nice crystals" via the videocam) and deactivated the NANOSLAB experiment after its 30-hr. run, when it had cooled down.  For MSS-2/MESSAGE, which investigates microbial mobility and genetic processes in incubated Ralstonia metallidurans and Rhodosprillum rubrum bacteria cultures in zero-G, Duque installed the third sample (of four).]
Duque and Kaleri continued taking stereoscopic (3D) photo and regular video/photo imagery of onboard activities for documentary and PAO use on Earth.  Sasha later again had ten minutes set aside for recharging the DVCAM camcorder battery.
FE/SO Ed Lu terminated the 24hr. charging process on EMU batteries #2032 & #2033 in the Airlock's BSA (battery stowage assembly).  Next step in the regular maintenance cycle will be their discharge.  [The periodic charge/discharge cycle is a maintenance feature to restore the batteries' capacity, prolonging their useful life.]
Yuri Malenchenko conducted another 55-min. training session in the "Chibis" ODNT suit as part of his preparations for returning into gravity.  Ed Lu provided assistance.  [The below-the-waist reduced-pressure device ODNT (US: LBNP) provides gravity-simulating stress to the body's cardiovascular/circulatory system for reestablishing the body's orthostatic tolerance (e.g., the Gauer-Henry reflex) after the six-month stay in zero-G.  Yuri's ODNT protocol today consisted of first imbibing 150-200 milliliters of water or juice, followed by a sequence of progressive regimes of reduced ("negative") pressure, set at -20, -30, -35, and -40 mmHg for five minutes each while shifting from foot to foot at 10-12 steps per minute. The body's circulatory system interprets the pressure differential between upper and lower body as a gravity-like force pulling the blood (and other liquids) down.]
The four crewmembers of Expedition 7 & 8 conducted their physical exercise on TVIS treadmill, RED exerciser and CEVIS cycle ergometer.
In preparation for tomorrow's scheduled MSS (Mobile Service System) handover operations, Ed Lu and Mike Foale went through a one-hour review of the DOUG (dynamic operations ubiquitous graphics) application, which is used during Robotics/SSRMS (Space Station Remote Manipulator System) operations.  [DOUG is a periodically updated software program on the MSS (mobile service system) laptops that provides a birdseye-view graphical image of the external station configuration and the SSRMS arm, showing its real-time location and configuration on a laptop during its operation.] 
Mike conducted the routine technical maintenance of the SM's SOZh environment control & life support system, while Sasha prepared the daily IMS "delta" file for automatic export/import to update the database.  Ed Lu meanwhile performed the regular routine status checkup of the autonomous Lab payloads.
Pedro Duque had about half an hour set aside to work through and answer his email from "down home".
CDR Yuri Malenchenko set up the equipment for the Russian MBI-2 Deuraz ("Diuresis") experiment, to be conducted by him tomorrow and on Friday.  [Deuraz requires Yuri tomorrow to record toilet use time in the morning, perform urine sample collections throughout the day, and log meal and fluid intake on a record card.  Additional work, to be completed on Friday, consists of collecting his venous blood samples, followed by centrifugation to separate the blood into cells and plasma, and finally closeout and stowage.]
Handover activities today included familiarization with the GPS (global positioning system) receiver and Inmarsat/Iridium satellite phone for use by the 6S crew in case of a contingency reentry and landing.  [Kaleri inserted batteries into the GPS receiver, turned it on and familiarized Malenchenko with its operation, also reporting to the ground on its functionality.  The Motorola-9505 unit was unstowed, and one antenna was extended.  Kaleri demonstrated its use, but the unit was not turned on and its lithium-ion battery was not installed.  The kit was then stowed back in the Soyuz-212 descent module.]
At 8:45am EDT, both crews participated in an interactive TV PAO interview with Russian media at RTR-TV in Moscow.  Sasha Kaleri and Mike Foale also downlinked cordial greetings to the staff of the Keldysh Research Center in Moscow, a "cradle of the national rocket technology, from artillery to intercontinental and space" (script).  [Keldysh, named after renowned Russian space scientist Mstislav V. Keldysh (1911-1978), is celebrating its 70th Anniversary, with a gala night planned for 10/31 in the large Akademichesky Concert Hall.  The Center was established on 21 Sept. 1933 as Jet Science & Research Institute (RNII) within the People's Commissariat for Military and Naval Issues (NKVM).  RNII was formed from the Moscow Group for Studies of Jet Propulsion (MosGIRD) and Leningrad-based Gas Dynamic Laboratory (GDL).]
Later, at 10:25 am, Mike Foale, Yuri Malenchenko and Ed Lu supported two TV interview downlinks, one with CNN (Miles O'Brien), the other with CBS (Bill Harwood)
HRF computer:  Mike Foale's attempt to install a new HDD (hard disk drive) in the HRF (Human Research Facility) laptop for automatic loading of the computer with Increment 8 integrated software failed for as-yet-unexplained reasons.  The decision was made to go back to the old HDD for the time being, to permit payload data collection during the joint ops period.  Troubleshooting will follow when more time is available.
SSAS downmass priority: The return of the SSAS (Solid Sorbent Air Sampler) on 6S has been given top priority among U.S. return items.  But whether the sizable unit can be fitted in the Soyuz descent module remains undecided until end of 6S stowage operations on Monday morning (10/27).  In case SSAS cannot be accommodated, MCC-H/Toxicology Group has requested that two additional samples be taken with GSCs (grab sample containers) as backup, one each in Lab and SM, to be returned on 6S regardless of whether the SSAS makes it or not.  [The mandatory need for the air samples stems from the current measurement uncertainties hampering U.S. and Russian cabin air monitoring, usually provided by MCA (major constituents analyzer), CPA-CP (compound specific analyzer-combustion products) and CDMK (carbon dioxide monitoring kit) in the U.S. segment (USOS), and the IK0501 gas analyzer in the Russian segment (RS).  Ground analysis of the air samples will provide engineers with a calibration basis for the instruments.]
BMI Payload:  ESA is currently investigating the failure of Pedro Duque's BMI blood pressure and data collection experiment, which unexpectedly lost its pressure measurement and recording instrument.  NASA has offered use of equivalent U.S. blood pressure measuring equipment if the BMI instrument cannot be recovered in time.  The BMI failure also impacts the CARDIOCOG experiment, which was to use BMI's blood pressure measurements.  [The BMI cuff is worn on the arm not used for blood draws; Pedro's blood pressure measurements were to be taken every 15 min. throughout the day and every 30 min. during the night.  The task also involves filling out logbook questionnaires for each data take period. ]
Soyuz-TMA-3/7S CRV (crew return vehicle):  The small leak in the helium (He) pressurization system of the KDU Integrated Propulsion System's #2 manifold remains isolated.  Pressure values in the He and propellant tanks continue to be stable.  He pressurization line pressure also remains unchanged at 9.8-10 bars.  [A typographical error was discovered in the applicable NASA-JSC Flight Rule, which in the present situation would make the difference between manning and demanning the station: FR D2-402 calls for "early descent preparations and an early descent" of the Soyuz in case of an "isolatable helium pressurization gas leak".  Formal procedures have been initiated to change the erroneous "isolatable" to "non isolatable".]
Stowage consolidation:  A major Expedition 8 crew task in the new Increment ahead will be stowage consolidation in the ISS modules, in order to clear access to the panel fire ports as much as possible.  This task is expected to require ~40 crew-hours, to be scheduled on an already cramped timeline.  Since Moscow may decide to slip the planned Orlan spacesuit demo (suited ingress in Soyuz from the DC-1) by a few weeks, some 9 hrs. may become available for the stowage consolidation efforts.
SM TsVM Central Computer:   Lane 3 (of three subsets) was dropped off-line early this morning when it was voted off by the two remaining subsets.  Under assessments by RSC-Energia specialists.  [If all three TsVM computer lanes should go down, there would be a temporary loss of comm (~2 min.) between RSA and USOS systems until the processors are automatically restarted/reintegrated.]
No CEO (crew earth observations) during the joint ops phase.
Upcoming Soyuz-212 Events:
6S hatch closure: 10/27 (Monday), 3:10pm Eastern.
6S undocking: 6:20pm Eastern, 2:20am (10/28) Moscow;
6S landing:  10/27 (Monday), 9:36pm Eastern, 5:36am (10/28) Moscow.
U.S. and Russian Segment Status (as of 1:41pm EDT).
Environmental Control and Life Support (ECLSS) and Thermal Control (TCS):
Elektron O2 generator is powered On, 32A.  Vozdukh CO2 scrubber is On (in Manual Mode 5/3).  U.S. CDRA CO2 scrubber is Operating.  TCCS (trace contaminant control subsystem) is operating.  MCA (major constituents analyzer) is off (in Life Extending Mode).  BMP Harmful Impurities unit: absorbent bed #1 in Purify mode, bed #2 in Purify mode.  RS air conditioner SKV-1 is On; SKV-2 is Off.

SM Working Compartment:  Pressure (mmHg) — 742; temperature (deg C) — 27.2; ppO2 (mmHg) — 160.9; ppCO2 (mmHg) — 2.4.
SM Transfer Compartment:  Pressure (mmHg) — 765; temperature (deg C) — 21.1.
FGB Cabin:  Pressure (mmHg) — 772; temperature (deg C) — 22.0.
Node:  Pressure (mmHg) — 760.43; temperature (deg C) — 22.4 (shell); ppO2 (mmHg) — n/a; ppCO2 (mmHg) — n/a.
U.S. Lab:  Pressure (mmHg) — 762.80; temperature (deg C) — 25.0; ppO2 (mmHg) — n/a; ppCO2 (mmHg) — n/a.
Joint Airlock (Equip. Lock):   Pressure (mmHg) — 762.90; temperature (deg C) — 23.9; shell heater temp (deg C) — 24.1, ppO2 (mmHg) — n/a; ppCO2 (mmHg) — n/a.
PMA-1:  Shell heater temp (deg C) — 22.4
PMA-2:  Shell heater temp (deg C) — 16.4.
(n/a = data not available)
Electrical Power Systems (EPS):
Both P6 channels fully operational.  BGA (beta gimbal assembly) 2B and 4B both in Directed Position (non-suntracking). 
SM batteries:  Battery #8, formerly known as #7, is off, still in slot #8; all other batteries (7) are in "Partial Charge" mode (batteries #1 and #3 are degraded). 
FGB batteries:  Batteries #1 & #2 are off; all other batteries (5) are in "Partial Charge" mode.
Plasma Contactor Unit PCU-1 in Standby mode; PCU-2 in Standby mode.
Command & Data Handling Systems:
C&C-2 MDM is prime, C&C-1 is back-up, and C&C-3 is in standby.
GNC-1 MDM is prime; GNC-2 is Backup.
INT-2 is operating; INT-1 is Off.
EXT-2 is On (primary), EXT-1 is Off (both now upgraded to R3).
LA-1, LA-2 and LA-3 MDMs are all operating.
PL-1 MDM is Off; PL-2 MDM is Operational.
APS-1 (automated payload switch #1) and APS-2 are both On.
SM Terminal Computer (TVM): 2 redundant lanes (of 3) operational; string #2 dropped out 9/26.
SM Central Computer (TsVM): 2 redundant lanes (of 3) operational; string #3 dropped out 10/22.
Propulsion System (PS):
Total propellant load available: 3891 kg (8578 lb) as of 10/16  [SM(755) + FGB(2784) + Progress M(352) + Progress M-1(0)].  (Capability: SM — 860 kg; FGB — 6120 kg).
Attitude Control Systems:
3 CMGs on-line (CMG-1 failed).
State vector source — U.S. SIGI-1 (GPS)
Attitude source — U.S. SIGI-1 (GPS)
Angular rate source — RGA-1
Flight Attitude:
LVLH YVV (y-axis in velocity vector, i.e. flying "sidewise") [yaw: -90 deg, pitch: -8.9 deg., roll: 1.8 deg]), with CMG Momentum Management.
Communications & Tracking Systems:
FGB MDM-1 is powered Off; FGB MDM-2 is operational.
All other Russian communications & tracking systems are nominal.
S-band is operating nominally (on string 2).
Ku-band is operating nominally.
Audio subsystem is operating nominally (IAC-2 is prime, IAC-1 is suspect).
Video subsystem operating nominally.
HCOR (high-rate communications outage recorder) is operating nominally.
Robotics:
SSRMS/Canadarm2 based at MBS PDGF #2/LEE A, with Keep Alive (KA) power on both strings.
MBS: KA power on both strings. 
MT: latched and mated at WS4. 
POA: KA power on both strings.
RWS (robotics workstations): Lab RWS is On (DCP connected); Cupola RWS is Off.
ISS Orbit  (as of this morning, 7:14am EDT [= epoch]):
Mean altitude — 379.9 km
Apogee — 384.3 km
Perigee — 375.4 km
Period — 92.1 min.
Inclination (to Equator) —  51.63 deg
Eccentricity — 0.0006571
Orbits per 24-hr. day — 15.63
Mean altitude loss in last 24 hours — 160 m
Revolutions since FGB/Zarya launch (Nov. '98)  — 28089
For more on ISS orbit and worldwide naked-eye visibility dates/times, see http://www.hq.nasa.gov/osf/station/viewing/issvis.html