NASA Space Station On-Orbit Status 22 March 2006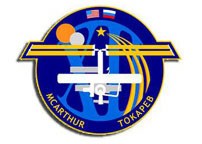 SpaceRef note: This NASA Headquarters internal status report, as presented here, contains additional, original material produced by SpaceRef.com (copyright © 2006) to enhance access to related status reports and NASA activities.
All ISS systems continue to function nominally, except those noted previously or below
FE Valery Tokarev performed the first preliminary 55-min training session in the "Chibis" ODNT suit as part of his preparations for returning into gravity. A tagup with ground specialists via VHF supported the run during Daily Orbit 3, and William McArthur provided assistance.  [The below-the-waist reduced-pressure device ODNT (US: LBNP), part of the "Chibis" garment, provides gravity-simulating stress to the body s cardiovascular/circulatory system for reestablishing the body s orthostatic tolerance (e.g., the Gauer-Henry reflex) after the six-month stay in zero-G.]
Progress Cargo Vehicle Procedures
Progress Cargo Vehicle Transfer Operations, Part 1, Mission Operations Directorate, 10 August 2000 [English – Acrobat] [Russian – Acrobat]
Progress Cargo Vehicle Transfer Operations, Part 2, Appendix 1, Mission Operations Directorate, 10 August 2000 [English – Acrobat] [Russian – Acrobat]

According to the introduction to these documents "this book is intended for performing cargo transfer operations in Progress and on stowing equipment in SM and Progress." These documents contain diagrams and detailed procedures for the transfer of times from the Progress Vehicle currently docked with the ISS.
A significant part of today's work was the reintegration of the Progress 20 cargo ship (TKG) at the DC1 Docking Compartment into the Service Module (SM) systems.  [After concluding the obligatory leak check of the DC1-to-TKG tunnel/vestibule, the crew opened the DC1/Vestibule (SU) and SU-TKG transfer hatches and installed the Q/D (quick disconnect) screw clamps (SSVP). 20P was then deactivated and the ventilation air duct installed in the interface passage. For the purpose of leak check and SSVP install, Russian segment (RS) thrusters were temporarily disabled and automatic handover to the RS inhibited (~5:05am EST), with the U.S. CMGs remaining in control. TA (Thruster Assist) mode was restored at 6:55am. 20P had been prepared for the eventuality that it had to be undocked by TsUP/Moscow via remote control in the unlikely event of an aborted Soyuz redocking last Monday).]
Later, the crew worked in the Soyuz TMA-7/11S vehicle at the SM aft end, dismantling the KURS-A rendezvous and approach radar system of its SUDN motion control & navigation system and removing it from the crew transport ship, a three-hour job. These valuable components will be returned to Earth for reuse.  [KURS-A is the active half of the Russian space program's proven S-band radar system for automated flight, which measures relative motion parameters between Soyuz(or Progress) and the ISS during rendezvous operations, to enable the autopilot's calculation of corrective impulses. The system s passive transponder counterpart (KURS-P) is on the SM, with one antenna each at the tip of the two solar array wings.]
CDR/SO McArthur worked on the Russian LIV video recorder system in the SM, supporting the downlinking of the video of the Progress-354/19P undocking on 3/3 to TsUP.  [Activation and deactivation of the LIV was executed by the automated onboard sequencing program (SPP) at ~3:07am over RGS (Russian ground site).]
Both crewmembers had 30 mins. set aside to review the updated SODF (Station Operations Data File) EMER-1 procedures, which cover the new Soyuz docked position.
In the DC1, Tokarev collected the periodic readings on the MOSFET (metal oxide semiconductor field-effect transistor) radiation sensor reader display of the Matryoshka antroph-amorphous (human torso) "phantoms" located in the station.  [The complex German-developed Matryoshka payload suite is designed for sophisticated radiation studies. Besides the Phantom Sphere containers in the SM, the human torso in the DC1 is equipped with individual horizontal slice-like layers with 356 thermoluminescent detectors (TLDs) and five nuclear radiation tracking detectors (NTDPs). The mannequin is covered with a poncho and hood and used for studies of on-orbit radiation and long-term dose accumulation. Note: Matryoshka is the name for the traditional Russian set of nested dolls.]
The crew again had time reserved on their schedule to prepack equipment and make other preparations for the return to Earth on 4/8.
The CDR performed the daily routine maintenance of the SM's environment control & life support system (ECLSS, Russian: SOZh), including toilet system (ASU) replacements.
Both crewmembers worked out in their regular 2.5-hr. physical exercise program on the TVIS treadmill (CDR & FE), RED resistive exerciser (CDR) and VELO bike with bungee cord load trainer (FE).  [Tokarev s daily protocol prescribes a strict four-day microcycle exercise with 1.5 hr on the treadmill in unmotorized mode and one hour on VELO plus load trainer (today: Day 4 of the first set). Part of Valery s program today was contributed by the ODNT orthostatic stability training in the morning. ]
Afterwards, the CDR transferred the exercise data files to the MEC (Medical Equipment Computer) for downlink, as well as the daily wristband HRM (heart rate monitor) data of the workouts on RED, followed by their erasure on the HRM storage medium (done six times a week).
Bill also ran the daily cabin air status check for ppO2 (Partial Pressure Oxygen) and ppCO2 (pp Carbon Dioxide), using the CSA-O2 (Compound Specific Analyzer-Oxygen Sensor) and CDMK (CO2 Monitoring Kit).
Working off his discretionary time available task list, Valery performed his regular checkup on the Japanese experiment GCF-JAXA (Granada Crystallization Facility) in the Russian TBU incubator, maintained at 20 degC, including a temperature check on its ART (automatic temperature recorder).  [This daily monitoring/temp checking, carried on the Russian voluntary "time available" task list, will continue until 4/30.]
Also on Tokarev's voluntary list for today was the regular status check of the BIO-5 Rasteniya-2 ("Plants-2") experiment and water tank recharge, if required.  [Rasteniya researches growth and development of plants under spaceflight conditions in the Lada-8 greenhouse.]
A third task in Valery s discretionary job jar for today was the dismantling and removal of the Japanese HDTV (high-definition television) camcorder and its cabling in the SM and the transfer of the equipment to the US segment (USOS).  [The LIV system, to which it had been connected, was then returned to its original condition.]
As fourth voluntary task, the FE checked out the air exchange between the newly docked Soyuz TMA-7/11S spacecraft and the SM, adding some length of air duct to ensure adequate airflow through the Soyuz Habitation Module (BO) into the Descent Module (SA).  [The resulting setup was photographed and the picture downlinked via OCA.]
One of NASA's Tracking & Data Relay Satellites, TDRS Z (275, over the Indian Ocean and the Zone of Exclusion/ZOE), lost attitude last night, and recovery efforts were initiated to restore its pointing capability. Regaining Earth lock was to be attempted at 6:20am EST this morning, or else again tonight at 6:20pm. Today s crew schedule, which had only one activity dependent on TDRS Z coverage (the evening DPC [Daily Planning Conference] at 2:15pm via S-band/audio) was to be rearranged to work around the resulting drop-out.
Today at Baikonur Cosmodrome, Kazakhstan, the Soyuz TMA-8/12S crew transport vehicle, fueled yesterday with compressed gases and propellants, was transferred to the Spacecraft Assembly and Testing Facility for final processing operations.  [Picture below].
Today's CEO (Crew Earth Observation) photo targets, limited in the current XPOP attitude by flight rule constraints on the use of the Lab nadir/science window, which is available for only ~1/4 of each orbit when not facing forward (in ram), were Indian Subcontinent Pollution (shooting straight down the Indus Valley, keeping the Suleiman mountains [right side of view] in any images. Then aiming half left for air pollution on the heavily populated Ganges plains. Keeping the Himalaya Mts. in any views for information on pollution blanket upper surface altitude), and Toshka Lakes, Egypt (looking right for images of the five Toshka Lakes [beyond the Nile and Lake Nasser]. Long-lens obliques can be rectified to reveal precise information on the level of these manmade lakes).
To date, more than 186,000 of CEO images have been taken in the first five years of the ISS, almost one third of the total number of images taken from orbit by astronauts.
CEO photography can be viewed and studied at the websites:
See also the website "Space Station Challenge" at:
To view the latest photos taken by the expedition 12 crew visit:
Expedition 12 Flight Crew Plans can be found at http://spaceflight.nasa.gov/station/timelines/
Previous NASA ISS On-orbit Status Reports can be found here. Previous NASA Space Station Status Reports can be found here. Previous NASA Space Shuttle Processing Status Reports can be found here. A collection of all of these reports and other materials relating to Return to Flight for the Space Shuttle fleet can be found here.
ISS Orbit  (as of this morning, 7:32am EST [= epoch]):
Mean altitude — 345.9 km
Apogee height 351.9 km
Perigee height — 339.9 km
Period — 91.45 min.
Inclination (to Equator) — 51.64 deg
Eccentricity — 0.0008859
Solar Beta Angle — -51.1 deg (magnitude peaking today)
Orbits per 24-hr. day — 15.74
Mean altitude loss in last 24 hours — 77 m
Revolutions since FGB/Zarya launch (Nov. 98) — 41950
Significant Events Ahead (all dates subject to change)
03/29/06 — Soyuz TMA-8/12S launch (Pavel Vinogradov/Russia, Jeffrey Williams/US, Marcos Pontes/Brazil, 9:30pm EST; 3/30, 6:30am Moscow; 3/30, 8:30am Baikonur)
03/31/06 — Soyuz TMA-8/12S docking (FGB nadir port), 11:19pm EST; mnvr. to LVLH XVV after dock; 4/1, 8:19am Moscow)
04/01/06 — Soyuz TMA-8/12S-ISS hatch opening ~12:30am EST
04/08/06 — Soyuz TMA-7/11S-ISS hatch closing ~1:12pm EDT
04/08/06 — Soyuz TMA-7/11S undocking (4:28pm EDT) & land (7:46pm EDT); (mnvr. to XPOP after undock)
04/19/06 — SM main engine test/ISS reboost
04/24/06 — Progress M-56/21P launch
04/26/06 — Progress M-56/21P docking (SM aft port)
06/19/06 — Progress M-55/20P undocking (DC1) & reentry
06/28/06 — Progress M-57/22P launch
06/30/06 — Progress M-57/22P docking (DC1)
07/01/06 — NET STS-121/ULF1.1 launch
07/??/06 — US EVA-5
08/??/06 — Russian EVA-16
08/28/07 — NET STS-115/12A launch
09/13/06 — Progress M-56/21P undocking (SM aft port) & reentry
09/14/06 — Soyuz TMA-9/13S launch (Expedition 14 + VC11)
09/16/06 — Soyuz TMA-9/13S docking (SM aft port)
09/24/06 — Soyuz TMA-8/12S undocking (FGB nadir port) & reentry
10/08/06 — Soyuz TMA-9/13S relocation (SM aft port to FGB nadir port)
10/18/06 — Progress M-58/23P launch
10/20/06 — Progress M-58/23P docking (SM aft port)
11/16/06 — NET STS-116/12A.1 launch
12/19/06 — Progress M-57/22P undocking (DC1) & reentry
12/20/06 — Progress M-59/24P launch
12/22/06 — Progress M-59/24P docking (DC1)
02/06/07 — Progress M-59/24P undocking (DC1) & reentry
02/07/07 — Progress M-60/25P launch
02/09/07 — Progress M-60/25P docking (DC1)
??/??/07 — Progress M-58/23P undocking (SM aft port) & reentry
03/09/07 — Soyuz TMA-10/14S launch (Expedition 15 + VC12)
03/11/07 — Soyuz TMA-10/14S docking (SM aft port)
03/19/07 — Soyuz TMA-9/13S undocking (FGB nadir port)
03/22/07 — NET STS-117/13A launch
??/??/07 — Soyuz TMA-10/14S relocation (SM aft port to FGB nadir port)
06/14/07 — NET STS-118/13A.1
(NET = no earlier than)

ISS Altitude History
Apogee height — Mean Altitude — Perigee height
For more on ISS orbit and worldwide ISS naked-eye visibility dates/times, see http://www.hq.nasa.gov/osf/station/viewing/issvis.html. In addition, information on International Space Station sighting opportunities can be found at http://spaceflight.nasa.gov/realdata/sightings/ on NASA's Human Spaceflight website. The current location of the International Space Station can be found at http://science.nasa.gov/temp/StationLoc.html at NASA's Marshall Space Flight Center. Additional satellite tracking resources can be found at http://www.spaceref.com/iss/tracking.html.