NASA Space Station On-Orbit Status 22 February 2006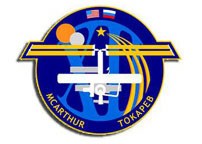 SpaceRef note: This NASA Headquarters internal status report, as presented here, contains additional, original material produced by SpaceRef.com (copyright © 2006) to enhance access to related status reports and NASA activities.
All ISS systems continue to function nominally, except those noted previously or below. 
After the LNS (Lab Nitrogen System) valve in the Lab module was opened by ground command to provide nitrogen gas (N2) for the following calibration session, CDR/SO William McArthur set up the video equipment and began today's FOOT experiment (Foot/Ground Reaction Forces during Space Flight), his third data collection session, by donning the specially instrumented LEMS (lower extremity monitoring suit) pants garment and performing electromyography (EMG) calibration (i.e., electric muscle currents recording) on the right arm and leg.  With the N2 valve closed again, Bill conducted the data collection session during the course of the day, today focusing on physical exercise on the CEVIS cycle and RED exerciser.  Halfway through the activity, Bill changed out the tape in the VTR (video tape recorder) and after ~10 hours of activity stowed the equipment again.   [During the second session, on 2/10, the ground had noted persistent EMG signal transmission problems. For today's session, McArthur used a backup pair of LEMS (lower extremity monitoring suit) pants (i.e., black Lycra biking tights with 20 electrodes and shoes fitted with insoles that measure impact forces on the bottom of the foot) and two unique exercise protocols on the CEVIS and RED, while also meeting his daily exercise requirements.  For CEVIS, McArthur attached special foot pedal platforms at the cycle's pedal clips.  The FOOT experiments provide better understanding of the bone loss and muscle mass loss experienced by astronauts in zero-G (recent studies have shown that as much as 1.58% per month of bone mineral is lost from the proximal femur during 4- to 14-month flights and that greater than 20% of knee-extensor strength is lost in 60- to 80-day flights).  The experiment, by the biomedical engineering department at the Cleveland Clinic Foundation in Cleveland, Ohio, was also conducted previously by John Phillips, Mike Foale and Ken Bowersox.]
A major part of today's crew workday was taken up by collecting discarded hardware and trash from the Russian & U.S. segments and stowing it in Progress-354/19P for disposal.  19P is slated for undocking next week on Friday (3/3).
FE Valery Tokarev conducted an inventory/audit of Russian SSVP docking mechanism components to verify items and locations currently listed in the IMS (Inventory Management System) as being stowed at various places in Soyuz TMA-7, FGB, Service Module (SM) and DC1 Docking Compartment. The audit was kicked off by a ground specialist tagup.
The CDR collected and stowed the two passive FMK (formaldehyde monitoring kit) sampling units deployed by him on 2/20 in the Lab (below CEVIS cycle) and SM (most forward handrail).   [The devices are designed to catch any atmospheric formaldehyde on a collector substrate for subsequent analysis on the ground.]
McArthur also ran his daily atmospheric status check for ppO2 (Partial Pressure Oxygen) and ppCO2 (pp Carbon Dioxide), using the CSA-O2 (Compound Specific Analyzer-Oxygen Sensor).
Tokarev completed the periodic (about twice a month) replenishment of the Elektron's water supply for electrolysis, his seventh, filling the KOV thermal loops' EDV container with purified (deionized) water from a filled EDV with water from the BKO multifiltration/purification column unit, following carefully written instructions.   [The 30-minute procedure is specially designed to prevent air bubbles larger than ~10 mm from getting into the BZh-8 Liquid Unit where they could cause Elektron shutdown.  In the procedure, the BKO water is carefully pumped with a compressor from the EDV-1 through the air/liquid separator unit (GZhS) into the empty EDV-2 while the crewmember checks for any air bubbles accumulating in the GZhS (and, if visible, estimates their number, with no more than two 1 cm diameter bubbles permitted in EDV-2). Elektron water is also supplied from U.S. condensate in a CWC (collapsible water container) that is checked for its contents of air bubbles and is rejected if the estimated total air bubble volume is more than 30 cubic centimeters (1 cm air bubble is about 0.5 ccm).]
Both crewmembers completed their regular 2.5-hr. physical exercise program on the CEVIS bike, TVIS treadmill, RED resistive exerciser and VELO bike with bungee cord load trainer, with Bill wearing his FOOT outfit on CEVIS and RED.   [Valery's daily protocol prescribes a strict four-day microcycle exercise with 1.5 hr on the treadmill in unmotorized mode and one hour on VELO plus load trainer (today: Day 4 of the first set).]
Afterwards, the CDR transferred the exercise data files to the MEC (Medical Equipment Computer) for downlink, as well as the daily wristband HRM (heart rate monitor) data of the workouts on RED, followed by their erasure on the HRM storage medium (done six times a week).
The FE performed the daily routine maintenance of the SM's environment control & life support system (SOZh), including its toilet system (ASU) and the weekly inspection of the air/liquid condensate separator apparatus (BRPK).  Near the end of the workday, Valery also updated/edited the standard IMS "delta file", including locations, for the regular weekly automated export/import to its three databases on the ground (Houston, Moscow, Baikonur).
Working off his discretionary "time available" task list, Tokarev did his regular checkup on the Japanese experiment GCF-JAXA (Granada Crystallization Facility) in the Russian TBU incubator, maintained at 20 degC, including a temperature check on its ART (automatic temperature recorder).   [This daily monitoring/temp checking, carried on the Russian voluntary "time available" task list, will continue until 4/30.]
Also listed on Valery's voluntary task schedule for today was the daily status check of the BIO-5 Rasteniya-2 ("Plants-2") greenhouse experiment.   [Rasteniya researches growth and development of plants under spaceflight conditions in the Lada-8 greenhouse.  The regular maintenance of the experiment (each Monday, Wednesday, Friday and Sunday) involves monitoring of seedling growth, humidity measurements, moistening of the substrate if necessary, topping off the water tank if ~20-25% of the total amount (4 liters) remains, and photo/video recording.  Once weekly, data from the Lada greenhouse control unit are recorded on floppy disk for weekly downlink via REGUL-Packet or the new BSR-TM at a suitable occasion.]
The planned ISS reboost from 19P at ~12:00pm EST was successfully executed.   [At ~10:03am, station attitude control was handed over to Russian MCS (Motion Control System), and at 10:08am thrusters maneuvered the station to earth-fixed LVLH (local vertical local horizontal), then to reboost attitude for the single-burn reboost firing of Progress 19 thrusters.  Planned delta-V was 1.79 m/s, and burn time was ~13.5 minutes.  Attitude was then returned to sun-pointing XPOP (x-axis perpendicular to orbit plane), and motion control authority returned to U.S. CMG (Control Moment Gyroscope) momentum management at ~ 2:00pm. The Lab window shutter remained closed throughout the maneuver activity, until about 5:00pm tonight.]
SD-2 (smoke detector #2) in the Node was successfully re-enabled this morning (~4:15am EST).   [Yesterday's false fire alarm was traced to a FOD (foreign object debris) particle entering SD-2.  The FOD excited the detector approximately one hour after initial annunciation.]
Yesterday, the FE took digital photography of the center seat in the Soyuz-217/11S Descent Module with the Nikon D1X.   [Several shots were taken of the seat in its nominal position, when pushed to a stop and with structural elements bumping into it, and the path of travel of the seat framework from its original position on the shock absorber to stop was measured.]
For McArthur's voluntary "Saturday Science" program on 2/25, POIC (Payload Operations & Integration Center) has uplinked suggestions for BCAT-3 (Binary Colloid Alloy Test 3) science activities, involving camcorder setup, hardware installation in the Lab MWA (Maintenance Work Area), homogenizing a BCAT sample and starting the photography run, plus restowing the SGSM (slow growth sample module) and equipment.
A plan for troubleshooting the BCR (Bar Code Reader) system, which has experienced problems, is being developed.  A swap-out of its OpsLAN (Operations Local Area Network) wireless access point unit with a spare is scheduled for tomorrow.
The Airlock "Campout" originally scheduled for tomorrow night will not take place this week because of the currently failed MCA (Major Constituents Analyzer) that will be required during the SDTO (Station Detailed Test Objective).  The event will be deferred to 3/16-17, assuming that MCA repair, planned for 3/6, will be successful, and that there will be no conflict with Soyuz 11 relocation (currently envisioned by TsUP for 3/20).   [Purpose of the Campout test at 10.2 psia pressure is to perform a "dry-run" of the automated campout software as well as the baseline protocol developed for facilitating prebreathing (denitrogenation) during 12A and 12A.1 EVAs, because of the considerable benefits in timeline and operational simplicity offered by the campout. To maintain scheduling flexibility for the remainder of the Increment, timeliners have accelerated Flight ULF1.1 ZSR (Zero-G Stowage Rack) clean-out into this week's crew schedule for tomorrow and Friday (the ZSR currently at the Lab port 1 position will be returned on ULF1.1, but most of its contents need to stay on ISS.  For the clean-out, the crew will relocate the non-return items from this rack.  At a later date this ZSR will be used to stow prepack/return items for ULF1.1.]
Today's CEO (Crew Earth Observation) photo targets, limited in the current XPOP attitude by flight rule constraints on the use of the Lab nadir/science window, which is available for only ~1/4 of each orbit when not facing forward (in ram), were Patagonian Glaciers (best views and weather were expected at the south end of the Southern Patagonian Ice Field, especially the western flank.  Using the long lens settings for detailed views of these infrequently photographed glaciers), Internal waves, North Patagonian Shelf (looking for glint to the left of track in the coastal areas from the Valdes Peninsula to just east of Bahia Blanca), and Internal waves, Northern New Zealand (looking left of track for glint features in the Tasman Sea, just west of North Island).
To date, more than 186,000 of CEO images have been taken in the first five years of the ISS, almost one third of the total number of images taken from orbit by astronauts.
CEO photography can be viewed and studied at the websites:
See also the website "Space Station Challenge" at:
To view the latest photos taken by the expedition 12 crew visit:
Expedition 12 Flight Crew Plans can be found at http://spaceflight.nasa.gov/station/timelines/
Previous NASA ISS On-orbit Status Reports can be found here. Previous NASA Space Station Status Reports can be found here. Previous NASA Space Shuttle Processing Status Reports can be found here. A collection of all of these reports and other materials relating to Return to Flight for the Space Shuttle fleet can be found here.
ISS Orbit  (a of this morning, 6:30am EST [= epoch]):
Mean altitude — 345.4 km
Apogee height — 350.4 km
Perigee height — 340.4 km
Period — 91.45 min.
Inclination (to Equator) — 51.64 deg
Eccentricity — 0.0007442
Solar Beta Angle — 40.8 deg (magnitude peaking, starting to decrease)
Orbits per 24-hr. day — 15.75
Mean altitude loss in last 24 hours — 100 m
Revolutions since FGB/Zarya launch (Nov. 98) — 41508
Events Ahead (all dates Eastern & tentative):
03/03/06 — Progress M-54/19P undocking & reentry (mnvr. to LVLH XVV after undock)
03/06/06 — Repair of MCA in US segment
03/10/06 — ISS reboost (by SM thrusters; mnvr. back to XPOP after burn)
03/16/06 — Airlock Campout SDTO (overnight)
03/20/06 — Soyuz TMA-7/11S relocation (FGB nadir port to DC1)
03/30/06 — Soyuz TMA-8/12S launch (Pavel Vinogradov/Russia, Jeffrey Williams/US, Marcos Pontes/Brazil)
04/01/06 — Soyuz TMA-8/12S docking (SM aft end port; mnvr. to LVLH XVV after dock)
04/09/06 — Soyuz TMA-7/11S undocking (4:15pm EDT) & land (7:40pm); (mnvr. to XPOP after undock)
04/18/06 — Soyuz TMA-8/12S relocation (SM aft end port to DC1)
04/24/06 — Progress M-56/21P launch
04/26/06 — Progress M-56/21P docking (SM aft end port)
05/03/06 — ULF1.1 launch (NET, not earlier than)
06/15/06 — U.S. EVA (under review)
06/19/06 — Progress M-55/20P undocking & reentry
06/28/06 — Progress M-57/22P launch
06/30/06 — Progress M-57/22P docking
07/01/06 — 12A launch (under review)
08/01/06 — Russian EVA-16 (under review)
09/12/06 — Progress M-56/21P undocking & reentry
09/14/06 — Soyuz TMA-9/13S launch
09/16/06 — Soyuz TMA-9/13S docking (FGB nadir port)
09/24/06 — Soyuz TMA-8/12S undocking & reentry
09/28/06 — Soyuz TMA-9/13S relocation (FGB nadir port to DC1)
10/18/06 — Progress M-58/23P launch
10/20/06 — Progress M-58/23P docking
12/19/06 — Progress M-57/22P undocking & reentry
12/20/06 — Progress M-59/24P launch
12/22/06 — Progress M-59/24P docking.

ISS Altitude History
Apogee height — Mean Altitude — Perigee height
For more on ISS orbit and worldwide ISS naked-eye visibility dates/times, see http://www.hq.nasa.gov/osf/station/viewing/issvis.html. In addition, information on International Space Station sighting opportunities can be found at http://spaceflight.nasa.gov/realdata/sightings/ on NASA's Human Spaceflight website. The current location of the International Space Station can be found at http://science.nasa.gov/temp/StationLoc.html at NASA's Marshall Space Flight Center. Additional satellite tracking resources can be found at http://www.spaceref.com/iss/tracking.html.