NASA Space Station On-Orbit Status 21 March 2006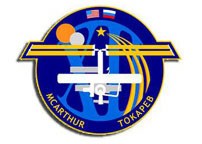 SpaceRef note: This NASA Headquarters internal status report, as presented here, contains additional, original material produced by SpaceRef.com (copyright © 2006) to enhance access to related status reports and NASA activities.
All ISS systems continue to function nominally, except those noted previously or below.  The crew is back on their regular day/night shift cycle (1:00am 4:30pm EST). 
Working jointly with ground engineers via tagup, FE Valery Tokarev activated the Elektron oxygen generator, with the usual nitrogen (N2) purge of the BZh-8 Liquid Unit.  [The electrolysis machine had been off since 3/14 for the regeneration of the two BMP Harmful Impurities Removal system filter beds and the Soyuz relocation. For the restart, the two H2 sensors of the Elektron s gas analyzer (GA) unit in the O2 output line were masked prior to Elektron activation by a modification to their analog telemetry parameters. According to Russian specialists, the GA must read at least 0.31% H2 in the O2 vent line approximately ten minutes after activation in order for the algorithm to consider the GA ready for operation, or else the BZh will shut down. These sensor readings are now regularly being masked with a value of 0.4% for approximately 1.5 h after Elektron activation and afterwards removed on specialist Go.]
CDR/SO William McArthur completed reconfiguring the US segment (USOS) to manned operation by turning off the video camcorders in Lab and Node.
McArthur also unstowed the three EMER-1 SODF (Station Operations Data File) books, from the Service Module (SM), Soyuz and Lab, and incorporated the new emergency procedures pages, which take the new Soyuz docking position into account, in the two remaining books (SM and Soyuz). All three books were then updated with an additional pen-and-ink change and stowed in their original positions.
The FE performed the daily routine maintenance of the SM's environment control & life support system (ECLSS, Russian: SOZh), including toilet system (ASU) replacements, and the weekly inspection of the BRPK air/liquid condensate separator apparatus.
Both crewmembers worked out in their regular 2.5-hr. physical exercise program on the TVIS treadmill (CDR & FE), RED resistive exerciser (CDR) and VELO bike with bungee cord load trainer (FE).  [Valery Tokarev s daily protocol prescribes a strict four-day microcycle exercise with 1.5 hr on the treadmill in unmotorized mode and one hour on VELO plus load trainer (today: Day 3 of the first set).]
Afterwards, the CDR transferred the exercise data files to the MEC (Medical Equipment Computer) for downlink, as well as the daily wristband HRM (heart rate monitor) data of the workouts on RED, followed by their erasure on the HRM storage medium (done six times a week).
Bill also ran the daily cabin air status check for ppO2 (Partial Pressure Oxygen) and ppCO2 (pp Carbon Dioxide), using the CSA-O2 (Compound Specific Analyzer-Oxygen Sensor).
Working off his discretionary time available task list, Valery performed his regular checkup on the Japanese experiment GCF-JAXA (Granada Crystallization Facility) in the Russian TBU incubator, maintained at 20 degC, including a temperature check on its ART (automatic temperature recorder).  [This daily monitoring/temp checking, carried on the Russian voluntary "time available" task list, will continue until 4/30.]
At ~4:12am EST, the crew engaged in a voice exchange, via RGS (Russian ground station) VHF, with S.V. Pakhomov, chairman of the organizing committee for a gala reception at the National Museum of the Udmurt Republic in Izhevsk on 3/24.  [To McArthur: Can we assume that space has already become an environment for human habitation? To Tokarev: You were born in a famous place Kapustin Yar, from where the first payloads were launched into space at the dawn of cosmonautics. Did this fact have any impact on your choice of profession? ] 
Afterwards, the FE also called down greetings to the newly appointed chairman of Customs Control in the Kazakhstan Ministry of Finance. [ &We wish every success in the world to your distinguished office, prosperity to the brotherly state, personal happiness and Herculean health! ]
At ~8:50am, the CDR set up the Sputnik-SM Kenwood D700 amateur radio station in the SM for two successive ham radio sessions: at 8:56am with students at Circolo Didattico Statale (G. Settanni) in Rutigliano, Italy, and at 1:19pm with students at Sir James Lougheed Elementary School in Calgary, Alberta/Canada.  [In Rutigliano, this ham radio contact is a common activity of two elementary schools and one middle school. Principessa Elettra Marconi, the daughter of famed radio pioneer Guglielmo Marconi, was expected in attendance. Rutigliano, called city of red soil , is located 8 km from the Adriatic Sea, near the city of Bari in SE Italy, its most important agricultural products being grapes and wine. Sir James Lougheed Elementary School in Calgary has 107 students in Kindergarten through Grade 6.]
After activation of the US-21 matching unit in the SM, TsUP/Moscow conducted the standard tests of the KURS rendezvous & approach radar complex of the SUDN motion control & navigation system, in the FGB module in Y direction (straight down) and at the SM aft end in +X direction (opposite to flight direction).
In Baikonur Cosmodrome, Kazakhstan, fueling of Soyuz TMA-8 (12S) with compressed gases and propellants got underway, after the Expedition 13 crew yesterday officially passed the training program, during which they performed fit-check of individual cradles, leak and functional checks of spacesuits.  Working along with the prima crew of Pavel Vinogradov (CDR), Jeff Williams (FE) and Marcos Pontes (SFP) are backup crewmembers Fyodor N. Yurchikin, Mike Fincke, and Sergey A. Volkov.  [Pictures below].
Today's CEO (Crew Earth Observation) photo targets, limited in the current XPOP attitude by flight rule constraints on the use of the Lab nadir/science window, which is available for only ~1/4 of each orbit when not facing forward (in ram), were NE China pollution (Dynamic event. Looking right across the North China Plain, the largest agglomeration of people on the planet. Smoke and industrial pollution are the main local atmospheric pollutants, with a strong admixture at present of dust from the desert west. Oblique views reveal atmospheric haze best. To assist location, the crew was to try including coastlines), and Lake Balkhash, Kazakhstan (Dynamic event. Sunglint pass to reveal coastline detail and extent of winter ice. Looking right for this major Asian lake).
To date, more than 186,000 of CEO images have been taken in the first five years of the ISS, almost one third of the total number of images taken from orbit by astronauts.
CEO photography can be viewed and studied at the websites:
See also the website "Space Station Challenge" at:
To view the latest photos taken by the expedition 12 crew visit:
Expedition 12 Flight Crew Plans can be found at http://spaceflight.nasa.gov/station/timelines/
Previous NASA ISS On-orbit Status Reports can be found here. Previous NASA Space Station Status Reports can be found here. Previous NASA Space Shuttle Processing Status Reports can be found here. A collection of all of these reports and other materials relating to Return to Flight for the Space Shuttle fleet can be found here.
ISS Orbit  (as of this morning, 8:43am EST [= epoch]):
Mean altitude — 346.0 km
Apogee height 352.0 km
Perigee height — 340.0 km
Period — 91.46 min.
Inclination (to Equator) — 51.64 deg
Eccentricity — 0.0008972
Solar Beta Angle — -50.5 deg (magnitude increasing)
Orbits per 24-hr. day — 15.74
Mean altitude loss in last 24 hours — 95 m
Revolutions since FGB/Zarya launch (Nov. 98) — 41935
Significant Events Ahead (all dates subject to change)
03/29/06 — Soyuz TMA-8/12S launch (Pavel Vinogradov/Russia, Jeffrey Williams/US, Marcos Pontes/Brazil, 9:30pm EST; 3/30, 6:30am Moscow; 3/30, 8:30am Baikonur)
03/31/06 — Soyuz TMA-8/12S docking (FGB nadir port), 11:19pm EST; mnvr. to LVLH XVV after dock; 4/1, 8:19am Moscow)
04/01/06 — Soyuz TMA-8/12S-ISS hatch opening ~12:30am EST
04/08/06 — Soyuz TMA-7/11S-ISS hatch closing ~1:12pm EDT
04/08/06 — Soyuz TMA-7/11S undocking (4:28pm EDT) & land (7:46pm EDT); (mnvr. to XPOP after undock)
04/19/06 — SM main engine test/ISS reboost
04/24/06 — Progress M-56/21P launch
04/26/06 — Progress M-56/21P docking (SM aft port)
06/19/06 — Progress M-55/20P undocking (DC1) & reentry
06/28/06 — Progress M-57/22P launch
06/30/06 — Progress M-57/22P docking (DC1)
07/01/06 — NET STS-121/ULF1.1 launch
07/??/06 — US EVA-5
08/??/06 — Russian EVA-16
08/28/07 — NET STS-115/12A launch
09/13/06 — Progress M-56/21P undocking (SM aft port) & reentry
09/14/06 — Soyuz TMA-9/13S launch (Expedition 14 + VC11)
09/16/06 — Soyuz TMA-9/13S docking (SM aft port)
09/24/06 — Soyuz TMA-8/12S undocking (FGB nadir port) & reentry
10/08/06 — Soyuz TMA-9/13S relocation (SM aft port to FGB nadir port)
10/18/06 — Progress M-58/23P launch
10/20/06 — Progress M-58/23P docking (SM aft port)
11/16/06 — NET STS-116/12A.1 launch
12/19/06 — Progress M-57/22P undocking (DC1) & reentry
12/20/06 — Progress M-59/24P launch
12/22/06 — Progress M-59/24P docking (DC1)
02/06/07 — Progress M-59/24P undocking (DC1) & reentry
02/07/07 — Progress M-60/25P launch
02/09/07 — Progress M-60/25P docking (DC1)
??/??/07 — Progress M-58/23P undocking (SM aft port) & reentry
03/09/07 — Soyuz TMA-10/14S launch (Expedition 15 + VC12)
03/11/07 — Soyuz TMA-10/14 S docking (SM aft port)
03/19/07 — Soyuz TMA-9/13S undocking (FGB nadir port)
03/22/07 — NET STS-117/13A launch
??/??/07 — Soyuz TMA-10/14S relocation (SM aft port to FGB nadir port)
06/14/07 — NET STS-118/13A.1
(NET = not earlier than)

ISS Altitude History
Apogee height — Mean Altitude — Perigee height
For more on ISS orbit and worldwide ISS naked-eye visibility dates/times, see http://www.hq.nasa.gov/osf/station/viewing/issvis.html. In addition, information on International Space Station sighting opportunities can be found at http://spaceflight.nasa.gov/realdata/sightings/ on NASA's Human Spaceflight website. The current location of the International Space Station can be found at http://science.nasa.gov/temp/StationLoc.html at NASA's Marshall Space Flight Center. Additional satellite tracking resources can be found at http://www.spaceref.com/iss/tracking.html.