NASA Space Station On-Orbit Status 21 February 2006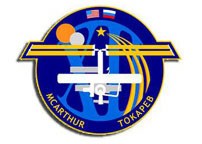 SpaceRef note: This NASA Headquarters internal status report, as presented here, contains additional, original material produced by SpaceRef.com (copyright © 2006) to enhance access to related status reports and NASA activities.
All ISS systems continue to function nominally, except those noted previously or below.
FE Tokarev installed "Relaksatsiya" gear (spectrometer, UV-still & video cameras, etc.) for the new Russian plasma experiments "Korona"/"Iskra-1" (Spark-1) at Service Module (SM) window 9, then connected and configured the Payload Laptop 3 for experiment ops. [Experiment purpose: to register the spectral luminosity of the surface of Progress-355/20P during and particularly after a DPO thruster firing.]
At ~4:25am EST, station attitude control was handed over to Russian MCS (Motion Control System), and at ~4:47am the automated onboard sequencer (SPP) commanded a 10 sec thruster burn in support of the "Iskra-1" experiment. Attitude control authority returned to U.S. CMG (Control Moment Gyroscope) momentum management at ~ 5:10am.
Tokarev continued the current Russian laptop software step-up by loading the BSMM payload matching unit/computer with its new software installed yesterday on the hard disk drive of the ISS Wiener laptop from CD-ROM. After the upgrade, TsUP-Moscow ran functionality checks on the BSMM during orbital communications windows via RGS (Russian ground sites) and the BSMM high-rate data link.
Also during RGS comm windows, TsUP conducted tests of the FGB's Kurs autopilot system, exercising both strings on the –Y-side.
The crew completed periodic routine air sampling in the cabin (last time done: 1/18). [William McArthur took air samples in the Lab and SM with the Dual Sorbent Tube (DST), using the Russian AK-1M/Draeger tube pump instead of the broken DST pump, and then with a GSC (grab sample container) at the center of the SM. Tokarev used the AK-1M adsorber to sample the air in the SM and FGB and for checking for leaked-out Freon. Additionally, to check for CO (carbon monoxide), he took samples in the SM with the IPD-CO Draeger tubes sampler.]
The FE also collected the weekly cabin air readings with the GANK-4M Real-Time Harmful Contaminant Gas Analyzer system of the SM SOGS (Pressure Control & Atmospheric Monitoring System), which tests particularly for NH3 (ammonia) and HCl (hydrogen chloride).
Meanwhile, the CDR ran his daily atmospheric status check for ppO2 (Partial Pressure Oxygen) and ppCO2 (pp Carbon Dioxide), using the CSA-O2 (Compound Specific Analyzer-Oxygen Sensor).
McArthur performed routine maintenance on both CSA-CP (Compound Specific Analyzer-Combustion Products) units (#1012 & #1017) currently in use as prime and backup units. [Both received a new battery and were zero-calibrated. The backup unit was then returned to its location in the Node. After a 1-hr. data take with the prime data logger, the unit was deactivated again.]
The CDR also conducted the periodic potable water microbial sampling for in-flight chemistry/microbiology analysis, using MCDs (microbial capture devices) from the U.S. WMK (water microbiology kit) for treatment/processing within 6 hours of the collection (done at ~9:35am EST). Sample analysis included subsequent processing of water samples in the MWAK (microbial water analysis kit) for inflight coliform bacteria (Escherichia coli) detection, at ~10:25am. [Results will be available after a two-day incubation period, in case of the MWAK after 4-6 days of incubation.]
Using the laptop mounting brackets and adapters gathered yesterday from FGB stowage, Valery today installed them at the SM Central Post for the two new ThinkPad A31p PCS (Portable Computer System) and RS-2 machines.
In preparation for his third data collection session with the FOOT (Foot/Ground Reaction Forces during Space Flight) experiment, scheduled for tomorrow, Bill assembled the equipment in the Lab, including preparations for the EMG (electromyography) calibration with camcorder/video recording, which will precede the day-long ops. [During the second session, on 2/10, the ground had noted persistent EMG signal transmission problems. For the new session tomorrow, McArthur is to use a backup pair of LEMS (lower extremity monitoring suit) pants, and two unique exercise protocols, on the CEVIS cycle and RED exerciser, while also meeting his daily exercise requirements. For CEVIS, the experiment provides special foot pedal platforms, to attach at the CEVIUS pedal clips.]
Using the "Gamma-1M" medical complex from the health exam panel (PKO), FE Tokarev checked out three bio belts of the BETA-08 biomed harness which failed during preparations for the recent Orlan EVA-15. The task was supported by ground specialist tagup via S-band.
The CDR performed the regular bi-monthly reboot of the OCA (Orbit Communications Adapter) comm router SSC (Station Support Computer) laptop.
Starting a new round of monthly preventive maintenance on Russian segment air ventilation systems, Valery removed and replaced the two dust filters (PS1 & PS2) in the Funktsionalnyi-Grusovoi Blok (FGB).
The FE conducted the regular periodic downlinking of data & imagery collected of the BIO-5 Rasteniya-2 ("Plants-2") experiment on the computer. [Rasteniya researches growth and development of plants under spaceflight conditions in the Lada-8 greenhouse. The regular maintenance of the experiment (each Monday, Wednesday, Friday and Sunday) involves monitoring of seedling growth, humidity measurements, moistening of the substrate if necessary, topping off the water tank if ~20-25% of the total amount (4 liters) remains, and photo/video recording. Once weekly, data from the Lada greenhouse control unit are recorded on floppy disk for weekly downlink via REGUL-Packet or the new BSR-TM at a suitable occasion
Valery also performed the daily routine maintenance of the SM's environment control & life support system (SOZh), including its toilet system (ASU).
Both crewmembers completed their regular 2.5-hr. physical exercise program on the TVIS treadmill, RED resistive exerciser and VELO bike with bungee cord load trainer. [Valery's daily protocol prescribes a strict four-day microcycle exercise with 1.5 hr on the treadmill in unmotorized mode and one hour on VELO plus load trainer (today: Day 3 of the first set).]
Afterwards, the CDR transferred the exercise data files to the MEC (Medical Equipment Computer) for downlink, as well as the daily wristband HRM (heart rate monitor) data of the workouts on RED, followed by their erasure on the HRM storage medium (done six times a week).
Working off his discretionary "time available" task list, Tokarev did his regular checkup on the Japanese experiment GCF-JAXA (Granada Crystallization Facility) in the Russian TBU incubator, maintained at 20 degC, including a temperature check on its ART (automatic temperature recorder). [This daily monitoring/temp checking, carried on the Russian voluntary "time available" task list, will continue until 4/30.]
At ~1:20pm, the crew downlinked TV greetings, taped at TsUP, to the citizens of the city of Magnitogorsk on the occasion of the opening of an exhibition dedicated to the 45th Anniversary of First Cosmonaut Yuri A. Gagarin's space mission (April 12) at the Space Museum founded by Gagarin. [Legendary in Russia for the vital role it played supplying steel for weapons in World War II, Magnitogorsk is a mining and industrial city by the Ural River, with one of the largest iron and steel works in the country. Geographically it lies on the eastern (Siberian) side of the southern part of the Ural Mountains. The rapid development of Magnitogorsk stood at the forefront of Stalin's Five-Year Plans in the 1930s. Several hundred foreign specialists were brought in to direct the work, including a team of architects headed by the German Ernst May to build the city. With the depletion of the substantial local iron-ore reserves, Magnitogorsk must now import raw materials from elsewhere for its steel mills.]
At ~3:10pm, the crew is scheduled for their weekly 15-min. teleconference with ISS Program Management at JSC/Houston via S-band/audio.
The Airlock "Campout" will not take place this week. [Because the currently failed MCA (Major Constituents Analyzer) will be required during the SDTO (Station Detailed Test Objective), the Campout will be deferred from 2/23-24 (Thursday/Friday) to a later date, probably 3/16-17, assuming that MCA repair, planned for 3/6, will be successful, and a possible Soyuz relocation, not yet scheduled, will not interfere. Purpose of the Campout test is to perform a "dry-run" of the automated campout software as well as the baseline protocol developed for facilitating prebreathing (denitrogenation) during 12A and 12A.1 EVAs, because of the considerable benefits in timeline and operational simplicity offered by the campout at 10.2 psia pressure. To maintain scheduling flexibility for the remainder of the Increment, timeliners have accelerated Flight ULF1.1 ZSR (Zero-G Stowage Rack) reconfigurations into this week's crew schedule.]
Also as part of crew schedule re-planning, the repair of the U.S. TCCS (Trace Contaminant Control Subassembly) with the new 20P-delivered equipment was moved to tomorrow's crew schedule.
No CEO (Crew Earth Observation) photo targets uplinked today.
To date, more than 186,000 of CEO images have been taken in the first five years of the ISS, almost one third of the total number of images taken from orbit by astronauts.
CEO photography can be viewed and studied at the websites:
See also the website "Space Station Challenge" at:
To view the latest photos taken by the expedition 12 crew visit:
Expedition 12 Flight Crew Plans can be found at http://spaceflight.nasa.gov/station/timelines/
Previous NASA ISS On-orbit Status Reports can be found here. Previous NASA Space Station Status Reports can be found here. Previous NASA Space Shuttle Processing Status Reports can be found here. A collection of all of these reports and other materials relating to Return to Flight for the Space Shuttle fleet can be found here.
ISS Orbit (a of this morning, 7:40am EST [= epoch]):
Mean altitude — 345.5 km
Apogee height — 350.4 km
Perigee height — 340.6 km
Period — 91.45 min.
Inclination (to Equator) — 51.64 deg
Eccentricity — 0.0007288
Solar Beta Angle — 40.7 deg (magnitude increasing, peaking tomorrow)
Orbits per 24-hr. day — 15.75
Mean altitude loss in last 24 hours — 90 m
Revolutions since FGB/Zarya launch (Nov. 98) — 41493
Events Ahead (all dates Eastern & tentative):
02/22/06 — ISS reboost (19P thrusters; mnvr. back to XPOP after burn)
03/03/06 — Progress M-54/19P undocking & reentry (mnvr. to LVLH XVV after undock)
03/06/06 — Repair of MCA in US segment
03/10/06 — ISS reboost (by SM thrusters; mnvr. back to XPOP after burn)
03/16/06 — Airlock Campout SDTO (overnight)
03/30/06 — Soyuz TMA-8/12S launch (Pavel Vinogradov/Russia, Jeffrey Williams/US, Marcos Pontes/Brazil)
04/01/06 — Soyuz TMA-8/12S docking (SM aft end port; mnvr. to LVLH XVV after dock)
04/09/06 — Soyuz TMA-7/11S undocking & reentry (mnvr. to XPOP after undock)
04/18/06 — Soyuz TMA-8/12S relocation (SM aft end port to FGB nadir port)
04/24/06 — Progress M-56/21P launch
04/26/06 — Progress M-56/21P docking (SM aft end port)
05/03/06 — ULF1.1 launch (NET, not earlier than)
06/15/06 — U.S. EVA (under review)
06/19/06 — Progress M-55/20P undocking & reentry
06/28/06 — Progress M-57/22P launch
06/30/06 — Progress M-57/22P docking
07/01/06 — 12A launch (under review)
08/01/06 — Russian EVA-16 (under review)
09/13/06 — Progress M-56/21P undocking & reentry
09/14/06 — Soyuz TMA-9/13S launch
09/16/06 — Soyuz TMA-9/13S docking (DC1)
09/24/06 — Soyuz TMA-8/12S undocking & reentry
10/18/06 — Progress M-58/23P launch
10/20/06 — Progress M-58/23P docking
12/19/06 — Progress M-57/22P undocking & reentry
12/20/06 — Progress M-59/24P launch
12/22/06 — Progress M-59/24P docking

ISS Altitude History
Apogee height — Mean Altitude — Perigee height
For more on ISS orbit and worldwide ISS naked-eye visibility dates/times, see http://www.hq.nasa.gov/osf/station/viewing/issvis.html. In addition, information on International Space Station sighting opportunities can be found at http://spaceflight.nasa.gov/realdata/sightings/ on NASA's Human Spaceflight website. The current location of the International Space Station can be found at http://science.nasa.gov/temp/StationLoc.html at NASA's Marshall Space Flight Center. Additional satellite tracking resources can be found at http://www.spaceref.com/iss/tracking.html.