NASA Space Station On-Orbit Status 20 May 2004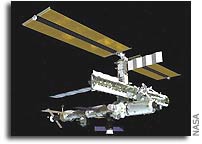 All ISS systems continue to function nominally except those noted previously or below. 
Update on EMU 3005 Cooling Problem:  After the early termination of the EMU dryrun yesterday due to failed cooling of EMU 3005, all remedial attempts have been unsuccessful.  For further troubleshooting of the problem, which appears to be centered on the EMU's coolant pump rendered ineffective by an air bubble caught inside it (similar to last year's problem with EMU 3013), today's crew schedule was rearranged to allow for equipment preparations by the crew for a "water dump-and-fill" procedure from a water reservoir and line that were purged with the newly developed centrifugal "degassing" method used on EMU 3011 (which was declared adequately cooled).  The actual dump/fill procedure, followed by a verification test of the cooling, is scheduled for tomorrow (Friday).   [The SSRMS activities originally planned for tomorrow were moved to next week (Wednesday, 5/26), and the associated robotics DOUG (Dynamic Operational Ubiquitous Graphics) review, also set for tomorrow, was swapped with the monthly TVIS maintenance.  Thus, by rearranging timelines suitably, approximately six hours were "carved out" for both crewmembers to work on EMU 3005 tomorrow.  Engineers are still hopeful of getting the spacesuit cleared for an EMU EVA, but even then it is highly doubtful that the date of 6/10 for the spacewalk can be kept, since the two-person don/doff dryrun/demo will have to be repeated.  Due to the early test termination, prebreathe and SAFER installation reach evaluation could not be done, and crewmember self-doffing could not be confirmed.  The test verified good communications & telemetry, including excellent biomedical data via the OBS (operational biomedical instrumentation system).]
Early in the morning before breakfast, the crew performed the second ultrasound scanning session with the ADUM (Advanced Diagnostic Ultrasound in Micro-G) equipment, today scanning the lower abdominal and retroperitoneal body areas of the subject, who was strapped down on the CMRS (crew medical restraint system), having fastened for six hours and consumed ~350ml clear fluids one hour prior to the scan.  The data files were downlinked to the ground team and found better than expected.   [FE/SO Mike Fincke later closed out and stowed the equipment, and the Payload Operations & Integration Center (POIC) deactivated the HRF (Human Research Facility).]
CDR Padalka conducted a number of in-flight servicing tasks in the RS (Russian segment), starting out with another round of preventive maintenance of the air ventilation systems, today vacuum-cleaning the Group A fans and grilles in the Service Module (SM).
Gennady's next job was the removal of the SRVK-2M condensate water processor's multifiltration unit (BKO), which has reached its service life limit.  The old BKO was replaced with a new unit and stowed for deorbiting in Progress 13P.  [BKO contains five purification columns to rid the condensate of dissolved mineral and organic impurities and has a service lifetime of ~450 liters throughput.]
The CDR then deinstalled no-longer-needed electronic equipment from the 13P cargo ship.   [After Central Computer control was transferred from 13P thrusters to the SM yaw, pitch and roll thrusters, the US-21 matching unit and SKV-1 dehumidifier were deactivated, followed by disconnecting the cables of the BITS 2-12 onboard telemetry measurement system and turning off its VD-SU monitoring mode.  This also required deactivation of the Elektron and the SKV-1 air conditioner.  Padalka then unbolted and removed the Progress' US-21 matching unit in its container box.  BITS was later reactivated, as were Elektron and SKV-1.  The US-21, with its associated commutator gear, provides the electronic interface between the SM and the Progress for SM computer control of the Progress thrusters.  With 13P being readied for separation and jettisoning on 5/24 (5:18am EDT), the valuable electronics were retained in storage, to be returned to Earth and recycled on a future Progress.]
Preparatory to the Progress 14P docking on 5/27 (9:55am EDT), both crewmembers conducted a test of the TORU teleoperator control system between the SM and the docked Progress 13P.  Progress thrusters (DPO) were inhibited and not involved.  The test was performed over RGS (Russian ground sites) on Daily Orbits 1 & 2.   [TORU is the manual mode through which Padalka can perform necessary guidance functions from the SM in the event of a failure of the "Kurs" automated rendezvous and docking (AR&D) of the Progress.  He would control the cargo ship's motions from a control panel, viewing the approach to the ISS via the Klest-M television camera mounted on the Progress.  Remote TORU control from the ground is not available.]
For the SAMS (Space Acceleration Measurement System), Mike Fincke activated the ICU (Interface Control Unit) computer, in which he had replaced the hard drive at an earlier time in an attempt to fix the system.
CDR Padalka updated the Matryoshka server (BSPN) with new files from the Russian "Wiener" laptop for configuring Matryoshka equipment mode operations.   [Matryoshka automatically takes measurements in the SM and DC-1 docking compartment for studies of on-orbit radiation and long-term dose accumulation, using six SPD dosimeters deployed throughout the RS (Russian segment) as well as in a spherical body-simulating Matryoshka-R "phantom" and a human torso model outside on the SM hull, mounted there during EVA-9.]
Mike completed the regular daily maintenance/inspection of the SM's SOZh environment control & life support systems, including ASU toilet system replacements, and also prepared the regular daily "delta" file for updating the IMS (inventory management system) database.
Gennady held his weekly IMS tagup with ground specialists, discussing open issues concerning identification of equipment and storage locations for updating the IMS database.   [Today's topics focused on 13P loading, to assure a match between actually loaded cargo and the situation represented by the IMS database documentation.  This information is critically required by TsUP ballistics engineers to calculate mass properties of the cargo vehicle.]
Mike performed the daily leak check of the Lab window's inter-pane space ("Volume D"), using the "Aeolus" scopemeter with pressure probe.  The pressure rise is still approximately following the trend of a steady leak rate of ~27 Torr/0.52 psi per day from the cabin into Volume D.   [The daily leak check will continue until 5/24, after which Fincke is to perform leak checks on the pressure test equipment itself, followed by a detailed ULD (ultrasound leak detector) window inspection (to determine if the tiny leaks found previously with the ULD are venting to Volume D or possibly directly to space).  Next will be a fit check of the new protective box coming up on Progress 14P over window ports C & D, and finally installation of the new U-jumper flexhose and protective shield, plus any procedure developed meanwhile for fixing the pinhole leaks.]
The crew completed their daily 2.5-hr. physical exercise program on TVIS, RED exerciser and VELO cycle with load trainer, and the FE completed the periodic (every other week) inspection of the RED.
At 1:50pm EDT, station attitude control was handed over to the RS MCS (motion control system) for maneuvering to Progress propellant line purge attitude on Russian thrusters.  Purging of the fuel (UDMH) manifold was initiated at 2:08pm.  This will be followed by the venting of the oxidizer (NTO) manifold at 3:43pm, which Padalka is to record on video, and the return of ISS attitude control to the USOS CMGs at 4:51pm.
Moscow reported that all launch preparations for Progress 14P at Baikonur/Kazakhstan are right on schedule, with no issues.  Launch is scheduled for 5/25, 8:34am EDT.
After yesterday's reboost, the first attempt at attitude control handover back to the U.S. segment failed.  MCC-H had to re-enable commands for requesting desaturations from RS (if required) that had been inhibited last week to protect the CMGs.  A procedures update to fix the glitch is in work.
Today's CEO targets, limited in XPOP attitude by flight rule constraints on the use of the science window, which is available for only ~1/4 of each orbit when not facing forward (in "ram"), were Bali, Indonesia (Dynamic event.  Weather remains clear over the Indonesian volcanic chain.  Looking a touch left for Bali), Internal waves, Philippines (if the crew saw them, they were to shoot packets of waves left of track near the glint point.  Internal waves appear in many parts of the world, and are the subject of a global mapping effort. The causes of wave generation are not everywhere understood), Typhoon Omais, Philippines (Dynamic event.  This minimal Category 1 storm is following in the wake of dying Typhoon Nida [way east, between orbit tracks].  It is a compact storm with a center predicted to be just left of track), Sobat Fans, Sudan (mapping pass over the least known series of large fans on the planet. These lie at nadir and especially northward where several major rivers exit the high-rainfall Ethiopian Plateau.  As a first approximation of the margins and even exact number of these features, broad views were requested for starters.  The enhanced Landsat TM images available on the ground are difficult to interpret), and Riyadh, Saudi Arabia (looking left for the largest city in the world to rely on desalinized water [>3.5 million, and covering 600 sq miles].
CEO images can be viewed at the websites.
See also the website "Space Station Challenge" at
U.S. and Russian Segment Status  (as of today, 1:12pm EDT).
Environmental Control and Life Support (ECLSS) and Thermal Control (TCS):
Elektron O2 generator is On.  Vozdukh CO2 scrubber is On.  U.S. CDRA CO2 scrubber is Off.  TCCS (trace contaminant control subsystem) is operating.  SM Gas Analyzer has been calibrated and is used for ppO2 & ppCO2 monitoring.  MCA (major constituents analyzer) is in Life Extending Mode (LEM).  BMP Harmful Impurities unit: absorbent bed #1 in Purify mode, bed #2 in Purify mode.  RS air conditioner SKV-1 is On, SKV-2 is Off (SM panel mods completed 4/8; SKV-2 activation failed 4/20).  SFOG slot #2 fan suspect (not usable).

SM Working Compartment:  Pressure (mmHg) — 742; temperature (deg C) — 25.3; ppO2 (mmHg) — 159.3; ppCO2 (mmHg) — 3.7;
SM Transfer Compartment:  Pressure (mmHg) — 751; temperature (deg C) — 20.5.
FGB Cabin:  Pressure (mmHg) — 756; temperature (deg C) — 25.0.
Node:  Pressure (mmHg) — 754.34; temperature (deg C) — 24.3 (shell); ppO2 (mmHg) — n/a; ppCO2 (mmHg) — n/a.
U.S. Lab:  Pressure (mmHg) — 756.73; temperature (deg C) — 24.7; ppO2 (mmHg) — n/a; ppCO2 (mmHg) — n/a.
Joint Airlock (Equip. Lock):   Pressure (mmHg) — 756.94; temperature (deg C) — 26.2; shell heater temp (deg C) — n/a, ppO2 (mmHg) — n/a; ppCO2 (mmHg) — n/a.

(n/a = data not available)

PMA-1:  Shell heater temp (deg C) — n/a
PMA-2:  Shell heater temp (deg C) — n/a.
Electrical Power Systems (EPS):
Both P6 channels fully operational.  BGA (beta gimbal assembly) 2B and 4B both in Autotrack (solar-tracking), with drag reduction bias (2B @ -32.5 deg, 4B @ 32.5 deg.)
SM batteries:  All batteries (8) are on line in "Partial Charge" mode.  
FGB batteries:  Battery #5 is off line; all other batteries (5) are on line in "Partial Charge" mode.
Plasma Contactor Unit PCU-1 is in Standby mode; PCU-2 is in Standby mode.
Command & Data Handling Systems:
C&C-1 MDM is prime, C&C-2 is backup, and C&C-3 is in standby.
GNC-2 MDM is prime; GNC-1 is backup.
INT-2 is operating; INT-1 is Off.
EXT-1 is On (primary), EXT-2 is Off (backup).
LA-1, LA-2 and LA-3 MDMs are all operating.
PL-1 MDM is Off; PL-2 MDM is Operational.
APS-1 (automated payload switch #1) and APS-2 are both On.
SM Terminal Computer (TVM): 2 redundant lanes (of 3) operational (string 1 dropped out 11/22/03).
SM Central Computer (TsVM): 2 redundant lanes (of 3) operational (string #3 dropped out 10/22/03).
FGB MDM-1 is Off (failed, 11/21/03); MDM-2 is Operational.
Propulsion System:
Total propellant load available: 3689 kg (8133 lb) as of 5/13/04;  [SM(755) + FGB(2934) + Progress M-1(0)].  (Capability: SM — 860 kg; FGB — 6120 kg).
Attitude Control Systems:
2 CMGs on-line (CMG-1 failed, since 6/6/02; CMG-2's RPC-17 failed 4/21/04).
State vector source — U.S. SIGI-1 (GPS)
Attitude source — U.S. SIGI-1 (GPS)
Angular rate source — RGA-1
Flight Attitude:
XPOP (x-axis perpendicular to orbit plane = "sun-fixed" [yaw: 0..5 deg, pitch: -9.0 deg., roll: 0 deg]), with CMG TA (thruster assist).
Communications & Tracking Systems:
FGB MDM-1 is powered Off; FGB MDM-2 is operational.
All other Russian communications & tracking systems are nominal.
S-band is operating nominally (on string 2).
Ku-band is operating nominally (may require a mask).
Audio subsystem is operating nominally (IAC-1 is prime, IAC-2 is off).
Video subsystem operating nominally.
HCOR (high-rate communications outage recorder) is operating nominally.
Robotics:
SSRMS/Canadarm2 based at Lab PDGF/LEE A, operational on redundant string, off on prime.
MBS: KA (keep alive) power on both strings. 
MT: latched and mated at WS4. 
POA: KA power on both strings.
RWS (robotics workstations): Lab RWS is On (DCP connected); Cupola RWS is Off.
ISS Orbit  (as of this morning, 8:10am EDT [= epoch]):
Mean altitude — 363.9 km
Apogee — 368.0 km
Perigee — 359.8 km
Period — 91.8 min.
Inclination (to Equator) —  51.6312 deg
Eccentricity — 0.0006101
Orbits per 24-hr. day — 15.68
Mean altitude loss in last 24 hours — 110 m
Revolutions since FGB/Zarya launch (Nov. '98)  — 31397

For more on ISS orbit and worldwide ISS naked-eye visibility dates/times, see http://www.hq.nasa.gov/osf/station/viewing/issvis.html