NASA Space Station On-Orbit Status 20 February 2006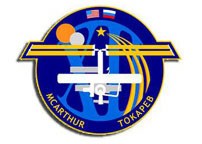 SpaceRef note: This NASA Headquarters internal status report, as presented here, contains additional, original material produced by SpaceRef.com (copyright © 2006) to enhance access to related status reports and NASA activities.
All ISS systems continue to function nominally, except those noted previously or below. U.S. Holiday (President's Day), but a busy day aboard ISS. Underway: Week 20 for Expedition 12.
CDR/SO William McArthur began the workday at the HRF1 (Human Research Facility 1) by initiating the regular recharge process on the MedOps cardiac defibrillator battery #1 to full capacity and subsequently performing it also on battery #2. Each charge took ~4 hrs. The task concluded with an open-circuit battery voltage check with the MultiMeter gauge. [The NiCads have to be charged every 60 days along with a defib checkout.]
Both crewmembers in turn took their third periodic on-orbit hearing assessment (O-OHA) test, a NASA environmental health systems examination to assess the efficacy of acoustic countermeasures, using a special MEC (Medical Equipment Computer) application. [The O-OHA audiography test involves minimum audibility measurements for each ear over a wide range of frequencies (0.25-10 kHz) and sound pressure levels, with the crewmembers using individual-specific Prophonics earphones, Bose ANC headsets and the SLM (sound level meter). To conduct the testing, the experimenter is supported by special EarQ software on the MEC, featuring an up/down-arrow-operated slider for each test frequency that the crewmember moves to the lowest sound pressure level at which the tone can still be heard. The baseline test is required not later than about Flight Day 14 for each new Expedition and is then generally performed once per month. (Last time done: 1/6/06).]
FE Valery Tokarev continued the current Russian laptop software step-up by running a test on the new A31p RS3 (#2002) which he had loaded on 2/16 with the software upgrade Vers. 12.01, and preparing it for dumping files and catalogs from CD-ROM to the ground.
Tokarev also had 90 min. reserved for installing the laptop at the Service Module (SM) Central Post, including searching for the appropriate mounting brackets and adapters behind FGB storage panels.
In preparation for also upgrading the Russian payload computer (BSMM) with its own software upgrade, Valery installed the BSMM software package from its newly delivered CD-ROM on the hard disk drive of the ISS Wiener laptop.
McArthur's performed the standard weekly maintenance on the TVIS in the SM, primarily checking the condition of the SPDs (Subject Positioning Devices) and recording time & date values.
For the standard cabin air sampling, the CDR deployed two passive FMK (formaldehyde monitoring kit) sampling assemblies in the Lab (below the CEVIS bike) and SM (most forward handrail), to catch any atmospheric formaldehyde on a collector substrate for subsequent analysis.
McArthur also ran another periodic atmospheric status check for ppO2 (Partial Pressure Oxygen) and ppCO2 (pp Carbon Dioxide), using the CSA-O2 (Compound Specific Analyzer-Oxygen Sensor).
Tokarev performed the regular weekly photo imagery of the BIO-5 Rasteniya-2 ("Plants-2") Lada-8 payload using the Nikon D1X digital camera with flash and copied all photos from the memory card to the RSK1 laptop for subsequent downlink to TsUP-Moscow via the BSR-TM telemetry channel. Also, working off his voluntary task list, Valery completed the daily status check of the BIO-5 Rasteniya-2 ("Plants-2") experiment and water tank recharge. [Rasteniya researches growth and development of plants under spaceflight conditions in the Lada-8 greenhouse. The regular maintenance of the experiment (each Monday, Wednesday, Friday and Sunday) involves monitoring of seedling growth, humidity measurements, moistening of the substrate if necessary, topping off the water tank if ~20-25% of the total amount (4 liters) remains, and photo/video recording.]
In the SM's starboard crew cabin, the FE took digital photography of the RSA/IBMP RBO-3 Matryoshka-R "Phantom Sphere" container with the Nikon D1X with flash, for ground verification of its orientation. Later, in the DC1 Docking Compartment, Valery also collected the periodic readings on the MOSFET (metal oxide semiconductor field-effect transistor) radiation sensor reader display of the Matryoshka antroph-amorphous (human torso) "phantoms" located inside and outside the ISS. [The complex Matryoshka payload suite is designed for sophisticated radiation studies. Besides the Phantom Sphere containers in the SM, the human torso in the DC1 is equipped with individual horizontal slice-like layers with 356 thermoluminescent detectors (TLDs) and five nuclear radiation tracking detectors (NTDPs). The mannequin is covered with a "poncho" and "hood" and used for studies of on-orbit radiation and long-term dose accumulation. Note: Matryoshka is the name for the traditional Russian set of nested dolls.]
In the Lab module, McArthur continued troubleshooting work on the Ku-band comm forward link receiver.
CDR McArthur again had time set aside for gathering US trash for disposal in the Progress 19 cargo ship-turned-trash can.
As part of regular maintenance of the SM water processing system, Tokarev swapped the third-line air/liquid separator apparatus (BRPK) of the SRVK-2M condensate water processor with a spare unit.
Valery also performed the daily routine maintenance of the SM's environment control & life support system (SOZh), including its toilet system (ASU), while Bill updated/edited the standard IMS "delta file", including locations, for the regular weekly automated export/import to its three databases on the ground (Houston, Moscow, Baikonur).
Both crewmembers completed their regular 2.5-hr. physical exercise program on the TVIS treadmill, RED resistive exerciser and VELO bike with bungee cord load trainer. [Valery's daily protocol prescribes a strict four-day microcycle exercise with 1.5 hr on the treadmill in unmotorized mode and one hour on VELO plus load trainer (today: Day 2 of the first set).]
Afterwards, the CDR transferred the exercise data files to the MEC (Medical Equipment Computer) for downlink, as well as the daily wristband HRM (heart rate monitor) data of the workouts on RED, followed by their erasure on the HRM storage medium (done six times a week).
Working off his discretionary "time available" task list, Tokarev completed his regular checkup on the Japanese experiment GCF-JAXA (Granada Crystallization Facility) in the Russian TBU incubator, maintained at 20 degC, including a temperature check on its ART (automatic temperature recorder). [This daily monitoring/temp checking, carried on the Russian voluntary "time available" task list, will continue until 4/30.]
At ~6:45am EST, Bill set up the Sputnik-SM Kenwood D700 amateur radio station in the SM and at 6:50am conducted a 10-min. ham radio session with students at Itaki Elementary School Fathers' Club (Oyajinokai) in Higashihiroshima, Hiroshima, Japan. [Itaki Elementary School was founded in 1873 and has a long tradition. The school's rule is "Trying hard and sincerity and honesty". At present, the school has 338 students and 23 teachers. All students of the amateur radio club contact are 11 years old and in 5th grade. "What kind of activities can you do only in space and not on Earth?"; "What happens when you suddenly open the door of the space station?"; "Have you seen a Black Hole?"; "What is the most beautiful star in space?"; "Can it happen that a meteorite hits the space station?"]
Overnight (~12:36am EST) during an LOS (loss-of-signal) period the crew was raised by a Node smoke detector (SD) alarm and properly executed initial emergency procedures. When MCC-H regained AOS (acquisition of signal), ground controllers and crew ascertained that there was no smoke or fire. The false alarm was caused by an increase in dust scatter. [ECLSS was restored, and the Node SD#2, one of two SDs, will remain inhibited until troubleshooting can be performed.]
No CEO (Crew Earth Observation) photo targets uplinked today.
To date, more than 186,000 of CEO images have been taken in the first five years of the ISS, almost one third of the total number of images taken from orbit by astronauts.
CEO photography can be viewed and studied at the websites:
See also the website "Space Station Challenge" at:
To view the latest photos taken by the expedition 12 crew visit:
Expedition 12 Flight Crew Plans can be found at http://spaceflight.nasa.gov/station/timelines/
Previous NASA ISS On-orbit Status Reports can be found here. Previous NASA Space Station Status Reports can be found here. Previous NASA Space Shuttle Processing Status Reports can be found here. A collection of all of these reports and other materials relating to Return to Flight for the Space Shuttle fleet can be found here.
ISS Orbit (as of this morning, 7:17am EST [= epoch]):
Mean altitude — 345.6 km
Apogee height — 350.6 km
Perigee height — 340.6 km
Period — 91.45 min.
Inclination (to Equator) — 51.64 deg
Eccentricity — 0.0007372
Solar Beta Angle — 40.0 deg (magnitude increasing)
Orbits per 24-hr. day — 15.75
Mean altitude loss in last 24 hours — 90 m
Revolutions since FGB/Zarya launch (Nov. 98) — 41477
Events Ahead (all dates Eastern & tentative):
02/22/06 — ISS reboost (by 19P; mnvr. back to XPOP after burn)
02/23/06 — Airlock Campout SDTO (overnight)
03/03/06 — Progress M-54/19P undocking & reentry (mnvr. to LVLH XVV after undock)
03/10/06 — ISS reboost (by SM thrusters; mnvr. back to XPOP after burn)
03/30/06 — Soyuz TMA-8/12S launch (Pavel Vinogradov/Russia, Jeffrey Williams/US, Marcos Pontes/Brazil)
04/01/06 — Soyuz TMA-8/12S docking (SM aft end port; mnvr. to LVLH XVV after dock)
04/09/06 — Soyuz TMA-7/11S undocking & reentry (mnvr. to XPOP after undock)
04/16/06 — Soyuz TMA-8/12S relocation (SM aft end port to FGB nadir port)
04/24/06 — Progress M-56/21P launch
04/26/06 — Progress M-56/21P docking (SM aft end port)
05/03/06 — ULF1.1 launch (NET, not earlier than)
06/15/06 — U.S. EVA (under review)
06/19/06 — Progress M-55/20P undocking & reentry
06/28/06 — Progress M-57/22P launch
06/30/06 — Progress M-57/22P docking
07/01/06 — 12A launch (under review)
08/01/06 — Russian EVA-16 (under review)
09/13/06 — Progress M-56/21P undocking & reentry
09/14/06 — Soyuz TMA-9/13S launch
09/16/06 — Soyuz TMA-9/13S docking (DC1)
09/24/06 — Soyuz TMA-8/12S undocking & reentry
10/18/06 — Progress M-58/23P launch
10/20/06 — Progress M-58/23P docking
12/19/06 — Progress M-57/22P undocking & reentry
12/20/06 — Progress M-59/24P launch
12/22/06 — Progress M-59/24P docking

ISS Altitude History
Apogee height — Mean Altitude — Perigee height
For more on ISS orbit and worldwide ISS naked-eye visibility dates/times, see http://www.hq.nasa.gov/osf/station/viewing/issvis.html. In addition, information on International Space Station sighting opportunities can be found at http://spaceflight.nasa.gov/realdata/sightings/ on NASA's Human Spaceflight website. The current location of the International Space Station can be found at http://science.nasa.gov/temp/StationLoc.html at NASA's Marshall Space Flight Center. Additional satellite tracking resources can be found at http://www.spaceref.com/iss/tracking.html.