NASA Space Station On-Orbit Status 2 October 2005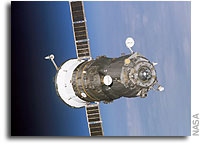 SpaceRef note: This NASA Headquarters internal status report, as presented here, contains additional, original material produced by SpaceRef.com (copyright © 2005) to enhance access to related status reports and NASA activities.
All ISS systems continue to function nominally, except those noted previously or below.  Sunday – a short day for Sergei Krikalev and John Phillips, filled with activities preparatory to tonight's arrival of 11 Soyuz (TMA-7).
In support of docking, FE Phillips deactivated the externally mounted MISSE-5 (Materials ISS Experiment 5) payload by radio command, using the ARISS amateur (ham) radio set in the Service Module (SM) to shut it down and reset the timer.
CDR Krikalev meanwhile retrieved the Russian Luch-2 kit with Crystalizer Module 1 & Module 2 and the "Glycoproteid", "Mimetik-K" and "Vaccine-K" experiments from the Cryogem-03M cooler/glove box and installed the gear, from Cryogem, in the SM (panel 406).   [The thermostat of the Cryogem-03M was then set to 37 degC, in preparation for the "Intercellular Interaction" experiment, to be conducted during the 11S period.]
The FE collected and stowed the two FMK (formaldehyde monitoring kit) monitors, deployed by him on 9/30 in the Lab (below CEVIS) and SM (most forward handrail).
Sergei conducted the daily routine maintenance of the SM's SOZh environment control & life support system, including ASU toilet system.
Both crewmembers completed their regular 2.5-hr. physical exercise program on the TVIS treadmill, RED resistive machine and VELO bike with bungee cord load trainer.   [Sergei's daily protocol prescribes a strict four-day microcycle exercise with 1.5 hr on the treadmill and one hour on VELO plus load trainer (today: Day 2 of a new set).]
At 8:10am EDT, Sergei Krikalev had his weekly PFC (private family conference) via S-band/audio and Ku-band/NetMeeting video.
Working off his voluntary "time available" task list, Sergei conducted the regular daily inspection of the BIO-5 Rasteniya-2 ("Plants-2") experiment, including filling its water canister for the Lada-7 greenhouse as required.
Sleep Cycle Shift:  For the Soyuz docking and subsequent handover period, the crew's sleep period today was moved from the normal 5:30pm EDT to an earlier 1:00pm.  Wake-up will be tonight at 9:30pm (instead of 2:00am tomorrow morning), with sleep time tomorrow (10/3) set at 3:30pm.  The station day hours will then settle down to 3:30am – 7:00pm for the rest of the E11/E12 transition period.
Weekly Science Update (Expedition Eleven — 23rd)
Human Research Facility/Gas Analyzer System for Metabolic Analysis Physiology (HRF GASMAP):  Continuing.
Human Research Facility/Workstation (HRF WS):  The Science Officer was thanked for assisting the ground in performing the very first checkout of the new HRF Rack 2 aboard the ISS and for correcting the Symantec settings on the PC-2. The second HRF rack system is now ready for operations on orbit.
Advanced Ultrasound (ADUM):  Continuing.
Renal Stone (RS):   The crew has completed the final in-flight Renal Stone session for this Increment.  The PI team has successfully received all the barcode reader data from this session and thanked the crewmembers for their support of the Renal Stone study.
Foot/Ground Reaction Forces during Space Flight (FOOT):   Complete for this Increment.
Space Acceleration Measurement System (SAMS):  SAMS is working nominally.
Microgravity Acceleration Measurement System (MAMS):   MAMS remains in nominal operations.
Protein Crystal Growth-Single Locker Thermal Enclosure System (PCG-STES):   Complete and returned to the PI.
Binary Colloidal Alloy Test-3 (BCAT-3):    BCAT-3 Slow Growth Sample Module will be left undisturbed in its current location by the E11 crew.  In order for the samples to potentially grow crystals that can be photographed during Increment 12 operations, the Sample Module must be left undisturbed.
Materials ISS Experiment (MISSE):  In progress.  New MISSE-5 "suitcase" deployed and unfolded during EVA outside on the U.S. Airlock.  Reactivated after EVA-14.  Nominal and collecting data, but temporarily shut down for 11S docking.  Old unit was returned on LF-1.
Dust and Aerosol Measurement Feasibility Test (DAFT):   Nothing new.
Earth Knowledge Acquired by Middle School Students (EarthKAM):   Complete.
Serial Network Flow Monitor (SNFM):  Complete.
Fluid Merging Viscosity Measurement (FMVM):  Nothing new.
Space Experiment Module (SEM):  Nothing new.  Experimenters and kids are working to get the next two satchels on ULF1.1.
Miscible Fluids in Microgravity (MFMG):   MFMG payload operations are finished.
Educational Payload Operations (EPO):   Complete.
Crew Earth Observations (CEO):   Through 9/29 of this Increment the ground has received a total 6,415 CEO frames.  Even though operations had to be suspended for over a week due to Hurricane Rita, the crew continued to acquire a number of stunning images without target lists.  Of particular interest are views of Rita, especially detailed views of the hurricane's eye wall structure.  With the prompt camera time adjustments provided to investigators, they were able to quickly identify and catalog these remarkable images for release to the public yesterday morning (10/1).  A beautifully detailed view of the coastal dune patterns of the Namib desert of southwestern Africa will be published on NASA/GSFC's Earth Observatory website this weekend.  The image illustrates subtleties of littoral wind field as reflected in the dunes of this remote area.  Yesterday's target list was the last for Increment 11.  Thanks to the crew for their diligence in supporting this payload.  The ground team is looking forward to seeing John and Sergei at the payloads debriefing. 
No CEO (crew earth observations) photo targets uplinked today.
  CEO photography can be viewed and studied at the websites:
See also the website "Space Station Challenge" at:
To view the latest photos taken by the expedition 11 crew visit:
Expedition 11 Flight Crew Plans can be found at http://spaceflight.nasa.gov/station/timelines/
Previous NASA ISS On-orbit Status Reports can be found here. Previous NASA Space Station Status Reports can be found here. Previous NASA Space Shuttle Processing Status Reports can be found here. A collection of all of these reports and other materials relating to Return to Flight for the Space Shuttle fleet can be found here.
Expedition 12/Expedition 11 Flight Timelines:
Soyuz 11S (Expedition 12+1; William McArthur, Valery Tokarev, Gregory Olsen):
ISS Crew Wake-up — tonight (10/2) at 9:30pm EDT;
Handover ISS attitude control to RS MCS — tonight at 9:50pm EDT;
Maneuver ISS to docking attitude — 11:19pm
Kurs-A & Kurs-P short test (15 km) — 00:40am;
Soyuz TV activation (8 km from ISS) — 00:47am
Flyaround — 1:05-1:14pm;
Orbital Sunrise — 1:10am;
Start Final Approach from Stationkeeping — 1:23am;
ISS in Free Drift — 1:32-1:52am
Docking — 10/3 (Mon.), 1:32am EDT.
RGS Loss of Signal (LOS) — 1:42am.
Soyuz 10S (Expedition 11+1; Sergei Krikalev, John Phillips, Gregory Olsen):
Undocking from FGB — 10/10 (Mon., Columbus Day), 5:40pm EDT (undock command);
Sep Burn #1 (manual) —  5:46pm;
Deorbiting Burn —  8:21pm (4 min 23 sec; delta-V 115.2 m/s); 
Landing before dawn — 10/10 (Mon.)  9:08pm EDT;  7:08am (10/11) local Kustanai/Kazakhstan;
Sunrise at Kustanai landing site — 7:47am local.  [Note: Kazakhstan remains on Standard Time; thus: local time = GMT+5].
Other Upcoming Events (all times EDT):
10/18/05 — ISS Reboost
11/18/05 — Soyuz TMA-7/11S relocation (from DC-1 to FGB nadir port)
12/21/05 – Progress M-55/20P launch
12/23/05 — Progress M-55/20P docking.

ISS Altitude History
Apogee height — Mean Altitude — Perigee height
For more on ISS orbit and worldwide ISS naked-eye visibility dates/times, see http://www.hq.nasa.gov/osf/station/viewing/issvis.html. In addition, information on International Space Station sighting opportunities can be found at http://spaceflight.nasa.gov/realdata/sightings/ on NASA's Human Spaceflight website. The current location of the International Space Station can be found at http://science.nasa.gov/temp/StationLoc.html at NASA's Marshall Space Flight Center. Additional satellite tracking resources can be found at http://www.spaceref.com/iss/tracking.html.