NASA Space Station On-Orbit Status 2 March 2006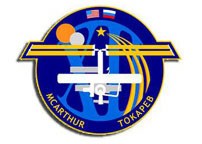 SpaceRef note: This NASA Headquarters internal status report, as presented here, contains additional, original material produced by SpaceRef.com (copyright © 2006) to enhance access to related status reports and NASA activities.
All ISS systems continue to function nominally, except those noted previously or below.
CDR/SO William McArthur had another ~2 hrs. for hardware/equipment prepacking for ULF1.1/STS-121 (launch NET 5/12).   [Bill was thanked for his diligence yesterday in this extensive work which is supported by a 30-page Pre-Pack List.  Pre-packed bags are being stored on the ZSRs (Zero-G Stowage Racks) cleaned out in the last few days.  There will be another ~2 hrs. timelined for Bill tomorrow.]
FE Valery Tokarev performed the Russian PFE (physical fitness evaluation) test MO-3, using the TVIS treadmill for workout and wearing the TVIS harness with HRM (Heart Rate Monitor) and HRM transmitter. [Identical to the Profilaktika (countermeasures) test for the treadmill in idling mode (i.e., with free choice of speed within a certain specified range), it calls for the use of the TEEM-100M gas analyzer, measurement of the lactate and creatine kinase levels in the subject's blood, and a subjective evaluation of the physical exertion levels during the test.  The recorded data were then downloaded from memory card to the MEC (Medical Equipment Computer for subsequent U.S. OCA downlinking.]
A major part of Tokarev's workday was taken up by preparing Progress-354/19P for tomorrow morning's undocking, leading off with dismantling and removing the cargo ship's LKT local temperature sensor commutator (TA251MB) of the BITS2-12 onboard telemetry system and its PZU-1M (ROM, read-only memory) unit, now no longer required and to be reused in future cargo vehicles.
Next, Tokarev and McArthur installed the Progress docking mechanism (StM).
After 19P activation later in the day, the crew disassembled the air duct in the hatchway to the SM PkhO (Service Module Transfer Compartment).
Before the crew began the removal of the threaded quick-disconnect (QD) screw clamps of the SM docking & internal transfer system (SSVP), which had rigidized the mating surfaces, the Russian segment (RS) thrusters were disabled and automatic handover to RS inhibited.  [The interface was visually inspected and video-recorded with the U.S. DVCAM to make sure that there is no damage to the cords, snap hooks or rings on the latches and to the slots for the clamps in the SSVP's internal flanges.]
At ~2:50pm today, Valery is scheduled to downlink the video footage taken of the docking interface between 19P and SM AO (Propulsion Compartment), via Ku- and S-band, for ground inspection.
At ~10:25am EST, hatches between the 19P docking unit (SU) and the SM were closed, followed by depressurization of the PrK Transfer Tunnel ("vestibule") the for the obligatory one-hour leak check.  Before final PrK/SU hatch closure, the interface video was downlinked via Ku-band for ground inspection.   [SM thrusters were re-enabled after completed interface leak check.  The Progress propulsion system and tanks were then connected.  After completion of recharge of the Progress batteries, the 19P power system (RB) will be isolated from the SM power buses, providing the cargo ship with autonomous power for the undocking and post-undock flight phase.  19P will separate from the ISS tomorrow morning at 5:06am EST, driven by spring force at ~0.12 m/s, then pass ~1100m below the ISS at 5:30am (overtaking it), perform its deorbit burn (delta-V: 85.0 m/s) at 8:05-8:08am, and reenter the atmosphere over the Pacific Ocean at ~8:41am in darkness.  This will free the SM aft end port, enabling the ISS reboost maneuver with the SM main propulsion system on 3/10.]
McArthur conducted his weekly audit/inventory of the available CWCs (collapsible water containers) and their contents, to keep track of onboard water supplies.   [Updated "cue cards" based on Bill's water calldowns are sent up every other week.  The current cue card lists two dozen water containers (~412.5 liters total) for the four types of water identified on board: technical water (for Elektron, flushing, hygiene; some CWCs found leaking), potable water (~180 liters), condensate water (for processing) and other (TCS fluid, EMU waste water).  As of 12/05/05, average water usage rate for Increment 12 is 1.8 liters daily for each crewmember.  Water is re-supplied from processed condensate.]
The CDR did the regular bi-monthly reboot of the OCA (Orbit Communications Adapter) comm router SSC (Station Support Computer) laptop.
In the Orbital Module of the Soyuz TMA-7/11S spacecraft, the FE performed the monthly cleaning of the screen/grid of its fan & air heater assembly (BVN), to assure adequate air ventilation.
Bill filled out the regular weekly FFQ (food frequency questionnaire), his 15th, which keeps a log of his nutritional intake over time on special MEC (Medical Equipment Computer) software.   [On the MEC, Bill is using his personalized file that reflects the food flown for his Increment.  The FFQ records amounts consumed during the past week of such food items as beverages, cereals, grains, eggs, breads, snacks, sweets, fruit, beans, soup, vegetables, dairy, fish, meat, chicken, sauces & spreads, and vitamins.  IBMP/Moscow (Institute of Biomedical Problems, Russian: IMBP – Institute of Medico-Biological Problems) recommended average daily caloric value of the crew's food intake is 2200-2300 cal.  If larger quantities of juices and fruits are taken into account, the value can go to 2400-2500 cal.]
Valery completed the periodic (about twice a month) replenishing of the Elektron's water supply for electrolysis, his eighth, filling the KOV thermal loops' EDV container with purified (deionized) water from a filled EDV with water from the BKO multifiltration/purification column unit, following carefully written instructions.   [The 30-minute procedure is specially designed to prevent air bubbles larger than ~10 mm from getting into the BZh-8 Liquid Unit where they could cause Elektron shutdown.  In the procedure, the BKO water is carefully pumped with a compressor from the EDV-1 through the air/liquid separator unit (GZhS) into the empty EDV-2 while the crewmember checks for any air bubbles accumulating in the GZhS (and, if visible, estimates their number, with no more than two 1 cm diameter bubbles permitted in EDV-2). Elektron water is also supplied from U.S. condensate in a CWC (collapsible water container) that is checked for its contents of air bubbles and is rejected if the estimated total air bubble volume is more than 30 cubic centimeters (1 cm air bubble is about 0.5 ccm).]
The FE also undertook the daily routine maintenance of the SM's environment control & life support system (SOZh), including its toilet system (ASU), while the CDR updated/edited the standard IMS "delta file", including locations, for the regular weekly automated export/import to its three databases on the ground (Houston, Moscow, Baikonur).
McArthur ran the daily atmospheric status check for ppO2 (Partial Pressure Oxygen) and ppCO2 (pp Carbon Dioxide), using the CSA-O2 (Compound Specific Analyzer-Oxygen Sensor).
Working off his "time available" voluntary task list, Valery conducted the regular daily status check of the BIO-5 Rasteniya-2 ("Plants-2") experiment, including recharging the water tank if required. [Rasteniya researches growth and development of plants under spaceflight conditions in the Lada-8 greenhouse.  The regular maintenance of the experiment (each Monday, Wednesday, Friday and Sunday) involves monitoring of seedling growth, humidity measurements, moistening of the substrate if necessary, topping off the water tank if ~20-25% of the total amount (4 liters) remains, and photo/video recording.  Once weekly, data from the Lada greenhouse control unit are recorded on floppy disk for weekly downlink via REGUL-Packet or the new BSR-TM at a suitable occasion
A second discretionary task remaining on Tokarev's work list for today was the regular checkup on the Japanese experiment GCF-JAXA (Granada Crystallization Facility) in the Russian TBU incubator, maintained at 20 degC, including a temperature check on its ART (automatic temperature recorder).   [This daily monitoring/temp checking, carried on the Russian voluntary "time available" task list, will continue until 4/30.]
Both crewmembers completed their daily 2.5-hr. physical exercise program on the TVIS treadmill, RED resistive exerciser and VELO bike with bungee cord load trainer.   [Valery's daily regimen, today governed by the MO-3 medical test on the TVIS (see above), prescribes a strict four-day microcycle exercise with 1.5 hr on the treadmill in unmotorized mode and one hour on VELO plus load trainer (today: Day 4 of the first set).]
Afterwards, the CDR transferred the exercise data files to the MEC for downlink, as well as the daily wristband HRM (heart rate monitor) data of the workouts on RED, followed by their erasure on the HRM storage medium (done six times a week).
At ~1:30pm EST, McArthur and Tokarev held a 20-min. live interactive educational/PAO TV event via Ku-band video and S-Band audio with grade 6-8 students from Cole Middle School and Edwards Middle School at Edwards Air Force Base, CA.   [This was another in-flight event utilizing the relatively new NASA multi-channel television digital satellite system.  Due to the signal encoding and decoding required, the digital satellite system has a 4-second audio delay between ISS and ground reception, and vice versa, for which the crew is prepared. Student questions were uplinked beforehand.  "What does a fault line, such as the San Andreas, look like from space, and can you see it with the naked eye?"; "How does the earth change when a massive earthquake hits, and can you see where earthquakes have occurred?"; "How do you clean yourself in space?"]
Yesterday's activation of the Elektron oxygen generator went smoothly. Elektron is running nominally, and all 19P-stored oxygen has been used up.
Dates for Soyuz 11S relocation (to SM aft end port) and the crew's Airlock campout test are still being assessed.  Campout will likely be deferred from 3/16-17 until later in March
During ground testing, a QDMA (Quick-Don Mask Assembly) strap/harness which secures the mask against the wearer's face, has failed. Specialists are preparing to determine appropriate on-orbit actions.
Update on failed RPCM LA1B_F:   The tripped RPC-5 (Remote Power Controller) will be closed today to determine failure signature.  The RFCA (rack flow control assembly) valve, controlled by RPC-5, remains in its last commanded state, allowing good ITCS LTL (Internal Thermal Control System/Low Temperature Loop) flow into the A/L.  Its valve can be manually positioned if necessary.
Today's CEO (Crew Earth Observation) photo targets, limited in the current XPOP attitude by flight rule constraints on the use of the Lab nadir/science window, which is available for only ~1/4 of each orbit when not facing forward (in ram), were Etosha dry lake, Namibia (Dynamic event. One of the largest sub-Saharan dry lakes, this desert depression only receives water once every few years.  Etosha may already be filling after recent strong and widespread rains in southern Africa.  Looking for sheets of water or glint in inflowing streams.  Etosha is the center of one of the largest game reserves in Southern Africa), and Lake Chad, Chad (Dynamic event.  Looking left for the lake that is starting to expand after three decades of low water levels.  Dust has been detected in the Bodele basin immediately north of Lake Chad, evidence of Saharan spring.)
To date, more than 186,000 of CEO images have been taken in the first five years of the ISS, almost one third of the total number of images taken from orbit by astronauts.
CEO photography can be viewed and studied at the websites:
CEO photography can be viewed and studied at the websites:
See also the website "Space Station Challenge" at:
To view the latest photos taken by the expedition 12 crew visit:
Expedition 12 Flight Crew Plans can be found at http://spaceflight.nasa.gov/station/timelines/
Previous NASA ISS On-orbit Status Reports can be found here. Previous NASA Space Station Status Reports can be found here. Previous NASA Space Shuttle Processing Status Reports can be found here. A collection of all of these reports and other materials relating to Return to Flight for the Space Shuttle fleet can be found here.
ISS Orbit  (as of this morning, 8:08am EST [= epoch]):
Mean altitude — 347.5 km
Apogee height — 353.0 km
Perigee height — 342.0km
Period — 91.49 min.
Inclination (to Equator) — 51.64 deg
Eccentricity — 0.00081476
Solar Beta Angle — 21.8 deg (magnitude decreasing)
Orbits per 24-hr. day — 15.74
Mean altitude loss in last 24 hours — 90 m
Revolutions since FGB/Zarya launch (Nov. 98) — 41635
Events Ahead (all dates Eastern & tentative):
03/03/06 — Progress M-54/19P undocking & reentry (5:04pm EST; mnvr. to LVLH XVV after undock)
03/06/06 — Repair of MCA in US segment
03/10/06 — ISS reboost (by SM main prop sys.; mnvr. back to XPOP after burn)
03/16/06 — Airlock Campout SDTO (overnight)
03/20/06 (under review) — Soyuz TMA-7/11S relocation (FGB nadir port to SM aft-end port)
03/30/06 — Soyuz TMA-8/12S launch (Pavel Vinogradov/Russia, Jeffrey Williams/US, Marcos Pontes/Brazil, 9:29pm EST)
04/01/06 — Soyuz TMA-8/12S docking (FGB nadir port, 11:11pm EST; mnvr. to LVLH XVV after dock)
04/09/06 — Soyuz TMA-7/11S undocking (4:15pm EDT) & land (7:40pm); (mnvr. to XPOP after undock)
04/18/06 — Soyuz TMA-8/12S relocation (FGB nadir port to SM aft end port)
04/24/06 — Progress M-56/21P launch
04/26/06 — Progress M-56/21P docking (DC1)
05/03/06 — ULF1.1 launch (NET, not earlier than)
06/15/06 — U.S. EVA (under review)
06/19/06 — Progress M-55/20P undocking & reentry
06/28/06 — Progress M-57/22P launch
06/30/06 — Progress M-57/22P docking
07/01/06 — 12A launch (under review)
07/31/06 — Russian EVA-16 (under review)
09/13/06 — Progress M-56/21P undocking & reentry
09/14/06 — Soyuz TMA-9/13S launch
09/16/06 — Soyuz TMA-9/13S docking (FGB nadir port)
09/24/06 — Soyuz TMA-8/12S undocking & reentry
09/28/06 — Soyuz TMA-9/13S relocation (FGB nadir port to DC1)
10/18/06 — Progress M-58/23P launch
10/20/06 — Progress M-58/23P docking
12/19/06 — Progress M-57/22P undocking & reentry
12/20/06 — Progress M-59/24P launch
12/22/06 — Progress M-59/24P docking

ISS Altitude History
Apogee height — Mean Altitude — Perigee height
For more on ISS orbit and worldwide ISS naked-eye visibility dates/times, see http://www.hq.nasa.gov/osf/station/viewing/issvis.html. In addition, information on International Space Station sighting opportunities can be found at http://spaceflight.nasa.gov/realdata/sightings/ on NASA's Human Spaceflight website. The current location of the International Space Station can be found at http://science.nasa.gov/temp/StationLoc.html at NASA's Marshall Space Flight Center. Additional satellite tracking resources can be found at http://www.spaceref.com/iss/tracking.html.