NASA Space Station On-Orbit Status 19 Jun 2004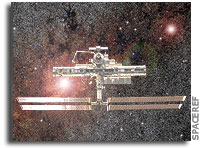 All ISS systems continue to function nominally except those noted previously or below.   Congratulations, Mike, on the birth of your daughter Tarali Paulina!  The first daughter born to an astronaut in space at the time,- and that on the 21st anniversary of Sally Ride becoming the first US woman in space on STS-7!
As generally on Saturdays, Commander Gennady Padalka and Flight Engineer/Science Officer Michael Fincke performed the weekly 3-hr. station cleaning.  [This includes removal of food waste products, cleaning of compartments with vacuum cleaner, wet cleaning of the Service Module (SM) dining table and other surfaces with "Fungistat" disinfectant and cleaning fan screens to avoid temperature rises.]
At 9:45am EDT, the crew conducted a space-to-ground conference with specialists at TsUP/Moscow to discuss specifics of the Orlan EVA scheduled for Thursday next week, 6/24.
Afterwards Padalka and Fincke prepared the EVA cuff checklists for the spacewalk, referring to uplinked material with the content for the new (modified) cuff checklist pages and assisted by the ground team standing by on console at MCC-H.   [Changes to the cuff checklists are done either by printing the new pages, cutting them and taping them into the checklists, or doing pen-and-ink changes with a marking pen ("Sharpie"), transferring the info to blank checklist pages.]
 
Padalka attended to the daily routine maintenance of the Service Module's (SM) SOZh life support system (including ASU toilet facilities).
Both crewmembers completed their daily physical exercise program on CEVIS cycle ergometer, TVIS treadmill, RED resistive expander and VELO bike with force loader.
The crew had their weekly planning conference with the ground, discussing next week's "Look-Ahead Plan" (regularly prepared jointly by MCC-H and MCC-M planners), via S-band/audio.  
Padalka's SKV-2 air conditioner troubleshooting, by pumping condensate from the collection tank, did not achieve its objective.   [The crew reported that little or no condensate flow could be seen in the clear plastic line during the pumping attempts using both the automatic condensate pump (NOK2) and a manual pump (which Gennady located on 6/17 after some search).  Moscow is planning to perform an air purge of the condensate lines on 6/20, followed by a filling of the lines with EDV water, and then another test of the pumps. The lines will then be repurged and the system will be tested again. A similar set of steps, taken with the SKV about two years ago, was reportedly helpful.]
A maintenance power outage at the POIC (Payload Operations & Integration Center) in Huntsville rendered all POIC services (voice, video, and data exchange with remote sites ands the ISS) unavailable from 6:00-6:30pm EDT.   [Because of this outage, the planned the EXPRESS Rack 4 (ER4) software load activity planned for today's "job jar" task list was deferred to tomorrow's task list.]
Tonight night at 9:59pm EDT, ISS will be maneuvered to LVLH XVV attitude (local vertical/local horizontal, x-axis in velocity vector, i.e. "bow forward").
Weekly Science Update (Expedition Nine — 8th):
GASMAP:   Nothing new.  Looking forward to next "tune-up".
Human Research Facility/Workstation (HRF WS):   Continuing.
Advanced Ultrasound (ADUM):   The crew was thanked for a very successful ADUM bone scan session this week.
Hand Posture Analyzer (HPA:  Nothing new.
In-Space Soldering Investigation (ISSE):   Nothing new.
Pore Formation and Mobility Investigation (PFMI):   Nothing new.
 
Space Acceleration Measurement System (SAMS):   While the SAMS hardware is down, MAMS's HiRAP is being used to characterize the vibratory environment in the US Lab.
 
Microgravity Acceleration Measurement System (MAMS):   Both MAMS OSS and HiRAP are operating nominally.
Protein Crystal Growth-Single Locker Thermal Enclosure System (PCG-STES):  Nominal.
Protein Crystal Growth Monitoring by Digital Holographic Microscope (PromISS):   Nothing new.
Investigating the Structure of Paramagnetic Aggregates from Colloidal Emulsions (InSPACE):    Planned.
Binary Colloidal Alloy Test-3 (BCAT-3):   The crew was thanked for the "wonderful photos, your enthusiasm, and personal time" devoted to the BCAT-3 experiment.  "The teleconference was a delight for all involved and hopefully shared these feelings from our side as well".
Renal Stone (RS):   Nothing new.
Synchronized Position Hold, Engage, Reorient, Experimental Satellites (SHERES):   Nothing new.
Foot/Ground Reaction Forces during Space Flight (FOOT):   Nothing new.
Materials ISS Experiment (MISSE):  In progress. Deployed outside on the U.S. Airlock. Nominal and collecting data.
Cellular Biotechnology Support Systems-Fluid Dynamics Investigation (CBOSS-FDI):   Nothing new.
Biotechnology Specimen Temperature Controller (BSTC):   The BSTC checkout is currently planned for later in June.
Yeast Group Activation Packs (Yeast GAP):   Nothing new.
Earth Knowledge Acquired by Middle School Students (EarthKAM):  There is one more session scheduled for this Increment, in July.
Earth Science Toward Exploration Research (ESTER):  Nothing new.
Serial Network Flow Monitor (SNFM):   The ground is still analyzing the data from the last run and is "learning a lot".
BIOPSY (Effects of Prolonged Space Flight on Human Skeletal Muscle):  The ground has received the crew's diet logs.
Coarsening in Solid-Liquid Mixtures-2 (CSLM-2):  Planned.
Commercial Generic Bioprocessing Apparatus (CGBA):   Nothing new.
Miscible Fluids in Microgravity (MFMG):    Nothing new.
Educational Payload Operations (EPO):   The addition First Aid footage was received with enthusiasm.  The footage will be edited together to create a great educational demonstration.
Crew Earth Observations (CEO):  The recent ISS/CEO image of sun glint-enhanced internal waves in the Strait of Gibraltar will be published on NASA/GFSC's website Earth Observatory this weekend.  The image illustrates both the fluid density dynamics as well as the surface activities in this channel between the Atlantic Ocean and the Mediterranean Sea.  The crew's excellent photography continues to roll in at an incredible rate.  A quick review of their most recent efforts with the 400mm lens with the doubler indicates that they are ready to begin using that configuration on some of the targets requiring greater detail, i.e. coral reefs.  Those requests will come soon.  The ground will also need to have another review of the crew's target list, as they continue to meet the requirements for them at a record rate.
Today's optional CEO (Crew Earth Observations) photo targets, limited in XPOP attitude by flight rule constraints on the use of the science window, which is available for only ~1/4 of each orbit when not facing forward (in "ram"), were Urumqui, China (looking left of track at the foot of the mountain range for a general view of China's premier western oil city.  Also looking right for dust storm raging in the Taklamakan Desert.  These dust storms are the origin of the thick dust sheets that occupy central China and provide the fertile agricultural lands of the upper Yellow River), Singapore (looking right for the island nation on the tip of the Malay peninsula.  Then shooting obliques of southern Sumatra and western Borneo where the weather is unusually clear.  Smoke plumes may have been seen), Internal waves, Newfoundland (shooting any wave packets that appear as the early morning glint point tracks just south of Newfoundland.  The criterion for shooting these features is to capture the features [ideally with a coastline for more precise location], with less regard for perfect exposure.  Even images with non-ideal exposures can provide hard data for the oceanographers who track alignment, propagation direction, and intensity of internal wave packets), Internal waves, Florida East Coast (looking hard right for any wave packets), and High Central Andean Glaciers (as ISS passed onto the high Andean plateau the crew was to look for ice capped volcanoes.  The first clear weather in many weeks may persist).
CEO images can be viewed at the websites.
See also the website "Space Station Challenge" at
ISS Orbit  (as of this morning, 8:23am EDT [= epoch]):
Mean altitude — 361.3 km
Apogee — 364.9 km
Perigee — 357.7 km
Period — 91.77 min.
Inclination (to Equator) —  51.6332 deg
Eccentricity — 0.00053
Orbits per 24-hr. day — 15.69
Mean altitude loss in last 24 hours — 85 m
Revolutions since FGB/Zarya launch (Nov. '98)  — 31868

For more on ISS orbit and worldwide ISS naked-eye visibility dates/times, see