NASA Space Station On-Orbit Status 19 February 2005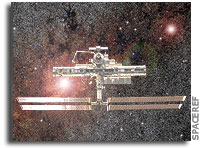 SpaceRef note: This NASA Headquarters internal status report, as presented here, contains additional, original material produced by SpaceRef.com (copyright © 2005) to enhance access to related status reports and NASA activities.
All ISS systems continue to function nominally, except those noted previously or below. Saturday, first weekend rest day for the crew. Today 19 years ago Soviet Russia launched Mir, its 7th space station.
Wearing protective garment, CDR/SO Leroy Chiao and FE Salizhan Sharipov completed the regular weekly 3-hour task of thorough station cleaning. ["Uborka", done every Saturday, includes removal of food waste products, cleaning of compartments with vacuum cleaner, wet cleaning of the Service Module (SM) dining table and other surfaces with "Fungistat" disinfectant and cleaning fan screens to avoid temperature rises.]
At ~9:05am EST, Chiao and Sharipov engaged in their weekly planning conference (WPC) with the ground, discussing next week's "Look-Ahead Plan" (prepared jointly by MCC-H and TsUP/Moscow timeline planners), via S-band/audio, reviewing upcoming activities and any concerns about future on-orbit events.
Spending an hour on the Service Module (SM) ventilation systems, the FE replaced its four dust collector filters (PF1-4) and discarded the old units. (Last time done: 12/2/04).
The Science Officer completed the "Saturday Science" program deferred last Saturday (2/12) because of the all-day ASU toilet troubleshooting. Dr. Chiao worked on the HRF FOOT (Foot/Ground Reaction Forces during Space Flight) experiment, transferring, consolidating and configuring the FOOT Hardware Supply Kit, including the specially instrumented LEMS (lower extremity monitoring suit) pants garment. [This provides a universal kit for coming FOOT operations, thereby reducing future upmass requirements and allowing for excess hardware to be removed from Station.]
Sharipov performed the routine daily maintenance of the SOZh environment control & life support system, which included today the regular weekly inspection of the air/liquid condensate separation and pumping unit (BRPK). [The BRPK backup unit (BRPK-2) was replaced yesterday because it approached lifetime expiration. The BRPK is part of the SRVK condensate water processor that processes the condensate coming from the SKV air conditioner for the Elektron. The SKV-1 unit resumed nominal operation after its recovery (wick cleaning) on 2/17. This restored both Russian SKV air conditioners to full functionality.]
The crew performed their regular daily 2.5-hr. physical exercise program on TVIS, RED exerciser, CEVIS cycle and VELO cycle with bungee cord load trainer. [Salizhan's daily protocol currently prescribes a four-day microcycle exercise with 1.5 hr on the TVIS set on the treadmill and one hour on VELO (today: Day 2 of a new set).]
Leroy then transferred the daily TVIS and RED exercise data files to the MEC (medical equipment computer) for downlink, as well as the daily wristband HRM (heart rate monitor) data, followed by their erasure on the HRM storage medium.
Working off the Russian discretionary task list, the FE performed another of the "Diatomeya" ocean observations program, using the DSR PD-150P video camera on ASM window #8 and Nikon F5 digital still camera with 24/85-mm lens from window #7 to obtain data on developing hydro-biological late-summer processes and phenomena in the atmosphere over the oceans in the Southern Hemisphere. [Today's observations focused on algae blooms (TsKO) in ocean water, areas of blue underlying water, sudden anomalies in cloud cover structure, manifestation of water surface dynamics under sun glint (vortices, wakes of internal waves, level drops, smooth bands in the field of turbulence) in target areas of the Indian Ocean (i.e., Zambezi River runoff area, branch of Southern trade current, passing Madagascar frontal ocean areas to the North of Antarctica) and Atlantic Ocean (i.e., Tropic of Cancer, the Equator area, Benguela current, dynamic zone to the south of Africa, San Francisco River runoff area under sun glint, and the highly productive contact area in Falkland and Brazilian currents).]
Also off the task list, Salizhan transferred "Matryoshka" payload data from the BSPN payload server via the ISS Wiener laptop to a PCMCIA flash card for subsequent downlink on OCA comm, controlling the process with a program called ShellForKE on the Wiener. [Matryoshka automatically takes radiation measurements in the SM and DC-1 docking compartment for studies of on-orbit radiation and long-term dose accumulation, using six SPD dosimeters deployed throughout the Russian segment as well as in a spherical body-simulating Matryoshka-R phantom and a human torso model outside on the SM hull, mounted there during EVA-9 on 2/27/04.]
On ~6:00am EST, Sharipov downlinked a video message of greetings and congratulation to the NTV company and the makers and actors of a historic film from the Soviet era, "The White Sun of the Desert", which observes its 35th anniversary on 2/23.
The cabin air was refreshed yesterday with another oxygen (O2) repress from Progress 16 storage, increasing atmospheric pressure by ~8 mmHg/Torr. The repress used approximately 30 lbs of O2. [Additional represses are scheduled next week to utilize this O2 prior to undocking, scheduled for 2/27.]
Leroy Chiao's troubleshooting yesterday of the GLAs (General Luminaire Assemblies) in Lab and Node confirmed that one light bulb and two baseplate ballast assemblies (BBAs) have failed. Future sparing and GLA recovery plans are in work by ground specialists.
The 72-hour reconditioning discharge on battery set 4B3, currently in progress, will end at approximately 9:50am EST tomorrow morning (2/20). Battery operations should be back to normal by ~11:00pm tomorrow night.
The MBS (Mobile Base System) Mast video camera, part of the Robotics system, is nonfunctional. Its "hard" failure does not appear to be related to the software patch uplinked by MCC-H yesterday to fix a "watchdog" timer problem. [The effect of losing the MBS Mast camera on upcoming SSRMS (Space Station Remote Manipulator System) ground control commissioning activities is being looked at. Analysis performed yesterday indicates that other cameras can provide the required clearance views. ]
Weekly Science Update (Expedition Ten — 16th):
GASMAP: Another routine health check of the GASMAP system will be conducted next week.
Human Research Facility/Workstation (HRF WS): Continuing.
Advanced Ultrasound (ADUM): The crew was thanked for their inputs during the ADUM session analysis this week. "The Space Station is a great place for science and we appreciate your feedback, which helps us get even better science!"
Hand Posture Analyzer (HPA: Nothing new.
In-Space Soldering Investigation (ISSI): Operations are complete.
Pore Formation and Mobility Investigation (PFMI): Nothing new.
Space Acceleration Measurement System (SAMS): SAMS will be collecting data during the upcoming 16P undocking and 17P docking.
Microgravity Acceleration Measurement System (MAMS): MAMS remains in nominal operations. The payload supported the Progress 16P reboost with data and plots to the Ballistics engineers.
Protein Crystal Growth-Single Locker Thermal Enclosure System (PCG-STES): PCG-STES is performing nominally.
Protein Crystal Growth Monitoring by Digital Holographic Microscope (PromISS): Nothing new.
Investigating the Structure of Paramagnetic Aggregates from Colloidal Emulsions (InSPACE): Nothing new.
Binary Colloidal Alloy Test-3 (BCAT-3): Nothing new.
Renal Stone (RS): Nothing new.
Synchronized Position Hold, Engage, Reorient, Experimental Satellites (SHERES): Nothing new.
Foot/Ground Reaction Forces during Space Flight (FOOT): The Science Officer performed today last week's deferred Saturday Science during which he configured the Foot hardware kit. "This will go a long way towards ensuring Foot's success in future increments".
Materials ISS Experiment (MISSE): In progress. Deployed outside on the U.S. Airlock. Nominal and collecting data.
Cellular Biotechnology Support Systems-Fluid Dynamics Investigation (CBOSS-FDI): Nothing new.
Dust and Aerosol Measurement Feasibility Test (DAFT): The DAFT team is looking forward to obtaining P-Trak and DustTrak Sampling data next week.
Biotechnology Specimen Temperature Controller (BSTC): Nothing new.
Yeast Group Activation Packs (Yeast GAP): Nothing new.
Earth Knowledge Acquired by Middle School Students (EarthKAM): Nothing new.
Earth Science Toward Exploration Research (ESTER): Nothing new.
Serial Network Flow Monitor (SNFM): Nothing new.
Fluid Merging Viscosity Measurement (FMVM): Looking forward to future operations with honey samples.
Space Experiment Module (SEM): Nothing new.
Viscous Liquid Foam–Bulk Metallic Glass (Foam): Nothing new.
Effects of Prolonged Space Flight on Human Skeletal Muscle (BIOPSY): Nothing new.
Coarsening in Solid-Liquid Mixtures-2 (CSLM-2): Planned.
Commercial Generic Bioprocessing Apparatus (CGBA): Nothing new.
Miscible Fluids in Microgravity (MFMG): Nothing new.
Educational Payload Operations (EPO): Nothing new.
Capillary Flow Experiment (CFE): Nothing new.
Crew Earth Observations (CEO): Through 2/17 the ground has have received 11,026 of ISS CEO images. This week a dramatic view of snow-clad Mount Damavand in Iran will be posted on NASA's Earth Observatory website. The size and structural features of this gigantic stratovolcano are beautifully enhanced by the snow cover and low-sun shadowing in the crew's crisp 400mm view.
Today's CEO (crew earth observations) photo targets, no longer limited in the current LVLH attitude, were Lake Nasser, Toshka Lakes, Egypt (this overpass took the ISS over the Toskha Lakes. These new lakes, forming from Lake Nasser overflow, have only been in existence since 1998. Detailed images of the shorelines are requested to assess development of vegetation and wetlands in proximity to the lakes), and Patagonian Glaciers, S. America (weather was predicted to be clear over the southern Patagonian ice fields. Detailed images of the mountain glaciers were requested. These small glaciers [as opposed to large valley glaciers] are more responsive to cooling or warming trends, and serve as good indicators of rapid climate change).
CEO photography can be viewed and studied at the websites:
See also the website "Space Station Challenge" at:
To view the latest photos taken by the expedition 10 crew visit:
Expedition 10 Flight Crew Plans can be found at http://spaceflight.nasa.gov/station/timelines/
Previous NASA ISS On-orbit Status Reports can be found here. Previous NASA Space Station Status Reports can be found here. Previous NASA Space Shuttle Processing Status Reports can be found here. A collection of all of these reports and other materials relating to Return to Flight for the Space Shuttle fleet can be found here.
Upcoming Key Events:
Progress M-51 (16P) undocking & destructive reentry — 2/27/05;
Progress M-52 (17P) launch — 2/28/05.
EVA-13 — 3/25/05;
Soyuz TMA-6 (10S) launch — 4/15/05 with Expedition 11 (CDR Sergei Krikalev, FE/SO John Phillips);
Soyuz TMA-5 (9S) undock — 4/25/05 with Exp. 10 crew (after 193 days on orbit, 191 days on board ISS);
Progress M-53 (18P) launch — 6/10/05;
Progress M-54 (19P) launch — 8/24/05;
Soyuz TMA-7 (11S) launch — 9/27/05.
ISS Orbit (as of this morning, 10:57am EST [= epoch]):
Mean altitude — 358.7 km
Apogee height — 361.8 km
Perigee height — 355.7 km
Period — 91.72 min.
Inclination (to Equator) — 51.64 deg
Eccentricity — 0.0004548
Solar Beta Angle — -0.1 deg (magnitude increasing)
Orbits per 24-hr. day — 15.70
Mean altitude loss in last 24 hours — 180 m
Revolutions since FGB/Zarya launch (Nov. 98) — 35720
ISS Altitude History
Apogee height — Mean Altitude — Perigee height
For more on ISS orbit and worldwide ISS naked-eye visibility dates/times, see http://www.hq.nasa.gov/osf/station/viewing/issvis.html. In addition, information on International Space Station sighting opportunities can be found at http://spaceflight.nasa.gov/realdata/sightings/ on NASA's Human Spaceflight website. The current location of the International Space Station can be found at http://science.nasa.gov/temp/StationLoc.html at NASA's Marshall Space Flight Center. Additional satellite tracking resources can be found at http://www.spaceref.com/iss/tracking.html.