NASA Space Station On-Orbit Status 18 Nov 2003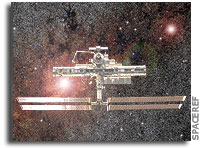 All ISS systems continue to function nominally, except as noted previously or below. As of this morning, the station has circled Earth 28512 times, having put 755 million miles (1.2 billion km) behind it — or roughly the distance to Jupiter.
 
Today's crew activities centered on the Russian Orlan IVA training run, involving a test of retreating, in pressurized spacesuits, from the DC-1 airlock to the Soyuz CRV (crew return vehicle) docked to the DC-1 "Pirs".  The exercise was to demonstrate, for the very first time, the crew's ability to access the Soyuz Orbital Module (BO) in the event of a contingency during or after the two-man EVA planned for early next year (there have been no ground sims of this maneuver in the Russian Hydrolab).
Both spacesuits and their ancillary systems were assembled and checked out properly.  But after a preliminary fit check of an inflated Orlan suit pushed by the crew through the DC1-to-BO hatch last night indicated marginal clearance, TsUP/Moscow changed the training procedure by having only FE Kaleri suit up.  As it appeared on the downlinked video, his transfer to the Soyuz BO module through the tight hatchway in the pressurized Orlan seemed to require active pushing by CDR Foale, himself remaining unsuited.  Russian specialists are now assessing the test and are expected to develop conclusions and further plans, which could include a relocation of the Soyuz to the roomier FGB nadir hatch.
Today's IVA training run took more time than expected, and the option of doing selected get-ahead tasks, provided to the crew in case of "left-over" time on today's schedule, was not exercised.
 
A planned ground-commanded external video survey of the ISS with the SSRMS (Space Station Remote Manipulator System) cameras, requiring no crew involvement, was deferred to a future date (TBD).
Today's CEO (crew earth observation) targets, limited in the current XPOP attitude by flight rule constraints on the use of the Lab nadir/science window, wereSabancaya volcano, Peru (this landslide research site lies just right of track; a short mapping swath to capture the site was suggested.  Landslides cause far more destruction to communities in the Andes than volcanoes or earthquakes per se), La Paz, Bolivia(looking left for this city on the lip of the high Andean plateau),Lake Poopo(good pass over the Poopo basin.  The crew's recent successful images of the lake itself showed that secondary features need to be imaged, especially the white, dry lake beds south of Poopo, which will appear just right of rack.  These usually dry lakes receive some of the overflow from Poopo, and are a sensitive indication of rainfall in the basin), and NE Brazil Biomass Burning(Dynamic event.  Looking mainly left for continuing fires and smoke).
CEO images can be viewed at the websites.
See also the website "Space Station Challenge" at
U.S. and Russian Segment Status (as of 1:00pm EST).
Environmental Control and Life Support (ECLSS) and Thermal Control (TCS):
Elektron O2 generator is powered On, 18A.  Vozdukh CO2 scrubber is On (in Manual Mode 5/3).  U.S. CDRA CO2 scrubber is on Standby (ready in dual-bed mode).  TCCS (trace contaminant control subsystem) is operating.  MCA (major constituents analyzer) is off (in Life Extending Mode).  BMP Harmful Impurities unit: absorbent bed #1 in Purify mode, bed #2 in Purify mode.  RS air conditioner SKV-1 is On; SKV-2 is Off.

SM Working Compartment:  Pressure (mmHg) — 742; temperature (deg C) — 27.8; ppO2 (mmHg) — 156.3; ppCO2 (mmHg) — 2.8.
SM Transfer Compartment:  Pressure (mmHg) — 757; temperature (deg C) — 20.9.
FGB Cabin:  Pressure (mmHg) — 756; temperature (deg C) — n/a.
Node:  Pressure (mmHg) — 743.89; temperature (deg C) — 24.6 (shell); ppO2 (mmHg) — n/a; ppCO2 (mmHg) — n/a.
U.S. Lab:  Pressure (mmHg) — 745.62; temperature (deg C) — 24.8; ppO2 (mmHg) — n/a; ppCO2 (mmHg) — n/a.
Joint Airlock (Equip. Lock):   Pressure (mmHg) — 745.73; temperature (deg C) — 29.2; shell heater temp (deg C) — 25.3, ppO2 (mmHg) — n/a; ppCO2 (mmHg) — n/a.
PMA-1:  Shell heater temp (deg C) — 25.1
PMA-2:  Shell heater temp (deg C) — 11.1
(n/a = data not available)
Electrical Power Systems (EPS):
Both P6 channels fully operational.  BGA (beta gimbal assembly) 2B and 4B both in biased Autotrack mode (suntracking). 
SM batteries:  Battery #8, formerly known as #7, is still in slot #8 for troubleshooting; all other batteries (7) are in "Partial Charge" mode (batteries #1 and #3 are degraded).  
FGB batteries:  Batteries #1 is off; all other batteries (5) are in "Partial Charge" mode.
Plasma Contactor Unit PCU-1 in Standby mode; PCU-2 in Standby mode.
Command & Data Handling Systems:
C&C-2 MDM is prime, C&C-1 is back-up, and C&C-3 is in standby.
GNC-1 MDM is prime; GNC-2 is Backup.
INT-2 is operating; INT-1 is Off.
EXT-2 is On (primary), EXT-1 is Off (both now upgraded to R3).
LA-1, LA-2 and LA-3 MDMs are all operating.
PL-1 MDM is Off; PL-2 MDM is Operational.
APS-1 (automated payload switch #1) and APS-2 are both On.
SM Terminal Computer (TVM): 3 redundant lanes (of 3) operational (all lanes reintegrated 11/5).
SM Central Computer (TsVM): 2 redundant lanes (of 3) operational; string #3 dropped out 10/22.
Propulsion System:
Total propellant load available:3704 kg (8166 lb) as of 11/13 [SM(755) + FGB(2597) + Progress M(352) + Progress M-1(0)].  (Capability: SM — 860 kg; FGB — 6120 kg).
Attitude Control Systems:
3 CMGs on-line (CMG-1 failed).
State vector source — U.S. SIGI-1 (GPS)
Attitude source — U.S. SIGI-1 (GPS)
Angular rate source — RGA-1
Flight Attitude:
XPOP (x-axis perpendicular to orbit plane = "sun-fixed" [yaw: 0.5 deg, pitch: -9.0 deg., roll: 0 deg]), with CMG TA (thruster assist).
Communications & Tracking Systems:
FGB MDM-1 is powered Off; FGB MDM-2 is operational.
All other Russian communications & tracking systems are nominal.
S-band is operating nominally (on string 2).
Ku-band is operating nominally.
Audio subsystem is operating nominally (IAC-2 is prime, IAC-1 is suspect).
Video subsystem operating nominally.
HCOR (high-rate communications outage recorder) is operating nominally.
Robotics:
SSRMS/Canadarm2 based at MBS PDGF #2/LEE A, with Keep Alive (KA) power on both strings.
MBS: KA power on both strings. 
MT: latched and mated at WS4. 
POA: KA power on both strings.
RWS (robotics workstations): Lab RWS is On (DCP connected); Cupola RWS is Off.
ISS Orbit  (as of this morning, 7:30am EST [= epoch]):
Mean altitude — 375.5 km
Apogee — 379.8 km
Perigee — 371.1 km
Period — 92.0 min.
Inclination (to Equator) —  51.63 deg
Eccentricity — 0.0006452
Orbits per 24-hr. day — 15.64
Mean altitude loss in last 24 hours — 115 m
Revolutions since FGB/Zarya launch (Nov. '98)  — 28512
For more on ISS orbit and worldwide naked-eye visibility dates/times, see http://www.hq.nasa.gov/osf/station/viewing/issvis.html