NASA Space Station On-Orbit Status 18 February 2006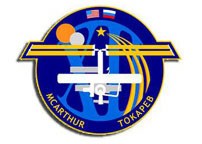 SpaceRef note: This NASA Headquarters internal status report, as presented here, contains additional, original material produced by SpaceRef.com (copyright © 2006) to enhance access to related status reports and NASA activities.
All ISS systems continue to function nominally, except those noted previously or below. Saturday — off-duty day for Bill McArthur & Valery Tokarev, except for housekeeping and voluntary work. >>>Today 29 years ago (2/18/1977), at Edwards AFB Space Shuttle "Enterprise" went on its maiden flight atop a Boeing 747, the first of five required "captive-inert" flight tests (Crew: Fulton, McMurtry, Horton, Guidry).<<<
The crew completed the regular weekly three-hour task of thorough station cleaning, wearing protective garment. ["Uborka", normally done every Saturday, includes removal of food waste products, cleaning of compartments with vacuum cleaner, damp cleaning of the Service Module (SM) dining table, other surfaces and the FE's sleep station with "Fungistat" disinfectant and cleaning fan screens to avoid temperature rises.]
FE Tokarev performed the daily routine maintenance of the Service Module (SM)'s environment control & life support system (SOZh), including its toilet system (ASU).
CDR/SO McArthur ran the daily atmospheric status check for ppO2 (Partial Pressure Oxygen) and ppCO2 (pp Carbon Dioxide), using the CSA-O2 (Compound Specific Analyzer-Oxygen Sensor) and CDMK (CO2 Monitoring Kit).
At ~8:15am EST, the crew held their regular weekly planning conference (WPC) with the ground, discussing this week's "Look-Ahead Plan" (prepared jointly by MCC-H and TsUP/Moscow timeliners), via S-band/audio, reviewing upcoming activities and any concerns about future on-orbit events.
Both crewmembers completed their regular 2.5-hr. physical exercise program on the TVIS treadmill, RED and VELO bike with bungee cord load trainer. [Valery's daily protocol prescribes a strict four-day microcycle exercise with 1.5 hr on the treadmill and one hour on VELO plus load trainer (today: Day 4 of a new set).]
Afterwards, McArthur transferred the exercise data files to the MEC (Medical Equipment Computer) for downlink, as well as the daily wristband HRM (heart rate monitor) data of the workouts on RED, followed by their erasure on the HRM storage medium (done six times a week).
Working off his discretionary "time available" task list, Tokarev completed his regular checkup on the Japanese experiment GCF-JAXA (Granada Crystallization Facility) in the Russian TBU incubator, maintained at 20 degC, including a temperature check on its ART (automatic temperature recorder). [This daily monitoring/temp checking, carried on the Russian voluntary "time available" task list, will continue until 4/30.]
Also from the voluntary task list, Valery completed the daily status check of the BIO-5 Rasteniya-2 ("Plants-2") experiment and water tank recharge. [Rasteniya researches growth and development of plants under spaceflight conditions in the Lada-8 greenhouse. The regular maintenance of the experiment (each Monday, Wednesday, Friday and Sunday) involves monitoring of seedling growth, humidity measurements, moistening of the substrate if necessary, topping off the water tank if ~20-25% of the total amount (4 liters) remains, and photo/video recording. Once weekly, data from the Lada greenhouse control unit are recorded on floppy disk for weekly downlink via REGUL-Packet or the new BSR-TM at a suitable occasion
A third discretionary task on the Russian work list for Valery was the regular temperature check on the BIO-11 "Statokonia" payload with the ULITKA ("snail") incubator with the ART (automated temperature logger), set up in the SM with new material delivered on 20P. [BIO-11 studies the composition of statoconia, i.e., the organ of equilibrium in snails, and other phenomena exhibited by "ulitka" in zero-G and post-flight.]
At ~10:00am EST, Valery held a private video conference with friends via S-band/audio and Ku-band/MS-NetMeeting video.
At ~11:00am EST, Bill set up the Sputnik-SM Kenwood D700 amateur radio station in the SM and at 11:05am conducted a 10-min. ham radio session with visitors at the Discover Engineering Family Day of Engineer's Week in Washington, DC. [The annual Washington DC Discover Engineering Family Day is enjoyed by thousands of visitors to the National Building Museum every February. In 2005 over 7000 participated. Today's festival features activities and characters from the popular TV show Cyberchase, and the main hall of the National Building Museum is taken over by thousands of children of all ages experiencing the excitement of engineering. "What is the most weirdest thing about living in space?"; "What is it like to cry in space?"; "Do you float around all day? And, do you have orange spacesuits?"; "If the air is thinner in space, do viruses pass from one astronaut to another less quickly than they would on Earth?"]
At ~11:30am the CDR conducted his weekly PFC (private family conference) via S-band/audio and Ku-band/MS-NetMeeting video.
The MCA (Major Constituents Analyzer) continues to be nonfunctional, and MCC-Houston is working on a troubleshooting plan. [For the short term, McArthur was asked to get the Atmosphere Revitalization (AR) rack into a functional configuration by reinstalling the rear access panel and verifying that the connectors and sample line block for the MCA are covered and restrained. MCA utilities in the rear of the rack will not be reconnected for now; the two MSAs (Mass Spectrometer Assemblies) and the VGA (Verification Gas Assembly) are to be stored in secure locations, and the MCA vacuum jumper, currently connected to the rack, will be disconnected and restowed.]
Yesterday the Russian SKV-2 air conditioner shut down at ~4:32pm EST due to high current draw. Moscow planned to attempt to reactivate it two more times and assess the results. [SKV-1 was already off per normal Friday operations, leaving the Russian segment (RS) temporarily without humidity removal. If the reactivation works, SKV-2 will be left running; if not, SKV-1 can be turned on to provide humidity removal in the RS.]
Weekly Science Update (Expedition Twelve — 19th)
Human Research Facility/Gas Analyzer System for Metabolic Analysis Physiology (HRF GASMAP): In progress.
Human Research Facility/Workstation (HRF WS): Complete.
Advanced Ultrasound (ADUM): Complete.
Pulmonary Function System (PFS): Complete.
Space Linear Acceleration Mass Measurement Device (SLAMMD): Complete.
Renal Stone (RS): In progress.
Foot/Ground Reaction Forces during Space Flight (FOOT): In progress.
Space Acceleration Measurement System (SAMS): Complete.
Microgravity Acceleration Measurement System (MAMS): Complete.
Binary Colloidal Alloy Test-3 (BCAT-3): In progress.
Materials ISS Experiment (MISSE): In progress. New MISSE-5 "suitcase" deployed and unfolded during LF-1 EVA outside on the U.S. Airlock.
Earth Knowledge Acquired by Middle School Students (EarthKAM): During the last session 240 hours of operations yielded 3,641 images and thousands of energized students.
Cellular Biotechnology Support Systems-Fluid Dynamics Investigation (CBOSS-FDI): In progress.
Serial Network Flow Monitor (SNFM): Complete.
Educational Payload Operations (EPO): In progress.
Protein Crystal Growth Monitoring by Digital Holographic Microscope (PromISS): In progress.
Investigating the Structure of Paramagnetic Aggregates from Colloidal Emulsions (InSPACE): Planned.
Crew Earth Observation (CEO): Through 2/11 the ground has received for review and cataloging a total of 10,596 of CEO images. That's quite a milestone! A "nicely detailed" view of Sandusky, Ohio on a turbid Lake Erie will be posted on NASA/GSFC's Earth Observatory website this weekend.
Today's CEO (Crew Earth Observation) photo targets, limited in the current XPOP attitude by flight rule constraints on the use of the Lab nadir/science window, which is available for only ~1/4 of each orbit when not facing forward (in ram), were Internal waves, Northern Patagonian Shelf (clouds were expected to cover most of Patagonia for the next two days. The crew's best glint enhancement for this pass was left of track along the north coast of the Gulf of San Matias), and Coral reefs, American Samoa (light was getting low, but the weather was fair over this target. As ISS tracked over the western end of this archipelago, the crew was to shoot left of track and try for oblique context views of the eastern islands and reefs).
To date, more than 186,000 of CEO images have been taken in the first five years of the ISS, almost one third of the total number of images taken from orbit by astronauts.
CEO photography can be viewed and studied at the websites:
See also the website "Space Station Challenge" at:
To view the latest photos taken by the expedition 12 crew visit:
Expedition 12 Flight Crew Plans can be found at http://spaceflight.nasa.gov/station/timelines/
Previous NASA ISS On-orbit Status Reports can be found here. Previous NASA Space Station Status Reports can be found here. Previous NASA Space Shuttle Processing Status Reports can be found here. A collection of all of these reports and other materials relating to Return to Flight for the Space Shuttle fleet can be found here.
ISS Orbit (as of this morning, 8:04am EST [= epoch]):
Mean altitude — 345.8 km
Apogee height — 350.8 km
Perigee height — 340.8 km
Period — 91.45 min.
Inclination (to Equator) — 51.64 deg
Eccentricity — 0.000745
Solar Beta Angle — 36.7 deg (magnitude increasing)
Orbits per 24-hr. day — 15.74
Mean altitude loss in last 24 hours — 92 m
Revolutions since FGB/Zarya launch (Nov. 98) — 41446
Events Ahead (all dates Eastern & tentative):
02/22/06 — ISS reboost (by 19P; mnvr. back to XPOP after burn)
02/23/06 — Airlock Campout SDTO (overnight)
03/03/06 — Progress M-54/19P undocking & reentry (mnvr. to LVLH XVV after undock)
03/10/06 — ISS reboost (by SM thrusters; mnvr. back to XPOP after burn)
03/30/06 — Soyuz TMA-8/12S launch (Pavel Vinogradov/Russia, Jeffrey Williams/US, Marcos Pontes/Brazil)
04/01/06 — Soyuz TMA-8/12S docking (SM aft end port; mnvr. to LVLH XVV after dock)
04/09/06 — Soyuz TMA-7/11S undocking & reentry (mnvr. to XPOP after undock)
04/16/06 — Soyuz TMA-8/12S relocation (SM aft end port to FGB nadir port)
04/24/06 — Progress M-56/21P launch
04/26/06 — Progress M-56/21P docking (SM aft end port)
05/03/06 — ULF1.1 launch (NET, not earlier than)
06/15/06 — U.S. EVA (under review)
06/19/06 — Progress M-55/20P undocking & reentry
06/28/06 — Progress M-57/22P launch
06/30/06 — Progress M-57/22P docking
07/01/06 — 12A launch (under review)
08/01/06 — Russian EVA-16 (under review)
09/13/06 — Progress M-56/21P undocking & reentry
09/14/06 — Soyuz TMA-9/13S launch
09/16/06 — Soyuz TMA-9/13S docking (DC1)
09/24/06 — Soyuz TMA-8/12S undocking & reentry
10/18/06 — Progress M-58/23P launch
10/20/06 — Progress M-58/23P docking
12/19/06 — Progress M-57/22P undocking & reentry
12/20/06 — Progress M-59/24P launch
12/22/06 — Progress M-59/24P docking

ISS Altitude History
Apogee height — Mean Altitude — Perigee height
For more on ISS orbit and worldwide ISS naked-eye visibility dates/times, see http://www.hq.nasa.gov/osf/station/viewing/issvis.html. In addition, information on International Space Station sighting opportunities can be found at http://spaceflight.nasa.gov/realdata/sightings/ on NASA's Human Spaceflight website. The current location of the International Space Station can be found at http://science.nasa.gov/temp/StationLoc.html at NASA's Marshall Space Flight Center. Additional satellite tracking resources can be found at http://www.spaceref.com/iss/tracking.html.