NASA Space Station On-Orbit Status 17 March 2006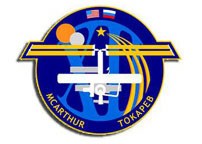 SpaceRef note: This NASA Headquarters internal status report, as presented here, contains additional, original material produced by SpaceRef.com (copyright © 2006) to enhance access to related status reports and NASA activities.
All ISS systems continue to function nominally, except those noted previously or below.
Working jointly with ground engineers via S-band tagup, FE Tokarev supported powering up the Elektron oxygen generator, with the usual nitrogen (N2) purge of the BZh Liquid Unit.  The electrolysis machine had been off since 3/14 to allow regeneration of the two BMP Harmful Impurities Removal system filter beds.
In the Lab module, the CDR powered up the HRF GASMAP (Human Research Facility/Gas Analyzer System for Metabolic Analysis Physiology) and its laptop for another routine 30-day health check, his fourth and last for this Increment (last time done: 1/17).  Later in the day, McArthur turned the equipment off again.   [During the health check, the GASMAP AM (Analyzer Module) is powered on and runs for approximately 6 hours to maintain the vacuum integrity of the hardware.  In addition, the CM (Calibration Module) tank values are logged to track gas usage.]
For the Soyuz TMA-7 (11S) relocation on 3/20, the crew conducted a review of flight procedures and completed the usual 3-hr. training drill, supported by ground specialists via tagup on S-band/VHF-audio. The training covered the standard descent phase (with modified entry procedures), orbital flight portion and redocking phase, including relocation data analysis, tag-up with instructor, and OBT (on-board training) using the onboard simulator.   [In case of a return-to-Earth contingency, the station would be left in decrewed, remote-commanded mode.  Nominal TMA-7 entry procedures have been modified after a power converter (PTS-250RN) on Soyuz TMA-8 (12S) failed during recent checkout activities on the ground.  On 11S, there has to date been no issue with the PTS converter that provides power to the entry control system (SUS) of the Soyuz Descent Module (SA), but the crew would make doubly sure of its proper operation during entry by additional monitoring of available control means on the Neptun-ME cockpit console after SA module separation.  Should a failure be indicated, the crew would manually switch SUS from Automatic Controlled Entry (AUS) mode to Ballistic Entry (BS) mode.]
Also in preparation for the relocation, CDR McArthur updated one of the three EMER-1 emergency books with the new emergency procedures that he printed out yesterday.   [Ten emergency procedures have been modified to take the Soyuz relocation to the SM aft end into account, applicable for the time after the 11S relocation.  The remaining two EMER-1 books will be updated right after the relocation.]
McArthur again worked briefly on the onboard communication network's Email Synch setup to verify the successful re-setting, on 3/15, of the "Soyuz Taxi Crew Member" Email account to SFP (Space Flight Participant) Marcos Pontes.   [During the last 10S/11S Joint Mission, SFP-VC9 Greg Olsen had trouble receiving and sending email using this account.  In order to verify that it is working nominally for Pontes during the upcoming joint period, Bill logged in on 3/15 as SFP and sent email, after which the ground was to respond.  Today, the CDR again logged on as the "Soyuz Taxi Crew Member" to verify proper receipt.] 
The FE completed the daily routine maintenance of the Service Module (SM)'s environment control & life support system (SOZh), including its toilet system (ASU).
After McArthur's CWC (collapsible water container) audit/inventory yesterday, a new updated CWC "cue card" was uplinked, to be used for the first time for the next CWC audit on 3/23.   [The new card lists two dozen water containers (~351 liters total) for the four types of water identified on board: technical water (for Elektron, flushing, hygiene; five CWCs were found leaking), potable water (~180 liters), condensate water (for processing) and other (TCS fluid, EMU waste water).  As of 12/05/05, average water usage rate for Increment 12 is 1.8 liters daily for each crewmember.  Water is re-supplied from processed humidity condensate.]
The CDR conducted another periodic atmospheric status check for ppO2 (Partial Pressure Oxygen) and ppCO2 (pp Carbon Dioxide), using the CSA-O2 (Compound Specific Analyzer-Oxygen Sensor) and CDMK (CO2 Monitoring Kit).
Bill also completed the regular bi-monthly reboot of the OCA (Orbit Communications Adapter) comm router SSC (Station Support Computer) laptop.
Working off his discretionary "time available" task list, Tokarev performed his regular checkup on the Japanese experiment GCF-JAXA (Granada Crystallization Facility) in the Russian TBU incubator, maintained at 20 degC, including a temperature check on its ART (automatic temperature recorder).   [This daily monitoring/temp checking, carried on the Russian voluntary "time available" task list, will continue until 4/30.]
Also on Valery's voluntary list for today was the daily status check of the BIO-5 Rasteniya-2 ("Plants-2") experiment and water tank recharge, if required.   [Rasteniya researches growth and development of plants under spaceflight conditions in the Lada-8 greenhouse.]
Both crewmembers worked out in their regular 2.5-hr. physical exercise program on the TVIS treadmill (CDR, FE), RED resistive exerciser (CDR) and VELO bike with bungee cord load trainer (FE).   [Valery's daily protocol prescribes a strict four-day microcycle exercise with 1.5 hr on the treadmill in unmotorized mode and one hour on VELO plus load trainer (today: Day 3 of the first set).]
Afterwards, McArthur transferred the exercise data files to the MEC (Medical Equipment Computer) for downlink, as well as the daily wristband HRM (heart rate monitor) data of the workouts on RED, followed by their erasure on the HRM storage medium (done six times a week).
At ~10:05am EST, Bill set up the Sputnik-SM Kenwood D700 amateur radio station in the SM for two successive ham radio sessions: at 10:10am with students at Bowie High School in Bowie, Maryland, and at 11:45am with students at Cleveland Heights High School in Cleveland Heights, Ohio. [Bowie High School is a comprehensive public school located in the NE Maryland suburbs of Washington, DC.  Established in 1965, it currently has more than 2700 students in grades 9 through 12 and roughly 200 professional staff members.  Among its alumni is current astronaut Richard R. Arnold II, who works with the Hardware Integration Team in the Space Station Branch on JAXA hardware.  Cleveland Heights High School serves approximately 2024 students in the two adjoining cities of Cleveland Heights and University Heights in NE Ohio.  Questions for the crew were uplinked beforehand.  Bowie: "Is being in space worth the time you have been away from your family?"; "If you were to look out the window right now, what would you see?"; "Do you feel a greater kinship with mankind after seeing our planet from above?; "When you have a bleeding wound, how do the blood drops form, and where do you go?"; "How do you react when you have to confront an obstacle or event you haven't been trained for?"  Cleveland: ""What was you inspiration for becoming an astronaut?"; "How is astrology connected with space?"; "What was the hardest adjustment you had to make in space?"; "What do you do for fun up there?"]
At 1:05pm, the crew conducted their thirteenth regular (nominally weekly) tagup with the Lead Flight Director at MCC/Houston and TsUP/Moscow via S-band/audio, with a phone patch between Houston and Moscow.
Today's CEO (Crew Earth Observation) photo targets, limited in the current XPOP attitude by flight rule constraints on the use of the Lab nadir/science window, which is available for only ~1/4 of each orbit when not facing forward (in ram), were Internal waves, E Florida coast (looking right towards the Bahamas near the glint point for possible internal waves), and Texas fires (Dynamic event.  Looking left towards the Texas panhandle, where fires continue.  As much as 2% of the area of the state has been burned).
To date, more than 186,000 of CEO images have been taken in the first five years of the ISS, almost one third of the total number of images taken from orbit by astronauts.
  CEO photography can be viewed and studied at the websites:
See also the website "Space Station Challenge" at:
To view the latest photos taken by the expedition 12 crew visit:
Expedition 12 Flight Crew Plans can be found at http://spaceflight.nasa.gov/station/timelines/
Previous NASA ISS On-orbit Status Reports can be found here. Previous NASA Space Station Status Reports can be found here. Previous NASA Space Shuttle Processing Status Reports can be found here. A collection of all of these reports and other materials relating to Return to Flight for the Space Shuttle fleet can be found here.
ISS Orbit  (as of this morning, 3:56am EST [= epoch]):
Mean altitude — 346.3 km
Apogee height – 352.3 km
Perigee height — 340.3 km
Period — 91.46 min.
Inclination (to Equator) — 51.64 deg
Eccentricity — 0.0008876
Solar Beta Angle — -41.4 deg (magnitude increasing)
Orbits per 24-hr. day — 15.74
Mean altitude loss in last 24 hours — 60 m
Revolutions since FGB/Zarya launch (Nov. 98) — 41868
Events Ahead (all dates Eastern & tentative):
03/20/06 — Soyuz TMA-7/11S relocation (FGB nadir port to SM aft port; 1:45am-2:22am EST)
03/30/06 — Soyuz TMA-8/12S launch (Pavel Vinogradov/Russia, Jeffrey Williams/US, Marcos Pontes/Brazil, 9:30pm EST)
03/31/06 — Soyuz TMA-8/12S docking (FGB nadir port, 11:18pm EST; mnvr. to LVLH XVV after dock)
04/01/06 — Soyuz TMA-8/12S-ISS hatch opening ~12:30am EST
04/08/06 — Soyuz TMA-7/11S-ISS hatch closing ~1:12pm EST
04/09/06 — Soyuz TMA-7/11S undocking (4:15pm EDT) & land (7:40pm); (mnvr. to XPOP after undock)
04/19/06 — SM main engine test/ISS reboost
04/24/06 — Progress M-56/21P launch
04/26/06 — Progress M-56/21P docking (DC1)
06/19/06 — Progress M-55/20P undocking & reentry
06/28/06 — Progress M-57/22P launch
06/30/06 — Progress M-57/22P docking
07/01/06 — 12A launch (under review)
07/01/06 — ULF1.1 launch (NET, not earlier than)
07/31/06 — Russian EVA-16 (under review)
09/13/06 — Progress M-56/21P undocking & reentry
09/14/06 — Soyuz TMA-9/13S launch
09/16/06 — Soyuz TMA-9/13S docking (FGB nadir port)
09/24/06 — Soyuz TMA-8/12S undocking & reentry
10/08/06 — Soyuz TMA-9/13S relocation (FGB nadir port to DC1)
10/18/06 — Progress M-58/23P launch
10/20/06 — Progress M-58/23P docking
12/19/06 — Progress M-57/22P undocking & reentry
12/20/06 — Progress M-59/24P launch
12/22/06 — Progress M-59/24P docking
02/06/07 — Progress M-59/24P undocking & reentry
02/07/07 — Progress M-60/25P launch
02/09/07 — Progress M-60/25P docking

ISS Altitude History
Apogee height — Mean Altitude — Perigee height
For more on ISS orbit and worldwide ISS naked-eye visibility dates/times, see http://www.hq.nasa.gov/osf/station/viewing/issvis.html. In addition, information on International Space Station sighting opportunities can be found at http://spaceflight.nasa.gov/realdata/sightings/ on NASA's Human Spaceflight website. The current location of the International Space Station can be found at http://science.nasa.gov/temp/StationLoc.html at NASA's Marshall Space Flight Center. Additional satellite tracking resources can be found at http://www.spaceref.com/iss/tracking.html.