NASA Space Station On-Orbit Status 17 February 2005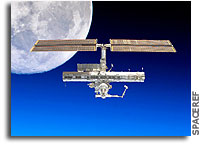 SpaceRef note: This NASA Headquarters internal status report, as presented here, contains additional, original material produced by SpaceRef.com (copyright © 2005) to enhance access to related status reports and NASA activities.
All ISS systems continue to function nominally, except those noted previously or below.
Before breakfast and physical exercise, the Kirghizian flight engineer (FE) underwent his first Russian blood chemistry analysis test PZE MO-11 on Increment 10, assisted by CDR/SO Leroy Chiao as CMO (Crew Medical Officer) as required.  The exam was performed with the kits and accessories of the Reflotron-4 blood analyzer unstowed and readied yesterday.  Closeout ops and Reflotron equipment storage were completed afterwards.   [Earlier Reflotron versions have operated already on space station Mir.  For the test, Sharipov imbibed 250 ml of warm water or plain (unsugared) tea, after which fresh blood was drawn from his finger with an Autoclix mini-lancet and a pipette.  Clinical data were then determined from the collected sample.  Using various reagent tabs, the blood was tested with strips (KPI) for such parameters as hemoglobin, glucose, bilirubin, amylase, uric acid, triglycerides, urea, creatinin, cholesterol, etc.  The tubes with blood samples were temporarily kept cool for the subsequent (post-breakfast) analysis.  Reflotron-4 uses 40 W of power, supplied by the Service Module(SM) s electrical system.]
Instead of Part III of the MBI-8 Profilaktika (preventive health maintenance) fitness test series started two days ago, the FE today used the Russian VELO ergometer for a 45-min. workout since the TVIS (treadmill with vibration isolation & stabilization) was still not available.
The crew had several hours set aside to search for the missing battery inside the TVIS electronic box (EB) or to confirm that it is not there.  For the task, the EB had to be removed from the chassis and opened up on the Lab MWA (Maintenance Work Area).   [The concern is that with a free-floating battery inside the EB, exposed circuitry or the fan could have been damaged.  Also, the battery itself could have been compromised.]
Sharipov did some more supportive work on the Russian satellite navigation system (ASN-M) in the SM, switching cable connectors on the four NPM receiver module units installed on 2/7 to allow testing of the second set (NPMs 3 & 4) by the ground.
At ~12:55pm EST, the crew began the second fire drill/OBT (on-board training) of their Increment, a mandatory periodic one-hour exercise specifically written for the current two-person crew.  Primary goal of this exercise is to provide the station residents with the most realistic emergency training possible.  The drill is always conducted with the support of both MCCs in close coordination.   [OBT objectives are to (a) practice fire response procedures (FRPs) and all incorporated actions for the case of a software-detected fire to locate, extinguish, and verify extinguishing attempts; (b) browse through RS laptop and the Signal-VM fire detection system displays as well as the automated software (algorithms) response to the fire event; (c) practice crew communication necessary to perform emergency FRPs;  (d) update the locations of support hardware (CSA-CP compound specific analyzer-combustion products, IPK-1M gas masks and OSP-4 fire extinguishers to be used for fire suppression in the FGB.  These exercises do not actually use any fire equipment but simulate such actions to the maximum extent possible.  After the OBT, a post-training debrief was to be prepared.
Leroy conducted the periodic one-hour task, his second, of inspecting and cleaning U.S. segment hatch seals and hatch plate sealing surfaces, working on six hatches, viz.: Node (forward, starboard & aft), Lab (aft), and Airlock, in support of regular ACS (atmospheric control system) maintenance.   [Hatch seals are lubricated with Braycote-601, which is also deposited on the sealing surfaces.  Dust and particles (FOD, foreign object debris) can stick to the lubricant and to both seals and sealing surfaces.  These are regularly inspected with a magnifying glass for FOD, nicks, burrs, cuts or gouges that would impair a proper seal, and are cleaned, as required, with brushes, dry wipes and Kapton tape.  (Last time done: 11/22/04).]
Salizhan performed the regular daily inspection of the BIO-5 Rasteniya-2 ("Plants-2") experiment, which researches growth and development of plants under spaceflight conditions in the Lada-5 greenhouse.
The CDR/SO completed his daily checkup of the Total Dose reading and End File values of the TEPC (Tissue Equivalent Proportional Counter), which he had relocated to the Node on 1/31, and called the data down at the evening DPC (daily planning conference).   [This is currently a daily requirement since the UOP (utility outlet panel) near the TEPC s temporary location (for two weeks) does not allow automated telemetry monitoring by the ground.]
Chiao also attended to the routine daily maintenance of the SOZh environment control & life support system, and later, working off the job jar task list, prepared the regular IMS (Inventory Management System) delta file for the daily automated export/import to the three IMS databases on the ground.  
Leroy conducted the regular monthly routine inspection of the RED (resistive exercise device), which looks at the condition of the Flexpak canister cords and accessories.  Later, he worked out in accordance with the daily 2.5-hr. physical exercise protocol on CEVIS (cycle ergometer with vibration isolation) and RED.  For the FE, time today allowed only ~45 min. workout on the VELO ergometer bike with bungee cord load trainer.
Chiao then transferred the accumulated data files from the exercise equipment to the MEC (medical equipment computer) for downlink, as well as the daily wristband HRM (heart rate monitor) data, followed by their erasure on the HRM storage medium.
At ~4:40am EST, the crew was scheduled to downlink a live TV message to Brussels, Belgium, on the occasion of the current European Commission/ESA Conference on Space.   [MC d by Dutch Soyuz mission member André Kuipers (Visiting ISS Cosmonaut in April 2004), the downlink was to be attended on the ground by  NASA top management, Roskosmos Director A. Permikov, five ministers from UK, France, South Africa, Indonesia and Nigeria, as well as 400 high-ranking officials from 40 countries and heads of most space agencies.]
Today's CEO (crew earth observations) photo targets, no longer limited in the current LVLH attitude, were Internal Waves, North Atlantic (the western coastline of the Iberian Peninsula remains clear for internal wave photography.  Looking to the right of track near the coastline of Portugal for the sunglint point.  This clear weather pattern near the Peninsula is somewhat unusual at this time of year, therefore it is desirable to acquire as much internal wave imagery as possible), Colima Volcano, Mexico (Dynamic Event. This volcano is the most active in Mexico and commonly produces pyroclastic flows, lava, and ash emissions.  Presently the volcano is considered to be in a continual eruptive phase.  The close proximity of the volcano to the city of Guadalajara makes it a constant danger to the city's inhabitants.  High resolution imagery of the volcano is useful for assessment of debris flows along the slopes and extent of recent ash deposits), and Internal waves, Patagonian Shelf (this overpass took the station over a predicted cloud-free region of the Patagonian coastline.  Looking to the right of track along the coast for the sunglint point, where internal wave patterns may be visible).
 
CEO photography can be viewed and studied at the websites:
See also the website "Space Station Challenge" at:
To view the latest photos taken by the expedition 10 crew visit:
Expedition 10 Flight Crew Plans can be found at http://spaceflight.nasa.gov/station/timelines/
Previous NASA ISS On-orbit Status Reports can be found here. Previous NASA Space Station Status Reports can be found here. Previous NASA Space Shuttle Processing Status Reports can be found here. A collection of all of these reports and other materials relating to Return to Flight for the Space Shuttle fleet can be found here.
Upcoming Key Events:
Progress M-51 (16P) undocking & destructive reentry — 2/26/05;
Progress M-52 (17P) launch — 2/28/05.
EVA-13 — 3/25/05;
Soyuz TMA-6 (10S) launch — 4/15/05 with Expedition 11 (CDR Sergei Krikalev, FE/SO John Phillips);
Soyuz TMA-5 (9S) undock — 4/25/05 with Exp. 10 crew (after 193 days on orbit, 191 days on board ISS);
Progress M-53 (18P) launch — 6/10/05;
Progress M-54 (19P) launch — 8/24/05;
Soyuz TMA-7 (11S) launch — 9/27/05.
ISS Orbit  (as of this morning, 6:50am EST [= epoch]):
Mean altitude — 359.1 km
Apogee height — 362.2 km
Perigee height — 356.0 km
Period — 91.72 min.
Inclination (to Equator) — 51.64 deg
Eccentricity — 0.000461
Solar Beta Angle — -8.8 deg (magnitude decreasing)
Orbits per 24-hr. day — 15.70
Mean altitude loss in last 24 hours — 135 m
Revolutions since FGB/Zarya launch (Nov. 98) — 35686
ISS Altitude History
Apogee height — Mean Altitude — Perigee height
For more on ISS orbit and worldwide ISS naked-eye visibility dates/times, see http://www.hq.nasa.gov/osf/station/viewing/issvis.html. In addition, information on International Space Station sighting opportunities can be found at http://spaceflight.nasa.gov/realdata/sightings/ on NASA's Human Spaceflight website. The current location of the International Space Station can be found at http://science.nasa.gov/temp/StationLoc.html at NASA's Marshall Space Flight Center. Additional satellite tracking resources can be found at http://www.spaceref.com/iss/tracking.html.