NASA Space Station On-Orbit Status 17 December 2004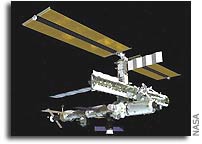 SpaceRef note: This NASA Headquarters internal status report, as presented here, contains additional, original material produced by SpaceRef.com (copyright © 2004) to enhance access to related status reports and NASA activities.
All ISS systems continue to function nominally, except those noted previously or below.
For today's ADUM session (Advanced Diagnostic Ultrasound in Micro-G) the crew again readied the equipment, including video and electronic still cameras, after which Leroy Chiao as operator, geared up with headset and VOX mike, performed Scan B (Abdominal) scanning on Salizhan Sharipov as subject. Before the activity, the FE needed to fast for six hours and drink some water. Later, Chiao deactivated the hardware and stowed the equipment. [The session required prior HRF (Human Research Facility) and video tape recorder (VTR) activation by the ground, followed by power-up of the HRF computer and the ADUM hardware and software by the crew. Using the CMRS (crew medical restraint system) for strapping down the subject and electrodes for ECG (electrocardiogram) recording, scans were taken, their images recorded and the scanning & post-scan activities videotaped and still-photographed for downlink. For this test, the subject could not assist the operator during the scans so as to mimic an incapacitated state. ADUM tests the diagnostic capability of ultrasound (U/S) in medical contingencies relevant to the space environment and demonstrates the ability of minimally trained crewmembers to perform and interpret advanced U/S examinations. The U/S images are downlinked to the ground for interpretation. This "telemedicine" has application to emergency medical care in remote areas of the earth, as well as for astronaut crews traveling beyond low earth orbit.]
Starting at ~7:45am EST, FE Sharipov supported a one-hour repressurization of the ISS cabin air with fresh oxygen from Progress 15P storage. [10 mmHg (Torr) of O2 was introduced into the cabin, bringing the station pressure up to 753.50 mmHg. This depletes the remaining oxygen from the Progress tanks. One hour before the repress, the U.S. MCA (major constituent analyzer) was switched to Airlock Rapid Sample mode.]
After the O2 refresh, Leroy Chiao took the periodic (weekly) reading of the cabin air's current CO2 partial pressure in the Service Module (SM) and Lab, using the U.S. CDMK (CO2 monitor kit), for calldown (along with the battery status) for use in trending analyses.
Sharipov continued his search for lost equipment, started yesterday, assisted by an uplinked list of missing items. Today's hunt focused on behind-panel spaces in the FGB.
After the ground had activated the A/L CCAA (Airlock Common Cabin Air Assembly) air conditioner, CDR Chiao worked a 3.5-hr. task in the A/L to audit/inventory its contents. [This audit, which is to be continued, is a "road to LF-1" activity, to help manifesting appropriate A/L resupply items for the next assembly EVAs. In addition, the "video tour" served as a valuable visual training tool for future crews and ground support. The A/L activity also includes preparations for a possible decrewing of the station in case of a 16P no-show between 12/25 and 1/6.]
Continuing the current round of the periodic preventive maintenance of RS (Russian segment) ventilation systems, the FE spent one hour in the DC1 docking module to clean the V1 & V2 fans and screens.
Salizhan also performed today's routine inspection of the SM's SOZh life support system, while the CDR prepared the regular IMS export/import "delta" file for updating the IMS databases.
Leroy completed the regular once-a-week maintenance reboot on the operational PCS (portable computer system) laptops and the restart of the OCA comm router laptop (every two weeks).
The crew conducted their daily 2.5-hr. physical exercise program on TVIS, RED exerciser, CEVIS cycle and the VELO cycle with bungee cord load trainer. [Salizhan's daily protocol prescribes a 1.5-hr structured set on the treadmill (today: Day 2 of a new set) and one hour on VELO.]
Afterwards, Leroy transferred the daily TVIS and RED exercise data files to the MEC (medical equipment computer) for downlink, as well as the daily wristband HRM (heart rate monitor) data, which he then erased on the HRM storage medium.
The CDR set up the SM's amateur radio equipment and at 8:53am EST supported a special ESA Ireland event by engaging in a 10-min. ham radio exchange with students at the University College Cork, College Road, Cork/Ireland. [The event culminated the second educational campaign by ESA in 2004, an educational competition for all the primary schools of one of the European ISS countries held by ESA every six months. NASA/ARISS has an agreement with ESA to provide an ARISS (amateur radio ISS) school contact as the top prize for these competition.]
At 12:55pm, the crew held their standard (once every two weeks) teleconference with the JSC Astronaut Office (Kent Rominger), via S-band S/G.
The regular (nominally weekly) teleconference of the crew with the ISS Flight Director at MCC-H was scheduled for 2:25pm.
For the next "Saturday Science" program (12/18), the SO has elected to perform SNFM (Serial Network Flow Monitor) software loading on the EXPRESS Rack 1 laptop (ELC-1). The activity is being "hard" scheduled. The MFMG/FMVM (Miscible Fluids in Microgravity/Fluid Merging Viscosity Measurement) "Honey Status Check" has been added to the task list, to begin 12/20. [There will be no "Saturday Science" options for 12/25. If there is a "Saturday Science" on 1/1/05 (New Year's Day), available payloads would be CBOSS-FDI (Cellular Biotechnology Support Systems-Fluid Dynamics Investigation) and SNFM.]
Overnight, TsUP/Moscow conducted the standard vacuum purging of the Progress 15P fuel (ZUG) and oxidizer (ZUO) lines, to vent prop residuals in the plumbing between Progress and SM into space. [Fuel purge (unsymmetrical dimethyl hydrazine, UDMH) began at 10:45pm EST on Daily Orbit 2 (DO2), oxidizer purge (nitrogen tetroxide, N2O4) at 12:20am on DO3, for about 7 minutes each.]
The current limiting water source on board is potable water. Last night the crew reported that both Rodnik water storage tanks appear to be empty, but it is possible water may still remain in one of the tanks. Engineers estimate that approximately 165 liters are available which means there is enough water to last through the end of January. The crew will conduct a water inventory in coming days to identify all on-board water sources [Processing either the Lab condensate water or a Russian water container with 20 liters of technical water through the SRVK Condensate Water Processor could gain an additional 10 days of potable water. In the upcoming days, TsUP/Moscow will work on a method to measure and recover water from the Rodnik tanks. U.S. engineers are working with their Russian counterparts to determine the exact amounts and availability of the on-board water.]
Engineers continue to support activities for potential de-manning of the ISS. [Teams are currently identifying tasks for the crew to complete should the need arise. The SSRMS (Space Station Remote Manipulator System) has already been parked, and the crew will replace the fine filter assemblies for the LTL (Low Temperature Loop) of the thermal control system (IATCS) next week.]
Today's CEO (crew earth observations) photo targets, limited in the current XPOP attitude by flight rule constraints on the use of the science window, which is available for only ~1/4 of each orbit when not facing forward (in ram), were Lake Nasser, Toshka Lakes, Egypt (this overpass provided an opportunity for oblique photography of the Toshka Lakes. Looking to the right of track for vegetation growing along the lake shorelines. Images of shoreline vegetation are useful for study of ecosystem response to changing water levels and near-shore geomorphic processes), and Salamat Basin fans, Chad (weather was clear for oblique photography of the Salamat megafan complex. Looking to the left of track for the Salamat swampland. Images of the wetlands and the region directly to the north are useful for identifying relict fans. Identification and delineation of older fan surfaces are important to understand the development history of the megafan complex.
CEO photography can be viewed and studied at the websites:
See also the website "Space Station Challenge" at:
To view the latest photos taken by the expedition 10 crew visit:
Expedition 10 Flight Crew Plans can be found at http://spaceflight.nasa.gov/station/timelines/
Previous NASA ISS On-orbit Status Reports can be found here. Previous NASA Space Station Status Reports can be found here. Previous NASA Space Shuttle Processing Status Reports can be found here. A collection of all of these reports and other materials relating to Return to Flight for the Space Shuttle fleet can be found here.
Regular preparation/distribution of tomorrow's and Sunday's ISS On-Orbit Status report will likely be delayed because of a scheduled outage of NASA Headquarters emergency power circuits tomorrow for maintenance. As a result, it will be necessary to shut down all IT (Information Technology) services at HQ starting tonight at 6:00pm EST and continuing through 6:00pm on 12/19.
Upcoming Key Events:
Progress 15P undocking & destructive reentry — 12/22 (Eastern);
Progress 16P launch — 12/23 (5:19pm EST);
Progress 16P docking — 12/25 (7:10pm EST);
ISS Reboost – 1/15/05 (or alternatively on 1/19/05);
EVA-12 — 1/26/05;
Progress 16P undocking & destructive reentry — 2/27/05;
Progress 17P launch — 2/28/05.
EVA-13 — 3/25/05;
Soyuz 9S undock — 4/25/05 (after 193 days on orbit, 191 days on board ISS).
ISS Orbit (as of this morning, 6:38am EST [= epoch]):
Mean altitude — 354.8 km
Apogee height — 357.7 km
Perigee height — 351.8 km
Period — 91.64 min.
Inclination (to Equator) — 51.64 deg
Eccentricity — 0.0004356
Solar Beta Angle — -33.3 deg (magnitude decreasing)
Orbits per 24-hr. day — 15.71
Mean altitude loss in last 24 hours — 118 m
Revolutions since FGB/Zarya launch (Nov. 98) — 34711
ISS Altitude History
Apogee height — Mean Altitude — Perigee height
For more on ISS orbit and worldwide ISS naked-eye visibility dates/times, see http://www.hq.nasa.gov/osf/station/viewing/issvis.html. In addition, information on International Space Station sighting opportunities can be found at http://spaceflight.nasa.gov/realdata/sightings/ on NASA's Human Spaceflight website. The current location of the International Space Station can be found at http://science.nasa.gov/temp/StationLoc.html at NASA's Marshall Space Flight Center. Additional satellite tracking resources can be found at http://www.spaceref.com/iss/tracking.html.