NASA Space Station On-Orbit Status 15 August 2004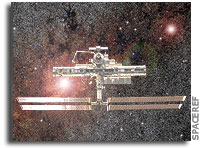 SpaceRef note: This NASA Headquarters internal status report, as presented here, contains additional, original material produced by SpaceRef.com (copyright © 2004) to enhance access to related status reports and NASA activities.
All ISS systems continue to function nominally, except those noted previously or below.   Sunday — well deserved rest day aboard the ISS.  Ahead: Week 16 for Expedition 9.
For those who didn't get to see this:  The greeting that the crew recorded for the Olympics Opening Ceremony on 8/13 was played prior to the torch lighting…and received a standing ovation from the over 70,000 people in attendance.  Wow!
The crew is back on the regular wake/sleep schedule (2:00am – 5:30pm EDT). 
CDR Padalka started the day by tagging up with TsUP-Moscow, then began integrating the 15P freighter into the ISS/Service Module (SM) systems by installing electronic boxes, originally removed from 14P, in the cargo module.  First installations today, a one-hour task, were the LKT local temperature sensor commutator (TA251MB) of the BITS2-12 onboard telemetry system and its ROM (read-only memory) unit (PZU/TA765B). 
Then, Padalka and FE/SO Fincke performed the regular weekly 3-hr. station cleaning.  [This house keeping task, normally done Saturdays, includes removal of food waste products, cleaning of compartments with vacuum cleaner, wet cleaning of the Service Module (SM) dining table and other surfaces with "Fungistat" disinfectant and cleaning fan screens to avoid temperature rises.]
Gennady conducted the routine inspection of the SM's SOZh life support system, with the weekly data collection of toilet flush counter readings, inspection of the SP urine collection and pretreat assembly, and SVO water supply status counter readings, all for calldown to TsUP/Moscow.
Mike meanwhile performed the regular once-a-week maintenance reboot on the operational PCS (portable computer system) laptops and also restarted the OCA comm SSC router laptop (every two weeks).
The weekly planning conference (WPC) with the ground took place at 8:15am, during which Mike and Gennady discussed next week's "Look-Ahead Plan" (regularly prepared jointly by MCC-H and MCC-M planners), via S-band/audio.
Fincke filled out the FFQ (food frequency questionnaire), which keeps an (almost-)regular weekly log of his nutritional intake over time on special MEC (medical equipment computer) software.
Mike also held another private family conference (PFC) via S-band/audio and Ku-band/NetMeeting video.
In accord with their daily 2.5-hr. fisicheskiye uprashneniya (physical exercise) protocol, the crew worked out on TVIS treadmill, RED exerciser and VELO cycle with load trainer,.
Working off the Russian discretionary task list, Padalka serviced the Matryoshka radiation payload by transferring newly accumulated measurement tables from the Matryoshka server (BSPN) via the ISS Wiener laptop to a PCMCIA memory card (using a program called "ShellForKE") for subsequent downlink on U.S. OCA comm.   [Matryoshka automatically takes measurements in the SM and DC-1 docking compartment for studies of on-orbit radiation and long-term dose accumulation, using six SPD dosimeters deployed throughout the Russian segment as well as in a spherical body-simulating Matryoshka-R "phantom" and a human torso model outside on the SM hull, mounted there during EVA-9 on 2/27/04.]
Cleaning up a second task list item, Gennady inspected the BIO-5 Rasteniya-2 ("Plants-2") experiment which researches growth and development of plants under spaceflight conditions in the Lada-2 greenhouse.
A third task list item consisted of another session with the Uragan ("hurricane") earth-imaging program, using the Kodak 760 DSC (digital still camera) with 800mm-lens from SM windows.   [Today's targets for his photo imagery were the Kursk nuclear power plant with water cooling reservoir, the cities of Saratov, Balakovo, Aksai, Orsk, Karaganda, the Himalayas with Mt. Everest, the Black Sea coastline left of track with Novorossisk, Tuapse, Sochia and Adler, the Caucasian wildlife preserve, and city of Abudja.]
Starting this morning at 1:15am on the Daily Orbit 2 (DO-2) Russian ground sites comm pass, TsUP/Moscow conducted the standard leak checks on the propellant couplings and lines between the Progress 15P and SM, in preparation for upcoming remotely-controlled fuel/oxidizer transfer activities.  The standard Progress thruster firing test is scheduled on Wednesday (8/18).   [The procedure, which also used the DO-3 and -4 comm passes, called for deactivation of the program-logic control assembly (UPLU), activation of the local signal commutator (LKT 1GZ) for signal transmission/downlink during the checks, opening and closing of pressurization valves, and pressure monitoring in fuel and oxidizer systems for any signs of a leak.  The purge lines were then isolated and the fuel (UDMH/unsymmetrical dimethyl hydrazine) and oxidizer (NTO/nitrogen tetroxide) tanks pressurized.]
At ~10:20am, the POIC (Payload Operations & Integration Center) Payload Officer commanded a 10-min. downlink of accumulated MAMS (microgravity acceleration measurement system) data.   [Because of the 15P docking data, this particular downlink required a much higher data rate than the usual ~1 kbps (kilobytes per second) rate.]
Major upcoming events:
Progress Cargo Vehicle Procedures
Progress Cargo Vehicle Transfer Operations, Part 1, Mission Operations Directorate, 10 August 2000 [English – Acrobat] [Russian – Acrobat]
Progress Cargo Vehicle Transfer Operations, Part 2, Appendix 1, Mission Operations Directorate, 10 August 2000 [English – Acrobat] [Russian – Acrobat]

According to the introduction to these documents "this book is intended for performing cargo transfer operations in Progress and on stowing equipment in SM and Progress." These documents contain diagrams and detailed procedures for the transfer of times from the Progress Vehicle currently docked with the ISS.
Progress 15P thruster tests — 8/18
ISS Reboost — 8/20 (delta-V = 1.5 m/s);
ISS Reboost — 8/25 (delta-V = 2.2 m/s);
EVA-11 — 9/3;
Soyuz 9S launch — 10/9;
Soyuz 9S dock — 10/11;
Soyuz 8S undock/land — 10/19;
Soyuz 9S relocate — 11/18;
Progress 16P launch — 11/24.
Expedition 9 Flight Crew Plans can be found at http://spaceflight.nasa.gov/station/timelines/
Previous NASA ISS On-orbit Status Reports can be found here. Previous NASA Space Station Status Reports can be found here. Previous NASA Space Shuttle Processing Status Reports can be found here. A collection of all of these reports and other materials relating to Return to Flight for the Space Shuttle fleet can be found here.
Today's optional CEO photo targets, limited in the current XPOP attitude by flight rule constraints on the use of the science window, which is available for only ~1/4 of each orbit when not facing forward (in "ram"), were Borneo Fires (large fires are currently burning along the western coast and southern portion of Borneo.  Looking left and ahead of track; due to variable winds smoke will probably be diffuse rather than having well-defined plumes), and Internal waves, Aegean Sea (looking for internal waves in the Aegean Sea.  Sunglint will be to the right of track during the overpass).
CEO images can be viewed at these websites:
See also the website "Space Station Challenge" at:
To view the latest photos taken by the expedition 9 crew visit:
ISS Orbit  (as of this morning, 7:19am EDT [= epoch]):
Mean altitude — 356.3 km
Apogee height — 359.9 km
Perigee height — 352.6 km
Period — 91.7 min.
Inclination (to Equator) — 51.63 deg
Eccentricity — 0.0005434
Solar Beta Angle — -30.3 deg (magnitude decreasing)
Orbits per 24-hr. day — 15.71
Mean altitude loss in last 24 hours — 118 m
Revolutions since FGB/Zarya launch (Nov. '98)  — 32763
ISS Altitude History
Apogee height — Mean Altitude — Perigee height
For more on ISS orbit and worldwide ISS naked-eye visibility dates/times, see http://www.hq.nasa.gov/osf/station/viewing/issvis.html. In addition, information on International Space Station sighting opportunities can be found at http://spaceflight.nasa.gov/realdata/sightings/ on NASA's Human Spaceflight website. The current location of the International Space Station can be found at http://science.nasa.gov/temp/StationLoc.html at NASA's Marshall Space Flight Center. Additional satellite tracking resources can be found at http://www.spaceref.com/iss/tracking.html.