NASA Space Station On-Orbit Status 14 March 2006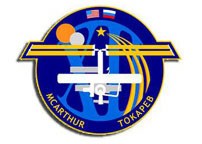 SpaceRef note: This NASA Headquarters internal status report, as presented here, contains additional, original material produced by SpaceRef.com (copyright © 2006) to enhance access to related status reports and NASA activities.
All ISS systems continue to function nominally, except those noted previously or below. 
FE Valery Tokarev had his second orthostatic hemodynamic endurance test session with the Russian Chibis suit, conducting the MedOps MO-4 exercise protocol in the below-the-waist reduced-pressure device (ODNT, US: LBNP).  Bill McArthur assisted his flight engineer as CMO (Crew Medical Officer), and the one-hour session was supported by tagup with a ground specialist via VHF at ~4:35am EST.  (First assessment for FE: 12/16/05).    [The Chibis provides gravity-simulating stress to the body's cardiovascular/circulatory system for evaluation of Tokarev's orthostatic tolerance (e.g., the Gauer-Henry reflex) after 22 weeks in zero-G.]
Before donning the Chibis, Valery inspected the suit and, following ground instructions, lubricated its PVK-1 hose connector rubber ring with grease (VNIINP-280).
Tokarev also supported TsUP/Moscow in powering down the Elektron oxygen generator and performing the standard safety purge with nitrogen (N2) on its BZh-8 liquid unit.  The shutdown is in preparation for the upcoming regeneration of the BMP trace impurities removal system, which temporarily shares the same vacuum exhaust valve as the Elektron.   [The current O2 concentration is 24.3% as read by the MCA (Major Constituents Analyzer, with measurement error included) and 23.5% as read by the CSA-O2 (Compound Specific Analyzer-Oxygen Sensor, incl. error).] 
After yesterday's MSG (Microgravity Science Glovebox) sensor certification, CDR/SO William McArthur today did more maintenance on the European-built MSG by submitting it to a thorough inspection and cleaning job, with the ground standing by for support as needed.
Time again for the FE to change out the PCMCIA (portable computer memory card international adapter) card in the ALC laptop of the ESA/RSC-Energia experiment ALTCRISS (Alteino Long Term monitoring of Cosmic Rays on the ISS), currently still located in the Service Module (SM), and to dump the spectrometer data for subsequent downlink via the OCA comm system.   [ALTCRISS uses the ACT spectrometer employed by VC8 guest cosmonaut Roberto Vittori earlier this year in the DC1 for the Italian LAZIO (Low Altitude Zone/Ionization Observatory) experiment. Progress 20 delivered a new Nomex shielding belt, containing polyethylene bricks and two new dosimeters in a dedicated pocket.  The shields were installed yesterday around the ACT.]
As the first of a number of planned inventories in the U.S. and Russian segments for bringing IMS (Inventory Management System) records up to date, McArthur had about three hours today for auditing and stowing photo and TV equipment in their respective bags.
Tokarev meanwhile conducted documentary photography of the Russian BSPN payload server configuration and of the contents behind the associated SM panels 128 and 131.
The CDR performed the daily routine maintenance of the SM's environment control & life support system (SOZh), including its toilet system (ASU), while the FE updated/edited the standard IMS "delta file", including locations, for the regular weekly automated export/import to its three databases on the ground (Houston, Moscow, Baikonur).
In the Soyuz TMA-7/11S spacecraft, Valery Tokarev performed a visual inspection of the lens- and diffusion screen-equipped VSK-4 space vision window to check for possible fogging or denser haze between the panes when the viewport is exposed to direct sunlight.   [In case of fogging, temporary cooling of the VSK-4 would be provided for the upcoming spacecraft relocation.]
McArthur conducted another periodic atmospheric status check for ppO2 (Partial Pressure Oxygen) and ppCO2 (pp Carbon Dioxide), using the CSA-O2 and CDMK (Carbon Dioxide Monitoring Kit).
Tokarev deactivated the Japanese/JAXA 3D-PCGF (3D Photon Crystals Growth Facility) experiment in the Russian glovebox container and performed equipment photography with the Nikon D1X with flash for documentation of the configuration, also recording date and time of experiment deactivation.
Working off his discretionary "time available" task list, Valery completed his regular checkup on the Japanese experiment GCF-JAXA (Granada Crystallization Facility) in the Russian TBU incubator, maintained at 20 degC, including a temperature check on its ART (automatic temperature recorder).   [This daily monitoring/temp checking, carried on the Russian voluntary "time available" task list, will continue until 4/30.]
Also still on the task list was for the FE to go through the contents of a CTB (Crew Transfer Bag, #1012) in the FGB, searching for an air duct section that will be installed in the Soyuz TMA-7 Descent Module after the spacecraft's relocation.
Both crewmembers completed their regular 2.5-hr. physical exercise program on the TVIS, RED and VELO bike with bungee cord load trainer. [Valery's daily protocol prescribes a strict four-day microcycle exercise with 1.5 hr on the treadmill in unmotorized mode and one hour on VELO plus load trainer (today: Day 4 of the first set).]
Afterwards, McArthur transferred the exercise data files to the MEC (Medical Equipment Computer) for downlink, as well as the daily wristband HRM (heart rate monitor) data of the workouts on RED, followed by their erasure on the HRM storage medium (done six times a week).
The FE had an hour allotted for equipment transfers to the Soyuz TMA-7 spacecraft, with IMS update, preparatory to its relocation on 3/20.
For the Science Officer's next "Saturday Science" program, ground-suggested activities would involve the BCAT-3 (Binary Colloidal Alloy Test 3) research complex.   [Possible activities for 3/18 would lead off with BCAT-3 historical documentation and video setup, configuring BCAT with EarthKAM hardware on the MWA (Maintenance Work Area), sample initialization/homogenizing and run, plus wrap-up and stowage.  The CDR will decide by tonight on his participation on 3/18.]
Starting at ~2:35am EST this morning, the ground conducted a two-hour standard checkout of BCC (backup control center) swing and activation procedures that would be necessary in the event of a transfer of flight control from Houston to the HSG (Houston Support Group) station at TsUP/Moscow.   [The test concluded by transferring a test PPCP (pre-planned command package) to TsUP/Moscow, which subsequently uplinked the command file to the station during a RGS (Russian Ground Site) comm pass.  The crew was not involved.]
A ground-commanded set of VOA (Volatile Organics Analyzer) tests consisting of calibrant, dilute sample, and full sample runs, were conducted this morning as a part of the on-going VOA checkout.  The VOA completed the calibrant run successfully, but aborted the dilute sample session.  VOA commanding was terminated until the anomaly is understood.
Yesterday, a number of CWCs (collapsible water containers) being prepacked for return on ULF1.1 were reported to be leaking. The leaks were noticed when the containers were compressed for packing. Ground teams are working on response options.
Today's penumbral eclipse of the Moon can be seen by the station crew, beginning at ~6:28pm with moonrise and ending with the Moon's setting at ~7:25pm.  Greatest partial eclipse is at ~6:47pm.  [The penumbra is a ring-shaped partial shadow fringe between the regions of complete shadow and complete illumination.  Penumbral lunar eclipses are difficult to observe, especially during the early and late stages.  Nevertheless, a subtle yet distinct shading should be visible across the southern half of the Moon.  Observers throughout most of North America will find the eclipse already in progress as the Moon rises tonight.  The next major celestial event will be the year's first total solar eclipse (by the Moon) on 3/29 (Wednesday).]
Today's CEO (Crew Earth Observation) photo targets, limited in the current XPOP attitude by flight rule constraints on the use of the Lab nadir/science window, which is available for only ~1/4 of each orbit when not facing forward (in ram), were Tibetan dust (Dynamic event. The enclosed basin on the north flank of the Tibetan plateau [Takla Makan desert] is the region most prone to dust hazes.  Looking left for panoramas, especially of the altitude of the upper surface of the dust mass where this impinges against the surrounding mountains), Chad dust (Dynamic event. The Sahara's major dust-emitting source between Lake Chad and the Tibesti Mts. appears active again.  Margins of dust masses make for the most meaningful images), and Saharan dust, eastern Atlantic (Dynamic event.  Another major dust plume is advancing into the Atlantic off West Africa.  Margins of this mass may be visible near the equatorial cloud band).
To date, more than 186,000 of CEO images have been taken in the first five years of the ISS, almost one third of the total number of images taken from orbit by astronauts.
CEO photography can be viewed and studied at the websites:
See also the website "Space Station Challenge" at:
To view the latest photos taken by the expedition 12 crew visit:
Expedition 12 Flight Crew Plans can be found at http://spaceflight.nasa.gov/station/timelines/
Previous NASA ISS On-orbit Status Reports can be found here. Previous NASA Space Station Status Reports can be found here. Previous NASA Space Shuttle Processing Status Reports can be found here. A collection of all of these reports and other materials relating to Return to Flight for the Space Shuttle fleet can be found here.
ISS Orbit  (as of this morning, 5:52am EST [= epoch]):
Mean altitude — 346.5 km
Apogee height – 352.3 km
Perigee height — 340.6 km
Period — 91.47 min.
Inclination (to Equator) — 51.64 deg
Eccentricity — 0.0008708
Solar Beta Angle — -30.2 deg (magnitude increasing)
Orbits per 24-hr. day — 15.74
Mean altitude loss in last 24 hours — 90 m
Revolutions since FGB/Zarya launch (Nov. 98) — 41822
Events Ahead (all dates Eastern & tentative):
03/15/06 — ISS reboost (by SM main prop sys.; mnvr. back to XPOP after burn)
03/20/06 — Soyuz TMA-7/11S relocation (FGB nadir port to SM aft port; 1:45am-2:22am EST)
03/30/06 — Soyuz TMA-8/12S launch (Pavel Vinogradov/Russia, Jeffrey Williams/US, Marcos Pontes/Brazil, 9:29pm EST)
04/01/06 — Soyuz TMA-8/12S docking (FGB nadir port, 11:11pm EST; mnvr. to LVLH XVV after dock)
04/09/06 — Soyuz TMA-7/11S undocking (4:15pm EDT) & land (7:40pm); (mnvr. to XPOP after undock)
04/18/06 — Soyuz TMA-8/12S relocation (FGB nadir port to SM aft end port)
04/24/06 — Progress M-56/21P launch
04/26/06 — Progress M-56/21P docking (DC1)
05/03/06 — ULF1.1 launch (NET, not earlier than)
06/15/06 — U.S. EVA (under review)
06/19/06 — Progress M-55/20P undocking & reentry
06/28/06 — Progress M-57/22P launch
06/30/06 — Progress M-57/22P docking
07/01/06 — 12A launch (under review)
07/31/06 — Russian EVA-16 (under review)
09/13/06 — Progress M-56/21P undocking & reentry
09/14/06 — Soyuz TMA-9/13S launch
09/16/06 — Soyuz TMA-9/13S docking (FGB nadir port)
09/24/06 — Soyuz TMA-8/12S undocking & reentry
09/28/06 — Soyuz TMA-9/13S relocation (FGB nadir port to DC1)
10/18/06 — Progress M-58/23P launch
10/20/06 — Progress M-58/23P docking
12/19/06 — Progress M-57/22P undocking & reentry
12/20/06 — Progress M-59/24P launch
12/22/06 — Progress M-59/24P docking

ISS Altitude History
Apogee height — Mean Altitude — Perigee height
For more on ISS orbit and worldwide ISS naked-eye visibility dates/times, see http://www.hq.nasa.gov/osf/station/viewing/issvis.html. In addition, information on International Space Station sighting opportunities can be found at http://spaceflight.nasa.gov/realdata/sightings/ on NASA's Human Spaceflight website. The current location of the International Space Station can be found at http://science.nasa.gov/temp/StationLoc.html at NASA's Marshall Space Flight Center. Additional satellite tracking resources can be found at http://www.spaceref.com/iss/tracking.html.