NASA Space Station On-Orbit Status 13 March 2006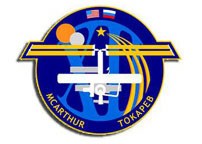 SpaceRef note: This NASA Headquarters internal status report, as presented here, contains additional, original material produced by SpaceRef.com (copyright © 2006) to enhance access to related status reports and NASA activities.
All ISS systems continue to function nominally, except those noted previously or below.  Underway: Week 23 for Expedition 12.
In the Service Module (SM), Flight Engineer Valery Tokarev performed his third session of the CARDIOCOG (BTC-10) experiment, using for the first time the Russian RSE1 laptop plus a newly delivered CARDIOCOG hard drive and a new finger cuff for the "Portapres" hardware for measuring blood pressure.   [BTC-10 was at first planned to be conducted throughout the entire Increment, on the first, 10th, 14th and 24th week of crew stay, but the schedule slipped, and the first session was conducted on 1/6/06. Originally part of Pedro Duque's VC5 "Cervantes" science program, CARDIOCOG studies changes in the human cardiovascular system in micro-G, expressed in the peripheral arteries, and the vegetative regulation of arterial blood pressure and heart rate.  For the experiment, Valery has to take systolic & diastolic blood pressure measurements and heart rate data manually, using the "Tensoplus" sphygmomanometer and the "Portapres" blood pressure equipment, storing the data on the RSE1 laptop, an IBM A31p that replaces the old French EGE-2.  The experiment also includes a 5-minute cognitive stress test with a numbers table, with the results called out for recording.  Results are later downlinked via Russian BSR telemetry and the RSE1 restored to nominal config.]
After a 10-minute conference between Commander/Science Officer William McArthur and the MSG (Microgravity Science Glovebox) Operations Leader on the ground for discussing the schedule and any questions of the CDR, McArthur performed a series of tests on the MSG facility's sensors, beginning with the connection of the MLC (MSG laptop computer) to the UOP (utility outlet panel).  After the checkout, MLC was disconnected again.   [Once per year, the European-built MSG facility undergoes a series of sensor tests designed to validate the calibration and functionality of its thermal and pressure sensors. The tests are required to keep the facility certified for operational use.  After the sensor tests, an inspection and cleaning activity will be scheduled on a later day.  For the sensor tests, there are specific initial conditions and interactions between the ground and crew; these were uplinked and discussed in the tagup.]
Time again for transferring the potable water supplies brought up by Progress 20 to the Service Module (SM), today to empty EDV containers (4-5 per tank).  After hooking up the plumbing connecting the 20P Rodnik water tank BV1, then BV2, with the EDV, Tokarev started the water transfer using a compressor pump via a GZhS gas/liquid separator (to remove air bubbles in the water).  After the water transfer, the FE compressed the bladders in the Rodnik tanks.   [Valery closely monitored the transfer for bubbles every 30 minutes.  Air bubble diameter should remain below ~100 mm.  If an air bubble inside the GZhS separator grew as big the size of the GZhS viewing port hole (~100 mm), Valery was to release air by opening a valve on the separator.  Each of the two spherical Rodnik tanks BV1 & BV2 consists of a hard shell with a soft membrane (bladder) composed of elastic fluoroplastic.  The bladder is used to expel water from the tank by compressed air pumped into the tank volume surrounding the membrane.]
Tokarev also completed the periodic (about twice a month) replenishing of the Elektron's water supply for electrolysis, his ninth, filling the KOV thermal loops' EDV container with purified (deionized) water from a filled EDV with water from the BKO multifiltration/purification column unit, following carefully written instructions.   [The 30-minute procedure is specially designed to prevent air bubbles larger than ~10 mm from getting into the BZh-8 Liquid Unit where they could cause Elektron shutdown.  In the procedure, the BKO water is carefully pumped with a compressor from the EDV-1 through the air/liquid separator unit (GZhS) into the empty EDV-2 while the crewmember checks for any air bubbles accumulating in the GZhS (and, if visible, estimates their number, with no more than two 1 cm diameter bubbles permitted in EDV-2). Elektron water is also supplied from U.S. condensate in a CWC (collapsible water container) that is checked for its contents of air bubbles and is rejected if the estimated total air bubble volume is more than 30 cubic centimeters (1 cm air bubble is about 0.5 ccm).]
The CDR completed the monthly PEP (portable emergency provisions) safety inspection.  (Last time done: 2/9/06).   [The IMS (Inventory Management System)-supported inspection involves verification that PFEs (portable fire extinguishers), PBAs (portable breathing apparatus), QDMAs (quick-don mask assemblies) and EHTKs (extension hose/tee kits) are free of damage to ensure their functionality, and to track shelf life/life cycles on the hardware.  There are a total of 5 PBAs in the U.S. segment (USOS).  There is one EHTK, in the Lab.]
McArthur had another ~110 min. for hardware/equipment prepacking for ULF1.1/STS-121 (launch NET 5/12).
Bill also completed the periodic (once per month) routine inspection of the RED (resistive exercise device) with canister cords and accessory straps as well as the canister bolts for re-tightening if required.
The crewmembers conducted the weekly TVIS treadmill routine maintenance with SLD (subject loading devices) contingency configuration, primarily inspecting the condition of the SLDs, SLD cables and SPDs (subject positioning devices), plus recording time & date values.   [While one crewmember pulls out the cables about 10 inches (approximately 80 lbs of load), the other does the inspection.  Temperature readings of motor box and electronics box are recorded on a PCMCIA memory card and downloaded to the MEC for subsequent downlink to the ground.]
Both crewmembers completed their regular 2.5-hr. physical exercise program on the TVIS, RED and VELO bike with bungee cord load trainer. [Valery's daily protocol prescribes a strict four-day microcycle exercise with 1.5 hr on the treadmill in unmotorized mode and one hour on VELO plus load trainer (today: Day 3 of the first set).]
Afterwards, McArthur transferred the exercise data files to the MEC (Medical Equipment Computer) for downlink, as well as the daily wristband HRM (heart rate monitor) data of the workouts on RED, followed by their erasure on the HRM storage medium (done six times a week).
The FE performed the daily routine maintenance of the SM's environment control & life support system (SOZh), including its toilet system (ASU), while the CDR updated/edited the standard IMS "delta file", including locations, for the regular weekly automated export/import to its three databases on the ground (Houston, Moscow, Baikonur).
Bill conducted another periodic atmospheric status check for ppO2 (Partial Pressure Oxygen) and ppCO2 (pp Carbon Dioxide), using the CSA-O2 (Compound Specific Analyzer-Oxygen Sensor).
Working off his discretionary "time available" task list, Tokarev completed his regular checkup on the Japanese experiment GCF-JAXA (Granada Crystallization Facility) in the Russian TBU incubator, maintained at 20 degC, including a temperature check on its ART (automatic temperature recorder).   [This daily monitoring/temp checking, carried on the Russian voluntary "time available" task list, will continue until 4/30.]
Additionally on Valery's voluntary list for today was the daily status check of the BIO-5 Rasteniya-2 ("Plants-2") experiment and water tank recharge.   [Rasteniya researches growth and development of plants under spaceflight conditions in the Lada-8 greenhouse.]
Also still on the task list was for the FE to go through the contents of a CTB (Crew Transfer Bag, #1012) in the FGB, searching for an air duct section that will be installed in the Soyuz TMA-7 Descent Module after the spacecraft's relocation.
No CEO photo targets uplinked today.
To date, more than 186,000 of CEO images have been taken in the first five years of the ISS, almost one third of the total number of images taken from orbit by astronauts.
 CEO photography can be viewed and studied at the websites:
See also the website "Space Station Challenge" at:
To view the latest photos taken by the expedition 12 crew visit:
Expedition 12 Flight Crew Plans can be found at http://spaceflight.nasa.gov/station/timelines/
Previous NASA ISS On-orbit Status Reports can be found here. Previous NASA Space Station Status Reports can be found here. Previous NASA Space Shuttle Processing Status Reports can be found here. A collection of all of these reports and other materials relating to Return to Flight for the Space Shuttle fleet can be found here.
ISS Orbit  (as of this morning, 11:51am EST [= epoch]):
Mean altitude — 346.5 km
Apogee height – 352.3 km
Perigee height — 340.7 km
Period — 91.47 min.
Inclination (to Equator) — 51.64 deg
Eccentricity — 0.0008654
Orbits per 24-hr. day — 15.74
Mean altitude loss in last 24 hours — 90 m
Revolutions since FGB/Zarya launch (Nov. 98) — 41811
Events Ahead (all dates Eastern & tentative):
03/15/06 — ISS reboost (by SM main prop sys.; mnvr. back to XPOP after burn)
03/20/06 — Soyuz TMA-7/11S relocation (FGB nadir port to SM aft port)
03/30/06 — Soyuz TMA-8/12S launch (Pavel Vinogradov/Russia, Jeffrey Williams/US, Marcos Pontes/Brazil, 9:29pm EST)
04/01/06 — Soyuz TMA-8/12S docking (FGB nadir port, 11:11pm EST; mnvr. to LVLH XVV after dock)
04/09/06 — Soyuz TMA-7/11S undocking (4:15pm EDT) & land (7:40pm); (mnvr. to XPOP after undock)
04/18/06 — Soyuz TMA-8/12S relocation (FGB nadir port to SM aft end port)
04/24/06 — Progress M-56/21P launch
04/26/06 — Progress M-56/21P docking (DC1)
05/03/06 — ULF1.1 launch (NET, not earlier than)
06/15/06 — U.S. EVA (under review)
06/19/06 — Progress M-55/20P undocking & reentry
06/28/06 — Progress M-57/22P launch
06/30/06 — Progress M-57/22P docking
07/01/06 — 12A launch (under review)
07/31/06 — Russian EVA-16 (under review)
09/13/06 — Progress M-56/21P undocking & reentry
09/14/06 — Soyuz TMA-9/13S launch
09/16/06 — Soyuz TMA-9/13S docking (FGB nadir port)
09/24/06 — Soyuz TMA-8/12S undocking & reentry
09/28/06 — Soyuz TMA-9/13S relocation (FGB nadir port to DC1)
10/18/06 — Progress M-58/23P launch
10/20/06 — Progress M-58/23P docking
12/19/06 — Progress M-57/22P undocking & reentry
12/20/06 — Progress M-59/24P launch
12/22/06 — Progress M-59/24P docking

ISS Altitude History
Apogee height — Mean Altitude — Perigee height
For more on ISS orbit and worldwide ISS naked-eye visibility dates/times, see http://www.hq.nasa.gov/osf/station/viewing/issvis.html. In addition, information on International Space Station sighting opportunities can be found at http://spaceflight.nasa.gov/realdata/sightings/ on NASA's Human Spaceflight website. The current location of the International Space Station can be found at http://science.nasa.gov/temp/StationLoc.html at NASA's Marshall Space Flight Center. Additional satellite tracking resources can be found at http://www.spaceref.com/iss/tracking.html.