NASA Space Station On-Orbit Status 13 Jun 2004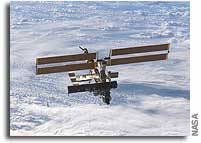 All ISS systems continue to function nominally except those noted previously.  Off-duty day for the crew (mostly).  Ahead: Week 7 for Increment 9.  >>>Tomorrow (Monday), our partners celebrate Russian Independence Day (observed) and the crew will have a light Holiday schedule.<<<
After wakeup and morning inspection, CDR Gennady Padalka, working off the Russian task list, unstowed and set up the equipment for the Cardiocog experiment, then performed the procedure. [Originally part of Pedro Duque's VC5 "Cervantes" science program, Cardiocog studies changes in the human cardiovascular system in micro-G, expressed in the peripheral arteries, and the vegetative regulation of arterial blood pressure and heart rate.  For the experiment, the CDR had to take systolic & diastolic blood pressure measurements and pulse data manually, using the Tensoplus sphygmomanometer, storing the data on the EGE-2 laptop.  The original battery-driven VC5 BP (blood pressure) control monitor was not used.]
The crew performed the regular weekly station cleaning today, their seventh. ["Uborka", usually done on Saturday, was moved up to today.  It includes removal of food waste products, cleaning of compartments with vacuum cleaner, wet cleaning of the Service Module (SM) dining table and other surfaces with "Fungistat" disinfectant and cleaning fan screens as needed to avoid temperature rises.]
CDR Padalka worked on the Russian harmful impurities removal system (BMP), starting the "bake-out" cycle to vacuum on absorbent bed #1 of the regenerable dual-channel filtration system. [Regeneration of each bed takes about 24 hours.]
Later, Gennady also completed the weekly routine SM life support systems (SOZh) maintenance tasks of inspection and collecting SP toilet flush counter and SVO water supply readings in the Service Module (SM) for calldown to TsUP.
The crew completed their daily 2.5-hr. physical exercise program on TVIS treadmill, RED expander and VELO ergometer with load trainer. 
Mike Fincke had his weekly PFC (private family conference) via S-band/audio and Ku-band/ NetMeeting video.
The station continues to fly in XPOP attitude, until 6/16 (for the standard solar array efficiency test).
Today's optional CEO (Crew Earth Observations) photo targets, limited in XPOP attitude by flight rule constraints on the use of the science window, which is available for only ~1/4 of each orbit when not facing forward (in "ram"), were Seoul, South Korea (looking nadir and a touch right), Algiers, Algeria (nadir pass), Aral Sea (looking right for a view of the entire sea), Jorhat, Assam, India (nadir pass, but weather probably precluded photography), Chanthu Typhoon, Vietnam (Dynamic event.  This typhoon was left of track.  Good oblique views possible), Istanbul, Turkey (nadir pass), Los Angeles, California (nadir pass.  Crew was asked to keep an eye out for fires on surrounding hills and mountains, as the burning season begins), and Las Vegas, Nevada (nadir pass).
CEO images can be viewed at the websites.
See also the website "Space Station Challenge" at