NASA Space Station On-Orbit Status 13 July 2004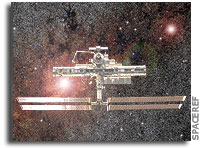 SpaceRef note: This NASA Headquarters internal status report, as presented here, contains additional, original material produced by SpaceRef.com (copyright © 2004) to enhance access to related status reports and NASA activities.
All ISS systems continue to function nominally except those noted previously or below.  During last night's All-Star Home Run Derby in Houston, the ISS crew was featured Texas-size on the giant "Jumbotron" projection screen.  Yipee!
CDR Padalka performed the second part of the current MBI-8 Profilaktika ("countermeasures") fitness assessment series, today with the NS-01 load trainer on the VELO (stationary bike) ergometer.  The third part tomorrow will consist of a blood test and use of the TVIS treadmill.   [This fitness test consists of four types of exercise, viz., neck tilting (back/forward), simultaneous forearm flexing, trunk extension, and trunk flexes.  Each type of exercise consists of a series of 15 motions repeated two times.  Load levels are selected by the ground and do not change from test to test.  Total duration of the test is 13 min.  Gas analysis, subjective evaluation of physical exertion levels, and blood test for lactate and Creatine Kinase levels were also performed as a part of this test, using the TEEM-100M gas analyzer, AccuSport analyzer, and Reflotron-IV blood analyzer.  Data were downloaded to the Russian payload laptop 3 for storage on a PCMCIA memory card and also for transfer to the Cardiocassette-2000 data tape.  Use of the NS-01 load trainer, which combines anaerobic/muscle with aerobic/cardio training, is constrained during the exercise by ISS structural loads, allowing a medium speed, with one complete movement over at least 3 sec, i.e., 0.33 Hertz, and a high speed with one complete movement over at least 2 sec, or 0.50 Hz).]
FE/SO Fincke had several hours set aside for gathering and preparing used US equipment for disposal on Progress 14P (to be undocked on 8/12).   [Because of the coordination required between Houston and Moscow, the US trash packing list is pretty much finalized three weeks prior to Progress sep, with the only exceptions being items that are hazardous or large enough to greatly improve the stowage situation.  Mike's suggestions in this regard were invited.]
Fincke also completed the scheduled transfer of IMAK (ISS medical accessory kit) contents of extra medications delivered on Soyuz TMA-4 (8S) to the AMP (ambulatory medical pack) pallets and pockets and ALSP (advanced life support pack) storage.
In a 2.5-hr maintenance task in the FGB (funktsionalnyi-grusovoi blok), Gennady Padalka removed the loop #2 (VGK2-2) replaceable pump panel (SPN) and installed a new SPN unit delivered on Progress.   [The need for replacement of the no. 2 coolant fluid pump had been determined by FE Alex Kaleri in an extensive performance evaluation test on 3/15.]
In preparation for upcoming payload operations with the Foam (Viscous Liquid Foam–Bulk Metallic Glass) experiment, the Science Officer had time set aside for familiarization with the investigation and for a check of the experiment's battery.   [Foam activities are currently considered for this week's "Saturday Science" program.]
Mike also continued experimenting with the FMVM (Fluid Merging Viscosity Measurement) payload, begun yesterday.  Today, he conducted the droplet-merging experiment with two sample syringes containing corn syrup (E-1 & E-2).   [Understanding the viscosity of molten materials is important for everything from designing laboratory experiments to industrial production of materials.  One way to determine viscosity is to measure how long it takes two spheres of liquid to merge into a single spherical drop: on contact a neck will from between the two drops, increasing in thickness until the two drops become one single sphere.  On Earth, gravity distorts liquid spheres, and drops are too heavy to be supported by strings.  Drop distortion should not occur in the ISS's microgravity environment, and the drops can be held on strings.  To verify this technique as an accurate viscosity measurement method, the FMVM experiment uses fluids with known viscosities: honey, corn syrup, glycerin and silicone oil.  Several runs were conducted — some with equal diameter drops and others with different size drops.  The crewmember releases two drops from a syringe onto strings and records digital images of the drops as they coalesce to form one drop.  The initial diameters of the drops will be measured.]
In preparation for the major Russian software (s/w) upgrade, starting tomorrow with the replacement of Laptop 1 (LT1) with a newly delivered unit containing the SM 7.02 s/w load, Padalka today powered up the backup LT2 and turned off LT1, after TsUP/Moscow had remotely activated the Central Computer's backup string (KTsP-2) and powered down the prime (KTsP-1).
On the U.S. side, preparations for the s/w upload have focused on maximizing S-band coverage by scheduling adequate TDRSS (Tracking & Data Relay Satellite System) access, and on updating the "load shed" tables that would be executed in the event of a LoAC (loss of attitude control) or an EPS power system failure during the times the regular automated Survival Mode is unavailable (as will be the case at various times during the s/w upload).   [Load shed tables specify the orderly sequence of reducing onboard power and the wattage involved with each step, starting from the least critical power users (such as PMA wall heaters) and progressing through the many hundreds of other loads to the more critical ones.  Load shedding can be done automatically or manually.]
Mike Fincke had his daily workout on the TVIS (aerobic, bone impact loading, neurosensory) and RED exerciser (anaerobic, muscle & strength training, axial bone loading).  Gennady's MBI-8 activity on the VELO substituted for his regular workout.
Mike attended to the weekly treadmill maintenance by inspecting the crew's individually set SPDs (subject positioning devices) plus Russian and US harnesses.  Today, he also followed a request from TVIS engineers by applying some lubricant to the four corner bracket assemblies that appear to show scratch or scuff marks.   [The coating with "Braycote-601" is intended to prevent long-term corrosion effects to the hardware.]
Gennady had an hour reserved for the inventory audit of Russian health maintenance system items (SGO), used medical support items (clothes, underwear, countermeasure gear) and sanitary-hygiene equipment (SLG) with expired shelf life, which he discussed with specialists on 7/9.   [In today's Stage 1 of the inventory, Padalka opened stowage panels, checked clothes and hygiene items against an uplinked list and stowed found clothes and SLGs in bags for disposal.  Stage 2, the remaining portion of the clean-up work, will be performed in September.]
The CDR also prepared the daily inventory management system (IMS) "delta" file for updating the database and performed the routine maintenance of SM life support systems (SOZh).
At 6:35am EDT, Mike conducted a ham radio session with students at Meizen High School in Kurume-city, Japan.   [Meizen HS is located in Kurume-city in the south of Fukuoka Prefecture on Kyushu island (also known as Japan's "Silicon Island" because it, produces ~10 billion US-dollars worth of integrated circuits per year).  More than 1000 students attend the school, which has a long history and offers a science course as well as literature and history courses.]
At ~2:18pm, during Daily Orbit 2, the Russian segment (RS) transitions to refueling mode, and at 2:40pm propellant transfer will commence from the two BG refueling tanks of Progress 14P to the four TBG tanks of the FGB, through the SM prop system, lasting about 1-1.5 hrs.   [Prior to the transfer, the FGB prop transfer system will be prepared and the SM tanks configured to feed attitude control thrusters until FGB tanks are configured for thruster feeding.  The 14P's DPO thrusters and the SM's prop manifold 1 will be inhibited for the duration of the procedure, while attitude control will be assigned to manifold 2.  Maximum amounts to be transferred are 300 liters fuel (UDMH, unsymmetrical dimethyl hydrazine) & 300 l oxidizer (NTO, nitrogen tetroxide).  Afterwards, FGB tanks will be connected to the SM and both manifold 1 and 14P thrusters re-enabled.]
This morning at ~6:33am, video tape recorder 1 (VTR-1) in the U.S. segment failed during a playback session commanded remotely from the ground.  VTR-1 activities were halted after several unsuccessful attempts at restoration.
Update on EarthKAM experiment:  The EarthKAM (EK) camera in the Node is running fine.  Downlinked images show that there is no degradation in image quality after the first-time relocation of the system to the Node.  There are 20 user groups participating currently, mostly teachers practicing or training additional teachers to use the EK targeting tools.  In this July session, a large number of future classroom participants are gained.
Update on EMU spacesuit troubleshooting:  A logic sequence of troubleshooting steps has been developed for the successive attempts at restoring the cooling systems of both EMUs (#3005 & #3013).  Starting with #3005, Fincke will first check whether the water pump rotor can be "unstuck" by loosening screws for widening the gap between rotor and pump housing (possibly blocked by contamination).  If unsuccessful, the same will be tried on #3013.  If also "no joy", both crewmembers need to be scheduled for 4 hrs to remove the "Item 123" fan/pump/separator assembly on one EMU for interior inspection, photography and video.  Further troubleshooting steps will then depend on the analysis of this documentation.  The crew has also identified a problem with one of the two SCOF (secondary oxygen checkout facility) units, a device installed on the neck ring to allow testing the secondary O2 supply without dumping (thus losing) the valuable gas.  Since one SCOF appears to be very difficult to lock into place on the neck ring (observed but nor reported by previous crews), manifesting a second SCOF on Progress 15P, besides two pump rotors, is being considered.
A joint (US/Russian) investigation has been initiated to identify (and minimize) the source of an unknown force on the station witnessed during EVAs that utilize the DC-1 docking compartment for egress/ingress.   [There are two possible sources of this small force that are currently considered viable: One is outgassing and/or offgassing from material in the DC-1; the other is sublimation of the ice in the cooling units (sublimators) of the Orlan-M suits (sublimation is the process of evaporation of a solid directly into a vapor, as happens with water ice to vacuum, thus carrying away heat).]
 
Expedition 9 Flight Crew Plans can be found at http://spaceflight.nasa.gov/station/timelines/
As a consequence of the high Beta and the current flight attitude of LVLH YVV, there are again no CEO (crew earth observations) targets with sun angles above 20 degrees.
CEO images can be viewed at these websites:
See also the website "Space Station Challenge" at:
To view the latest photos taken by the expedition 9 crew visit:
U.S. & Russian Segment Status  (as of today, 12:50pm EDT)
Environmental Control and Life Support (ECLSS) and Thermal Control (TCS):
Elektron O2 generator is On (16A, =lowest setting).  Vozdukh CO2 scrubber is On.  U.S. CDRA CO2 scrubber is Off.  TCCS (trace contaminant control subsystem) is operating.  SM Gas Analyzer has been calibrated and is used for ppO2 & ppCO2 monitoring.  MCA (major constituents analyzer) is in Life Extending Mode (LEM).  BMP Harmful Impurities unit: absorbent bed #1 in Purify mode, bed #2 in Purify mode.  RS air conditioner SKV-1 is On, SKV-2 is Off (SM panel mods completed 4/8; SKV-2 activation failed 4/20; is still considered failed).  SFOG slot #2 fan suspect (not usable).

SM Working Compartment:  Pressure (mmHg) — 752; temperature (deg C) — 25.3; ppO2 (mmHg) — 170.8; ppCO2 (mmHg) — 3.2.
SM Transfer Compartment:  Pressure (mmHg) — 751; temperature (deg C) — 20.2.
FGB Cabin:  Pressure (mmHg) — 756; temperature (deg C) — 21.0.
Node:  Pressure (mmHg) — 750.2; temperature (deg C) — 23.2 (shell); ppO2 (mmHg) — n/a; ppCO2 (mmHg) — n/a.
U.S. Lab:  Pressure (mmHg) — 751.8; temperature (deg C) — 24.7; ppO2 (mmHg) — n/a; ppCO2 (mmHg) — n/a.
Joint Airlock (Equip. Lock):   Pressure (mmHg) — 751.9; temperature (deg C) — 25.9; shell heater temp (deg C) — n/a, ppO2 (mmHg) — n/a; ppCO2 (mmHg) — n/a.

(n/a = data not available)
Electrical Power Systems (EPS):
Both P6 channels fully operational.  BGA (beta gimbal assembly) 2B and 4B both in directed position (Dual angle/"blind" mode, non solar-tracking, biased for drag reduction).
SM batteries:  Battery #2 is in "Cycle" mode; all other batteries (7) are on line in "Partial Charge" mode.  
FGB batteries:  Battery #4 is off line; all other batteries (5) are on line in "Partial Charge" mode.
Plasma Contactor Unit PCU-1 is in Standby mode; PCU-2 is in Standby mode.
Command & Data Handling Systems:
C&C-1 MDM is prime, C&C-2 is backup, and C&C-3 is in standby.
GNC-2 MDM is prime; GNC-1 is backup.
INT-2 is operating; INT-1 is Off.
EXT-1 is On (primary), EXT-2 is Off (backup).
LA-1, LA-2 and LA-3 MDMs are all operating.
PL-1 MDM is Off; PL-2 MDM is Operational.
APS-1 (automated payload switch #1) and APS-2 are both On.
SM Terminal Computer (TVM): 2 redundant lanes (of 3) operational (string 1 dropped out 11/22/03).
SM Central Computer (TsVM): 3 redundant lanes (of 3) operational.
FGB MDM-1 is Off (failed, 11/21/03); MDM-2 is Operational.
Propulsion System:
Total propellant load available: 3928 kg (8660 lb) as of 7/1/04;  [SM(552) + FGB(2772) + Progress M(639)].  (Capabilities: SM — 860 kg; FGB — 6120 kg).
Attitude Control Systems:
3 CMGs on-line (CMG-1 failed, since 6/6/02; CMG-2's RPC-17 failed 4/21/04; was replaced 6/30/04).
State vector source — U.S. SIGI-1 (GPS)
Attitude source — U.S. SIGI-1 (GPS)
Angular rate source — RGA-1
Flight Attitude:
LVLH XVV (local vertical/local horizontal = "earth-fixed": z-axis in local vertical, x-axis in velocity vector [yaw: -10 deg, pitch: -9 deg, roll: 0 deg]), with CMG/TA (thruster assist) Momentum Management, until 6/28, following the EVA.
Communications & Tracking Systems:
FGB MDM-1 is powered Off; FGB MDM-2 is operational.
All other Russian communications & tracking systems are nominal.
S-band is operating nominally (on string 2).
Ku-band is operating nominally (may require a mask).
Audio subsystem is operating nominally (IAC-1 is prime, IAC-2 is off).
Video subsystem operating nominally.
HCOR (high-rate communications outage recorder) is operating nominally.
Robotics:
SSRMS/Canadarm2 based at Lab PDGF/LEE A, operational on redundant string, off on prime.
MBS: KA (keep alive) power on both strings. 
MT: latched and mated at WS4. 
POA: KA power on both strings.
RWS (robotics workstations): Lab RWS is On (DCP connected); Cupola RWS is Off.
ISS Orbit  (as of this morning, 7:01am EDT [= epoch]):
Mean altitude — 359.8 km
Apogee height — 363.8 km
Perigee height — 355.7 km
Period — 91.7 min.
Inclination (to Equator) —  51.6304 deg
Eccentricity — 0.0006028
Solar Beta Angle — 71.2 deg
Orbits per 24-hr. day — 15.70
Mean altitude loss in last 24 hours — 60 m
Revolutions since FGB/Zarya launch (Nov. '98)  — 32244
ISS Altitude History
Apogee height — Mean Altitude — Perigee height
For more on ISS orbit and worldwide ISS naked-eye visibility dates/times, see http://www.hq.nasa.gov/osf/station/viewing/issvis.html. In addition, information on International Space Station sighting opportunities can be found at http://spaceflight.nasa.gov/realdata/sightings/ on NASA's Human Spaceflight website. The current location of the International Space Station can be found at http://science.nasa.gov/temp/StationLoc.html at NASA's Marshall Space Flight Center. Additional satellite tracking resources can be found at http://www.spaceref.com/iss/tracking.html.