NASA Space Station On-Orbit Status 13 August 2004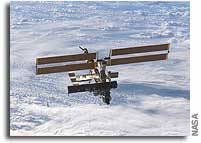 SpaceRef note: This NASA Headquarters internal status report, as presented here, contains additional, original material produced by SpaceRef.com (copyright © 2004) to enhance access to related status reports and NASA activities.
All ISS systems continue to function nominally, except those noted previously or below.  Tonight our ISS crew will be seen on the big screen at the Olympic Stadium in Athens, Greece, for the opening of the 2004 Summer Olympic Games.
The crew had a short workday today in order to rest up for Progress 15P arrival tonight and the impending cargo moving activities tomorrow.  After wakeup this morning at the regular 2:00am EDT, bunk time started at 12:40pm, i.e., almost five hours earlier than usual.  The crew gets up again tonight at 9:10pm for final 15P arrival preparations.
Progress 15P continues closing in for rendezvous, with nighttime docking at 1:02am EDT.   [In the event of a failure of the "Kurs" AR&D (automated rendezvous and docking) CDR Padalka can perform necessary guidance functions of the Progress from the Service Module (SM) with the manual TORU system via two hand controllers.  The Day 3 maneuver burn DV4 burn (4 m/s) was executed at ~1:54am this morning, followed by Progress Kurs-A activation and self-test, start of automated rendezvous sequence at 10:32pm, then DV5 (14.15 m/s) tonight at ~10:53pm and DV6 burn (25.5 m/s) at 11:39pm.  As Kurs-A and Kurs-P (on SM) confer and "compare notes" at 12:06am, Klest TV camera & floodlight are turned on at 8 km (~12:12am) and three successive braking burns lead into flyaround mode (400 m), stationkeeping (170 m, ~12:39am), final approach (~12:52am), and docking (~1:02am).  For the docking, the ISS will be in free drift for 20 min, starting at 1:02am.  RGS (Russian ground site) comm window extends from 12:49 to 1:12am.  15P carries 2540 kg (5600 lbs) of freight, consisting of 1380 kg (3042 lbs) dry cargo, 420 kg  (926 lbs) water, 50 kg (110 lbs) oxygen (O2) & air, and 690 kg (1521 lbs) propellants.  The dry cargo includes supplies and clothing for the Expedition 10 crew of CDR Leroy Chiao and FE Salizhan Sharipov.]
The crew set up television connections in the SM for covering the docking.  With the video available on SSC (station support computer) in Zvezda, it can then be downlinked to MCC-Houston from the U.S. segment via Ku-band and then routed to TsUP-Moscow.
CDR Padalka activated the Russian Cryogem-03M refrigerator equipment in the DC-1 docking compartment to prepare for cold storage of biochem samples arriving tonight on 15P.
Also in preparation for 15P arrival, the crew performed the periodic station air sampling.  Mike Fincke first took CO2 (carbon dioxide) partial pressure measurements in the SM and Lab using the U.S. CDMK (CO2 monitor kit), for calldown to MCC-Houston (along with the battery status) for use in trending analyses. 
Padalka then tested for CO (carbon monoxide) levels in the SM by collecting samples with the IPD Draeger tubes; afterwards he took readings for air constituents in SM and FGB with the AK-1M sampler. 
Then, Gennady used the Dual Sorbent Tube (DST) to gather samples in the center of the Lab and SM, while Mike collected and stored the previously deployed FMK (formaldehyde monitoring kit) sampling badges from the Lab and SM for return to Earth.
Padalka performed his regular daily inspection of the BIO-5 Rasteniya-2 ("Plants-2") experiment that researches growth and development of plants under spaceflight conditions in the Lada-5 greenhouse.  Later, he transferred the accumulated data files to storage for downlink to the ground via Regul-Paket (the Russian Email mode).
SO Fincke conducted the visual T+2d analysis of the Week 14 water samples, collected on 8/11 from the SRV-K hot tap and the EDV container of the water supply system (SVO-ZV), with the WMK (water monitoring kit).  Mike also did another microbial analysis for inflight coliform bacteria (Escherichia coli) detection on samples collected during Week 4 (T+44d).  He then entered the microbiological data in the medical equipment computer.  [The analyses use incubated MCDs (microbial capture devices), SSK (surface sample kit) slides, and MAS (microbial air sampler) Petri dishes.  If Mike's analysis showed colony growth above specified limits, he was to take digital documentary images.  The used MCDs were discarded.]
Continuing the current round of the monthly preventive maintenance of Russian segment air ventilation systems, Fincke worked one hour in the Funktsionalnyi-Grusovoi Blok (FGB) for a cleanup of the protective mesh screens of its central ventilation fans (TsV1 & TsV2).   [The fans were powered off for the task by ground command, later turned on again.] 
Subsequently, Mike uninstalled and replaced the FGB's two dust collector filters (PS1 & PS2).  [Last time done: 7/7]
The CDR performed the periodic replenishing of the Elektron's water supply for electrolysis, filling the KOV thermal loops' EDV container with purified (deionized) water from the BKO multifiltration/purification column unit.   [The procedure, currently under study for possible improvement, was specially designed to prevent air bubbles from getting into the BZh liquid unit where they could cause micropump impeller cavitation and Elektron shutdown, as numerous past times.  In the procedure, the EDV water is drawn from the BKO and the air/liquid separator unit (GZhS) while the crewmember checks for any air bubbles in the EDV (and, if visible, estimates their number).]
Mike Fincke, operator of yesterday's last ADUM (Advanced Diagnostic Ultrasound in Micro-G) scans, conferred with the ADUM Principal Investigator via privatized S/G (space to ground voice) to discuss specifics of the cardiac and thoracic scan activities.
Gennady completed the daily routine inspection of the SM's SOZh life support system and prepared the daily IMS "delta" file update, while Mike performed the standard routine checkup of the autonomous PCG-STES010 payload in the Lab.
Fincke reconfigured the SAMS ICU (space acceleration measurement system/interface controller unit) laptop to recreate its startup script, which was deleted when he rebooted the ICU after repair work last weekend.  Ground commanding will take over to complete SAMS recovery.
At ~10:50am EDT, the crew had their weekly teleconference with the ISS Flight Director at MCC-H.
At 11:25am, the crew also held their regular (once every two weeks) teleconference with the JSC Astronaut Office (Kent Rominger), via S-band S/G.
In another tagup, Science Officer Fincke reviewed and discussed the current science/research program aboard ISS with Lead Increment Scientist Janice Voss and Payload Operations Manager Lamar Stacy.
The crew worked out on their physical exercise machines (TVIS, RED exerciser and VELO cycle with load trainer).
The station continues to fly in XPOP attitude (X-axis perpendicular to orbit plane), pitch: 0.8 deg, yaw: -8.0 deg, roll: 0 deg, until 9/2, when it will switch to LVLH XVV in support of EVA-11, to return to XPOP on 9/4.
 
Major upcoming events:
Progress Cargo Vehicle Procedures
Progress Cargo Vehicle Transfer Operations, Part 1, Mission Operations Directorate, 10 August 2000 [English – Acrobat] [Russian – Acrobat]
Progress Cargo Vehicle Transfer Operations, Part 2, Appendix 1, Mission Operations Directorate, 10 August 2000 [English – Acrobat] [Russian – Acrobat]

According to the introduction to these documents "this book is intended for performing cargo transfer operations in Progress and on stowing equipment in SM and Progress." These documents contain diagrams and detailed procedures for the transfer of times from the Progress Vehicle currently docked with the ISS.
Progress 15P docking — 8/14 (1:02am EDT);
Progress 15P thruster tests — 8/18
ISS Reboost — 8/20 (delta-V = 1.5 m/s);
ISS Reboost — 8/25 (delta-V = 2.2 m/s);
EVA-11 — 9/3;
Soyuz 9S launch — 10/9;
Soyuz 9S dock — 10/11;
Soyuz 8S undock/land — 10/19;
Soyuz 9S relocate — 11/18;
Progress 16P launch — 11/24.
Expedition 9 Flight Crew Plans can be found at http://spaceflight.nasa.gov/station/timelines/
Previous NASA ISS On-orbit Status Reports can be found here. Previous NASA Space Station Status Reports can be found here. Previous NASA Space Shuttle Processing Status Reports can be found here. A collection of all of these reports and other materials relating to Return to Flight for the Space Shuttle fleet can be found here.
Today's CEO photo targets, limited in the current XPOP attitude by flight rule constraints on the use of the science window, which is available for only ~1/4 of each orbit when not facing forward (in "ram"), were Hurricane Charley, G of Mexico (Dynamic event.  This category 2 storm has winds of 85 kts but was predicted to strengthen to a category 3 storm by the time the ISS overflew it.  The center should have been located just west of Havana.  The predicted track thereafter was towards Tampa.  Florida has declared an emergency to cope with Bonnie and Charley.  Looking right in dawn light for a good low-sun opportunity of the whole system. Nearer cloud bands should have been on the track, the center ~4 deg off track right.  Structure of the storm, especially outer bands and the eye [which has not formed as of this writing] are of interest, but general views are of greatest real-time interest), Internal waves, SE Newfoundland (two overflight opportunities, with the glint point ~ 5 deg right of track), and Internal waves, Aegean Sea (from ISS track over northern Greece, looking right as the glint point passes over southern Greece.  Weather over the Mediterranean is ideal for the start of the Olympics).
CEO images can be viewed at these websites:
See also the website "Space Station Challenge" at:
To view the latest photos taken by the expedition 9 crew visit:
U.S. & Russian Segment Status  (as of today, 1:00pm EDT)
Environmental Control and Life Support (ECLSS) and Thermal Control (TCS):
Elektron O2 generator is On (32A).  Vozdukh CO2 scrubber is On.  U.S. CDRA CO2 scrubber is Off.  TCCS (trace contaminant control subsystem) is operating.  SM Gas Analyzer has been calibrated and is used for ppO2 & ppCO2 monitoring.  MCA (major constituents analyzer) is in Life Extending Mode (LEM).  BMP Harmful Impurities unit: absorbent bed #1 in Purify mode, bed #2 in Purify mode.  RS air conditioner SKV-1 is On, SKV-2 is Off (SM panel mods completed 4/8; SKV-2 activation failed 4/20; is still considered failed).  SFOG slot #2 fan suspect (not usable).

SM Working Compartment:  Pressure (mmHg) — 738; temperature (deg C) — 26.4; ppO2 (mmHg) — 164.0; ppCO2 (mmHg) — 3.1.
SM Transfer Compartment:  Pressure (mmHg) — 740; temperature (deg C) — 20.8.
FGB Cabin:  Pressure (mmHg) — 744; temperature (deg C) — 23.7.
Node:  Pressure (mmHg) — 736.9; temperature (deg C) — 24.2 (shell); ppO2 (mmHg) — n/a; ppCO2 (mmHg) — n/a.
U.S. Lab:  Pressure (mmHg) — 738.3; temperature (deg C) — 24.3; ppO2 (mmHg) — n/a; ppCO2 (mmHg) — n/a.
Joint Airlock (Equip. Lock):   Pressure (mmHg) — 738.5; temperature (deg C) — 25.9; shell heater temp (deg C) — n/a, ppO2 (mmHg) — n/a; ppCO2 (mmHg) — n/a.

(n/a = data not available)
Electrical Power Systems (EPS):
Both P6 channels fully operational.  BGA (beta gimbal assembly) 2B and 4B both in Autotrack (solar-tracking, "sun slicer", i.e., drag reduction-biased by 47 deg for 4B and 13 deg for 2B (shading the MBS IMCA [mobile base system/integrated motor controller assembly] with the solar array.).
SM batteries:  All batteries (8) are on line in "Partial Charge" mode.  
FGB batteries:  Battery #4 is off line; all other batteries (5) are on line in "Partial Charge" mode.

Plasma Contactor Unit PCU-1 is in Standby mode; PCU-2 is in Standby mode.
Command & Data Handling Systems (C&DH)
C&C-1 MDM is prime, C&C-2 is backup, and C&C-3 is in standby.
GNC-2 MDM is prime; GNC-1 is backup.
INT-2 is operating; INT-1 is Off.
EXT-1 is On (primary), EXT-2 is Off (backup).
LA-1, LA-2 and LA-3 MDMs are all operating.
PL-1 MDM is Off; PL-2 MDM is Operational.
APS-1 (automated payload switch #1) and APS-2 are both On.
SM Terminal Computer (TVM): 3 redundant lanes (of 3) operational.
SM Central Computer (TsVM): 3 redundant lanes (of 3) operational.
FGB MDM-1 is Off (failed, 11/21/03); MDM-2 is Operational.
Propulsion System (PS):
Total propellant load available: 4068 kg (8968 lb) as of 8/12/04;  [SM(552) + FGB(3516) + Progress M(0)].  (Capabilities: SM — 860 kg; FGB — 6120 kg).
Attitude Control Systems (ACS):
3 CMGs on-line (CMG-1 failed, since 6/6/02; CMG-2's RPC-17 failed 4/21/04; was replaced 6/30/04).
State vector source — U.S. SIGI-1 (GPS)
Attitude source — U.S. SIGI-1 (GPS)
Angular rate source — RGA-1
Flight Attitude:
XPOP (x-axis perpendicular to orbit plane = "sun-fixed" [yaw: 0..5 deg, pitch: -9.0 deg., roll: 0 deg]), with CMG TA (thruster assist), until 8/14 for brief free drift (Inertial), then back to XPOP until 8/18 for 15P thruster tests and reboost 1 & 2.  LVLH will be regained on 9/2 for EVA-11, then back to XPOP on 9/4.
Communications & Tracking Systems (C&T):
FGB MDM-1 is powered Off; FGB MDM-2 is operational.
All other Russian communications & tracking systems are nominal.
S-band is operating nominally (on string 2).
Ku-band is operating nominally (may require a mask).
Audio subsystem is operating nominally (IAC-1 is prime, IAC-2 is off).
Video subsystem operating nominally.
HCOR (high-rate communications outage recorder) is operating nominally.
Robotics:
SSRMS/Canadarm2 based at Lab PDGF/LEE A, operational on redundant string, off on prime.
MBS: KA (keep alive) power on both strings. 
MT: latched and mated at WS4. 
POA: KA power on both strings.
RWS (robotics workstations): Lab RWS is On (DCP connected); Cupola RWS is Off.
ISS Orbit  (as of this morning, 6:43am EDT [= epoch]):
Mean altitude — 356.5 km
Apogee height — 360.3 km
Perigee height — 352.7 km
Period — 91.7 min.
Inclination (to Equator) — 51.63 deg
Eccentricity — 0.0005649
Solar Beta Angle — -34.3 deg (magnitude decreasing)
Orbits per 24-hr. day — 15.71
Mean altitude loss in last 24 hours — 130 m
Revolutions since FGB/Zarya launch (Nov. '98)  — 32731
ISS Altitude History
Apogee height — Mean Altitude — Perigee height
For more on ISS orbit and worldwide ISS naked-eye visibility dates/times, see http://www.hq.nasa.gov/osf/station/viewing/issvis.html. In addition, information on International Space Station sighting opportunities can be found at http://spaceflight.nasa.gov/realdata/sightings/ on NASA's Human Spaceflight website. The current location of the International Space Station can be found at http://science.nasa.gov/temp/StationLoc.html at NASA's Marshall Space Flight Center. Additional satellite tracking resources can be found at http://www.spaceref.com/iss/tracking.html.