NASA Space Station On-Orbit Status 12 August 2004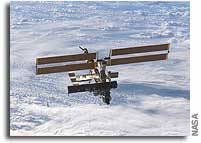 SpaceRef note: This NASA Headquarters internal status report, as presented here, contains additional, original material produced by SpaceRef.com (copyright © 2004) to enhance access to related status reports and NASA activities.
All ISS systems continue to function nominally, except those noted previously or below.   Day 117 in space for Expedition 9.  Also: Day 1349 of permanent human station residency, and Day 2093 since first ISS launch (FGB).
Progress 15P (M-50, #350) is performing "far rendezvous" maneuvers, closing in for Saturday morning's rendezvous & docking.  Capture at the Service Module (SM) aft end port is scheduled for 1:02am EDT.   [The Day 2 maneuver burn DV3 (4.5 m/s) was performed this morning at 1:04am.  Maneuver burn DV4 burn will be tomorrow morning at ~1:54am, followed by Progress Kurs-A activation and self-test, then DV5 (14.15 m/s) at ~10:53pm and DV6 burn (25.5 m/s) at 11:39pm.  As Kurs-A and Kurs-P (on SM) confer and "compare notes" at 12:06am (8/14), Klest TV camera & floodlight are turned on at 8 km (~12:12am) and three successive braking burns lead into flyaround mode (400 m), stationkeeping (170 m, ~12:39am), final approach (~12:52am), and docking (~1:02am).  15P carries 2540 kg (5600 lbs) of freight, consisting of 1380 kg (3042 lbs) dry cargo, 420 kg  (926 lbs) water, 50 kg (110 lbs) oxygen (O2) & air, and 690 kg (1521 lbs) propellants.  The dry cargo includes supplies and clothing for the Expedition 10 crew of CDR Leroy Chiao and FE Salizhan Sharipov.]
In preparation for the critical arrival of 15P, at 4:05am EDT this morning the crew conducted a 3-hr. training course on the TORU teleoperated control system for Progress.   [With the manual TORU mode, CDR Padalka can perform necessary guidance functions from the SM via two hand controllers in the event of a failure of the "Kurs" automated rendezvous and docking (AR&D) of the Progress.  92 min after the failed docking (i.e., one orbit later), Gennady would control the cargo ship's motions from a control panel, viewing the approach to the ISS on the Simvol-TS screen as seen by the Klest-M television camera mounted on the Progress.  Remote TORU control from the ground is not available at this point.  Today's training covered a review of the applicable data files, math modeling of the rendezvous, and a consultation with a ground instructor via UHF and S-band.  "Flown" on the simulator were all phases of rendezvous, flyaround, final approach and docking, plus off-nominal situations like no comm in the SM-to-15P or 15P-to-SM channels, loss of TV feed, display format hang-up on the SM's Simvol-TS screen, and docking failure in TORU before capture.]
For today's ADUM (Advanced Diagnostic Ultrasound in Micro-G) session, Fincke set up the equipment, including video and electronic still cameras, after which the crewmembers performed their first ultrasound cardiac (heart) and thoracic (chest) scans ("Scan A") on each other by taking turns as operator and subject.  Afterwards the hardware was deactivated and the scan heads were cleaned and stowed as part of closeout operations.    [After activation of the HRF (Human Research Facility) and the video tape recorder (VTR) by the ground, Mike powered up the HRF computer and the ADUM hardware and software.  Using the CMRS (crew medical restraint system) for strapping down the subject and electrodes for ECG (electrocardiogram) recording, the scans were taken of the subject's heart and chest, monitored remotely from the ground via privatized video and S/G (space-to-ground) on OCA comm.  The data were recorded, and the scanning and post-scan activities were videotaped and still-photographed for downlink.]
CDR Padalka later monitored the station's sanitary-hygiene status by performing microbial analysis on the air samples collected on 8/10 with the MO-21 "Ecosfera" air sampler and incubated since then in the MO-21 incubation equipment and incubated.   [MO-21 determines microbial contamination of the ISS atmosphere, specifically the total bacterial and fungal microflora counts and microflora composition according to morphologic criteria of microorganism colonies.]
In the SM, Gennady completed routine maintenance on the SM toilet facilities (ASU), replacing their pretreat container (E-K) plus hose with a new assembly and discarding the old one.  The CDR also recorded the counter (SPKU) reading of the toilet flush system (SP) before and after filling the E-K hose for downlink.   [E-K contains five liters of pre-treat solution, i.e., a mix of H2SO4 (sulfuric acid), CrO3 (chromium oxide, for oxidation and purple color), and H2O (water).  The pre-treat liquid is mixed with water in a dispenser (DKiV) and used for toilet flushing.]
Mike Fincke meanwhile continued cleaning up the ISS for the arrival of the Progress, including relocating stowage items to make room for cargo being brought up by 15P.
The crew completed their daily 2.5-hr. physical exercise program on TVIS, RED exerciser and VELO cycle with load trainer, and Mike performed the periodic (every other week) inspection of the RED.   [Scrutiny of downlinked photos of the RED harness cord by ground engineers showed that the thimble and cord do not appear to have sustained any damage or off-nominal wear.  It was recommended to the crew that they continue use of these cords, but let the ground know if any wear or degradation is observed infuture inspections.]
Gennady prepared the daily "delta" file update of the IMS (inventory management system) database on the ground.
Working from the Russian task list, the CDR also continued the current session with the Uragan ("hurricane") earth-imaging program, using the Kodak 760 DSC (digital still camera) with 800mm-lens from SM windows.   [Today's targets for his photo imagery were the Altai mountain range, the polygonal agricultural area of Aksai-Ilek, open pit mining areas near the city of Kottbus/Germany, the Black Earth Natural Reserve in Kalmykia, the city of Jarkuduk, the Salang mountain pass, and the city of Kabul.]
ECLS specialists are currently working on a jointly agreed-on repressurization profile for the post-15P arrival time.  Focus is on using O2/air from 15P in conjunction with N2 (nitrogen) from U.S. storage tanks.
Update on Elektron:  The Elektron O2 generator, continuing to be the leading trouble spot aboard the ISS, failed again yesterday (8/11) and had to be restarted by the crew.  The electrolysis machine was switched to 32-amp mode for increased O2 production to allow some extra margin in ppO2 (oxygen partial pressure) in case Elektron will have to be shut down for work next week.  Current efforts at TsUP/Moscow merely focus on outlining and developing a more reliable procedure for reacting to the increasingly frequent Liquid Unit (BZh) failures.  Beyond the current study efforts, an actual, very time-consuming IFM (inflight maintenance) is not scheduled for the immediate future, unless it becomes very critical.  Progress 15P will not deliver any new hardware for fixing Elektron (such as a new BZh), but supplementary micropumps brought up on 14P are being considered for addition to the current BZh-7 to boost (force) the water flow through the unit.
Update on Laptop 3:  Padalka's attempts yesterday to install the new software vers. 7.02 on the Russian laptop 3 (LT3) failed.  Data are being analyzed at TsUP.   [LT3 has been intended to serve as "cold" backup to LT1 and LT2.  Still operating on the older software load, it is currently unable to fulfill this function, but it can (and is) being used as payload computer.]
Update on S1 ETVCS:  As reported on 8/10, the S1 truss lower outboard TV camera (ETVC) system lost video a total of six times over the past weekend.  The video was recovered by power cycling the unit, and is now operating nominally.  In addition, the camera also has developed a "pinkish" tint.  The issues are being tracked, and the camera in question will be used for covering the 15P docking to gain additional data on its performance.
Yesterday afternoon, commercial power was interrupted at MCC-Houston.  The system switched to UPD (uninterrupted power supply) as per design, then back to commercial power.  All critical equipment remained powered during the event.   [One temporary casualty was the crew's IP (Interned Protocol) phone.]
The station continues to fly in XPOP attitude (X-axis perpendicular to orbit plane), pitch: 0.8 deg, yaw: -8.0 deg, roll: 0 deg, until 9/2, when it will switch to LVLH XVV in support of EVA-11, to return to XPOP on 9/4.
 
Major upcoming events:
Progress 15P docking — 8/14 (1:02am EDT);
Progress 15P thrusters tests — 8/18
ISS Reboost — 8/20 (delta-V = 1.5 m/s);
ISS Reboost — 8/25 (delta-V = 2.2 m/s);
EVA-11 — 9/3;
Soyuz 9S launch w/Leroy Chiao & Salizhan Sharipov — 10/9;
Soyuz 9S dock — 10/11;
Soyuz 8S undock/land — 10/19;
Soyuz 9S relocate — 11/18;
Progress 16P launch — 11/24.
Previous NASA ISS On-orbit Status Reports can be found here. Previous NASA Space Station Status Reports can be found here. Previous NASA Space Shuttle Processing Status Reports can be found here. A collection of all of these reports and other materials relating to Return to Flight for the Space Shuttle fleet can be found here.
ISS has been making quite a splash in the meteorological world.  The video and still imagery of Hurricanes Bonnie and Charley are "hot commodities" right now.  Today's CEO photo targets, limited in the current XPOP attitude by flight rule constraints on the use of the science window, which is available for only ~1/4 of each orbit when not facing forward (in "ram"), were Internal waves, Vietnam (additional sunglint opportunity off of Vietnam coast for comparison of internal wave variations over short timescales.  Looking right of track), Hurricane Bonnie (DYNAMIC EVENT; Bonnie was due for landfall in the Florida panhandle at the time of the ISS' overpass.  Storm center was slightly left of track), and Hurricane Charley (DYNAMIC EVENT; Charley will encounter western Cuba as a Category 2 hurricane and head for Florida.  This was a near-nadir pass; looking for the eye and banding features).
CEO images can be viewed at these websites:
See also the website "Space Station Challenge" at:
To view the latest photos taken by the expedition 9 crew visit:
U.S. & Russian Segment Status  (as of today, 1:42pm EDT)
Environmental Control and Life Support (ECLSS) and Thermal Control (TCS):
Elektron O2 generator is On (32A).  Vozdukh CO2 scrubber is On.  U.S. CDRA CO2 scrubber is Off.  TCCS (trace contaminant control subsystem) is operating.  SM Gas Analyzer has been calibrated and is used for ppO2 & ppCO2 monitoring.  MCA (major constituents analyzer) is in Life Extending Mode (LEM).  BMP Harmful Impurities unit: absorbent bed #1 in Purify mode, bed #2 in Purify mode.  RS air conditioner SKV-1 is On, SKV-2 is Off (SM panel mods completed 4/8; SKV-2 activation failed 4/20; is still considered failed).  SFOG slot #2 fan suspect (not usable).

SM Working Compartment:  Pressure (mmHg) — 738; temperature (deg C) — 26.6; ppO2 (mmHg) — 163.4; ppCO2 (mmHg) — 3.6.
SM Transfer Compartment:  Pressure (mmHg) — 736; temperature (deg C) — 20.7.
FGB Cabin:  Pressure (mmHg) — 744; temperature (deg C) — 23.7.
Node:  Pressure (mmHg) — 735.6; temperature (deg C) — 24.1 (shell); ppO2 (mmHg) — n/a; ppCO2 (mmHg) — n/a.
U.S. Lab:  Pressure (mmHg) — 737.2; temperature (deg C) — 24.5; ppO2 (mmHg) — n/a; ppCO2 (mmHg) — n/a.
Joint Airlock (Equip. Lock):   Pressure (mmHg) — 737.4; temperature (deg C) — 25.9; shell heater temp (deg C) — n/a, ppO2 (mmHg) — n/a; ppCO2 (mmHg) — n/a.

(n/a = data not available)
Electrical Power Systems (EPS):
Both P6 channels fully operational.  BGA (beta gimbal assembly) 2B and 4B both in Autotrack (solar-tracking, "sun slicer", i.e., drag reduction-biased by 47 deg).
SM batteries:  Battery #7 is on line in "Cycle" mode.  All other batteries (7) are on line in "Partial Charge" mode.  
FGB batteries:  Battery #4 is off line; all other batteries (5) are on line in "Partial Charge" mode.

Plasma Contactor Unit PCU-1 is in Standby mode; PCU-2 is in Standby mode.
Command & Data Handling Systems (C&DH)
C&C-1 MDM is prime, C&C-2 is backup, and C&C-3 is in standby.
GNC-2 MDM is prime; GNC-1 is backup.
INT-2 is operating; INT-1 is Off.
EXT-1 is On (primary), EXT-2 is Off (backup).
LA-1, LA-2 and LA-3 MDMs are all operating.
PL-1 MDM is Off; PL-2 MDM is Operational.
APS-1 (automated payload switch #1) and APS-2 are both On.
SM Terminal Computer (TVM): 3 redundant lanes (of 3) operational.
SM Central Computer (TsVM): 3 redundant lanes (of 3) operational.
FGB MDM-1 is Off (failed, 11/21/03); MDM-2 is Operational.
Propulsion System (PS):
Total propellant load available: 4068 kg (8968 lb) as of 8/5/04;  [SM(552) + FGB(3516) + Progress M(0)].  (Capabilities: SM — 860 kg; FGB — 6120 kg).
Attitude Control Systems (ACS):
3 CMGs on-line (CMG-1 failed, since 6/6/02; CMG-2's RPC-17 failed 4/21/04; was replaced 6/30/04).
State vector source — U.S. SIGI-1 (GPS)
Attitude source — U.S. SIGI-1 (GPS)
Angular rate source — RGA-1
Flight Attitude:
XPOP (x-axis perpendicular to orbit plane = "sun-fixed" [yaw: 0..5 deg, pitch: -9.0 deg., roll: 0 deg]), with CMG TA (thruster assist), until 8/14 for brief free drift (Inertial), then back to XPOP until 8/18 for 15P thruster tests and reboost 1 & 2.  LVLH will be regained on 9/2 for EVA-11, then back to XPOP on 9/4.
Communications & Tracking Systems (C&T):
FGB MDM-1 is powered Off; FGB MDM-2 is operational.
All other Russian communications & tracking systems are nominal.
S-band is operating nominally (on string 2).
Ku-band is operating nominally (may require a mask).
Audio subsystem is operating nominally (IAC-1 is prime, IAC-2 is off).
Video subsystem operating nominally.
HCOR (high-rate communications outage recorder) is operating nominally.
Robotics:
SSRMS/Canadarm2 based at Lab PDGF/LEE A, operational on redundant string, off on prime.
MBS: KA (keep alive) power on both strings. 
MT: latched and mated at WS4. 
POA: KA power on both strings.
RWS (robotics workstations): Lab RWS is On (DCP connected); Cupola RWS is Off.
ISS Orbit  (as of this morning, 7:32am EDT [= epoch]):
Mean altitude — 356.7 km
Apogee height — 360.5 km
Perigee height — 352.8 km
Period — 91.7 min.
Inclination (to Equator) — 51.63 deg
Eccentricity — 0.0005697
Solar Beta Angle — -35.5 deg (magnitude decreasing)
Orbits per 24-hr. day — 15.71
Mean altitude loss in last 24 hours — 90 m
Revolutions since FGB/Zarya launch (Nov. '98)  — 32716
ISS Altitude History
Apogee height — Mean Altitude — Perigee height
For more on ISS orbit and worldwide ISS naked-eye visibility dates/times, see http://www.hq.nasa.gov/osf/station/viewing/issvis.html. In addition, information on International Space Station sighting opportunities can be found at http://spaceflight.nasa.gov/realdata/sightings/ on NASA's Human Spaceflight website. The current location of the International Space Station can be found at http://science.nasa.gov/temp/StationLoc.html at NASA's Marshall Space Flight Center. Additional satellite tracking resources can be found at http://www.spaceref.com/iss/tracking.html.