NASA Space Station On-Orbit Status 11 May 2004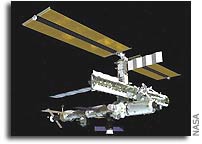 All ISS systems continue to function nominally, except those noted previously or below.
FE/SO Michael Fincke began the next round of EVA EMU battery recovery efforts, first terminating the final recharge of two NiMH (Nickel Metal Hydride) batteries started yesterday, then initiating recharge of the final set of EMU batteries.   [After the loss of battery chargers BC-1 and -2, only BC-3 and -4 remain in operation, necessitating a change in recharge "choreography".  These BCs take no pistol grip tool (PGT) batteries, and only one EMU helmet interchangeable portable (EHIP) light battery can be charged at a time in each.  After today's charging of two EMU batteries, only two of the EHIP batts still require charging.  For the EMU don/doff dry-run on 5/19, the goal is to have two EMU batts, two REBAs (rechargeable EVA battery assemblies) and four EHIP batts available, where the EMU batts will serve as backup against a station power loss (to allow recovery of suit fan power & communications with one switch throw), and the EHIP batts will enhance lighting conditions in the A/L CL (Airlock Crew Lock) compartment where currently there is only one lighting fixture working.]
CDR Gennady Padalka completed the scheduled replacement of ten warranty-expired smoke detectors (IDEh-2) in the FGB module with new units from FGB storage (## 96, 97, 99, 100, 101, 102, 103, 104, 105, 108), stowing the old units for disposal.
Fincke printed out the first uplinked version of EVA crew procedures for review.  Later, also in preparation for the 5/19 EMU dry run, the Science Officer worked on clearing out stowed equipment from the A/L to make access room for suit ops, transferring the bags temporarily to the Node.
Mike set up the EarthKAM (Earth Knowledge Acquired by Middle school students, EK) hardware for another run in the Service Module/SM (because of Lab window unavailability), making connections to the Russian 28V power supply and an SSC (station support computer) laptop and activating the automated/remote-controlled process.   [EarthKAM (Earth Knowledge Acquired by Middle school students) is using a Kodak ESC 460C electronic still camera with 50mm (f/1.4) lens, now powered by 16Vdc from a 28 Vdc adapter.  EK takes pictures by remote operation from the ground, without crew interaction. It is available for students who submit image requests and conduct geographic research. The requests are uplinked in a camera control file to an IBM 760XD SSC laptop which then activates the camera at specified times and receives the digital images from the camera's storage card on its hard drive, for subsequent downlink via OPS LAN.]
Gennady checked out signal paths in the SM's water supply system, whose control subsystem has long been falsely indicating "Full KTV" for the non-potable water container (KTV).   [Objective of Gennady's' task (as Kaleri's before him) was to verify the adequacy of currently used measures to prevent the false "KTV is Full" indication while the check valves (M3-3, M3-2) on the primary & backup water manifolds from the air/gas separator are open.  The condensate water processor (SRV-K2M) was subsequently reconfigured to its original state.]
Afterwards, the CDR performed the periodic replenishing of the Elektron's water supply for electrolysis, filling the KOV thermal loops' EDV container with purified (deionized) water from the BKO multifiltration/purification column unit.   [The procedure, which is specially designed to prevent air bubbles from getting into the BZh liquid unit, possibly causing micropump impeller cavitation and Elektron shutdown, appears to have worked quite successfully to date.  The EDV water is drawn from the BKO and the air/liquid separator unit (GZhS) while the crewmember checks for any air bubbles in the EDV (and, if visible, estimates their number).]
Mike Fincke conducted the daily leak check of the Lab window's inter-pane space ("Volume D"), using the "Aeolus" scopemeter with pressure probe.  Today's pressure reading was 432 Torr (mmHg), or 8.35 psi.
Padalka completed the daily routine maintenance of the SM's SOZh life support system and prepared the daily "delta" file for updating the IMS (inventory management system) database(s).
Both crewmembers again had one hour each for general station familiarization and acclimatization, as is standard daily rule for the first two weeks after starting station residency.
The crew completed their daily 2.5-hr. physical exercise program on TVIS, RED exerciser and VELO cycle with load trainer.  Fincke performed the prescribed weekly maintenance check of the treadmill and its wire ropes (dampers).   [Engineers continue to investigate the crew-reported problems with the TVIS control panel (resets to zero in motorized mode).  While diagnostics is underway, Mike and Gennady are using the treadmill in passive mode, but with VIS (vibration isolation system) active.]
At ~10:00am EDT, survival heaters on several ORUs (orbit replaceable units) on the S0 truss segment were activated "manually" by ground command, in preparation for the subsequent transition of MDM (multiplexer/demultiplexer) computers on the S0 to diagnostics, followed by loading with upgrade software (s/w).
At 11:30am (one orbit later), the scheduled four-day loading of U.S. s/w on two pairs of MDMs on the S0 truss began.   [Today's procedure consisted of loading the first computer, S0-1 MDM, a subtier of the EXT MDMs, with the s/w upgrade R2.  The procedure will be repeated tomorrow on S0-2, followed on Thursday and Friday by transition of the two EXT MDMs to vers. R4.]
The regular Russian daily program plan (DPP) of comm exchange between the ISS and RGS (Russian ground sites) routinely consists of RCT (Russian contingency telemetry), regular telemetry, power bus checks in DC-1 "Pirs" and SM "Zvezda", smoke detector test, uplinks to the automated timeline sequencer (SPP) and other sequencers for special events such as SM & FGB battery moding, air flow meters test, BOKZ star tracker emergency buffer dump, daily time synchronization, and uplinks of state vector and FGB flight program.  Telemetry monitoring includes the Soyuz and Progress vehicles.
Today's CEO targets, in the current LVLH attitude no longer limited by flight rule constraints on the use of the Lab nadir/science window, except for the shutter closure and condensation-prevention plan (limited to 90 min. in 24 hours), were Galapagos Islands, Pacific (Dynamic event.  Nadir pass over one of the geographic sources of Darwin's theory of evolution), Jarvis Island, Central Pacific (the encircling coral reef is of interest), Patagonian Glaciers (weather was not ideal but the east side of the southern Andes may have been clear enough to reveal small glacier snouts near nadir that are of greatest interest as targets for this Increment), and Bagana Volcano, Papua, New Guinea (Dynamic event.  One of the most active volcanoes in the region, Bagana, located on Bougainville Island, is erupting again.  The ISS passed just offshore, which should have given the crew a good perspective, looking right, in the middle of long, thin Bougainville Island.  But there were cloud masses in the region that could obscure the volcano.  The first known eruption of Bagana was in 1842.  Since then there have been at least 22 eruptions.  Most of the eruptions have been explosive.  Several people were killed by the "great explosion" in December 1883 or January 1884.  Bagana has been erupting since 1972, creating slow-moving lava flows).
CEO images can be viewed at the websites.
See also the website "Space Station Challenge" at
U.S. and Russian Segment Status  (as of today, 2:35pm EDT).
Environmental Control and Life Support (ECLSS) and Thermal Control (TCS):
Elektron O2 generator is On.  Vozdukh CO2 scrubber is On.  U.S. CDRA CO2 scrubber is Off.  TCCS (trace contaminant control subsystem) is operating.  SM Gas Analyzer has been calibrated and is used for ppO2 & ppCO2 monitoring.  MCA (major constituents analyzer) is in Life Extending Mode (LEM).  BMP Harmful Impurities unit: absorbent bed #1 in Purify mode, bed #2 in Purify mode.  RS air conditioner SKV-1 is On, SKV-2 is Off (SM panel mods completed 4/8; SKV-2 activation failed 4/20).  SFOG slot #2 fan suspect (not usable).

SM Working Compartment:  Pressure (mmHg) — 742; temperature (deg C) — 24.8; ppO2 (mmHg) — 156.3; ppCO2 (mmHg) — 2.6;
SM Transfer Compartment:  Pressure (mmHg) — 751; temperature (deg C) — 20.7.
FGB Cabin:  Pressure (mmHg) — 752; temperature (deg C) — 21.7.
Node:  Pressure (mmHg) — 747.17; temperature (deg C) — 22.6 (shell); ppO2 (mmHg) — n/a; ppCO2 (mmHg) — n/a.
U.S. Lab:  Pressure (mmHg) — 748.56; temperature (deg C) — 24.8; ppO2 (mmHg) — n/a; ppCO2 (mmHg) — n/a.
Joint Airlock (Equip. Lock):   Pressure (mmHg) — 749.66; temperature (deg C) — 25.1; shell heater temp (deg C) — n/a, ppO2 (mmHg) — n/a; ppCO2 (mmHg) — n/a.

(n/a = data not available)

PMA-1:  Shell heater temp (deg C) — n/a
PMA-2:  Shell heater temp (deg C) — n/a.
Electrical Power Systems (EPS):
Both P6 channels fully operational.  BGA (beta gimbal assembly) 2B and 4B both in Directed position (blind, dual-angle mode with "night glider"/"sun slicer" drag reduction sweep, non solar-tracking" 2B @ 235 deg, 4B @ 125 deg.)
SM batteries:  Battery #6 is off line; battery #3 is in Cycle (RTs) mode; all other batteries (6) are on line in "Partial Charge" mode.  
FGB batteries:  Battery #1 is in Cycle (RTs) mode; all other batteries (5) are on line in "Partial Charge" mode.
Plasma Contactor Unit PCU-1 is in Standby mode; PCU-2 is in Standby mode.
Command & Data Handling Systems:
C&C-1 MDM is prime, C&C-2 is backup, and C&C-3 is in standby.
GNC-2 MDM is prime; GNC-1 is backup.
INT-2 is operating; INT-1 is Off.
EXT-1 is On (primary), EXT-2 is Off.
LA-1, LA-2 and LA-3 MDMs are all operating.
PL-1 MDM is Off; PL-2 MDM is Operational.
APS-1 (automated payload switch #1) and APS-2 are both On.
SM Terminal Computer (TVM): 2 redundant lanes (of 3) operational (string 1 dropped out 11/22/03).
SM Central Computer (TsVM): 2 redundant lanes (of 3) operational (string #3 dropped out 10/22/03).
FGB MDM-1 is Off (failed, 11/21/03); MDM-2 is Operational.
Propulsion System:
Total propellant load available: 3725 (8212 lb) as of 5/5/04;  [SM(693) + FGB(2373) + Progress M-1(659)].  (Capability: SM — 860 kg; FGB — 6120 kg).
Attitude Control Systems:
2 CMGs on-line (CMG-1 failed, since 6/6/02; CMG-2's RPC-17 failed 4/21/04).
State vector source — U.S. SIGI-1 (GPS)
Attitude source — U.S. SIGI-1 (GPS)
Angular rate source — RGA-1
Flight Attitude:
LVLH YVV (local vertical/local horizontal = "earth-fixed": z-axis in local vertical, y-axis in velocity vector [yaw: -90 deg, pitch: -9 deg, roll: 1.7 deg]), with CMG/TA (thruster assist) Momentum Management.
Communications & Tracking Systems:
FGB MDM-1 is powered Off; FGB MDM-2 is operational.
All other Russian communications & tracking systems are nominal.
S-band is operating nominally (on string 2).
Ku-band is operating nominally (may require a mask).
Audio subsystem is operating nominally (IAC-1 is prime, IAC-2 is off).
Video subsystem operating nominally.
HCOR (high-rate communications outage recorder) is operating nominally.
Robotics:
SSRMS/Canadarm2 based at Lab PDGF/LEE A, operational on redundant string, off on prime.
MBS: KA (keep alive) power on both strings. 
MT: latched and mated at WS4. 
POA: KA power on both strings.
RWS (robotics workstations): Lab RWS is On (DCP connected); Cupola RWS is Off.
ISS Orbit  (as of this morning, 7:20am EDT [= epoch]):
Mean altitude — 360.8 km
Apogee — 368.2 km
Perigee — 353.3 km
Period — 91.76 min.
Inclination (to Equator) —  51.63 deg
Eccentricity — 0.0011039
Orbits per 24-hr. day — 15.69
Mean altitude loss last 24 hours — 55 m
Revolutions since FGB/Zarya launch (Nov. '98)  — 31255
For more on ISS orbit and worldwide ISS naked-eye visibility dates/times, see http://www.hq.nasa.gov/osf/station/viewing/issvis.html