NASA Space Station On-Orbit Status 10 March 2006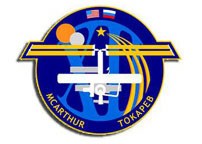 SpaceRef note: This NASA Headquarters internal status report, as presented here, contains additional, original material produced by SpaceRef.com (copyright © 2006) to enhance access to related status reports and NASA activities.
All ISS systems continue to function nominally, except those noted previously or below. 
After opening Service Module (SM) panel #128 to prevent overheating of the Russian payload server (BSPN), FE Tokarev activated the BSPN for downloading system data/log files to the ISS Wiener laptop and onto a FlashCard, to be dumped to the ground for analysis on TsUP Go.  BSPN was later turned off again.   [The data transfer, required for periodic analysis of server condition, was preceded by a comm check between the ISS Wiener laptop and the BSPN.]
Afterwards, Valery prepared his 22nd NOA (Nitric Oxide Analyzer) regular (non-EVA) weekly session in the DC1 Docking Compartment and then conducted the procedure, afterwards dumping the measurements from the RSE laptop to the ground via the BSR-TM telemetry channel.   [Purpose of the ESA VC9 payload ESANO1, consisting of the "Platon" analyzer and its power supply, is to monitor expired nitric oxide (NO) in the subject's exhaled air to detect signs of airway inflammation and indications of venous gas emboli (bubbles) that may be caused by inhalation of pollutants on the ISS and increased risk of decompression sickness.  The test sessions are being conducted once a week, with two NO measurements in the exhaled air (after rinsing out with Rodnik water) taken in each session through a bacterial filter.  Today's measurement ops were recorded in the Platon log and supported by ground specialist tagup via S-band.  To prevent skewing the measurements, Valery had to prepare for the session by excluding food items containing nitrites and nitrates (such as in processed meat, assorted vegetables, stewed cabbage, etc.) from his diet for 24 hours before the weekly experiment.]
After some more ground-commanded maneuvering of the SSRMS (Space Station Remote Manipulator System), finally moving it away from the Lab window field of view to its "clearance" stow position, McArthur deactivated the VDS (Video Distribution System) and disconnected and removed the UOP DCP (utility outlet panel/display & control panel) bypass power cable at the Lab RWS (Robotics Work Station) that supported video camera ops.   [The Robotics flight control team at MCC-H used the ground-controlled SSRMS ops to perform video surveys of the nadir-IUA (Interface Umbilical Assembly) on the MT (Mobile Transporter) and then the CDRA (Carbon Dioxide Removal Assembly) vent on the US Lab module.  These operations represented the first "business as usual" use of MSS (Mobile Servicing System) ground control since that capability was declared operational. MSS performance was nominal and the ops were completed on time.]
Today's major task by CDR McArthur, the replacement of the Flexpacks in the two RED (resistive exercise device) canisters, along with external splines and spacers, with on-orbit spares, was performed already yesterday so that the CDR could observe today's ground-control SSRMS ops.   Today, Bill completed the regular calibration of both canisters, to confirm a good Flexpack replacement and allow adjustment of the crew's exercise protocols accordingly.   [The RED Flexpack assemblies, external splines, and spacers are approaching their certified life of 289,000 cycles.  The canister cords were already replaced by McArthur in January this year.  Upon receipt of the results of the calibration data, ground specialists were to review the data and, assuming favorable engineering analysis, will get back to the crew quickly to give them a GO for their RED exercise session.  Calibration of the load settings of the pulley cans is performed with an on-orbit calibration kit with a special calibration tool and steel handles.]
In the Soyuz TMA-7/11S, FE Tokarev turned off the gas analyzer (GA), which he had activated on 3/8.
At ~3:25am EST, Valery conducted the weekly IMS tagup with specialists at TsUP/Moscow, discussing open issues concerning identification of equipment and stowage locations for the IMS databases via S-band. [Topics of discussion included identification of some bar codes and location of a PCMCIA memory card.]
Valery completed the periodic (about twice a month) replenishing of the Elektron's water supply for electrolysis, his ninth, filling the KOV thermal loops' EDV container with purified (deionized) water from a filled EDV with water from the BKO multifiltration/purification column unit, following carefully written instructions.   [The 30-minute procedure is specially designed to prevent air bubbles larger than ~10 mm from getting into the BZh-8 Liquid Unit where they could cause Elektron shutdown.  In the procedure, the BKO water is carefully pumped with a compressor from the EDV-1 through the air/liquid separator unit (GZhS) into the empty EDV-2 while the crewmember checks for any air bubbles accumulating in the GZhS (and, if visible, estimates their number, with no more than two 1 cm diameter bubbles permitted in EDV-2). Elektron water is also supplied from U.S. condensate in a CWC (collapsible water container) that is checked for its contents of air bubbles and is rejected if the estimated total air bubble volume is more than 30 cubic centimeters (1 cm air bubble is about 0.5 ccm).]
Tokarev performed the software upgrade (Part 2) of the Russian payload matching unit/computer (BSMM) by loading it with its new software from the hard disk drive of the ISS Wiener laptop.
McArthur conducted another periodic atmospheric status check for ppO2 (Partial Pressure Oxygen) and ppCO2 (pp Carbon Dioxide), using the CSA-O2 (Compound Specific Analyzer-Oxygen Sensor).
The FE worked on the VELO cycle ergometer (VB-3), outfitting it with a new foot support plate for the NS-1 force loader, brought up previously by Progress 19 and stowed in the SM.  The task included rerouting and reinstalling cabling of the BKS onboard cable network.
Valery completed the daily routine maintenance of the SM's environment control & life support system (SOZh), including its toilet system (ASU), and also updated/edited the standard IMS "delta file", including locations, for the regular weekly automated export/import to its three databases on the ground (Houston, Moscow, Baikonur).
Both crewmembers worked out in their regular 2.5-hr. physical exercise program on the TVIS treadmill, RED resistive exerciser and VELO bike with bungee cord load trainer.   [Valery's daily protocol prescribes a strict four-day microcycle exercise with 1.5 hr on the treadmill in unmotorized mode and one hour on VELO plus load trainer (today: Day 4 of the first set).]
Afterwards, the CDR transferred the exercise data files to the MEC (Medical Equipment Computer) for downlink, as well as the daily wristband HRM (heart rate monitor) data of the workouts on RED, followed by their erasure on the HRM storage medium (done six times a week).
Working off his discretionary "time available" task list, Tokarev completed his regular checkup on the Japanese experiment GCF-JAXA (Granada Crystallization Facility) in the Russian TBU incubator, maintained at 20 degC, including a temperature check on its ART (automatic temperature recorder).   [This daily monitoring/temp checking, carried on the Russian voluntary "time available" task list, will continue until 4/30.]
Also on Valery's voluntary list for today was the regular periodic photographing and subsequent downlinking of data & imagery collected of the BIO-5 Rasteniya-2 ("Plants-2") experiment and transferred to the computer.  Working off his "time available" voluntary task list, he also recharged the water tank.   [Rasteniya researches growth and development of plants under spaceflight conditions in the Lada-8 greenhouse.  The regular maintenance of the experiment (each Monday, Wednesday, Friday and Sunday) involves monitoring of seedling growth, humidity measurements, moistening of the substrate if necessary, topping off the water tank if ~20-25% of the total amount (4 liters) remains, and photo/video recording.  Once weekly, data from the Lada greenhouse control unit are recorded on floppy disk for weekly downlink via REGUL-Packet or the new BSR-TM at a suitable occasion.]
As a third discretionary task item, the FE was to go through the contents of a CTB (Crew Transfer Bag, #1012) in the FGB, searching for an air duct section that will be installed in the Soyuz TMA-7 Descent Module after the spacecraft's relocation.
At ~2:30pm EST, Bill and Valery will conduct their standard weekly teleconference with the JSC Astronaut Office (Kent Rominger), via S-band S/G (space-to-ground).
Also, at 2:55pm EST, the crew is scheduled for their twelfth regular (nominally weekly) tagup with the Lead Flight Director at MCC-H and TsUP/Moscow via S-band/audio, with a phone patch between Houston and Moscow.
At 7:25am, ISS attitude was changed with a 30-min. maneuver by USTO (U.S. Thruster Only) controller from earth-fixed LVLH (local vertical/local horizontal) to quasi-inertial (solar-pointing) XPOP (x-axis perpendicular to orbit plane).
The ATV PCE (Automated Transfer Vehicle Proximity Communications Equipment, MBRL) end-to-end checkout verified proper installation and operation of the WAL2 (Low Gain Antenna) and WAS3 (Medium Gain Antenna) antennae as well as the internal PCE equipment.   [Preliminary data indicated that the two sets of data from the Daily Orbit 3 (DO3) test look quite similar to the one from last year obtained from ESA's Maspalomas (MAS) ground station.  DO7 values were in line with the calculated values for the WAL2 and PLIST (Proximity Link ISS S-bank Transponder) #1 over Villafranca (VIL) Ground Station.  For DO8, the results are inconclusive because a ground antenna at the MAS site was transmitting at the same time during the pass and caused some interference.]
Today's CEO (Crew Earth Observation) photo targets, limited in the current XPOP attitude by flight rule constraints on the use of the Lab nadir/science window, which is available for only ~1/4 of each orbit when not facing forward (in ram), were Dhaka, Bangladesh (this capital city lies on a branch of the Brahmaputra River, about 150 km inland from the Bay of Bengal), and Chad dust event (Dynamic event.  The Chad basin is one of the most vigorous dust sources on the planet, and has been active for four days.  Another strong set of dust plumes is visible on weather satellites.  Looking left and right, especially for the margins of any dust masses.  Slight underexposure also reveals lighter dust loadings).
To date, more than 186,000 of CEO images have been taken in the first five years of the ISS, almost one third of the total number of images taken from orbit by astronauts.
  CEO photography can be viewed and studied at the websites:
See also the website "Space Station Challenge" at:
To view the latest photos taken by the expedition 12 crew visit:
Expedition 12 Flight Crew Plans can be found at http://spaceflight.nasa.gov/station/timelines/
Previous NASA ISS On-orbit Status Reports can be found here. Previous NASA Space Station Status Reports can be found here. Previous NASA Space Shuttle Processing Status Reports can be found here. A collection of all of these reports and other materials relating to Return to Flight for the Space Shuttle fleet can be found here.
ISS Orbit  (as of this morning, 3:29am EST [= epoch]):
Mean altitude — 346.8 km
Apogee height – 352.4 km
Perigee height — 341.1 km
Period — 91.47 min.
Inclination (to Equator) — 51.64 deg
Eccentricity — 0.0008402
Solar Beta Angle — -11.0 deg (magnitude increasing)
Orbits per 24-hr. day — 15.74
Mean altitude loss in last 24 hours — 90 m
Revolutions since FGB/Zarya launch (Nov. 98) — 41758
Events Ahead (all dates Eastern & tentative):
03/15/06 — ISS reboost (by SM main prop sys.; mnvr. back to XPOP after burn)
03/20/06 — Soyuz TMA-7/11S relocation (FGB nadir port to SM aft port)
03/30/06 — Soyuz TMA-8/12S launch (Pavel Vinogradov/Russia, Jeffrey Williams/US, Marcos Pontes/Brazil, 9:29pm EST)
04/01/06 — Soyuz TMA-8/12S docking (FGB nadir port, 11:11pm EST; mnvr. to LVLH XVV after dock)
04/09/06 — Soyuz TMA-7/11S undocking (4:15pm EDT) & land (7:40pm); (mnvr. to XPOP after undock)
04/18/06 — Soyuz TMA-8/12S relocation (FGB nadir port to SM aft end port)
04/24/06 — Progress M-56/21P launch
04/26/06 — Progress M-56/21P docking (DC1)
05/03/06 — ULF1.1 launch (NET, not earlier than)
06/15/06 — U.S. EVA (under review)
06/19/06 — Progress M-55/20P undocking & reentry
06/28/06 — Progress M-57/22P launch
06/30/06 — Progress M-57/22P docking
07/01/06 — 12A launch (under review)
07/31/06 — Russian EVA-16 (under review)
09/13/06 — Progress M-56/21P undocking & reentry
09/14/06 — Soyuz TMA-9/13S launch
09/16/06 — Soyuz TMA-9/13S docking (FGB nadir port)
09/24/06 — Soyuz TMA-8/12S undocking & reentry
09/28/06 — Soyuz TMA-9/13S relocation (FGB nadir port to DC1)
10/18/06 — Progress M-58/23P launch
10/20/06 — Progress M-58/23P docking
12/19/06 — Progress M-57/22P undocking & reentry
12/20/06 — Progress M-59/24P launch
12/22/06 — Progress M-59/24P docking

ISS Altitude History
Apogee height — Mean Altitude — Perigee height
For more on ISS orbit and worldwide ISS naked-eye visibility dates/times, see http://www.hq.nasa.gov/osf/station/viewing/issvis.html. In addition, information on International Space Station sighting opportunities can be found at http://spaceflight.nasa.gov/realdata/sightings/ on NASA's Human Spaceflight website. The current location of the International Space Station can be found at http://science.nasa.gov/temp/StationLoc.html at NASA's Marshall Space Flight Center. Additional satellite tracking resources can be found at http://www.spaceref.com/iss/tracking.html.