NASA Space Station On-Orbit Status 1 September 2004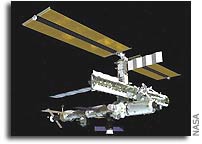 SpaceRef note: This NASA Headquarters internal status report, as presented here, contains additional, original material produced by SpaceRef.com (copyright © 2004) to enhance access to related status reports and NASA activities.
All ISS systems continue to function nominally, except those noted previously or below. 
CDR Padalka's station inspection this morning included the regular monthly routine checkup in the DC1 "Pirs" docking module on the AZS circuit breakers on the BVP Amp Switch Panel (they should all be On) and the LEDs (light-emitting diodes) of 14 fuses in Fuse Panels BPP-30 & BPP-36 (last time done: 8/2).
Houston and Moscow report all station systems in a normal configuration, ready for final reconfiguration for Friday's EVA-11 as per the timeline (see below).
Continuing to ready their spacesuit equipment and the DC1 airlock for the spacewalk, the crew tagged up with ground experts on some special removable components and tools to be attached to the Orlans.   [Yesterday's checkout activities of telemetry and VHF comm links on both Orlans were completely successful and met all objectives (after an initial misconfiguration of the comm panel in the Service Module (SM) which temporarily prevented Tranzit-B comm from the suits, i.e., with electrical umbilicals disconnected).]
Tagging up with specialists, Padalka and Fincke also discussed operational procedures for conducting the EVA.   [Closeout photos from before the FGB and SM launches were uplinked to illustrate special retainer plates on these modules that have to be unlocked for the external installation of the new coolant loop flow control valve and the antennas.] 
In support of the ongoing investigation of the "mystery" torque on the ISS, observed during previous Orlan EVAs, an "immobility experiment" was added to the EVA timeline, which will have the crewmembers trying to remain as motionless as possible for 10-15 minutes during the spacewalk's first night pass (1:56-2:26pm EDT) while hanging on to FGB handrails.
Continuing the current round of the monthly preventive maintenance of RS air ventilation systems, the CDR today cleaned the Group B ventilation fans in the SM, including a checkout of the ventilators and a thorough cleaning of fan screens and flexible air ducts.
Science Officer Fincke terminated the recharge on battery #1 of the MedOps defibrillator equipment to full capacity and subsequently performed it on battery #2.   [Each battery was charged for ~3.5 hrs, and its open-circuit voltage was tested with the "Aeolus" volt/amp scopemeter, then removed and stowed again.  Nominally, the defib has a battery installed at all times, but with this particular unit the PDIM (power data interface module) is not functioning properly and would overcharge the batteries if left inside.  They have to be charged every 60 days along with the defib checkout, performed yesterday.]
Starting at ~12:50pm, on TsUP Go, and lasting for ~3.5 hrs, ISS cabin atmosphere was repressurized with air from Progress 15 tankage to a target total pressure level of 760-765 mmHg (Torr), supported by the CDR.
More onboard computer maintenance kept Mike Fincke busy for a 2-hr. task of "ghosting" two PCS (personal computer system) hard drives with the new R2 software load.   [Since the two hours allotted may not have sufficed for both HDDs, Mike was given the option of doing the second drive at a later date.]
Gennady completed another daily inspection of the BIO-5 Rasteniya-2 ("Plants-2") experiment which researches growth and development of plants under spaceflight conditions in the Lada-5 greenhouse.
Mike performed the load calibration of the new SchRED (Schwinn resistive exercise device) flexpack canisters #1002 & #1004 that came up on Progress 15.   [For calibrating the load settings of the pulley cans on orbit, there is a calibration kit on board with a special calibration tool and steel handles.]
The CDR conducted today's routine inspection of the SM's SOZh life support system (including replacement of ASU toilet facility inserts) and the preparation of the regular IMS (inventory management system) "delta" file for export/import to the IMS databases, while the FE took on the routine status checkup of the autonomous PCG-STES010 (Protein Crystal Growth-Single Locker Thermal Enclosure System) payload in the Lab (done every Monday, Wednesday and Friday).
The crew completed its daily physical exercise on TVIS treadmill, CEVIS cycle ergometer, RED resistive exerciser, and VELO stationary bike with load trainer.
The crew reported that Padalka's PCMCIA (portable computer memory card international adapter) memory card for the TVIS is no longer functioning and was replaced by a spare (#1017).  An attempt to reload the old card (#1013) failed; as a result of the failure seven sessions of exercise data of the CDR are lost.
At 2:40pm (Daily Orbit 15), Padalka was to downlink the video imagery of the NTO/oxidizer line purge conducted on Progress 13 back in May prior to its departure.   [The two-minute recording was shot by Gennady on 5/20 through the DC1 EV1 hatch window and remained stored on tape since then.]
Yesterday's overnight checkout of the flow control valve (RRZh) of the FGB external coolant loop #1 (NGÊ1) was completed.  TsUP-Moscow reports that the plan to change out the loop #1 RRZh during EVA-11 remains unchanged.
TsUP is investigating a potential problem on the Elektron O2 generator with the Liquid Unit (BZh) inlet valve (KZ-1).  The crew reported that the control panel did not show valve closure as expected after the container had filled.  It is unclear whether the problem is related to a micro switch failure or if the valve is not closing properly.  The Elektron continues to operate in 20-amp mode.
At 9:30pm tonight, ISS attitude control will be handed over from the U.S. control moment gyros (CMGs) to the Russian motion control system (MCS) for thruster maneuvering from sun-pointing XPOP (x-axis perpendicular to orbit plane) to earth-oriented LVLH (local vertical/local horizontal) attitude, in preparation for EVA-11.
Major upcoming events:
EVA-11 — 9/3 (hatch open 12:50pm EDT);
Soyuz 9S launch — 10/9;
Soyuz 9S dock — 10/11;
Soyuz 8S undock/land — 10/19;
Soyuz 9S relocate — 11/18;
Progress 16P launch — 11/24.
EVA-11 (Friday, 9/3) — Main timeline activities (all times Eastern Daylight):
11:09am — isolate DC1 airlock from ISS/RS interior;
12:50pm — open DC1 EV1 hatch;
1:01pm — egress DC1;
1:27pm — translate to FGB & secure sealed container (GK) with spare flow regulator valve (RRZh);
1:34pm — remove old RRZh from FGB external coolant loop #1 & install new one;
1:53pm — install fairleads (spiral shaped tether holders) on FGB handrails;
1:56-2:26pm — night pass (eclipse); conduct "immobility" experiment
2:26pm — install fairleads;
2:38pm — return old RRZh valve in airtight GK container to DC1;
3:06pm — take photos of BKDO contamination monitoring unit on DC1 and MPAC/SEED units on SM;
3:26pm — translate to rear of SM;
3:28-3:58pm — night pass (eclipse); crew rest;
3:59pm — install three WAL antennas for the ATV;
4:59-5:30pm — night pass (eclipse); crew rest;
5:30pm — install three WAL antennas for the ATV & remove covers from all 5 ATV antennas;
6:12pm — translate back to DC1;
6:31pm — install handrail limiters;
6:37pm — ingress DC1;
6:45pm — close EV hatch 1.
More information and background material on EVA 4 can be found at the Expedition 9 EVA 4 Reference Page
U.S. CMGs will have attitude control throughout the EVA.  SM thrusters will be inhibited at 2:30pm, prior to the crew's translation to the SM and uninhibited at 6:30pm on the crew's return to the DC1.  CMG momentum saturation is not expected to occur, but if desaturation should indeed become necessary the crew will get out of the "keep out" zones on the SM, with the station in free drift (for up to one orbit) before thrusters are "armed".  In case of comm loss (LOS) during orbital day, the crew will proceed with task execution until the next eclipse (night pass), then retreat to the safe zone.
Expedition 9 Flight Crew Plans can be found at http://spaceflight.nasa.gov/station/timelines/
Previous NASA ISS On-orbit Status Reports can be found here. Previous NASA Space Station Status Reports can be found here. Previous NASA Space Shuttle Processing Status Reports can be found here. A collection of all of these reports and other materials relating to Return to Flight for the Space Shuttle fleet can be found here.
Today's CEO photo targets, limited in the current XPOP attitude by flight rule constraints on the use of the science window, which is available for only ~1/4 of each orbit when not facing forward (in "ram"), were Glacial features, W Libya (this overpass provided an opportunity for an oblique view of the southern region of exposed relict subglacial riverbeds.  Longer-lens photography was useful for framing subsequent detailed nadir data acquisition), Internal waves, Amazon River mouth (clear weather is present to the NE of South America for internal wave photography.  The sunglint point was to the left of track and slightly in front of ISS), Hurricane Frances (Dynamic Event. Frances is currently brushing the northern coast of Hispaniola.  The sun position provides excellent lighting for photographs of the hurricane eye and storm cloud tops), and Internal waves, Tuamotu Archipelago (mostly clear weather was predicted for the southern Pacific for internal wave photography.  The sunglint point was to the left of track. The overpass provided an opportunity to capture waves within the central Archipelago).
CEO images can be viewed at these websites:
See also the website "Space Station Challenge" at:
To view the latest photos taken by the expedition 9 crew visit:
U.S. & Russian Segment Status  (as of today, 1:32pm EDT)
Environmental Control and Life Support (ECLSS) and Thermal Control (TCS):
Elektron O2 generator is On.  Vozdukh CO2 scrubber is On.  U.S. CDRA CO2 scrubber is Off.  TCCS (trace contaminant control subsystem) is operating.  SM Gas Analyzer has been calibrated and is used for ppO2 & ppCO2 monitoring.  MCA (major constituents analyzer) is in Life Extending Mode (LEM).  BMP Harmful Impurities unit: absorbent bed #1 in Purify mode, bed #2 in Purify mode.  RS air conditioner SKV-1 is On. SKV-2 is Off (SM panel mods completed 4/8; SKV-2 activation failed 4/20; is still considered failed).  SFOG slot #2 fan suspect (not usable).

SM Working Compartment:  Pressure (mmHg) — 743; temperature (deg C) — 26.5; ppO2 (mmHg) — 161.8; ppCO2 (mmHg) — 3.7.
SM Transfer Compartment:  Pressure (mmHg) — 741; temperature (deg C) — 21.1.
FGB Cabin:  Pressure (mmHg) — 744; temperature (deg C) — 22.3.
Node:  Pressure (mmHg) — 744.5; temperature (deg C) — 25.7 (shell); ppO2 (mmHg) — n/a; ppCO2 (mmHg) — n/a.
U.S. Lab:  Pressure (mmHg) — 746.8; temperature (deg C) — 24.9; ppO2 (mmHg) — n/a; ppCO2 (mmHg) — n/a.
Joint Airlock (Equip. Lock):   Pressure (mmHg) — 746.2; temperature (deg C) — 25.9; shell heater temp (deg C) — n/a, ppO2 (mmHg) — n/a; ppCO2 (mmHg) — n/a.

(n/a = data not available)
Electrical Power Systems (EPS):
Both P6 channels fully operational.  BGA (beta gimbal assembly) 2B and 4B both in Autotrack (solar-tracking, "sun slicer", i.e., drag reduction-biased by 47 deg angle (2B: +47, 4B: -47).
SM batteries:  All batteries (8) are on line in "Partial Charge" mode.  
FGB batteries:  Battery #1 is off line; battery #4 is in "Cycle" mode.  All other batteries (4) are on line in "Partial Charge" mode.
Plasma Contactor Unit PCU-1 is in Standby mode; PCU-2 is in Standby mode.
Command & Data Handling Systems (C&DH)
C&C-1 MDM is prime, C&C-2 is backup, and C&C-3 is in standby.
GNC-2 MDM is prime; GNC-1 is backup.
INT-2 is operating; INT-1 is Off.
EXT-1 is On (primary), EXT-2 is Off (backup).
LA-1, LA-2 and LA-3 MDMs are all operating.
PL-1 MDM is Off; PL-2 MDM is Operational.
APS-1 (automated payload switch #1) and APS-2 are both On.
SM Terminal Computer (TVM): 3 redundant lanes (of 3) operational.
SM Central Computer (TsVM): 3 redundant lanes (of 3) operational.
FGB MDM-1 is Off (failed, 11/21/03); MDM-2 is Operational.
Propulsion System (PS):
Total propellant load available: 4239 kg (9345 lb) as of 8/26/04;  [SM(552) + FGB(3407) + Progress M(280)].  (Capabilities: SM — 860 kg; FGB — 6120 kg).
Attitude Control Systems (ACS):
3 CMGs on-line (CMG-1 failed, since 6/6/02; CMG-2's RPC-17 failed 4/21/04; was replaced 6/30/04).
State vector source — U.S. SIGI-1 (GPS)
Attitude source — U.S. SIGI-1 (GPS)
Angular rate source — RGA-1
Flight Attitude:
XPOP (x-axis perpendicular to orbit plane = "sun-fixed" [yaw: 180.5 deg, pitch: -6.9 deg., roll: 0 deg]), with CMG TA (thruster assist) until 9/2 for EVA-11, then back to XPOP until next reboost (9/22).
Communications & Tracking Systems (C&T):
FGB MDM-1 is powered Off; FGB MDM-2 is operational.
All other Russian communications & tracking systems are nominal.
S-band is operating nominally (on string 2).
Ku-band is operating nominally.
Audio subsystem is operating nominally (IAC-1 is prime, IAC-2 is off).
Video subsystem operating nominally.
HCOR (high-rate communications outage recorder) is operating nominally.
Robotics:
SSRMS/Canadarm2 based at Lab PDGF/LEE A, operational on redundant string, off on prime.
MBS: KA (keep alive) power on both strings. 
MT: latched and mated at WS4. 
POA: KA power on both strings.
RWS (robotics workstations): Lab RWS is On (DCP connected); Cupola RWS is Off.
ISS Orbit  (as of this morning, 7:33am EDT [= epoch]):
Mean altitude — 361.3 km
Apogee height — 364.9 km
Perigee height — 357.4 km
Period — 91.77 min.
Inclination (to Equator) — 51.64 deg
Eccentricity — 0.000556
Solar Beta Angle — 38.3 deg (magnitude increasing)
Orbits per 24-hr. day — 9
Mean altitude loss in last 24 hours — 135 m
Revolutions since FGB/Zarya launch (Nov. '98)  — 33030
ISS Altitude History
Apogee height — Mean Altitude — Perigee height
For more on ISS orbit and worldwide ISS naked-eye visibility dates/times, see http://www.hq.nasa.gov/osf/station/viewing/issvis.html. In addition, information on International Space Station sighting opportunities can be found at http://spaceflight.nasa.gov/realdata/sightings/ on NASA's Human Spaceflight website. The current location of the International Space Station can be found at http://science.nasa.gov/temp/StationLoc.html at NASA's Marshall Space Flight Center. Additional satellite tracking resources can be found at http://www.spaceref.com/iss/tracking.html.