NASA Space Station On-Orbit Status 1 March 2006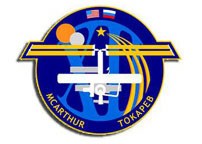 SpaceRef note: This NASA Headquarters internal status report, as presented here, contains additional, original material produced by SpaceRef.com (copyright © 2006) to enhance access to related status reports and NASA activities.
All ISS systems continue to function nominally, except those noted previously or below. Yesterday the Expedition 12 crew completed their 150th day on orbit. In addition to their 150 days on ISS, Commander Bill McArthur has spent over 35 days in space on three Shuttle missions (STS-58, STS-74, STS-92) and Flight Engineer Valery Tokarev has spent 10 days in space on Flight 2A.1.
Valery Tokarev's regular morning inspection today included the routine inspection of DC1 circuit breakers and fuses. [The monthly checkup in the "Pirs" Docking Compartment looks at AZS circuit breakers on the BVP Amp Switch Panel (they should all be On) and the LEDs (light-emitting diodes) of 14 fuses in Fuse Panels BPP-30 & BPP-36.]
Tokarev completed Part 3 of his 4th onboard "Profilaktika" (MBI-8, "Countermeasures") preventive health maintenance fitness test series. [Today's Russian fitness test was performed on the TVIS treadmill in unmotorized (idle) mode, with free choice of speeds within the range permitted. The test differs from the normal TVIS session by the use of the TEEM-100 gas analyzer, measurement of blood lactate level and subjective evaluation of physical exertion levels during the test.
The lactate blood samples were taken twice at the end of the session, using the ACCUSPORT analyzer and REFLOTRON-4 accessories. Results were entered on a log sheet. TEEM and ECG (electrocardiograph) data were transferred to the Laptop 3, also on a tape cassette (Cardiocassette-2000), and prepared for later downlink via Regul-Packet comm. Results were also called down to specialists standing by at TsUP.]
CDR/SO William McArthur again spend most of his time today on hardware/equipment prepacking for ULF1.1/STS-121 . [Bill was allotted five hours for this extensive work which is supported by a 30-page Pre-Pack List, prepared and uplinked by MCC-H logistics specialists. Pre-packed bags are being stored on the ZSRs (Zero-G Stowage Racks) cleaned out by Bill in the last few days.]
Tokarev had ~2.5 hrs. to wrap up stowing excessed hardware in Progress-354/19P for disposal, while keeping track of the moves in the IMS (Inventory Management System) database update file using the wireless BCR (Bar Code Reader). Afterwards, Valery was to call down via S-band to report on stowage completion. [As of last night, Valery had stowed 13 KTOs (solid waste containers) in 19P.]
The FE, assisted by the CDR, removed electronic equipment from 19P cargo ship, which will be recycled. TsUP/Moscow, via RGS (Russian ground site), is now ready to initiate charging of the Progress' primary and reserve batteries, as required. [With Central Computer control transferred earlier from 19P thrusters to Service Module (SM) yaw, pitch and roll thrusters, the US-21 matching unit and SKV-1 dehumidifier were deactivated, followed by disconnecting the cables of the BITS 2-12 onboard telemetry measurement system and turning off its VD-SU monitoring mode.
The crew then unbolted and removed the Progress' US-21 in its container box. BITS and SKV-1 were later reactivated. The US-21, with its associated commutator gear, provides the electronic interface between the SM and the Progress for SM computer control of Progress propulsion. When a Progress is undocked and jettisoned, the valuable electronics are retained in storage, to be recycled on a future vehicle.]
McArthur worked at the Lab condensate tank, offloading ~20 liters of water, collected by the CCAA (Common Cabin Air Assembly) from the air, into a CWC (collapsible water container, #1042), which took him about 14 minutes. [The water will be used in the Elektron to generate O2 (and H2) by electrolysis.]
Bill also ran the daily atmospheric status check for ppO2 (Partial Pressure Oxygen) and ppCO2 (pp Carbon Dioxide), using the CSA-O2 (Compound Specific Analyzer-Oxygen Sensor), while Valery collected the weekly cabin air readings, with the GANK-4M Real-Time Harmful Contaminant Gas Analyzer system of the SM SOGS (Pressure Control & Atmospheric Monitoring System), which tests particularly for NH3 (ammonia) and HCl (hydrogen chloride).
Working jointly with ground engineers via tagup, the FE activated the Elektron oxygen generator, with the usual nitrogen (N2) purge of the BZh-8 Liquid Unit. The electrolysis machine had been off since 2/24 for the regeneration of the two BMP Harmful Impurities Removal system filter beds, and for using remaining Progress 19 stores.
Near the end of the workday, the CDR updated/edited the standard IMS "delta file", including locations, for the regular weekly automated export/import to its three databases on the ground (Houston, Moscow, Baikonur).
Working off his "time available" voluntary task list, Valery conducted the regular daily status check of the BIO-5 Rasteniya-2 ("Plants-2") experiment, including recharging the water tank if required. [Rasteniya researches growth and development of plants under spaceflight conditions in the Lada-8 greenhouse. The regular maintenance of the experiment (each Monday, Wednesday, Friday and Sunday) involves monitoring of seedling growth, humidity measurements, moistening of the substrate if necessary, topping off the water tank if ~20-25% of the total amount (4 liters) remains, and photo/video recording. Once weekly, data from the Lada greenhouse control unit are recorded on floppy disk for weekly downlink via REGUL-Packet or the new BSR-TM at a suitable occasion
A second discretionary task on Tokarev's work list for today was the regular checkup on the Japanese experiment GCF-JAXA (Granada Crystallization Facility) in the Russian TBU incubator, maintained at 20 degC, including a temperature check on its ART (automatic temperature recorder). [This daily monitoring/temp checking, carried on the Russian voluntary "time available" task list, will continue until 4/30.]
The CDR completed his regular 2.5-hr. physical exercise program on the CEVIS cycle ergometer and RED resistive exerciser, while Tokarev's daily workout regimen was accounted for by his MBI-8 training/assessment on the TVIS treadmill (see above).
Afterwards, McArthur transferred the exercise data files to the MEC (Medical Equipment Computer) for downlink, as well as the daily wristband HRM (heart rate monitor) data of the workouts on RED, followed by their erasure on the HRM storage medium (done six times a week).
At ~10:40am EST, the crew held their periodic teleconference with the next (Expedition 13) ISS crew. [These exchanges are performed every other week, for about 30 minutes, to pass on the lessons learned to the upcoming Expedition Crew. Purpose: to begin the handover process prior to the arrival on orbit through videocons and data exchanges between the current crew and the upcoming crew. These tagups start normally toward the end of the first month on orbit.]
At ~1:55pm EST, the CDR set up the Sputnik-SM Kenwood D700 amateur radio station in the SM and at 2:00pm conducted a 10-min. ham radio session with students at Cincinnati Country Day School in Cincinnati, OH. [Cincinnati Country Day School, an independent, co-educational school located in suburban Cincinnati, Ohio, was founded in 1926 and currently has an enrollment of 875 students from early childhood through 12th grade.
Questions to the crew were uplinked beforehand. "What are the coolest, scariest, and hardest things you have to do on the ISS and why?"; "What can I do to become a great astronaut?"; "Please tell us something that most people don't know about living in space or about the ISS."; "What do you do on your free time besides talking to schools?"]
A new suggestion for the next "Saturday Science" program for Science Officer McArthur were uplinked for his perusal, dealing with the CBOSS FDI research complex (Cellular Biotechnology Operations Support Systems: Fluid Dynamics Investigation). [Possible activities for 3/4 would lead off with FDI activity review, followed by camcorder relocation from Node to Lab, bubble removal/injection rate determination using two techniques for comparison and video recording, plus camcorder return to the Node.]
Follow-up on TCCS R&R: McArthur was thanked for his excellent work on 2/27 replacing the sorbent bed of the TCCS (Trace Contaminant Control Subsystem) in the Lab. Since TCCS went to fully operational mode yesterday (~2:51am), its flow meter rate has remained consistent at 1.27 liters/second, which is the nominal airflow value for the instrument.
Follow-up on FOOT session: Message uplinked from Principal Investigator (PI): "This is probably the best dataset that we have ever collected on FOOT! All channels of data are usable, and there is great additional science data. Kudos to Bill!"
Today's CEO (Crew Earth Observation) photo targets, limited in the current XPOP attitude by flight rule constraints on the use of the Lab nadir/science window, which is available for only ~1/4 of each orbit when not facing forward (in ram), were Tropical Cyclone Carina (DYNAMIC EVENT: Carina has become a Category 4 tropical cyclone, unusual for the South Indian Ocean. Using the 50mm lens as ISS approached and departed the system for general views and the 180mm lens for cloud structure details like the eye, where possible, in this near-nadir pass), Kwanza Basin (this is a new human impact study site. As ISS approached the coast from the SW, the crew was to try for broad contextual views looking right of track for a line of ridges just inland from the coast), Muglad Basin fans, SW Sudan (the crew has acquired many excellent detailed views of this target area so far.
On this pass, they were to try for broad views or pans looking right of track towards the bulge of the White Nile River), and Internal waves, E & W Florida coasts (as the station tracked over the northern Bahamas, the crew was to look for glint well left and slightly aft of track, first over the Gulf side then over the Atlantic side of the Florida coasts).
To date, more than 186,000 of CEO images have been taken in the first five years of the ISS, almost one third of the total number of images taken from orbit by astronauts.
CEO photography can be viewed and studied at the websites:
See also the website "Space Station Challenge" at:
To view the latest photos taken by the expedition 12 crew visit:
Expedition 12 Flight Crew Plans can be found at http://spaceflight.nasa.gov/station/timelines/
Previous NASA ISS On-orbit Status Reports can be found here. Previous NASA Space Station Status Reports can be found here. Previous NASA Space Shuttle Processing Status Reports can be found here. A collection of all of these reports and other materials relating to Return to Flight for the Space Shuttle fleet can be found here.
ISS Orbit (as of this morning, 5:58am EST [= epoch]):
Mean altitude — 347.6 km
Apogee height — 353.1 km
Perigee height — 342.1 km
Period — 91.49 min.
Inclination (to Equator) — 51.64 deg
Eccentricity — 0.000816
Solar Beta Angle — 25.6 deg (magnitude decreasing)
Orbits per 24-hr. day — 15.74
Mean altitude loss in last 24 hours — 90 m
Revolutions since FGB/Zarya launch (Nov. 98) — 41618
Events Ahead (all dates Eastern & tentative):
03/02-06 — Progress 19/SM aft-end hatch closure (RS thrusters disabled 10:05-11:45am EST)
03/03/06 — Progress M-54/19P undocking & reentry (5:04pm EST; mnvr. to LVLH XVV after undock)
03/06/06 — Repair of MCA in US segment
03/10/06 — ISS reboost (by SM thrusters; mnvr. back to XPOP after burn)
03/16/06 — Airlock Campout SDTO (overnight)
03/20/06 (or 3/22) — Soyuz TMA-7/11S relocation (FGB nadir port to SM aft-end port)
03/30/06 — Soyuz TMA-8/12S launch (Pavel Vinogradov/Russia, Jeffrey Williams/US, Marcos Pontes/Brazil, 9:29pm EST)
04/01/06 — Soyuz TMA-8/12S docking (FGB nadir port, 11:11pm EST; mnvr. to LVLH XVV after dock)
04/09/06 — Soyuz TMA-7/11S undocking (4:15pm EDT) & land (7:40pm); (mnvr. to XPOP after undock)
04/18/06 — Soyuz TMA-8/12S relocation (FGB nadir port to SM aft end port)
04/24/06 — Progress M-56/21P launch
04/26/06 — Progress M-56/21P docking (DC1)
05/03/06 — ULF1.1 launch (NET, not earlier than)
06/15/06 — U.S. EVA (under review)
06/19/06 — Progress M-55/20P undocking & reentry
06/28/06 — Progress M-57/22P launch
06/30/06 — Progress M-57/22P docking
07/01/06 — 12A launch (under review)
07/31/06 — Russian EVA-16 (under review)
09/13/06 — Progress M-56/21P undocking & reentry
09/14/06 — Soyuz TMA-9/13S launch
09/16/06 — Soyuz TMA-9/13S docking (FGB nadir port)
09/24/06 — Soyuz TMA-8/12S undocking & reentry
09/28/06 — Soyuz TMA-9/13S relocation (FGB nadir port to DC1)
10/18/06 — Progress M-58/23P launch
10/20/06 — Progress M-58/23P docking
12/19/06 — Progress M-57/22P undocking & reentry
12/20/06 — Progress M-59/24P launch
12/22/06 — Progress M-59/24P docking

ISS Altitude History
Apogee height — Mean Altitude — Perigee height
For more on ISS orbit and worldwide ISS naked-eye visibility dates/times, see http://www.hq.nasa.gov/osf/station/viewing/issvis.html. In addition, information on International Space Station sighting opportunities can be found at http://spaceflight.nasa.gov/realdata/sightings/ on NASA's Human Spaceflight website. The current location of the International Space Station can be found at http://science.nasa.gov/temp/StationLoc.html at NASA's Marshall Space Flight Center. Additional satellite tracking resources can be found at http://www.spaceref.com/iss/tracking.html.