NASA Space Station Lead Increment Scientist's Highlights For the Week of May 21, 2012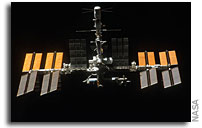 (Highlights: Week of May 21, 2012) — May 24 marked a 50-year milestone of capillarity fluid physics experiments in space. These investigations study how fluids move up surfaces in microgravity. The results aim to improve current computer models that are used by designers of low gravity fluid systems and may improve fluid transfer systems for water on future spacecraft.
More tests were completed for the Flame Extinguishment Experiment-2 (FLEX-2). This is the second experiment on the space station which uses small droplets of fuel to study the special burning characteristics of fire in space. The FLEX-2 experiment studies the rate and manner in which fuel is burned, the conditions that are necessary for soot to form, and the way in which a mixture of fuels evaporate before burning. The results from these experiments will give scientists a better understanding how fires behave in space and will provide important information that will be useful in increasing the fuel efficiency of engines using liquid fuels.
Operations continued for the Burning And Suppression of Solids (BASS) investigation. BASS examines the burning and extinction characteristics of a wide variety of fuel samples in microgravity. The BASS investigation will guide strategies for extinguishing accidental fires in microgravity. BASS results contribute to the combustion computational models used in the design of fire detection and suppression systems in microgravity and on Earth.
The Hyperspectral Imager for the Coastal Ocean (HREP-HICO) Experiment Payload has taken 5675 images to-date. The most recent HICO images include the coast of Italy, the English Channel, part of Hawaii, the coast of France and Munich, Germany. The experiment analyzes the water clarity, chlorophyll content, water depth and ocean or sea floor composition for naval purposes.
Human research investigations continued for various crew members including, Space Headaches, Vascular, Reaction Self Test, Treadmill Kinematics, Integrated Cardiovascular, and Journals.
John Love, Lead Increment Scientist Expedition 30/31