NASA Space Station Lead Increment Scientist's Highlights For the Week of May 14, 2012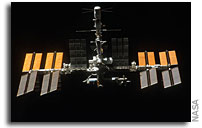 (Highlights: Week of May 14, 2012) — May 19 marked the one year anniversary of the Alpha Magnetic Spectrometer – 02 (AMS-02) continuously operating on the station. To date, AMS-02 has registered more than 17 billion cosmic ray events, operating smoothly in space under extreme thermal conditions. These events have been used to carefully calibrate the particle detectors in order to fully exploit their sensitivity to search for the rarest events. The AMS-02 uses the unique environment of space to advance knowledge of the universe and lead to the understanding of the universe's origin by searching for antimatter, dark matter and measuring cosmic rays.
Operations continued for the Burning And Suppression of Solids (BASS) investigation. BASS examines the burning and extinction characteristics of a wide variety of fuel samples in microgravity. A crew member conducted tests at various air flow speeds and sample widths. The BASS investigation will guide strategies for extinguishing accidental fires in microgravity. BASS results contribute to the combustion computational models used in the design of fire detection and suppression systems in microgravity and on Earth.
Through the end of Expedition 30, the Crew Earth Observation (CEO) team received 223,609 of the CEO frames for review and cataloging. For this investigation, station crew members photograph natural and human-made changes on Earth. These images provide researchers with key data to better understand the planet.
On May 15, the International Space Station Agricultural Camera (ISSAC) captured images of the Paraguay flood in South America upon request from the International Disaster Charter. The science team is currently processing the image data. ISSAC can be used to study dynamic Earth processes around the world, such as melting glaciers, ecosystem responses to seasonal changes, and human impacts, including rapid-response monitoring of natural disasters.
The Hyperspectral Imager for the Coastal Ocean (HREP-HICO) Experiment Payload has taken 5,649 images as of May 18. The most recent HICO images include Mono Lake in California, part of the Gulf Coast of Florida, Midway Island, part of Italy's coastline, Lake Superior and the Columbia River Mouth. The experiment analyzes the water clarity, chlorophyll content, water depth and ocean or sea floor composition for naval purposes.
Investigations from NanoRacks Modules 16 and 18 have been packed and will return to Earth with the Expedition 31 crew later this summer. A bronze and gold electroplating experiment, a biological growth experiment, and a bacterial growth and antibiotic resistance experiment were among this set of investigations. These investigations are high school experiments which are plugged into a NanoRacks Platform aboard the station. The long-term goal of this project is to create a series of student projects that are sophisticated and economically efficient, allowing students to move beyond the classrooms and into low Earth orbit with their research.
Human research investigations continued for various crew members including, Sprint, Energy, Journals, Reaction Self Test.
John Love, Lead Increment Scientist Expedition 30/31