NASA Space Station Lead Increment Scientist's Highlights For the Week of June 04, 2012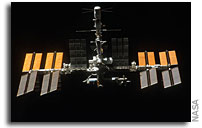 (Highlights: Week of June 04, 2012) — Expedition 31 crew members were the first to capture the Transit of Venus from a spacecraft in low-Earth orbit. The Transit of Venus takes place when the planet Venus passes directly between the Sun and Earth becoming visible against (obscuring a small portion of) the solar disk. The transit occurred June 5 and 6. The next transit alignment will not occur until 2117. These images were taken from the Docking Compartment 1, the Mini Research Module 2, and the Cupola windows. The astronauts were able to capture this historic event with the use of solar filters. The last transit occurred in 2004, but the space station crew did not have solar filters to acquire imagery. Prior to that, the last transit of Venus occurred in 1882.
The Flame Extinguishment Experiment-2 (FLEX-2) continued with surrogate fuel test points. This is the second investigation on the space station which uses small droplets of fuel to study the special burning characteristics of fire in space. FLEX-2 studies the rate and manner in which fuel is burned, the conditions that are necessary for soot to form, and the way in which a mixture of fuels evaporate before burning. The results from these experiments will give scientists a better understanding of how fires behave in space and will provide important information that will be useful in increasing the fuel efficiency of engines using liquid fuels.
Operations continued for the Burning And Suppression of Solids (BASS) investigation. BASS examines the burning and extinction characteristics of a wide variety of fuel samples in microgravity. The BASS investigation will guide strategies for extinguishing accidental fires in microgravity. BASS results contribute to the combustion computational models used in the design of fire detection and suppression systems in microgravity and on Earth.
Through June 4, 74,252 images have been received for reviewing and cataloging for the Crew Earth Observation (CEO). Recent images include Hurricane Bud off the Pacific coast of Mexico and Bigach Impact Crater, Kazakhstan. For this investigation, station crew members photograph natural and human-made changes on Earth. These images provide researchers with key data to better understand the planet.
Human research investigations continued for various crew members including, Thermolab, Vessel Imaging, Pro K, Space Headaches, Vascular, Reaction Self Test, Treadmill Kinematics, Integrated Cardiovascular, VO2max, and Journals.
John Love, Lead Increment Scientist Expedition 30/31