NASA Space Station Lead Increment Scientist's Highlights For the Week of April 23, 2012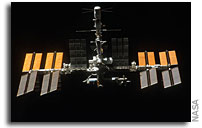 (Highlights: Week of April 23, 2012) –Several investigation samples were returned to Earth on April 27, aboard the 28S Soyuz, including:
* SOdium LOading in Microgravity (SOLO) investigation. Return of these samples completes those in-flight investigations. SOLO studies the mechanisms of fluid and salt retention in the body during spaceflight.
* Long Term Microgravity: A Model for Investigating Mechanisms of Heart Disease with New Portable Equipment (CARD) investigation. Return of those samples concludes the in-flight portion of the experiment. CARD studies blood pressure decreases in the human body exposed to microgravity on the station.
* Endocannabinoid System in human Lymphocytes Exposed to Microgravity (ROALD2). This European Space Agency study investigates the function of endocannabinoids — substances produced within the body to activate cell membrane receptor — in the regulation of the immune processes and cell cycle under microgravity conditions. ROALD2 identifies countermeasures against impairment of the immune system efficiency due to spaceflight.
* High Quality Protein Crystal Growth Experiment (JAXA PCG), returned more than 100 samples of 48 proteins for the Japan Aerospace Exploration Agency study aimed at the growth of crystals of biological macromolecules by the counter-diffusion technique. Typical objectives include: development for treatment products in the areas of infectious diseases such as malaria and influenza, as well as environment and energy solutions for biofuel and nylon resolution.
More than 1,600 children throughout Europe participated in the Spaceship Earth events on April 24, for the European Space Agency-Education Payload Operations (ESA-EPO). This activity records education demonstrations performed on the station by crew members. Each event site had scientific demonstrations and hands-on activities including ground kits that were accompanied by on-orbit videos. The children were exposed to many different physics principles.
Testing continued with the Flame Extinguishment-2 (FLEX-2) investigation. Overall, testing was successful allowing the ground team to obtain results for a wide range of droplet diameters. They were able to repeat some of the test points achieved on preceding test days allowing repeatability of the results. FLEX-2 is the second station investigation which uses small droplets of fuel to study the special burning characteristics of fire in space. The FLEX-2 experiment studies the rate and manner in which fuel is burned, the conditions that are necessary for soot to form, and the way in which a mixture of fuels evaporate before burning. The results from these experiments will give scientists a better understanding how fires behave in space and will provide important information that will be useful in increasing the fuel efficiency of engines on Earth that use liquid fuels.
Human research investigations continued for various crew members including, Treadmill Kinematics, Integrated Immune, Journals, Reaction Self Test, and VO2Max.