NASA Space Shuttle Processing Status Report 21 May 2004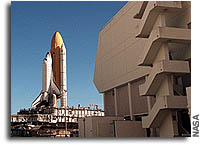 Discovery (OV-103)
Processing of Discovery continues in the Orbiter Processing
Facility (OPF) for its Return to Flight mission, STS-114, to
the International Space Station (ISS). Following the
installation of the left-hand Orbital Maneuvering System pod
on the vehicle, technicians began installing the thrusters.
The Forward Reaction Control System is scheduled for delivery
to the OPF early next week. The four Rudder Speed Brake (RSB)
actuators and panels have been reinstalled on the vehicle
following a complete inspection, bead blasting and painting
of the panels. Bead blasting is a process using a pressurized
pneumatic gun containing silica carbide, plastic pellets or
glass beads to remove primer, paint and corrosion from
orbiter vehicle surfaces.
Atlantis (OV-104)
Atlantis was powered up in support of mission processing for
its future flight to the ISS. The four RSB actuators were
removed from the vehicle and X-rayed at the Titan X-ray
Facility at Cape Canaveral Air Force Station. All four
actuators showed the gears were assembled in the proper
orientation. At the vendor, the actuators are undergoing a
complete inspection.
Thermal Protection System blanket installation continues on
Reinforced Carbon-Carbon nose cap. The nose cap was removed
from the vehicle and sent back to the vendor for thorough
Non-Destructive Engineering evaluation and recoating. The
blankets are being reinstalled prior to technicians re-
hanging the nose cap on the vehicle.
Endeavour (OV-105)
Endeavour is in its Orbiter Major Modification period, which
began in December 2003. Electrical modifications continue in
the crew module. Wire inspections are ongoing in the
Environmental Control and Life Support System bay.
Right-hand radiator No. 1 installation is scheduled for
today, with right-hand radiator No. 2 scheduled for no
earlier than the middle of next week.