NASA Space Shuttle Processing Status Report 17 November 2006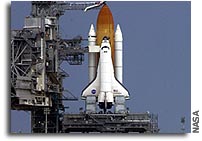 Note: NASA's Kennedy Space Center issues Space Shuttle Processing Status Reports periodically and is the source for information regarding processing activities associated with the vehicles and payloads. If you are a member of the media and would like further information, visit: http://www.nasa.gov/centers/kennedy/news/index.html
Mission: STS-116 – 20th International Space Station Flight (12A.1) – P5 Truss Segment
Vehicle: Discovery (OV-103)
Location: Launch Pad 39B
Launch Date: No earlier than Dec. 7, 2006
Launch Pad: 39B
Crew: Polansky, Oefelein, Curbeam, Higginbotham, Patrick, Fuglesang and Williams
Inclination/Orbit Altitude: 51.6 degrees/122 nautical miles
Following Space Shuttle Discovery's arrival at Launch Pad 39B on Nov. 9, technicians began final preparations for the STS-116 launch to the International Space Station set for no earlier than Dec. 7. At the pad, the payload was installed into the payload bay on Nov. 11, and the payload/orbiter interface test was completed this week. On Thursday, the remote manipulator system and orbiter boom sensor system were stowed and the payload bay doors were closed for flight late that night.
This week, the seven-member crew of STS-116 took part in the terminal countdown demonstration test activities at Kennedy Space Center. The astronauts arrived on Monday and returned to Johnson Space Center in Houston on Thursday afternoon. On Tuesday and Wednesday, the crew practiced driving in the M113 armored personnel carrier, and participated in fire suppression training and flight crew equipment fit checks. The crew also had the opportunity to go to the pad for the emergency egress and payload bay "walkdowns." On Thursday, the astronauts donned their launch and entry suits and entered the vehicle for a simulated countdown.
Today, technicians are beginning preparations for the prelaunch propellant servicing scheduled to begin this weekend. This process includes loading the fuel (monomethyl hydrazine) and oxidizer (nitrogen tetroxide) into the orbiter maneuvering system and the forward reaction control system. It also includes the loading of hydrazine in the auxiliary power units on the orbiter and the solid rocket boosters.
-end-