NASA Space Shuttle Processing Status 7 May 2004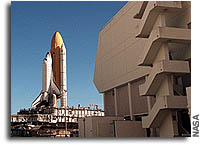 Discovery (OV-103)
Discovery continues to be processed for the Return to Flight mission, STS-114, to the International Space Station. Left-hand Orbital Maneuvering System pod interface verification testing continues. Installation of Discovery's airlock is scheduled to begin as early as Monday. Left-hand inboard elevon X-rays are complete.
Four new Rudder Speed Brake (RSB) actuators have been installed on the vehicle. The RSB panels have been bead blasted and painted, with installation scheduled to begin today.
Atlantis (OV-104)
Technicians continue to process Atlantis for its future flight to the International Space Station. The airlock was removed from the vehicle last week and fuel cell removal is underway.
The first RSB panel was removed on Tuesday, followed by the remaining three panels. Once the other panels are removed, the actuators will be taken off the vehicle and sent to the vendor for a complete inspection.
Endeavour (OV-105)
Space Shuttle Endeavour is in its Orbiter Major Modification period, which began in December. Electrical modifications continue in the crew module. Thermal Control System blanket work continues in support of payload bay radiator installation. Preparations are underway for a fit check of Endeavour's nose cap.
Technicians began flex hose inspections this week in the Environmental Control and Life Support bay. Structural and wire inspections are ongoing in the forward, midbody and aft of the vehicle.