NASA Space Shuttle Processing Status 14 May 2004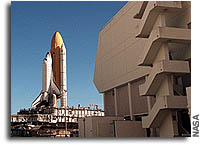 Discovery (OV-103)
Processing continues in the Orbiter Processing Facility in preparation for Discovery's Return to Flight mission, STS-114, to the International Space Station. Vehicle power-up work continues with Orbital Maneuvering System pod continuity checks and verification testing.
Following the installation of the four new Rudder Speed Brake (RSB) actuators, technicians continue to re-hang the four panels. On Tuesday, workers completed the installation of Discovery's external airlock and hung the first Reinforced Carbon-Carbon (RCC) panel on the right-hand leading edge of the wing.
Atlantis (OV-104)
Atlantis was powered up in support of mission processing for its future flight to the International Space Station. Fuel cell removal began on Monday.
The four RSB panels and actuators were removed from the vehicle. The actuators will be X-rayed to determine whether the gears were assembled in the proper orientation and then be sent to the vendor for a complete inspection. Left-hand RCC panel installation is complete, and 20 right-hand panels have been assembled prior to being hung.
Endeavour (OV-105)
Space Shuttle Endeavour is in its Orbiter Major Modification period, which began in December 2003. Electrical modifications continue in the crew module. Wire inspections on Endeavour are complete in all areas except the Environmental Control and Life Support System bay. Inspections in that bay are ongoing.
Technicians continue to bond Thermal Protection System tiles to the External Tank door. Right-hand radiators No. 3 and 4 arrived in the Orbiter Processing Facility and were installed on the vehicle.