NASA Solicitation: Space Launch System Stages Acquisition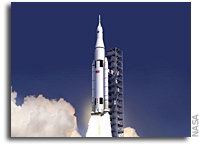 NASA Solicitation: Space Launch System Stages Acquisition
Synopsis – Sep 28, 2011
General Information
Solicitation Number: NNM07AB03C-SLS
Posted Date: Sep 28, 2011
FedBizOpps Posted Date: Sep 28, 2011
Recovery and Reinvestment Act Action: No
Original Response Date: Oct 13, 2011
Current Response Date: Oct 13, 2011
Classification Code: A — Research and Development
NAICS Code: 336415 – Guided Missile and Space Vehicle Propulsion Unit and Propulsion Unit Parts Manufacturing
Contracting Office Address
NASA/George C. Marshall Space Flight Center, Procurement Office, Marshall Space Flight Center, AL 35812
Description
NASA /Marshall Space Flight Center (MSFC) has a requirement for large cryogenic Stages (Core Stage and Upper Stage) that are part of the Space Launch System (SLS) that will be capable of lifting 70 to 130 metric tons payload to a Low Earth Orbit (LEO). This effort is for the Design, Development, Test, and Evaluation (DDT&E), including the Stage hardware, the activities, and the operations required for early missions of the SLS.
The NASA Authorization Act of 2010 (P.L. 111-267, October 11, 2010) directed the Agency to develop, as rapidly as possible, replacement vehicles capable of providing both human and cargo launch capability to destinations beyond low-Earth orbit. In developing the SLS, the Act directed the Administrator to utilize to the extent practicable existing contracts, investments, workforce, industrial base, and capabilities from the Space Shuttle Program (SSP), Orion, and Ares I projects. This includes SSP-derived components and Ares components that draw extensively on SSP heritage propulsion systems, including liquid fuel engines, cryogenic stages, and solid rocket motors. As a result, the Agency will initiate the development of the SLS with SSP and Ares derived assets.
To meet this objective NASA has selected a launch vehicle architecture that includes a large cryogenic (LOX/LH2) Core Stage, an Upper Stage when needed for higher performance missions, high thrust Boosters (initially, using those developed for the Ares I vehicle) for liftoff thrust, using either 3, 4, or 5 RS-25 engines on Core Stage, and using 1, 2, or 3 J-2X engines on Upper Stage. While the launch vehicle configuration will change based upon mission needs for lift performance, the basic design of the Stages will be the same for all missions, with the only change being how many engines will be mounted in the Main Propulsion System of the Core Stage (or Upper Stage) for a given mission. The Stages will share common attributes, such as outer diameter, material, subsystem components, and tooling between the stages to ensure an affordable design and capitalize upon synergies in those designs. This approach meets budget and schedule constraints targeting a first flight in December 2017. The payload will be the Orion Multi-Purpose Crew Vehicle (MPCV); therefore, the SLS launch vehicle will be designed as human-rated for the first and all subsequent flights. Since the first launch uses existing assets (including assets already far along in development) for the remaining major SLS elements, the Core Stage defines the critical path to first launch as the only element requiring a full development cycle. The Core Stage delivery date is required in late 2016 to support a December 2017 flight date.
The Ares I Upper Stage Production Contract is the only means to meet SLS milestone schedules and avoid substantial duplication of cost. The Ares I Upper Stage has the same functionality as the SLS Core and Upper Stage elements, and much of the Ares I DDT&E especially at the component level is applicable to SLS requirements.
If the Stages were competed, the critical path to first launch would be delayed 18 months (no earlier than June 2019) due to the competitive acquisition duration along with a longer development cycle from authority to proceed (ATP) to preliminary design review (PDR). The longer duration to PDR results from the need to define and decompose element requirements, determine subsystem architectures, decompose and define component requirements, bring component vendors on board and/or finalize vendor contracts, and develop a preliminary design sufficient to commit to long lead procurements. It is vital to the overall critical path schedule to keep the duration to PDR as short as possible to allow long lead procurements and tooling fabrication to begin and end at the right times. This cumulative delay in an open competition scenario leads to a launch slip of 18 months, resulting in significant increase in cost to first flight.
Conversely, by utilizing The Boeing Company (Boeing), ATP can be accelerated, as well as the time between ATP and PDR shortened, as a result of the similarities and progress so far on the Ares I Upper Stage. By utilizing the Ares I Upper Stage contract, cost duplication would be avoided by using Ares I Upper Stage existing component designs as well as using the existing vendor suite and capitalizing on work in the subsystems that would be needed for the SLS Core Stage.
A portion of the manufacturing development for a large cryogenic stage that Boeing has undertaken on Ares I would be utilized for additional cost duplication avoidance. Much of the Ares I Upper Stage hardware and processes (production tooling, welding technique development and validation, Thermal Protection System (TPS) application, manufacturing, and product breakdown structure development) are already in place and are applicable to the larger diameter SLS vehicle. Many cryogenic stage components developed for the Ares I Upper Stage have been matured to the detailed design phase and can be used on SLS either as-is or with slight modification. In addition, significant effort has been undertaken to establish an Ares I Upper Stage supply chain that can be utilized for the SLS Main Propulsion System (MPS), which is on the Core Stage critical path. Given manufacturing development work completed so far and the fact that Boeing has established a supply chain under the Ares I Upper Stage contract, especially for the MPS development, there will be cost avoidance on SLS by eliminating cost duplication that would be incurred should this contract be competed.
As a result, the SLS Program Office intends to modify the existing Ares I Upper Stage contract with Boeing. NASA will establish a new baseline to meet the exploration missions, consisting of an SLS Core and Upper Stage that will include common design features and be produced with common tooling, procedures, and techniques to obtain Core and Upper Stage synergies.
The anticipated period of performance is from the date of contract modification through December 31, 2021. The statutory authority permitting other than full and open competition is 10 U.S.C. 2304(c)(1), as implemented by FAR 6.302-1, "Only one responsible source and no other supplies or services will satisfy agency requirements." Competing the SLS Core and Upper Stages would result in unacceptable delays in fulfilling the Agency's requirements and substantial duplication of cost to the Government that is not expected to be recovered through competition.
The Government does not intend to acquire a commercial item using FAR Part 12.
All responsible sources may submit a capability statement, proposal, or quotation, which shall be considered by the Agency. Organizations may submit their capabilities and qualifications to perform the effort in writing to the identified point of contact not later than 4:00 p.m. local time on October 13, 2011. Such capabilities/qualifications will be evaluated solely for the purpose of determining whether or not to conduct this procurement on a competitive basis. A determination by the Government not to compete this proposed effort on a full and open competition basis, based upon responses to this notice, is solely within the discretion of the Government.
Oral communications are not acceptable in response to this notice.
NASA Clause 1852.215-84, Ombudsman, is applicable. The installation Ombudsman is Robin N. Henderson, e-mail:robin.n.henderson@nasa.gov; telephone: (256)544-1919; address: NASA – George C. Marshall Space Flight Center, Mail Code DE01, Building 4200, Room 918A, Marshall Space Flight Center, AL 35812.
Point of Contact
Name: Daniel J Roets
Title: Contracting Officer
Phone: 256-544-3487
Fax: 256-544-4400
Email: Daniel.J.Roets@nasa.gov
Name: Anita J. Ayers
Title: Contracting Officer
Phone: 256-544-9041
Fax: 256-544-1402
Email: anita.j.ayers@nasa.gov