NASA Solicitation: Interim Cryogenic Propulsion Stage (Space Launch System)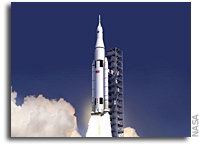 Synopsis – Jan 09, 2012
General Information
Solicitation Number: SLS-SPIO-2012
Posted Date: Jan 09, 2012
FedBizOpps Posted Date: Jan 09, 2012
Recovery and Reinvestment Act Action: No
Original Response Date: Feb 07, 2012
Current Response Date: Feb 07, 2012
Classification Code: 18 — Space vehicles
NAICS Code: 336415
Contracting Office Address
NASA/George C. Marshall Space Flight Center, Procurement Office, Marshall Space Flight Center, AL 35812
Description
NASA/MSFC is hereby seeking potential sources to provide an Interim Cryogenic Propulsion Stage (ICPS) for the early Space Launch System (SLS) missions. Recently, NASA announced the architecture of the SLS with a manifested first flight in late 2017. The early flights of the SLS architecture will require the use of an ICPS to ensure the placement of the Orion Multi-Purpose Crew Vehicle (MPCV) and/or Payload on the required trajectory. In order to support the flight schedule, the initial ICPS flight unit must be delivered to Kennedy Space Center (KSC) no later than late in the fourth quarter of the 2016 government fiscal year (GFY). The second flight unit must be delivered to KSC by the fourth quarter of the 2020 GFY. NASA is seeking in-space propulsion capabilities with performance data that can meet its schedule and funding constraints. The required performance characteristics for the ICPS are identified below.
1. Human Rating a. Human Rated or Human Ratable per NPR 8705.2B, Human-Rating for Space Systems (this document is available via common internet search tools) – the second flight unit must be human rated. 2. Burns (accelerating MPCV) following placement of ICPS and MPCV at 975 x -50 nmi insertion point by the SLS Launch Vehicle. a. Three engine ignitions to achieve greater than 3050 m/s delta-V 3. ICPS Lift Capability a. Total weight of 24224 kg (53404 lbs) which includes crew module, service module, and crew 4. ICPS Mass a. Less than 71400 lbs. 5. ICPS Length a. Packaged, as stacked, within 500″ 6. Functional Capability a. Perform a separation event b. Three-axis attitude control after SLS insertion and prior to separation from MPCV 7. Constraints a. Axial acceleration, during stage burns, not to exceed 2g 8. Reference Missions a. Support MPCV free lunar return missions b. Support MPCV High Lunar Orbit (HLO) missions
Vendors having the capabilities necessary to meet or exceed the stated requirements are invited to submit documentation outlining their capabilities and qualifications to provide an ICPS to the required performance characteristics described above. Respondents should also address the followings:
1. Description of hardware currently available 2. Summary of work to be performed to comply with stated requirements 3. Summary of previously performed qualification testing and successful flight performances 4. First flight article deliver date
It is not sufficient to provide only general brochures or generic information. The capability documentation requested above shall not contain company-sensitive information.
Respondents are requested to provide electronic responses (10 pages maximum, including attachments, in 12-point font excluding diagrams, pictures, or figures) via e-mail to the Contracting Officer listed herein. To facilitate a prompt review by the NASA team, a one (1) page summary shall be included with the capability statement(s), identifying the following information:
1. Name and address of firm 2. Size of business (NAICS Code is 336415 with a size standard of 1,000 employees) a. Average annual revenue for past 3 years b. Number of employees c. Whether the company is large or small 3. Company Ownership a. Public or private ownership b. Small disadvantaged, 8(a), HUBZone, veteran-owned, and/or woman-owned 4. Number of years in business 5. Affiliate information: parent company, joint venture partners, potential teaming partners, prime contractor (if potential sub) or subcontractors (if potential prime) 6. List of customers covering the past five years (highlight relevant work performed, contract numbers, contract type, dollar value of each procurement) 7. Point of contact – address and phone number.
Responses should be submitted not later than February 7, 2012, via e-mail to the Contracting Officer identified herein (cc: to the secondary point of contact also). Questions should also be directed to the Contracting Officer with a cc: to the secondary point of contact.
Submissions will be evaluated solely for the purpose of determining whether or not hardware is currently available and if the procurement may be conducted on a competitive or non-competitive basis. Oral communications are not acceptable in response to this notice. A determination by the Government not to procure this requirement, based upon responses to this notice or other market research, is solely within the discretion of the Government. Respondents will not be notified of the results of the evaluation. This notification is not a solicitation announcement. If a solicitation is released it will be synopsized in FedBizOpps and on the NASA Acquisition Internet Service (NAIS). It is the responsibility of potential offerors to monitor these sites for the release of any further synopsis or solicitation.
Any referenced notes may be viewed at the following URLs linked below.
Point of Contact
Name: Hervie B. Williford
Title: Contracting Officer
Phone: 256-544-0373
Fax: 256-544-6062
Email: hervie.b.williford@nasa.gov
Name: George E. Pendley
Title: Contracting Officer
Phone: 256-544-2949
Fax: 256-544-6062
Email: george.e.pendley@nasa.gov