NASA Solicitation: Deiling Increase on the Mid Atlantic Regional Spaceport Contract at Wallops Flight Facility for Launch Site Services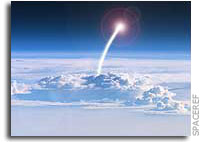 Synopsis – Dec 15, 2009
General Information
Solicitation Number: N/A
Reference Number: NNG09WA08C
Posted Date: Dec 15, 2009
FedBizOpps Posted Date: Dec 15, 2009
Recovery and Reinvestment Act Action: No
Original Response Date: Dec 30, 2009
Current Response Date: Dec 30, 2009
Classification Code: B — Special studies and analysis – not R and D
NAICS Code: 927110 – Space Research and Technology
Contracting Office Address
NASA/Goddard Space Flight Center, Wallops Flight Facility, Code 210.W, Wallops Island, VA 23337
Description
NASA's GSFC/WFF plans to issue a modification to increase the contract ceiling on the Indefinite Delivery, Indefinite Quantity (IDIQ) task order contract with the Virginia Commercial Space Flight Authority (VCSFA) operating under the name Mid-Atlantic Regional Space Port (MARS) for launch site services supporting government-sponsored missions conducted from GSFC's Wallops Flight Facility (WFF). This modification will increase the contract ceiling value to $43,400,000, and will increase the scope of the contract to support the current and long term capability of GSFC/WFF to provide launch service infrastructure to safely and successfully launch small/medium class orbital launch missions for NASA, other federal organizations, and NASA's commercial partners.
NASA/GSFC/WFF intends to issue the modification on a noncompetitive basis to VCSFA/MARS in accordance with 10 U.S.C 2304(c)(1), as implemented by FAR 6.302-1, "only one or a limited number of responsible sources and no other types of supplies or services will satisfy agency requirements." VCSFA/MARS maintains the only specialized expertise and capability to build and operate existing launch infrastructure such as ground processing and launch pad activities, capable of satisfying small/medium launch vehicle requirements at Wallops Flight Facility, Wallops Island, Virginia to meet the critical schedule for current and upcoming missions. The schedule is very compressed due to the impending shutdown of Space Transportation System (STS) operations by NASA. The first launch requirement drives the first use of these facilities to occur in late 2010 which is in stark contrast with the time it would take for another entity to establish parallel spaceport operations at WFF (estimated by NASA at 3-5 years, because of multi-agency licensing, environmental studies, technical/infrastructure interfaces, etc).
Interested organizations may submit their capabilities and qualifications to perform the effort in writing to the identified point of contact not later than 4:30 p.m. local time, December 30, 2009. Such capabilities/qualifications will be evaluated solely for the purpose of determining whether or not to conduct this procurement on a competitive basis. A determination by the Government not to compete this proposed effort on a full and open competition basis, based upon responses to this notice is solely within the discretion of the government.
An Ombudsman has been appointed. See NASA Specific Note "B".
All qualified responsible sources may submit an offer which shall be considered by the agency. Any referenced notes can be viewed at the following URL: http://genesis.gsfc.nasa.gov/nasanote.html
Point of Contact
Name: Cheryl W Johnson
Title: Contract Specialist
Phone: 757-824-1607
Fax: 757-824-1974
Email: Cheryl.W.Johnson@nasa.gov
Name: Therese L. Patterson
Title: Contracting Officer
Phone: 757-824-1066
Fax: 757-824-1974
Email: Therese.L.Patterson@nasa.gov