NASA Solicitation: Commercial Reusable Suborbital Research Program – CRuSR – Request for Information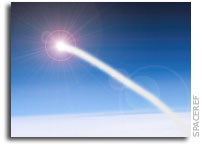 Synopsis – Dec 04, 2009
General Information
Solicitation Number: NNA10CR001L
Posted Date: Dec 04, 2009
FedBizOpps Posted Date: Dec 04, 2009
Recovery and Reinvestment Act Action: No
Original Response Date: Jan 04, 2010
Current Response Date: Jan 04, 2010
Classification Code: A — Research and Development
NAICS Code: 481212 – Nonscheduled Chartered Freight Air Transportation
Contracting Office Address
NASA/Ames Research Center, JA:M/S 241-1, Moffett Field, CA 94035-1000
Description
The National Aeronautics and Space Administration (NASA) Innovative Partnerships Program (IPP) recently established the Commercial Reusable Suborbital Research Program (CRuSR) Office at Ames Research Center (ARC). NASA recognizes the significant accomplishments of the commercial reusable suborbital spaceflight industry and is contemplating two significant procurement actions: 1) A potential procurement of reusable suborbital spaceflight services, and 2) a solicitation of research investigations that will utilize those commercial reusable suborbital spaceflight services. Researchers proposing to fly investigations on these vehicles will need information about the payload environment, flight profile and potential for human participation.
In this Request for Information (RFI), the NASA Ames CRuSR Office is requesting technical and programmatic input to improve the government's understanding of flight opportunities to aid potential science investigators in scoping and designing possible future suborbital investigations.
Responses to this RFI are welcome from all interested parties, especially potential providers of suborbital spaceflight services. Suborbital spaceflight service providers should consider accommodation of flight experiments that address any of the following research disciplines:
* Astrophysics
* Earth Science
* Heliophysics
* Planetary Science
* Space Life Science
* Microgravity Science
* Fundamental Space Biology
* Atmospheric Science
* Materials Science
* Technology Development
NASA may also consider funding research in other disciplines in the future.
For experiments, it is expected that NASA's on-board payloads may require services such as power, data handling, telemetry, internal mounting surfaces, external attachments or ports, viewing portals, attitude control and pointing, day/night flight opportunities, and flight operations at remote field locations. NASA is aware that all such capabilities may not be available from every provider, but some of these capabilities may be available from each provider. NASA is interested in opportunities for externally-mounted experiments as well.
Early in 2008, NASA issued RFI NNH08DA003L entitled "Scientist Participant Suborbital Science Pilot Program," requesting similar information from the provider community. This RFI (NNA10CR001L) includes updated information and provides an additional opportunity for all interested parties to submit information – either new information or an update of a previous submission. NASA will use information received in response to this RFI to support future NASA Research Announcements (NRAs) that solicit proposals from the science and research communities for experiments that address NASA's science goals.
It is NASA's intent to solicit reusable suborbital spaceflight services as early as 2010, which would lead to a pilot program of suborbital flight operations after flight opportunities become available. The Agency welcomes input from industry and other interested parties on approaches to procuring these services while allowing for continued private capital investment in this emerging market.
Information, such as trade secrets and commercial or financial information, provided to the government on a privileged or confidential basis that, if released, would result in competitive harm should be identified and marked as "Proprietary". Government civil servant employees are subject to the non-disclosure obligations of a felony criminal statute, the Trade Secrets Act, 18 USC S1905. NASA will likely provide Proprietary information to its support service contractors who are under an obligation to keep third-party proprietary information in confidence. By submitting a response to this RFI, the responder is deemed to have consented to release of Proprietary information to such NASA support service contractors. Responses to the RFI will not be returned.
It is anticipated that, following review of the responses to this RFI, NASA may conduct further market research through two venues:
1) Meetings on-site at ARC with industry and other interested organizations and
2) NASA visits to company sites.
Parties responding to this RFI should indicate their interest in either or both of these venues. Requests for meetings on-site at ARC should include a proposed agenda and brief description of the information that will be presented. Requests for a site visit by NASA should describe the purpose and what it would accomplish. All requests for meetings should be accompanied by compelling programmatic and technical information as requested below.
Requests for meetings and site visits may be ranked or prioritized based on NASA's technical and programmatic needs, as well as budget and resource constraints. Requested Information: NASA seeks both programmatic and technical information from the reusable suborbital spaceflight community to support formulation of participation in the CRuSR Program. NASA understands that some of this information may not be readily available at this point in time. However, for scientists to design mission concepts and payloads suitable to the commercial suborbital environment and flight profile, NASA will benefit by obtaining as much information as possible. Ranges and approximations are useful in the absence of specific figures and should be clearly noted as such, e.g. 3.2g- 4.6g, based on current engineering models.
The information that NASA seeks includes:
Programmatic:
* Approximate date of suborbital spaceflight service availability
* Development and flight testing timeline and availability of any test flights for potential payloads, including likely constraints on such payloads (mass, volume, power availability or the lack thereof, etc.)
* Comments on any and all regulatory, airworthiness, or liability constraints in the development and operation of this service for use by NASA and NASA-sponsored researchers
* Approximate cost/price per payload; per seat, if applicable; and per flight
* Government/private partnering needs and/or opportunities
Technical:
* General flight profile information
* Launch/landing sites, trajectory description, i.e. altitude profile vs. time including options/constraints for tailoring the flight path, flight environments (e.g., accelerations, vibrations), microgravity levels/capabilities and exposure time, launch windows, potential flight rates, day/night launch constraints for flights in the 2010-2011 timeframe.
* Data rate for telemetry during ascent, coast, and descent phases, if available
* Payload environment information – Mass/volume availabilities/constraints for PI and/or experiments – Power, communications, data storage capabilities/constraints – Internal experiment mounting capabilities/constraints and potential for externally-mounted experiments, including attach points available, if any, and their constraints on access to space (e.g. exposed to space, in vacuum, indoors) – Fields of view, attitude constraints (pointing accuracy and stability) – Vehicle pointing capabilities and precision – Earth/space viewing capabilities/constraints – Potential for window-mounted experiments – Window material characteristics (e.g., spectral transmission properties from the mid-IR through the UV) – Expected cabin working environment – Internal pressure, temperature ranges, lighting. – Thermal constraints – Atmospheric composition and changes over time, especially humidity. – Pressure suit (if any) concept and associated constraints – In-flight seating configuration and restraints
* Operations information – Preferred concept of operations for science flights – Integration of science payloads/investigators/flights with other spaceflight participants/commercial flights (as applicable) – Expected timeline for investigator request-for-flight through to completion-of-flight – PI and experiment integration plan – Pre-flight training and testing – Launch opportunities (e.g. dates including earliest available, time of day, repeat cadence, etc.) including constraints on specifying launch windows – Launch sites including constraints on setting flight paths (e.g. overflying specific locations or phenomena) – Standard timeline and requirements/constraints for testing, accommodation, and operations (e.g. when to deliver instrument, what are required standards for testing before it can be accommodated, safety requirements, etc.) – Opportunities for modifications of any standard services, facilities, operations, etc. – Approximate cost for any of the above that is not included in the base cost of "buying a ride" – Company Point of Contact to acquire additional information – Information requested by NASA for each vendor/platform – Approximate cost for "buying a ride" – Approximate cost for accommodation – Approximate cost for operations – Any other approximate costs to NASA associated with flying a CRuSR experiment
* Other information that may be pertinent to NASA and the community of potential researchers.
Instructions for Responses to the RFI: Questions about this RFI should be emailed to: Rachel.Khattab@nasa.gov. Please send questions with "CRuSR RFI – Questions" in the subject heading. Questions and answers will generally be posted as an amendment to this notice. Company or individual names will not be posted. Additional information about this Program is available on the CRuSR website (http://suborbitalex.arc.nasa.gov ).
Responses must include the following: name and address of firm, size of business; average annual revenue for past 3 years and number of employees; ownership; whether they are large, small, small disadvantaged, 8(a), HUBZone, and/or woman-owned; number of years in business; affiliate information: parent company, joint venture partners, potential teaming partners, prime contractor (if potential sub) or subcontractors (if potential prime); list of customers covering the past five years (highlight relevant work performed, contract numbers, contract type, dollar value of each procurement; and point of contact – address and phone number).
* Responses to this RFI are requested by January 4, 2010, but updates are also requested on an on-going basis, as soon as new information is available. Responses should be sent by email to the contracting officer – Rachel.Khattab@nasa.gov. Please send responses with "CRuSR RFI" in the subject heading. Documents must be in MS Word or Excel or Adobe (pdf) file format. Hard copies are not required or requested. Please contact the contracting officer with any questions or concerns about the submittal instructions.
PLEASE NOTE: This is a request for information only and does not constitute a commitment, implied or otherwise, that NASA Ames will take procurement action in this matter. Further, neither NASA Ames nor the Government will be responsible for any cost incurred in furnishing this information.
No solicitation exists; therefore, please do not request a copy of a solicitation. When a solicitation is released, it will be synopsized in FedBizOpps https://www.fbo.gov/ and on NSPIRES http://prod.nais.nasa.gov/cgi-bin/nais/index.cgi (Requests for Proposals). It is the offeror's responsibility to monitor the Internet site for the release of the solicitation and amendments (if any). Potential offerors will be responsible for downloading their own copy of the solicitation and amendments, if any. An ombudsman has been appointed — See NASA Specific Note "B".
Information about major upcoming ARC procurement actions is available at http://ec.msfc.nasa.gov/cgi-bin/eis/admin/admin.cgi?center=ARC
Any referenced notes may be viewed at the following URLs linked below.
Point of Contact
Name: Rachel Khattab
Title: Contracting Officer
Phone: 650-604-5237
Fax: 650-604-0932
Email: rachel.khattab@nasa.gov
Name: Kelly G Kaplan
Title: Contracting Officer
Phone: 650-604-5814
Fax: 650-604-0912
Email: kelly.g.kaplan@nasa.gov