NASA Solicitation: Commercial Reusable Suborbital Research – CRuSR – Flight Services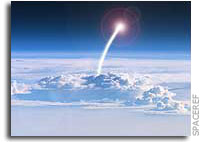 Synopsis/Solicitation Combo – Jun 18, 2010
CRuSR Statement of Work 18 June 2010 – Posted on Jun 18, 2010 New!
General Information
Solicitation Number: NNA10343615Q-AMD
Posted Date: Jun 18, 2010
FedBizOpps Posted Date: Jun 18, 2010
Recovery and Reinvestment Act Action: No
Original Response Date: Jul 09, 2010
Current Response Date: Jul 09, 2010
Classification Code: V — Transportation, travel, and relocation services
NAICS Code: 481212 – Nonscheduled Chartered Freight Air Transportation
Set-Aside Code: Total Small Business
Contracting Office Address
NASA/Ames Research Center, JA:M/S 241-1, Moffett Field, CA 94035-1000
Description
This notice is a combined synopsis/solicitation for commercial items prepared in accordance with the format in FAR Subpart 12.6, as supplemented with additional information included in this notice. This announcement constitutes the only solicitation; offers are being requested and a written solicitation will not be issued.
This notice is being issued as a Request for Quotations (RFQ) for commercial resusable suborbital flight services. NASA's Commercial Reusable Suborbital Research (CRuSR) program has a requirement for the transportation of various Government-provided research payloads on the test flights of vendor vehicles (including vehicle prototypes) intended for commercial reusable suborbital markets. Each flight and related services shall be in accordance with the requirements of the Statement of Work (SOW) that is attached to this solicitation. A CRuSR Pricing Sheet is also provided for vendors to quote their proposed firm fixed prices to perform the indicated required services. Additional procurement documentation for completion by the offeror is also attached.
Additional information about NASA's CRuSR program is available at the CRuSR website: http://crusr.arc.nasa.gov/
As a result of this solicitation NASA intends to award multiple firm fixed price purchase orders to multiple vendors. Each award will be for the purchase of two (02) "rides" for NASA-provided payload and related services on test flights of the vendors' CRuSR vehicles, with an option for the Government to purchase additional quantities of rides on flights and related services.
The Government intends to acquire a commercial service in accordance with FAR Part 12, Acquisition of Commercial Items, and in conjunction with the policies and procedures for solicitation, evaluation and award prescribed in FAR Part 13, Simplified Acquisition Procedures.
This procurement is a total small business set-aside. In accordance with FAR 19.001, a small business concern is defined as a concern that is qualified as a small business under the criteria and size standards in 13 CFR Part 121, and is organized for profit with a place of business located in the United States or its outlying areas and that makes a significant contribution to the U.S. economy through payment of taxes and/or use of American products, material and/or labor. Additional information regarding small business contracting with the federal government is available from the Small Business Administration at http://www.sba.gov/ .
The North American Industry Classification System (NAICS) Code and the small business size standard for this procurement are 481212 (Nonscheduled Chartered Freight Air Transportation) with a small business size of 1,500 employees, respectively. The provision at FAR 52.219-1, Small Business Program Representations (ALT I) is applicable to this solicitation. All offerors shall self-certify their size status for this procurement in the provision attached to this solicitation and return it with their quotation.
All responsible sources may submit an offer which shall be considered by the agency.
Offers for the items(s) described above are due by Friday July 9, 2010, no later than 12:30 PM Pacific Time, to the contract specialist, Marianne Shelley, email Marianne.Shelley@nasa.gov, and must include: solicitation number, proposed delivery schedule, discount/payment terms, warranty duration (if applicable), taxpayer identification number (TIN), identification of any special commercial terms, and be signed by an authorized company representative.
The provisions and clauses in the RFQ are those in effect through Federal Acquisition Circular (FAC) 2005-41.
The Federal Acquisition Regulation (FAR) may be obtained via the Internet at URL: http://www.acquisition.gov/far/index.html .
The NASA FAR Supplement (NFS) may be obtained via the Internet at URL: http://www.hq.nasa.gov/office/procurement/regs/nfstoc.htm .
Offerors shall provide the information required by FAR 52.212-1 (JUNE 2008), Instructions to Offerors-Commercial Items, which is incorporated by reference. Please note paragraphs (j) and (k) that require all offerors to have a DUNS number and current CCR registration.
Offerors must include completed copies of the provision at 52.212-3 (AUG 2009), Offeror Representations and Certifications – Commercial Items with their offer. These may be obtained via the internet at URL: http://rcb.cancer.gov/rcb-internet/SAP/52-212-3plusadd.pdf . If the offeror has already entered their representations and certifications at the Online Representations and Certifications Application (ORCA) at https://orca.bpn.gov/, offerors are only required to complete paragraph (b) of the provision. Paragraph (b) is included in the documents attached to this notice. These representations and certifications will be incorporated by reference in any resultant contract.
The following provision also applies to this solicitation: FAR 52.217-5, Evaluation of Options (July 1990).
FAR 52.212-4 (MAR 2009), Contract Terms and Conditions-Commercial Items is applicable. In accordance with paragraph (g), all offerors shall complete the attached ACH form for the electronic funds transfer (EFT) of any future invoice payment.
FAR 52.212-5 (APR 2010), Contract Terms and Conditions Required To Implement Statutes or Executive Orders-Commercial Items is applicable and the following identified FAR clauses are incorporated by reference:
52.219-6, Notice of Total Small Business Aside, Alternate I. 52.219-8, Utilization of Small Business Concerns. 52.219.28, Post-Award Small Business Program Rerepresentation. 52,222-3, Convict Labor. 52.222-19, Child Labor – Cooperation with Authorities and Remedies. 52.222-21, Prohibition of Segregated Facilities. 52.222-26, Equal Opportunity. 52.222-36, Affirmative Action for Workers with Disabilities. 52.222-50, Combating Trafficking in Persons. 52.225-13, Restrictions on Certain Foreign Purchases. 52.232-33, Payment by Electronic Funds Transfer- Central Contractor Registration. 52.233-3, Protest After Award. 52.233-4, Applicable Law for Breach of Contract Claim.
The following FAR and NFS clauses will also be incorporated into any resultant contract:
FAR 52.217-7, Option for Increased Quantity–Separately Priced Line Item. FAR 52.217-9, Option to Extend the Term of the Contract. FAR 52.245-1, Government Property. FAR 52.245-9, Use and Charges. NFS 1852.223-72, Safety and Health (Short Form). NFS 1852.225-70, Export Licenses, (insert "NASA Ames Research Center"). NFS 1852.215-84, Ombudsman, (insert: "Lewis Braxton, NASA Ames Research Center, M/S 200-9, Moffett Field, CA 94035-0001". NFS 1852.237-73, Release of Sensitive Information. NFS 1852.245-76 List of Government Property Furnished Pursuant to FAR 52.245-1 (Deviation) (Sept 2007).
All contractual and technical questions about this solicitation must be in writing (e-mail only) to: Marianne.Shelley@nasa.gov not later than Friday, July 2, 2010, 12:30 PM Pacific Time. Telephone questions will not be accepted.
Selection and award will be made to the offeror or group of offerors whose offer(s) will be most advantageous to the Government, with consideration given to the following evaluation factors:
(1) Proposed technical merit: An evaluation of the technical capability of the offered CRuSR vehicle to meet the requirements of the SOW as documented by information submitted with the proposal package, including the Government's evaluation of previous test flight data for the vehicle proposed by the offeror (indicate when and where testing occurred), evaluation of supporting documentation of each vehicle's capabilities, and evaluation of the intended commercial operation of each vehicle.
(2) Schedule: An evaluation of the offeror's proposed date of earliest available first flight service, and its schedule for subsequent test flights, including the time required between flights, to carry the NASA payloads.
(3) Price: An evaluation of the reasonableness of the quoted price for each test flight of the vehicle, the price per kilogram of payload capacity, and the price for required documentation.
Other critical requirements: the current status of the offeror's FAA licensure for operation of the the proposed launch vehicle and test flights, the facilities and accommodations provided by the offeror at the launch site, and the offeror's past performance, experience, and capabilities of key personnel to provide these services shall be considered. It is critical that offerors provide adequate detail to allow evaluation of their offer. (SEE FAR 52.212-1(b)).
Prospective offerors shall notify this office of their intent to submit an offer. It is the offeror's responsibility to monitor the following Internet site for the release of solicitation amendments (if any): http://prod.nais.nasa.gov/cgi-bin/eps/bizops.cgi?gr=D&pin=21 . Potential offerors will be responsible for downloading their own copy of this combination synopsis/solicitation and amendments (if any).
Information about major upcoming ARC procurement actions is available at http://ec.msfc.nasa.gov/cgi-bin/eis/admin/admin.cgi?center=ARC .
Point of Contact
Name: Marianne Shelley
Title: Contracting Officer
Phone: 650-604-4179
Fax: 650-604-3020
Email: marianne.shelley@nasa.gov