NASA RFI for In Situ Dating Instrument for Mars 2020 Mission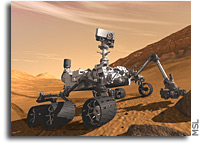 Synopsis – Jun 28, 2013
General Information
Solicitation Number: RFI-ZP13
Posted Date: Jun 28, 2013
FedBizOpps Posted Date: Jun 28, 2013
Recovery and Reinvestment Act Action: No
Original Response Date: Jul 12, 2013
Current Response Date: Jul 12, 2013
Classification Code: 99 — Miscellaneous
NAICS Code: 333314
Contracting Office Address
NASA/George C. Marshall Space Flight Center, Procurement Office, Marshall Space Flight Center, AL 35812
Description
Instrument Development for In Situ Dating Instrument for Mars 2020 mission
NASA, George C Marshall Space Flight Center (MSFC) is hereby soliciting information for potential sources for the Instrument Development for In Situ Dating Instrument for Mars 2020 mission Acquisition.
Following the announcement of the Mars 2020 rover mission in November 2012, NASA MSFC is seeking information regarding development of a potential in situ dating instrument to be flown on the rover. In accordance with FAR 15.201(e), the information requested is for planning purposes only and is not intended to bind the Government. This is a Request For Information (RFI) issued for information and planning purposes. It does not constitute a Request For Proposal.
Absolute dating of planetary samples is an essential tool to establish the chronology of geological events, including crystallization history, magmatic evolution, and alteration. NASA MSFC has developed a breadboard for the Potassium (K) – Argon Laser Experiment (KArLE), whose main objective is to conduct in situ potassium-argon dating. The experimental concept measures K using laser-induced breakdown spectroscopy (LIBS), Ar using mass spectrometry, and images the sample using optical cameras. Public presentations on the KArLE concept can be found at http://planetary.msfc.nasa.gov/KArLE.html
Description of Anticipated Requirement NASA MSFC expects to propose the KArLE experiment as part of the Mars 2020 rover mission. The Mars 2020 rover is expected to be a near copy of the Curiosity rover bus, with interfaces, and mass/power budgets available to the payload similar to Curiosity. The mission payload will consist of instruments that are responsive to the Science Definition Team (SDT) report, expected July 12, 2013. The mission payload will be tightly constrained by cost.
This RFI seeks interested parties and openly solicits potential partners by requesting specific information that will be used to determine a teaming relationship for developing a MSFC proposal in response to an upcoming Announcement of Opportunity (AO) for the Mars 2020 rover mission. MSFC envisions a teaming arrangement where the industrial partner will serve as the PI's prime contractor for the flight experiment system, provide elements of the scientific instrument and operations system, and be responsible for providing a complete instrument design, accommodations for interfaces, hardware/software integration, schedules for development, and cost estimates for the KArLE flight and ground support elements. The industrial partner will lead the instrument proposal development and management, with MSFC and other partners providing direct inputs into the proposal. NASA/MSFC cannot reimburse the industrial partner for the costs for managing the proposal development.
The purpose of this RFI is to identify qualified sources that are interested in pursuing this type of arrangement. Potential industrial partners will be identified from the responders to this request. MSFC intends to select a single industrial partner for participation in the proposal based on these inputs. Responses from all interested parties, including non-U.S. organizations, are solicited. Recognizing that any collaboration between NASA and a non-U.S. organization must be consistent with NASA's no-exchange-of-funds policy where each nation is responsible for its own activities, any non-U.S. response should identify the source of funding and discuss the status of funding commitments.
It is not NASA's intent to publicly disclose proprietary information obtained through this RFI. To the full extent that it is protected pursuant to the Freedom of Information Act and other laws and regulations, information identified by a respondent as "Proprietary or Confidential" will be kept confidential.
This RFI is for planning and information purposes only and is not to be construed as a commitment by the Government to enter into a contractual agreement, nor will the Government pay for information solicited.
No solicitation exists; therefore, do not request a copy of the solicitation. If a solicitation is released, it will be synopsized in FedBizOps and on the NASA Acquisition Internet Service.
Response Instructions The response to this RFI will be in the form of a PDF document, limited to two pages and containing the following information:
* Name of submitter and contact information (institutional affiliation, phone number, email address);
* Capabilities and qualifications statement that addresses the submitter's ability to provide, test, and integrate a science instrument (or instrument package) to a NASA small-to medium-class science mission;
* A discussion of respondent's past experience and performance delivering similar instruments to NASA or other space flight missions; and
* A description of the anticipated cost and schedule for instrument (or instrument package) development work and proposal preparation.
Responses to this RFI should be submitted in writing to Janice M. Stewart /MSFC/PS51 no later than July 12, 2013.
Point of Contact
Name: Janice M. Stewart
Title: Contract Specialist
Phone: 256-961-7726
Fax: 256-961-7439
Email: Janice.P.Stewart@nasa.gov