NASA OIG: Review of MAVEN Project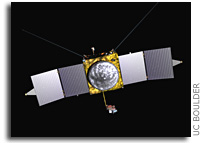 Selected by NASA in 2008, the Mars Atmosphere and Volatile Evolution (MAVEN) Project is scheduled to launch in November 2013 at an expected cost of $453 million. MAVEN will study how the loss of carbon dioxide, nitrogen dioxide, and water from the Martian atmosphere occurred over time, which will provide insight into the history of the Red Planet's atmosphere, climate, and habitability. The Project represents the last mission undertaken as part of NASA's Mars Scout Program, an Agency initiative that competitively selected relatively low-cost robotic missions to Mars that NASA discontinued in 2010.
In a September 2012 report, the NASA Office of Inspector General (OIG) identified a series of challenges that NASA managers face in meeting project cost, schedule, and performance goals for Agency projects.
These project challenges – overly optimistic cost and schedule estimations, underestimating technical complexity, unstable funding, and limited development opportunities for program managers – hinder NASA's ability to deliver projects on schedule and within cost. While Agency officials acknowledged that these long-standing challenges effect project success, they credit a number of new initiatives, including the use of probabilistic cost and schedule analysis, for helping more recent projects such as Juno and Gravity Recovery and Interior Laboratory (GRAIL) meet cost and schedule goals.
We initiated this audit to determine whether NASA is managing the MAVEN Project to successfully meet cost, schedule, and performance goals. Specifically, we examined whether MAVEN experienced similar challenges to those we identified in our September 2012 report and the role that NASA's recent acquisition and project management initiatives played in managing the Project. Details of the audit's scope and methodology are in Appendix A.