NASA OIG: NASA's Management of the Gateway Program for Artemis Missions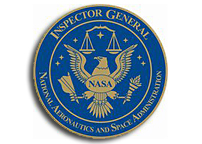 WHY WE PERFORMED THIS AUDIT
In March 2019, the Administration directed NASA to execute a plan to land humans on the Moon's South Pole by 2024, 4 years sooner than NASA's intended schedule. In response, the NASA Administrator announced that the return-to-the- Moon mission would be known as Artemis and the Agency would use innovative acquisition practices to help accelerate the timetable. The Artemis program includes two exploration missions to orbit the Moon in 2021 and 2023 using the Space Launch System rocket and Orion Multi-Purpose Crew Vehicle (Orion), both of which remain under development and have yet to be flown together. To conduct a lunar landing, the Agency must develop a Human Landing System, complete development of a new spacesuit, and conduct robotic exploration of the proposed landing sites. Moving forward, NASA also plans to build the Gateway—essentially, a small space station—to provide a staging location for additional lunar missions and future deep space operations.
Gateway's initial elements, scheduled to launch together in early 2024, consist of the Power and Propulsion Element (PPE), which powers and propels the spacecraft in orbit, and the Habitation and Logistics Outpost (HALO), which provides a docking location for the Orion capsule and living and working spaces for crewmembers. To date, NASA has spent over half a billion dollars and almost 3 years of design work on the PPE and HALO. To reduce the time needed to acquire these two Gateway elements, NASA modified its standard acquisition practices and instead used a fixed-price contract designed for commercial research and development and a sole-source award. Specifically, the Agency competitively awarded a contract to Maxar Technologies (Maxar) in May 2019 to develop the PPE and made a sole- source award to Northrop Grumman (Northrop) in July 2019 for the HALO. The Agency awarded these contracts before requirements were firm and before it decided whether to use the Gateway to support the planned 2024 Moon landing.
This report is one in a series of audits examining NASA's Artemis program. In this audit, we assessed to what extent the PPE and HALO are meeting schedule, cost, and performance goals. To complete this work, we reviewed the Gateway's schedule, funding documentation, and acquisition method. For PPE and HALO, we reviewed contract files, cost and budget documentation, performance updates, schedule data, and technical risks. We also reviewed HALO's sole-source documentation. In addition, we interviewed NASA, Maxar, and Northrop officials.
WHAT WE FOUND
The development schedules for both the PPE and HALO have been negatively impacted by the Agency's still-evolving Gateway requirements, including NASA's decision to co-manifest and launch the two elements on the same commercial rocket rather than separately as initially intended. Given this decision, the PPE is likely to launch at least 17 months behind its original date of December 2022 while HALO has 2 to 5 months of schedule risk, potentially moving its launch readiness date further into 2024. Compounding these issues is the 2024 lunar mandate that drove the accelerated development schedule in the first place and resulted in a lack of schedule margin in the Gateway Program. While NASA policies identify the need for sufficient schedule margin in development programs, we found Gateway officials had no guidance on suggested margins from the Human Exploration and Operations Mission Directorate (HEOMD)— organizationally where the Gateway Program is located—to factor into their schedules. With both the PPE and HALO elements highly dependent on each other due to the decision to co-manifest the systems, coupled with an expected 10-month travel time to lunar orbit, the Gateway likely will not be in a position to support a 2024 lunar landing.
The decision to launch the PPE and HALO together, while avoiding the cost of a second commercial launch vehicle, has contributed to cost increases due to the redesign of several components, an elevated launch risk, and a longer duration flight to lunar orbit. In addition, due to the decision Maxar was forced to terminate its subcontract with Space Exploration Technologies Corp (SpaceX) for PPE launch services, even though Maxar had already paid SpaceX approximately $27.5 million for this service, a portion of which was paid by NASA prior to the termination. Further, a co-manifested launch increases risk because together the elements may be too heavy for commercially available rockets or too long for the rocket's fairing, potentially impacting intended spacecraft mass, length, and other requirements. If it is able to address these risks, NASA may receive benefits from co-manifesting, such as avoiding a rendezvous in orbit by integrating both components on the ground before launch.
NASA selected Maxar in May 2019 to provide the PPE under a fixed-price contract because the Agency anticipated few design and development changes. However, the contract value has increased by $78.5 million since the award, with more increases expected to accommodate additional evolving requirements and technical challenges. PPE has also experienced other contract management challenges, including the collapse of negotiations between Maxar and a subcontractor to provide its high-power electric propulsion system.
For HALO, the Agency awarded Northrop a sole-source contract in order to meet the 2024 goal. Despite NASA's standard requirement to definitize a contract's final terms, conditions, and costs within 6 months of issuance, the Agency did not definitize the contract with Northrop for 10 months due to the lack of defined requirements. Moreover, NASA and Northrop had only agreed to contract costs on a cost-reimbursable basis for a 7-month design phase. The Agency plans to spend over $200 million on habitation design by January 2021, and we anticipate a significant increase in cost if NASA is unable to negotiate the 2021 to 2026 performance period as fixed-price. We also expect further schedule delays and cost increases for HALO due to additional undefined requirements, adjustments to projected budgets that removed a second U.S. habitat, and technical challenges.
In our judgment, NASA's acceleration of the acquisition for both the PPE and HALO before fully defining the Gateway's requirements added significant costs to the projects' development efforts and increases the risk of future schedule delays and additional cost increases.
WHAT WE RECOMMENDED
To increase the efficiency and effectiveness of NASA's Gateway Program, we recommended NASA's Associate Administrator for HEOMD: (1) baseline the Gateway requirements and specifications in contract modifications prior to updating and awarding the PPE and HALO fixed-price contracts; (2) ensure PPE and HALO delivery and launch dates are realistic by including sufficient schedule margin in their development schedules; (3) develop a HEOMD policy that establishes a reasonable amount of recommended schedule margin by phase of program or project; (4) confirm at selection the launch system provider for the co-manifested PPE and HALO will meet spacecraft mass, length, and other requirements; (5) work with the contractors to obtain a credit for the amount already spent on launch services under the PPE contract; (6) take action to enforce NASA policy to definitize contracts within 6 months of award; (7) definitize the remaining development and delivery portion of the HALO contract by Preliminary Design Review plus 3 months; and (8) ensure the maturity of system requirements are fully understood before selecting the acquisition method and contract type for future acquisition strategies supporting Artemis and Mars missions.
We provided a draft of this report to NASA management who concurred with our recommendations and described planned actions to address them. We consider the proposed actions responsive to our recommendations and will close the recommendations upon their completion and verification.