NASA OIG: Final Report: NASA's Management of the Mars Science Laboratory Project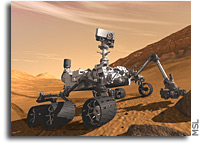 NASA Inspector General Paul Martin today released a report that examines the significant technical, schedule, and fiscal challenges NASA must resolve prior to November's scheduled launch of the $2.5 billion Mars Science Laboratory.
Designed to investigate whether Mars has, or ever had, an environment capable of supporting life, the Mars Science Laboratory (MSL) is the most technologically challenging interplanetary rover ever designed. Contributing to the complexity of the mission are the Project's innovative entry, descent, and landing system – including a sky crane touchdown system that will lower the rover known as Curiosity on a tether to the Martian surface; the size and mass of the rover (four times as heavy as the previous Martian rovers Spirit and Opportunity); the number and interdependence of its 10 science instruments; and its new type of power generating system.
In February 2009, NASA delayed the MSL's launch 2 years because of the late delivery of several critical components and instruments. This delay and the additional resources required to resolve the underlying technical issues increased the Project's development costs by 86 percent, from $969 million to the current $1.8 billion, and its life-cycle costs by 56 percent, from $1.6 billion to the current $2.5 billion. In addition, due to planetary alignment the optimal launch window for a mission to Mars occurs every 26 months. If MSL was to be delayed again, the Project would require significant redesign at a cost of at least $570 million.
Our review found that that the MSL Project has overcome most of the key technical issues that were the primary causes of the 2-year launch delay. As of March 2011, all critical components and instruments have been installed on the rover and final preparation for shipment later this month to the Kennedy Space Center is proceeding.
However, issues involving potential contamination of rock and soil samples, development of flight software, and fault protection remained unresolved. In addition, our review found that because of Project delays, nearly three times the number of critical tasks needed to be completed than originally planned in the few months remaining until launch. We also found that approximately 1,200 reports of problems and failures observed by Project personnel remained open as of February 2011. If these reports are not resolved prior to launch, there is a possibility that an unknown risk could materialize and negatively affect mission success. Furthermore, although the MSL Project has received three budget increases since the 2009 launch delay including an infusion of $71 million in December 2010, in our judgment the Project may require additional funds to meet its November 2011 scheduled launch date.
Resolution of these and other issues that may arise during final integration is likely to strain the already limited margin built into the Project's schedule to allow for unanticipated delays. To minimize the risk of missing the upcoming launch window, we recommended that NASA reassess the sufficiency of the Project's funding and allocate additional resources to expeditiously close all outstanding reports of problems or failures that could impact mission success. NASA agreed with our findings, concurred with our recommendations, and in its response described a series of planned actions.
The full report can be found on the OIG's website at http://oig.nasa.gov/ under "Reading Room" or at the following link: http://www.hq.nasa.gov/office/oig/hq/audits/reports/FY11/IG-11-019.pdf
Please contact Renee Juhans at (202) 358-1220 if you have questions.